My family and I know Walt Disney World like the backs of our hands.  Well, my husband would maintain that I sometimes get lost in the back section of Disney's Hollywood Studios (I can't argue, it's true), but in general, we're pros!  We could plan a spontaneous trip to the World leaving tomorrow and not have any problem knowing what to pack, where to go and how to best tour the parks.  This summer, we will be taking our first trip to Disneyland and the Southern California area and we're overwhelmed.  Help!
Luckily, as the Senior Editor on the DIS, I know this great group of people on the Disneyland edition of the DIS Unplugged podcast.  So, I asked them to start helping me walk through the planning stages of this trip, which resulted in a new series of segments on the podcast.
Let me begin by walking you through what we know already.  My family is made up of my husband David and I, plus our three kids.  Jacob is 7, Jonah will be 5, and Lydia will be just about 2.
We live in Illinois, and are flying from St Louis to Los Angeles on Wednesday, May 22.  We'll spend the next few days in the L.A. area, then will check into the Disneyland Hotel on Monday, May 27th, spend that week at the Disneyland Resort and check out Saturday, June 1.  So, figuring in a nap and some time difference adjustment the first day, we'll have four full days to tour around Southern California.  We have always wanted to visit California, but the cost of the airfare is really steep, so we're kind of looking at this as not really a "once in a lifetime" trip, but definitely a "once in a long time" trip.
The first thing the team asked was what kinds of things we are looking to do in Southern California.  My husband and I have a few things in mind, but we haven't narrowed them down yet.  Some loose "guidelines" that David and I discussed are –
Unless necessary, avoid theme parks (other than Disneyland).  In addition to those costs adding up quickly, a theme park would take out a whole day of our limited available time.
Try to find things that are uniquely California.  For example, people keep telling us to go to SeaWorld in San Diego.  Though different, there is a SeaWorld in Orlando that we would be able to fit into one of our regular visits, so options like that probably won't make the list.
Take the kids' ages into consideration.  I had really wanted to do a tour of celebrity homes, but at these ages, that's probably something our kids aren't going to want to do.
Nancy began by saying we needed to make a list of the places we want to visit, so we can decide what kind of vacation we want to have.  We are big fans of movies and TV, so a tour of Hollywood and the "cheesy, touristy" things would be fun for us.  As I mentioned above, with the ages of our kids, I thought that would never be able to happen.  Nancy had a great suggestion and she said to go ahead and check out some of the tours offered.  They often take place on open-air double-decker buses, so while the kids may not care about the subject matter, just being on the bus may be entertainment enough for them.  I was excited to hear this idea, because I think she's right and I may still get to do my cheesy Hollywood tour!  We're definitely going to do some research on this.  Tony also suggested that since we will have a car, we could probably do one of these tours on our own.  We just need to come up with a list of landmarks we want to hit and then use an Internet mapping site to create our own tour.  This would actually work really well for us, because we wouldn't be confined to someone else's timetable.
Something else I would like to do is to drive on the Pacific Coast Highway (PCH).  I've heard that it's beautiful and being from Illinois, I know that we have nothing like it here.  The team gave some great suggestions about stopping in Malibu (I could see my huge celebrity mansions there!) and stopping at Santa Monica Pier.  We're not really beach people, but it would be a shame to be in California and not at least step foot in the sand for a few minutes!  Combining driving the PCH with a beach stop would be a great way to see the ocean without having to spend a whole day there.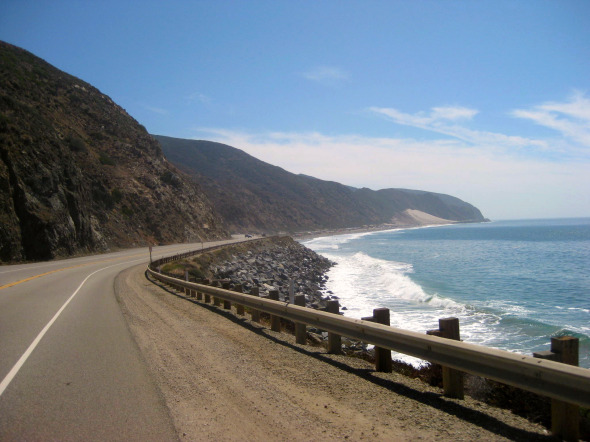 Image: The Pacific Coast Highway, Southbound.
My husband is a huge baseball fan – Go Cubs! – and is interested in possibly seeing a baseball game while we're in L.A.  Tony was able to give us some good advice from a local and said that the Angels' stadium is by far the easiest to get to from Disneyland.  A fan of baseball history might prefer the Dodgers' stadium, but it's much more difficult to get to, so if we want to go there, we need to do some time management planning.  Another option he mentioned would be to drive an hour and a half to San Diego and check out the Padres.  We wouldn't have even though of that, so were glad to hear that it would be a possibility.
While on the topic of San Diego, we discussed whether or not it would be worth it for first timers to spend any time there.  The team had varying opinions, and everyone presented their case well, so our family needs to do a little research and see if that's something we are interested in.  Right now, I would say that we're learning towards not going to San Diego, since there is so much to do already in the Los Angeles area.  But, as I said on the show, everything is still an option for now!
We had an interesting discussion about Universal Studios Hollywood and Legoland.  I had originally said we weren't interested in any other theme parks (though Universal was the one that would sway us, if any), but after hearing the reasons for and against each, I'm still keeping these on the "to research" list.
My husband and I would love to see a show taping while we're in the area and the team had some good input on this.  We had really only thought about the late-night talk show tapings, but they suggested also looking into game show tapings as well, which would give us more options.  They said it would be best to look into shows that offer tickets ahead of time, that way we don't have to waste any of our vacation by waiting in line to secure tickets.
The last thing we discussed was where we should stay. We don't want to stay at the Disneyland Hotel for the whole vacation, but we weren't sure where to go for the first part.  We'd rather not switch hotels other than the move to Disneyland.  The consensus was that we wait to decide that once we nail down our itinerary a little more.  The two choices seem to be between Burbank/Hollywood and Anaheim, depending on where we think we'll spend more time.  Nancy lives in Burbank, so I am currently working on trying to get some free babysitting during this trip…
That pretty much sums up what we discussed on this first planning segment.  It sounds like we have a lot of thinking to do!  I'll check back in after the next segment where we will discuss park touring at the Disneyland Resort.  You can listen to our
on
The DIS Unplugged: Disneyland Edition
.
Category: Disney World, Disneyland
Leah grew up in a little farming town in Illinois, right on the Mississippi River. Her Chicago-born husband, David, left the city for her, and they're now raising their three children (Jacob, Jonah and Lydia) just 12 miles from her hometown. As the Senior Editor of the DIS (wdwinfo.com), Leah spends a lot of time writing about, reading about, and discussing Disney. So, it should come as no surprise that one of her family's favorite ways to spend time is going to Walt Disney World and traveling on Disney Cruise Line. She also enjoys shopping, watching movies with her husband and doing crafts with and for her kids.