Money talks. We all know that in today's society the amount of money you spend speaks volumes. Disney Parks are no different. It'd be naive to think that Disney execs are not monitoring what sells and what doesn't only to make a new plan to bring in revenue. While some like to keep themselves distant from the business-side of our fairy tale vacation destination, others find it intriguing to question Disney's motives behind choices regarding everything from merchandise to attractions to food offerings. Recently though, I have found myself asking, "Is Disney Listening?" It appears to me that things might be changing.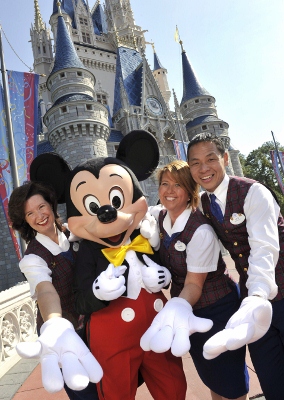 Image: Could Disney be listening and responding to guest opinions posted on fan sites like the DIS?
Years ago, before Disney made drastic cuts on the amount and type of training cast members received and the way it made money in the shops, things in Disney Parks were different. The merchandise was more varied and of a better quality. Litter was never found on the streets or in attraction queues. All cast members were devoted to their jobs and rarely seen out of character or sorts. However, things have changed quite a bit. Now, don't get me wrong. I realize that times have changed, our economy is struggling, and there are cast members who truly provide excellent guest service. Yet, it appears that the glorified Disney quality and service has grown some holes.
Here are a few examples…
During Extra Magic Hours two years ago, a cast member outside of Haunted Mansion was talking to a colleague about going out on a date after work. What that had to do with being a gloomy mansion housekeeper is beyond me.
The Buzz Lightyear attraction queue has become a magnet for litter and peeling paint.
Merchandise is frequently defective or poorly made to the extent that an entire thread has been started about it here on the DISBoards.
While I could list several more instances when my Disney bubble has been temporarily popped by such experiences, that's not the point I'd like to make here. Instead, I want to suggest that it feels as if the company is starting to look at guest responses more closely especially when it comes to what is being said on fan sites like ours. In fact, some have claimed that the DIS has even been referenced in online surveys conducted by Disney. We can at least come to one conclusion then: the company is beginning to recognize just how powerful online media can be.
The Return of Resort Specific Merchandise
After a several year hiatus, resort specific merchandise began popping up in resort shops this summer. I remember reading complaints about its going away back in 2009 on social media sites everywhere. Other than cast members who personally told guests that it was going away, Disney never officially commented on why t-shirts, mugs, pens, ornaments, and more wouldn't show resort names.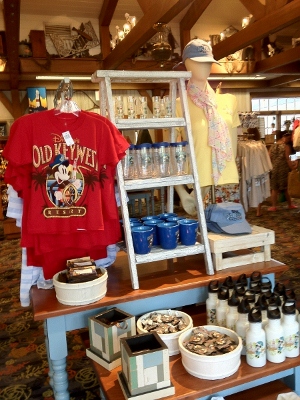 Image: Merchandise featuring the theme and name of Disney's Old Key West Resort.
It didn't make sense. Many vacationers seek out such items to commemorate their trips. Why was resort merchandise going to be pulled? Most agree that it came down to the dollar. It was much cheaper to mass produce a collection of standard Walt Disney World or Disney Parks items than smaller collections of merchandise specific to each resort. Now that resort merchandise has been coming back, it has me wondering. Is Disney listening? Could it have been possible that they noticed the public outcry on message boards and other forms of fan sites?
Fast Passes & Long Wait Times
Ask anyone who visits a theme park what their least favorite part is and she'll tell you it's waiting on line. Disney responded to this complaint with the implementation of the FastPass system back in 1999. Since then, lines have grown and the organization of how Fast Passes are distributed and used has become troublesome. More complaints have been had and discussed by many park goers.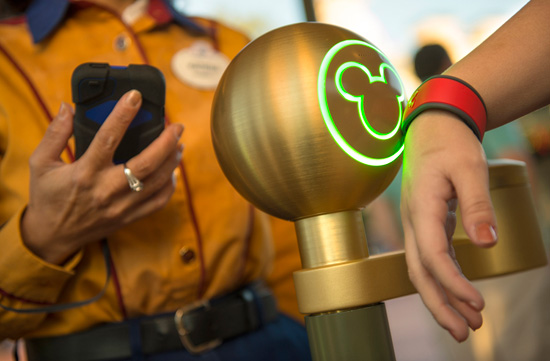 Image: The MagicBand & Disney's FastPass+
Last week, we learned of the new FastPass+ system which will revolutionize guests' experiences. The kicker? You will now have the option of reserving times to ride specific attractions and completely customizing much of your vacation before even setting foot in a Disney theme park. Talk about addressing guest needs.
Steaming Coffee Chatter
For as long as I can remember, the coffee at Walt Disney World has been terrible. Family and friends have always commented on how its taste combined that of burned rubber and dishpan water. This past year, Disney announced that they would be bringing Starbucks cafes to Disney Parks in both Florida and California.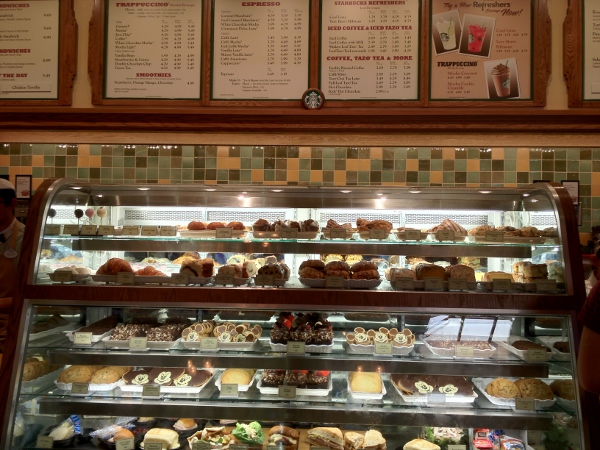 Image: The menu and counter at Disney's first Starbucks location in Disney California Adventure.
Could this have been the result of complaints? One would think so and, no matter what your feelings on replacing Main Street Bakery with a modern-day chain, it appears as if Disney took the lead from guests who were vocal about their disgust in what was available.
Homogenized Merchandise vs. What's New
For a long time now, Disney has had a collection of merchandise that can be bought just about anywhere and whether or not it fits the theme of that particular park or shop. Shirts branding the current year, Disney Parks bags, Mickey magnets or pencils – I'm sure you know what I'm referring to. It appeared as if one could visit just about any spot on property and buy the same exact item. Over the past several months though, it seems as if Disney is providing a wider variety of merchandise especially those that play off of fan favorites: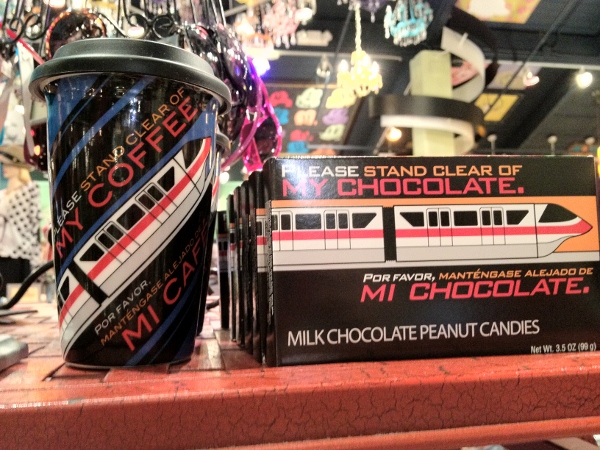 Memorable sayings….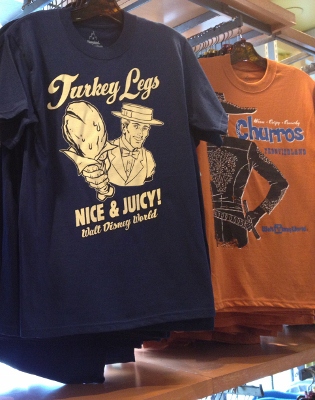 …."infamous" snack items….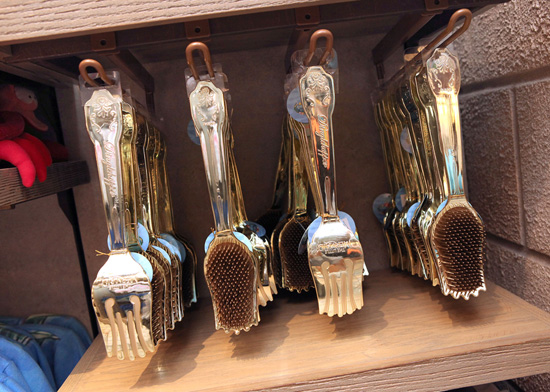 …well-known and unique trinkets from Disney movies…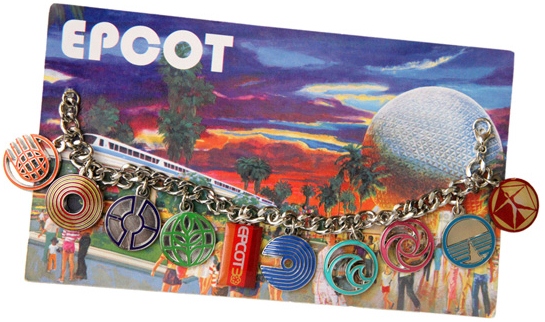 …and Disney nostalgia.
Merchandise also become more varied. Everything from decorative pillows, timepieces, and ceramics to jewelry, high-end purses, and more are filling the shelves and quickly being sold. I have to admit that I've succumbed to all of the above with no regrets! The new merchandise being sold is definitely an improvement on those plastic generic souvenirs that seemed to overpopulate my favorite stores.
So What Does This Mean?
All in all, it does appear that Disney is starting to listen to its biggest fans. Where else would they come up with the idea for a turkey leg shirt? We as members of the population who frequents Disney often hold the parks up to high expectations and rightfully so; perhaps, this is why when things change we notice it and are not afraid to comment. Now though, I think Disney has recognized that the fan site communities do have some power, and the company is responding accordingly. Bouncing off of one of the examples above, just think back to the response to Starbucks taking over the Main Street Bakery in the Magic Kingdom. The reaction was explosive, and Disney was quick to respond saying that they would give guests some of the things they felt should not be taken away. It's scenarios like these that make me think Disney Parks are looking more at its vocal fan base and, quite honestly, that's alright with me.
Image Credits:
N. Mancini & Disney Media
Category: Disney World, Disneyland, Editorials
Born and raised in New Jersey, Nicole is an avid Disney fan and frequents both Walt Disney World and Disneyland several times each year. Interests include Walt Disney Imagineering, merchandise, backstage tours, and more. Be sure to check out her other articles here on the DIS Blog!