We all know that Disney does it right when it comes to special events and celebrations. However, few know just what is available for high school seniors and school groups looking to take trips to the next level. With specially priced youth tickets from the Disney Youth Education Services (Y.E.S.) Program, your next class field trip, end-of-the-year party, or religious group outing will offer experiences that are sure to provide a lifetime of memories. Now in this last installment of what Disney Y.E.S. has to offer, let's take a look at student celebrations: Disney style.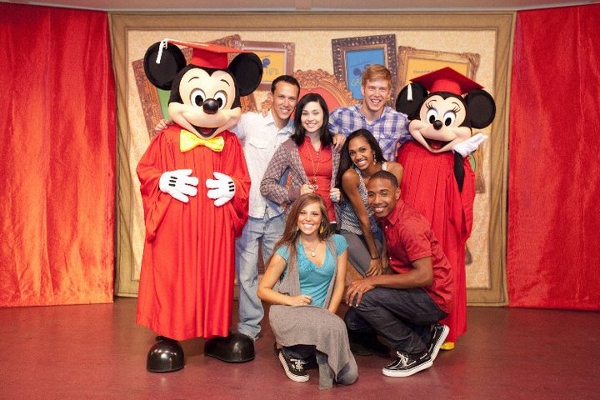 Image: Graduating seniors celebrate four years of hard work during an exclusive party just for them.
As noted earlier in this blog series, Disney Y.E.S. provides amazing opportunities in both performing arts and education. These offer students the chance to learn from the best in the entertainment biz and perform on stage or study everything from the humanities to math and science inside a Disney theme park. When students are ready to celebrate how much they have learned at the end of a busy school year, Disney Y.E.S. Programs also offers a variety of unique experiences: Disneyland Grad Nite, Disney Senior Class Trip, and field trips.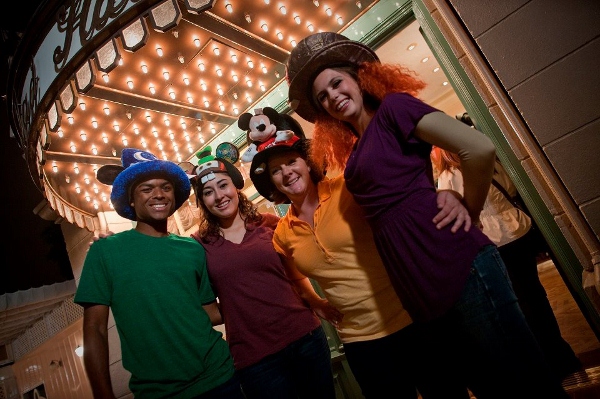 Image: High school seniors say "farewell" during an elaborate event at Disneyland Resort in California.
Grad Nite at the Disneyland Resort
Disneyland Grad Nite is a party just for high school seniors who'd like to celebrate their hard work and dedication in the classroom. Students from around the country are invited to participate in this event which takes place each spring in both Disneyland and Disney California Adventure.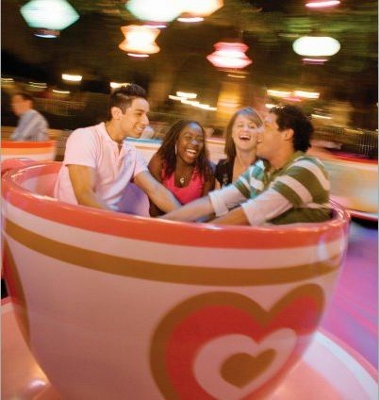 Image: Students enjoy a spin on the tea cups during Disneyland Grad Nite.
Discounted park hopper tickets allow participants to travel between the two parks throughout the day to enjoy their favorite in thrills and entertainment. At night, an exclusive showing of World of Color honors the soon-to-be grads. Afterwards, they are invited to enjoy a private dance party at Disney California Adventure until 3 am; the park is closed to the public during the dance party which provides a more intimate feel. This offers an exciting, safe way to celebrate classroom achievements and the journey into adulthood.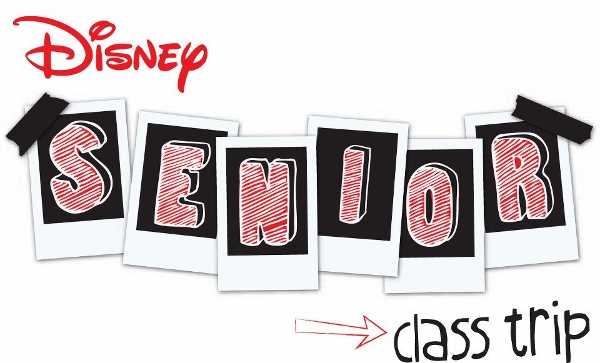 Image: Students on the other side of the country can enjoy Disney Senior Class Trip at Walt Disney World.
Disney Senior Class Trip at the Walt Disney World Resort
Those looking to party on the East Coast can take part in Walt Disney World's Senior Class Trip. Like Grad Nite in California, this event offers discounted tickets to graduating seniors so that they can celebrate in the parks. There are even more events offered during the experience which can stretch out over the course of several days.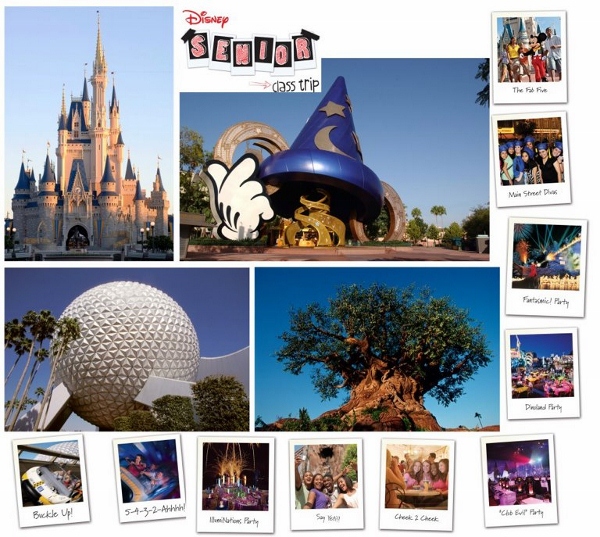 Image: Disney Senior Class Trip is completely customizable with a variety of add-on experiences and signature events.
While Grad Nite offers a day in two theme parks and a dance party at night, Disney Senior Class Trip holds various events throughout Walt Disney World. Groups may customize their trip experience to meet their own needs in terms of budget and time. The trip may be planned for two to five days at any point during the school year and include enhancements and signature events that most interest the group.
"Early-On" Experience Package
This package allows the class to get a head start on the trip by selecting a park – Disney's Animal Kingdom Park, Epcot, or Disney's Hollywood Studios – and experience an attraction right at park opening. A private breakfast buffet is also included with the package and may be scheduled for an hour before park opening or for after your select "Early-On" attraction experience. Classes then can enjoy the park on their own schedule for the rest of the day.
Fantasmic! Patio Reception Package
Over at Disney's Hollywood Studios, the Fantasmic! Patrio Reception Package is an option to add a little something extra for those celebrating at night. The package allows seniors to bypass the line for the attraction and view the show from a reserved patio area. A dinner and/or dessert buffet is also available.
Illuminations Dessert Party
Similarly, a dessert party add-on experience over at Epcot is an option for those looking to celebrate in the evening. This option includes reserved seating at a designated area near World Showcase Lagoon so that students may have prime seats for Illuminations: Reflections of Earth, a fireworks show featuring laser and water effects. The party features a variety of desserts including brownies, cookies, and ice cream snacks.
Signature Events – Themed Dance Parties
Disney knows how to throw a unique party and that's just what is available with the signature options to Disney Senior Class Trip. Three well-themed dance party options offer another way to enhance guests' experience. The parties range in venue and styles. One celebrates Disney Villains while another brings students back in time to "DinoLand." All include a dinner buffet, specialty lighting and decor (a confetti finale is even something you can request), the option to invite Disney characters, and more. I like how you can alter the parties to your needs and can see this being a very popular option for schools.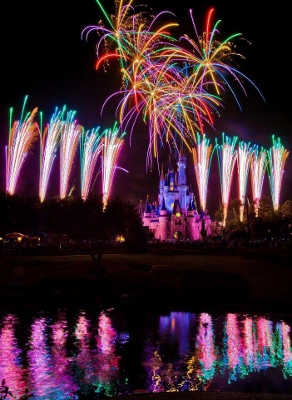 Image: Disney celebrations for students are a unique way to honor hard work, dedication, and camaraderie.
Disney Field Trips
Who wouldn't want to visit a Disney Park for a class trip? I know that this would be #1 on my list! Disney Y.E.S. offers discounted park tickets to schools, youth groups, or religious organizations who are interested in having field trips in the parks. This provides the chance to experience unique attraction and entertainment options together. Couple this with an add-on of a learning opportunity through Disney Y.E.S. Education Programs and students will have a rewarding day outside of the classroom.
In Closing
I have to say that it has been quite enjoyable learning all about what Disney has to offer in terms of the performing arts, education, and student celebratory experiences. There's an option for everyone through Disney Y.E.S. Programs as they offer dozens of opportunities that help children learn and grow together. My only wish is that this was something available to me as a child. I most definitely would have taken advantage of it. Now though, I can make sure my own students are aware of all that Disney can offer to them.
For more information on pricing and booking, please visit: http://www.disneyyouth.com/
Image Credits
Disney Media
Category: Disney World, Disneyland
Born and raised in New Jersey, Nicole is an avid Disney fan and frequents both Walt Disney World and Disneyland several times each year. Interests include Walt Disney Imagineering, merchandise, backstage tours, and more. Be sure to check out her other articles here on the DIS Blog!