The grand-daddy of them all is just around the corner.  This weekend tens of thousands of runners from all over the world will descend on Walt Disney World for runDisney's biggest event of the year, Walt Disney World Marathon Weekend.  Comprised of several races, a huge health and fitness expo, and a number of running events and seminars the weekend is sure to be a hit with runners and theme park enthusiasts everywhere.  Continue through the page break and find out some of the more important ways to prepare for the race weekend.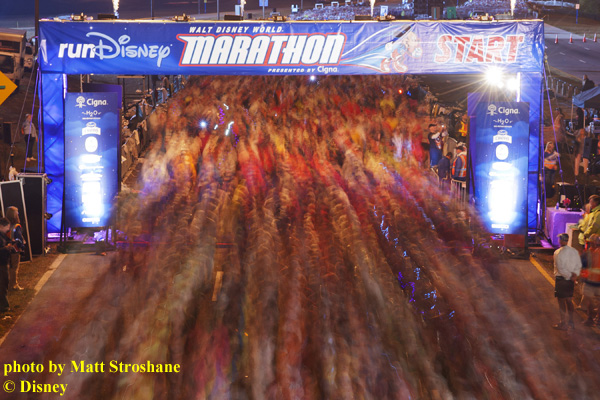 It's safe to say most of the runners participating in the race weekend are non-competitive or recreational runners.  That being said, most of us probably aren't worried about winning the race or looking at such details like how to pass the lead runner.    We're probably more concerned with weather, what to pack for our race trip, what food to eat, or how to tour the theme parks prior to race day.  Let's take a look at some of these concerns and the best way to deal with them leading up to the big race.
Weather
January can be a weather "wild-card" month in Orlando.  Temps can range anywhere from the 30's to 80's.  For a runner that temperature range can boggle your mind.   What to wear, how to pace yourself, how to hydrate, etc, etc.  The biggest consideration is what to pack.  It's not like this race is right down the street from your house.  It's in another state where your only shelter is probably a resort hotel room.  Needless to say I'll be keeping a close eye on my weather.com app on my IPhone to see what I need to pack the closer we get to Marathon Weekend.  It might be shorts and T-shirts or tights and long-sleeve shirts, hats, and gloves.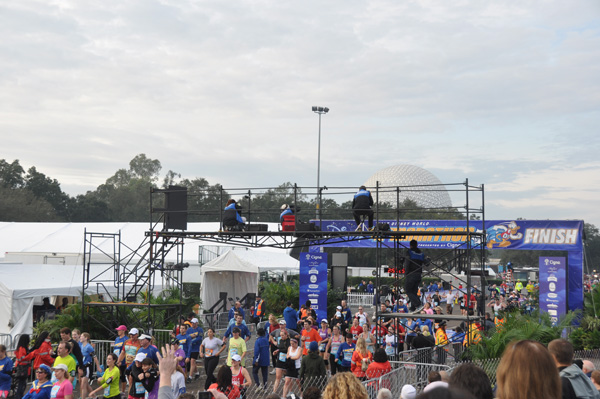 Food & Drink
When I typically arrive at Disney World food is a top priority.  Indulging in the foods I've missed moves to the forefront of my mind.  Again, with the races in the days ahead eating the right food and drinking proper fluids will be critical.  Eating a lot of simple sugars or heavy meals is not something that will encourage strong runs.  Finding and enjoying the right food is something I hope can be accomplished prior to the start of the races.  Passing the churros kiosk and Ohana restaurant without making a stop of thinking about the good food that awaits you will be very important.  It will just have to wait until the race is over.  Let's hope our will-power kicks in and we can avoid the wrong foods or meals.  Drinking plenty of water and proper fluids the day before the race is key in making sure dehydration does not become a problem during the race.  The most important time to hydrate is the 24-hours leading up to race time.  Make sure to remember to drink the day before.  It can be easy to forget when you are having the time of your life.
Park Touring
Probably the biggest concern for a Marathon Weekend runner is how to handle the 24 hours leading up to the 5k, half marathon, and marathon.  Arriving at Disney Word is exciting and the typical routine is to hit the parks hard right off the bat.  But, this time you can't really hit it hard.  The business at hand is to run 1, 2, or all 3 races.  Saving your legs for the miles ahead is crucial.  Discipline is the key to a successful race weekend.  You really need to strike a balance between walking the parks and resting throughout the day before your race.  You certainly don't want to park hop if you can avoid it.  A good suggestion while you are in the parks the day before your race is to enjoy a nice relaxing sit down meal.  This accomplishes keeping you in the theme park, resting your legs, and fueling-up for your race the next morning.   Also, try to stay contained in the various theme park lands and not to criss-cross the parks from attraction to attraction.  All that extra walking will catch-up with you when running several miles the next day.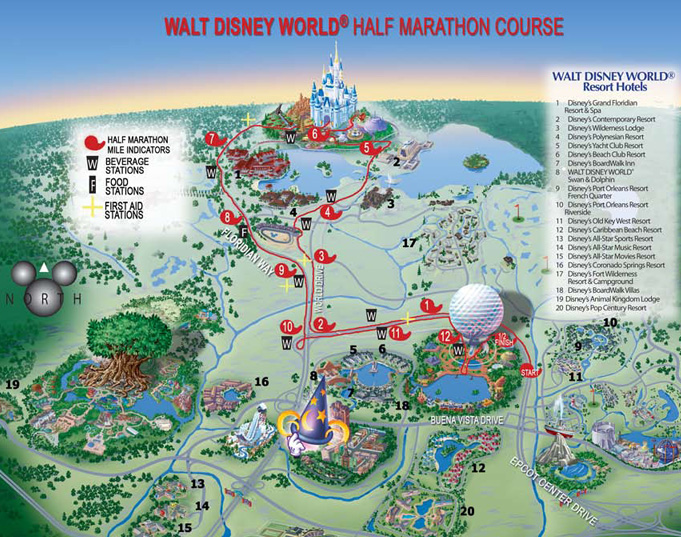 Fan Support
This is probably the best part of the weekend, supporting our fellow friends and runners.  If you are part of a running team or support group you'll appreciate the cheering and screams while you run down Main St. USA.  Not only will running these races bring a lot of joy and happiness to your life, but seeing your friends and family conquer their goals will be just as inspiring.  Both achieving your goals and watching others achieve theirs is a strong combination for future motivation and inspiration.  It keeps us going when the daily grind seems overwhelming.
If you are a spectator during Marathon Weekend or just visiting the Disney World resort be prepared for early morning street closures and altered park hours. It always seems guests are unprepared for the schedule changes and road closures when they visit during Marathon Weekend.  It can be extremely frustrating when you can't get to your destination at the time you wanted to arrive.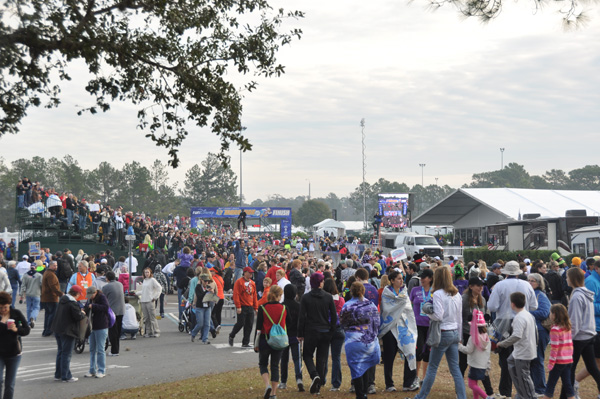 Finally
As runners prepare to toe the line during Marathon Weekend these are the items where you should focus your attention prior to your race.  There are other factors to consider, but like most runners you have to focus on the biggest potential concerns, especially when you are a novice or recreational runner.
We are always looking for different and special things to do at Walt Disney World.  The upcoming Marathon Weekend is just another opportunity to really experience something special and out of the ordinary around the theme park resort.  Running through the theme parks is a real treat I hope everyone gets to experience in their lifetime.  I hope to see you in the parks, resort hotels, or on the road during Marathon Weekend.  Good luck to all of you during Marathon Weekend!
Friend Aaron on Facebook:  I accept reader friend requests.
Category: Disney World