As far as Disney fans are concerned, visits to Southern California can be divided into two categories: visiting the Disneyland Resort or doing something else and taking advantage of the occasion to visit Disneyland and Disney California Adventure. Yes, I know there are more specific reasons, but, hey!  If you're a Disney fan, you can't deny the pull to the land of Walt is as strong as the force is to Luke Skywalker.  Once you decide which of these categories your trip falls into, there are many other details to plan.  The first, and probably most important of these is considering the location of your visit.  Disneyland is in Anaheim, California – right at the heart of one of the biggest cities in the United States – Los Angeles.  This can be daunting for most travelers, but with some basic information, you'll find Southern California to be fairly accommodating.  That's why we've come up with our two newest blog and DIS Unplugged Disneyland Edition podcast series – Home Base Disneyland and Southern California 101.  Some of these may be combined and some separate, but all will give you some great tips on Los Angeles County, Orange County, and the surrounding areas and attractions.
It's more than appropriate to start our discussions off with a bit about the biggest challenge in Southern California – Los Angeles!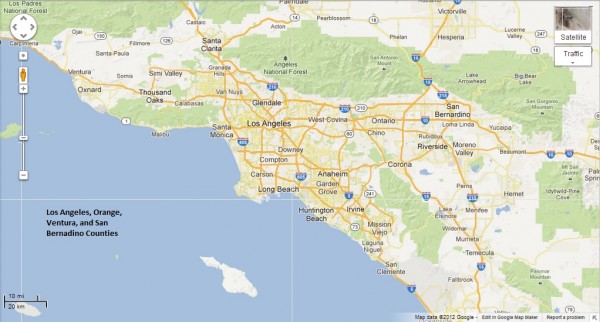 For those of you who aren't coming to Southern California for work, sporting events, or visits to local family and friends, you have some major decisions to make that will impact your Disneyland vacation.  With the average family vacation time of one week and the maximum Disneyland Resort Park Hopper pass available is for 5 days, families are looking to Southern California to fill the rest of their stay.  I'm not much for making a list these days, but I have to say that outlining what you want to accomplish in your vacation in key to making the decision about what airport to use, which area or areas to find a hotel that meets your needs, and if you want to rent a car.
THE LIST
Probably the most personal part of the vacation planning process is choosing your priorities.  All of the following factors will certainly affect your decisions.
What style of vacation do you like?  Total relaxation? ? Educational? Nature – hiking, skiing, beach bunny? Sporting events? Hollywood and Celebrity Experiences?  This is a big one to narrow down, but with make or break your vacation.
Will you split your vacation in two completely different styles?  Are you separating your Disney fandom from the rest of your trip?
When do you want your Disney fix?  Are you too excited to hit the parks first?  Do you want to end with warm Disney fuzzies?  Do you want to scatter it throughout your trip?
When are your planned commitments?  This could end up dictating your Disney schedule, since you will have to work around dates.  On an off-season weekend, this may mean finding limited opportunities to see things like Fantasmic!.
Do you have a bucket list?  Are there things you've always wanted to see or do, but never thought you'd ever have the opportunity?
No matter how you answer these questions, you will begin to see a style emerge.  Don't fight it.  If you plan against your style, you might not have the vacation you really want.
THE LOCATION
Once your style is defined, it's time to learn about where you are going.
L.A. is a darn big city with so many choices.  How do you narrow it down and where do you begin?  We always hear about how huge and populated the area is and how bad the traffic is.  To sum it up the best, the U.S. Census website lists the approximate sizes of the area L.A. County as being 4,507 square miles, L.A. City being 470 square miles, and Orange County being 790 square miles.  The population densities are defined as being 2,420 people per sq. mile in L.A. County, 8,100 people per sq mile in L.A. City, and 3,800 people per sq mile in Orange County.  Pretty daunting if you only look at the numbers.
This really hits home the first time you look out your airplane window and see solid neighborhoods as your pilot starts your descent into the Los Angeles Basin – about 25-30 minutes until you land at your airport of choice.   Overwhelming is a good descriptor.  This is why you want to define where you will enter the Los Angeles area from.  Using AMTRAK gets you the bonus of being able to travel easily to the most popular places in the city.
AIRPORTS
Los Angeles is serviced by 5 major commercial airports and numerous private ones.  These are connected to the infamous L.A. Freeway system –  our complex network of mass transit.  Where you want to start and end your trip will dictate which of these you might use for travel.  Keep in mind that it is usually cheaper to use a single airport for most round-trip ticketing, although airlines like Southwest might price differently if you use different ones.  Also, higher traffic airports usually result in cheaper ticketing prices, but you can find the occasional bargain to others.
Certain places are  more easily reached by certain airports.
Disneyland and Orange County – Orange County (SNA), Ontario (ONT), Los Angeles International (LAX), and Long Beach (LGB)
Beaches – SNA, LAX, and LGB
Mountains – ONT and Bob Hope Airport (BUR)
Beverly Hills, Hollywood, Malibu, Universal Studios – BUR and LAX
Downtown L.A. – BUR and LAX, or use AMTRAK via Union Station
Legoland and Sea World – SNA or San Diego (SAN)
This highlighted Google Map below, illustrates the airports, in relation to the freeway system and Disneyland.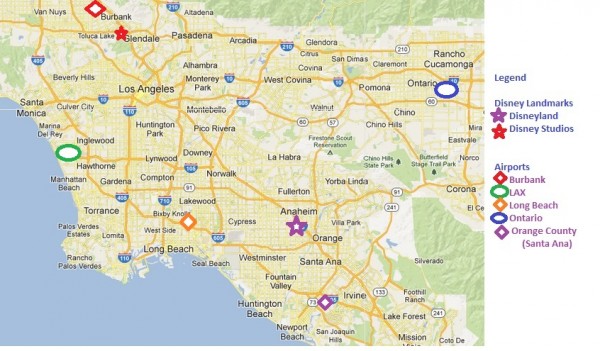 FREEWAYS
It needs to be said again that it really is OKAY to rent a car in Los Angeles.  REALLY.  There may be a lot of traffic, but it moves slowly.  The chances of an accident on L.A. freeways are extremely slim.  Driving here just requires you to relax, kick back, and enjoy conversation and time spent with your fellow passengers.  If you can do that, you'll be rewarded with a chance to see some pretty cool things.  If not, consider just staying in one place or paying someone else to haul you around.
As you can see above, once you become familiar with the freeway directions and where they end up, you really can't go wrong.  Knowing where a freeway ends can make all the difference in the world.   There are just a few facts to remember.
Remember your freeway NUMBER! (5, 405, 210, 57, 91, etc.)  Southern California freeways had names before numbers – you will see a name on the freeway sign, but that name may be different if you are going north vs. south or east vs. west.  The best example is the 710.  It's the Long Beach Freeway going south and the Pasadena Freeway going north.  The 101 is the Hollywood Freeway until you get to Hollywood.  It becomes the Ventura Freeway north of Hollywood.
Californians use the word "THE" before the freeway number.  It's cultural and partially based on the bullet above.  It grates at first to hear it, but you'll get used to it.
The 5 Freeway is THE main North/South traffic route.  It skirts around Downtown L.A. and will take you as far south as Mexico and as far north as the Canadian Border.  Don't go that far in either direction.  It will take you straight to Burbank, Forest Lawn  ( ), Walt's Barn in Griffith Park, Six Flags Magic Mountain, and other
The 110 Freeway is the one shown in Soarin' Over California (or simply Soarin' for you WDW types).  You take this freeway to get to Exposition Park for the Space Shuttle, Science and Natural History Centers, and concerts or USC games at the Colosseum.  USC is located right next door.  It is reached by taking the 5 to the 10.
The 10 Freeway dead ends in Santa Monica and the Pacific Coast Highway (known as the PCH or Highway 1), which the PCH Grill at the Paradise Pier Hotel is named after.
The PCH takes you north to Malibu and on to Monterey and San Francisco, or all the way south to the rest of the beach towns. It is accessible by the 10, the 110 (in San Pedro), the 105 (at LAX), the 710 (at Long Beach), and several Orange County freeways, such as the 55 (at Newport Beach).
The 101 Freeway takes you straight into Hollywood, with easy access to the El Capitan Theater and Disney Soda Fountain, Hollywood and Highland, and the Hollywood Bowl, as well as a .  This freeway is a left exit off the 5, right before downtown.
The 15 Freeway takes you to Las Vegas, as well as giving you access to the mountain and high desert towns.  This give you access to Lake Arrowhead and Big Bear – two of Southern California's favorite skiing and mountain getaway areas.
Make sure you use your GPS in your smart phone or rent one with your vehicle.  Other smart phone traffic apps, like WAZE, can help you deal with snags more easily.  Just remember that traffic can add upwards of an hour to your drive, so plan on driving before or after rush hour times.  That means that you could have a leisurely breakfast or catch a few rides at the Disneyland resort and then head off to your destination!
It's probably best to stop at this point in the overview.  Future segments will include various attractions and recommendations that have been tried and true by the team at the DIS Unplugged Podcast – Disneyland Edition, and  we covered quite a few additional things on our
, so you may want to give it a listen too!
Maps by Google.  Landmarks added by N. Johnson.
Category: Disneyland, Podcasts
Disneyland Podcaster for the DIS Unplugged