"Our greatest natural resource is the minds of our children." — Walt Disney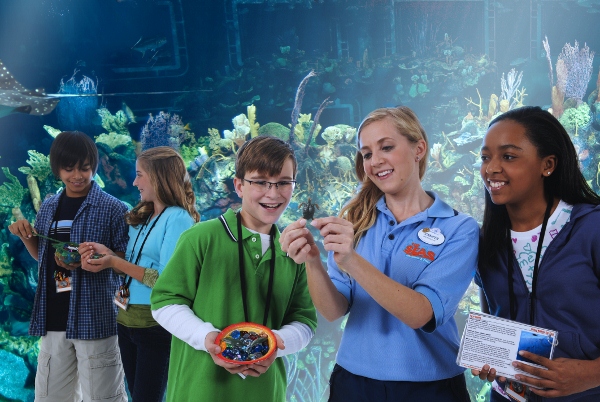 Image: Experience real physics on thrilling attractions. Form a team to solve conservation challenges. Discover new cultures of the world. Explore careers and a new way of thinking with Walt Disney Imagineering. These are just a few of the opportunities available to students through Disney Youth Education Programs.
At Disney Parks, innovation is the norm and creativity and ingenuity are at the forefront of every guest experience. Attributed to Walt Disney's belief in molding young minds and educating the generation of tomorrow, Disney Youth Education Programs immerse students in learning instead of presenting it to them in the standard classroom. By collaborating with educators and curriculum specialists, the programs create exciting opportunities to build upon what's learned from the textbook and heighten understanding of the content based on national standards. While doing so, students are encouraged and inspired to explore their passions in a learning laboratory found in Disney theme parks both in Florida and California.
Disney Youth Education Programs began at the Walt Disney World Resort in 1979. At this time, four programs were available focusing on the areas of art, energy, entertainment, and nature. Since then, more than twenty different offerings have been created and take place year round in all four Walt Disney World theme parks and in the Disneyland Resort in California. The programs include seminars, presentations, field studies, workshops, and learning tours that utilize the excitement of the parks to present content in a fully immersive and engaging environment. These opportunities may stand alone as a designated learning experience or be used to complement the curriculum being taught back in schools. Regardless, the programs will engage students in a unique way.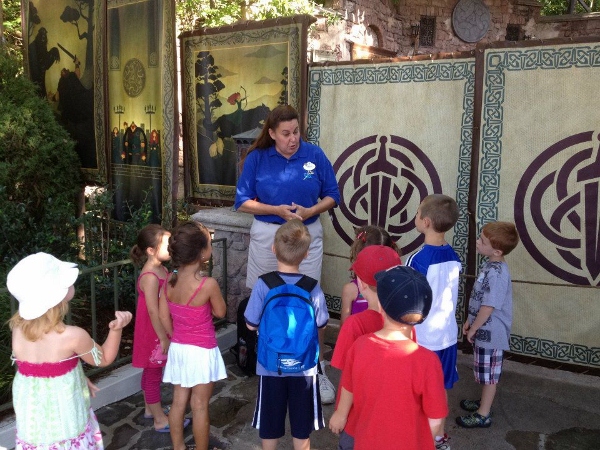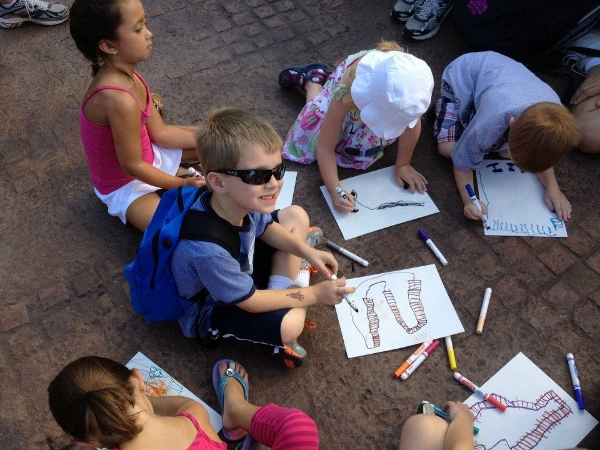 Images: Specially-trained Disney cast members work with children of all ages to help them learn. Here, young students learn about energy in "How Things Move" and even designed their own roller coasters!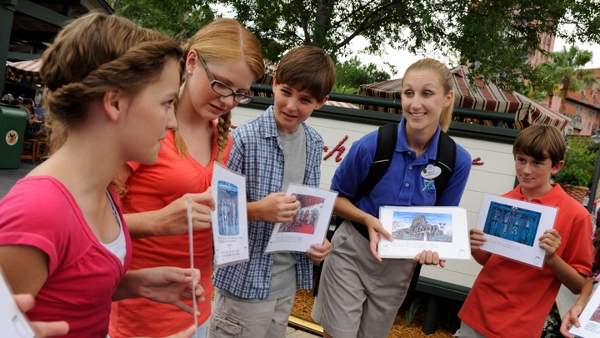 Image: Students learn the value of teamwork and creative thinking through programs like this one allowing them to become Walt Disney Imagineers for a day.
Disney Youth Education Series 
Disney Youth Education Series (Y.E.S.) programs create adventures based on learning. The unique programs engage participants through the fun of Disney parks and immerse them in a variety of subject areas including physical and natural sciences, arts and humanities, and leadership. Over twenty different learning experiences are offered, all of which range from two to three hours in length. These hands-on courses are designed to increase students' passion of learning while encouraging them to reach their full potential. Collaborative exercises also help them recognize the value of teamwork and how to use leadership skills in various careers. During the program, students apply their knowledge and skills in real-world settings at Disney theme parks; in turn, they gain confidence and new ways of thinking. These learning adventures are offered daily and may be arranged for a group or on an individual basis.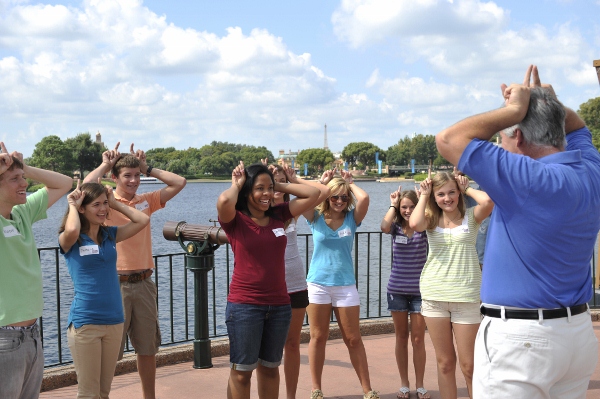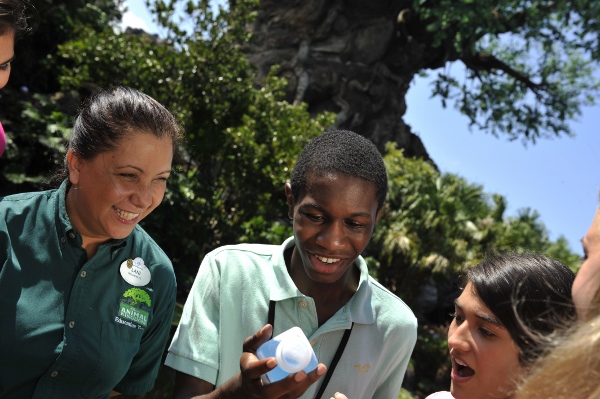 Images: Learning comes alive with programs focusing on everything from science to animation to history through the Disney Youth Education Series.
Disney Y.E.S. programs are unique in how they bring learning to life. Disney cast members carry students' knowledge from the classroom to the next level and help them apply it to various learning experiences and challenges. For example, theater students can go behind the scenes of Cirque du Soleil: La Nouba to learn what it takes to create and perform an amazing show. Have a future scientist on your hands? He can explore the concepts of force, motion, and gravity through hands-on learning at the Magic Kingdom. Participants can also learn about geography, world cultures, history, photography, performance art, technology, and more depending upon which program is chosen.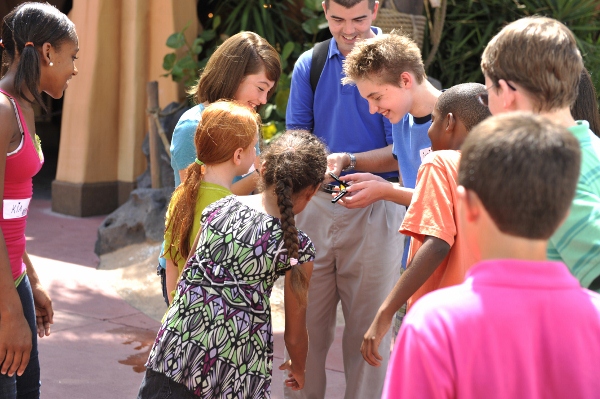 Image: A group of students learns about energy and waves during one hands-on adventure.
Disney Y.E.S. programs are designed for students of all age levels and learning styles. Participants may be in elementary, middle, or high schools; there are also some opportunities available for college students. The groups for each experience are kept small to provide the individual attention learners need: typically 10-15 participants per course.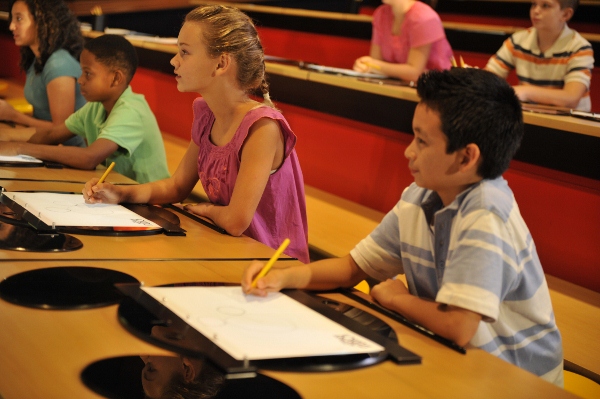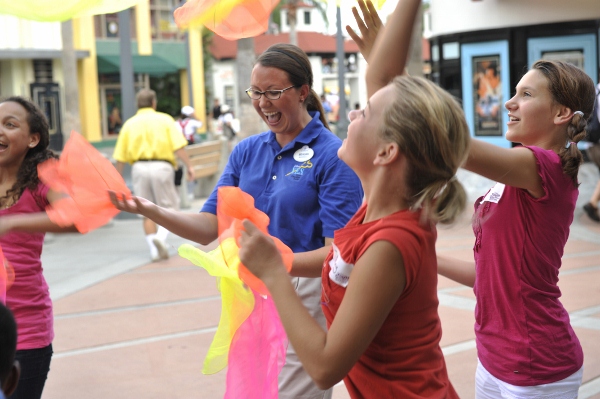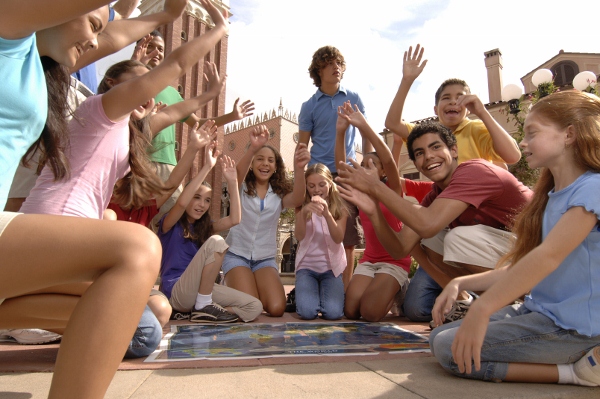 Images: Students learn content knowledge and important life skills through Disney Youth Programs.
Program Highlights
With over twenty offerings, the programs vary in topic and objectives. Below is just a sampling of what's available: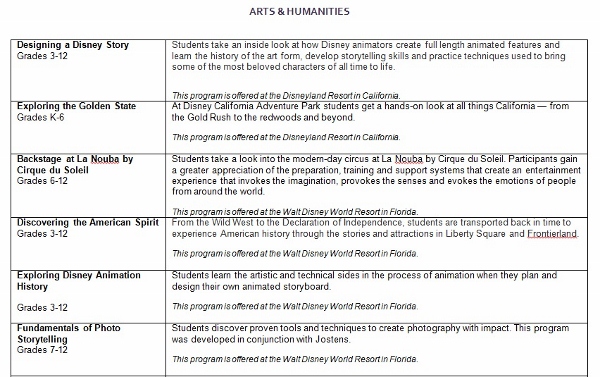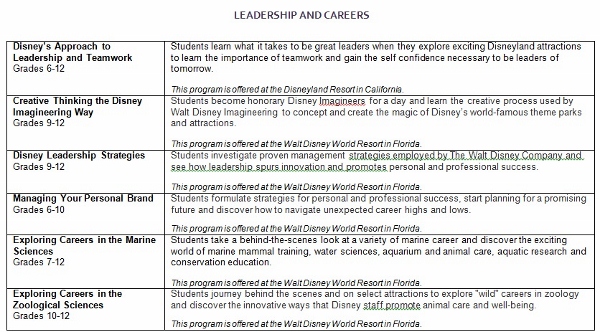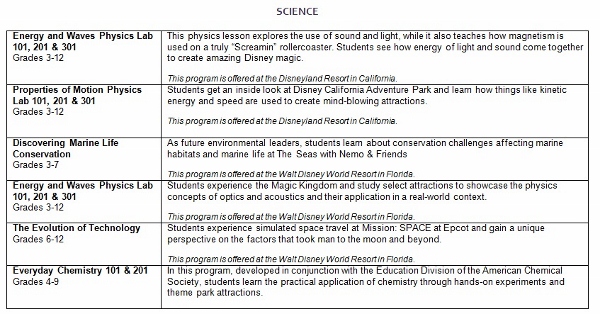 Kingdom Keepers Quest
Ridley Pearson's Kingdom Keepers novel series has become a fan favorite across the nation. Now, those who enjoy the books have a chance to defend the Magic Kingdom against the Overtakers in this new quest. The program was specially designed for students in fifth through ninth grades and focuses on essential life skills and content including problem solving, creativity, language arts, mathematics, and critical thinking.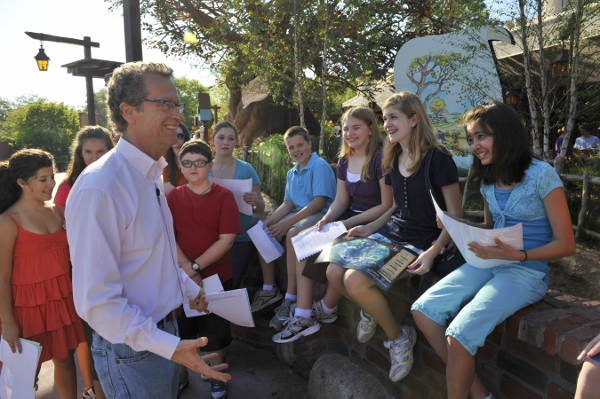 Image: Author Ridley Pearson talks with students about his series, The Kingdom Keepers.
Participants in the Kingdom Keepers Quest set off on a self-guided tour through the Magic Kingdom in search for clues to help them protect Cinderella's homeland. In doing so, students build their skills and find themselves on similar missions as those in the book series. The quest itself was written by Pearson, so it is suggested that those participating read the first novel before going on their adventure to fully understand the references made to the text's characters and plot.
In Closing
As a teacher, I know how challenging it can be to keep today's youth engaged, motivated, and inspired to pursue their passions. Elements of excitement, surprise, and adventure all need to be a part of well-designed lesson plans for instruction. To help enhance learning, Disney Youth Education Programs can provide teachers and families with new ways to help children learn. The programs accommodate school field trips and homeschoolers. Likewise, individual families looking to incorporate unique educational experiences in their vacations may also participate in the offerings available. No matter what type of group or learning objective you have, Disney Youth Education Programs can excite students about learning and thus inspire a lifetime of rewarding experiences.
For more information, please visit: http://www.disneyyouth.com/our-programs/education/
Image Credits:
Disney Media – Youth Education Series
Category: Disney World, Disneyland
Born and raised in New Jersey, Nicole is an avid Disney fan and frequents both Walt Disney World and Disneyland several times each year. Interests include Walt Disney Imagineering, merchandise, backstage tours, and more. Be sure to check out her other articles here on the DIS Blog!