Knott's Berry Farm celebrates many holidays throughout the year, but one of the best is at Christmas time when the Berry Farm is turned into Knott's Merry Farm.  This is a full scale holiday party with a Christmas Crafts Fair, a holiday parade complete with all the signature Peanuts characters, special holiday shows including a magnificent ice show starring Snoopy, nightly lighting of an enormous Christmas tree, lights and decorations throughout the park, music and song, and surprises around every corner.  Knott's does it up right and invites everyone to come celebrate the season.
I visited the festivities at Knott's Merry Farm, so let me show you just some of what you can find there during this very special season.  You can also listen to more about Knott's Merry Farm on our recent episode of the DIS Unplugged Podcast: Disneyland Edition.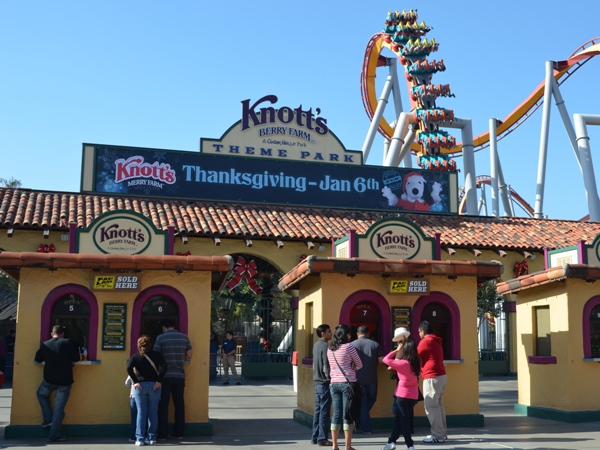 Christmas time at Knott's Merry Farm is a very special time of year, and this year the Knott's team has brought back many of the well known favorites and added a few new ones.  I'm glad to see that Knott's is preserving these traditions and encouraged that they recognize how popular the holidays are and the wonderful way that Knott's celebrates them.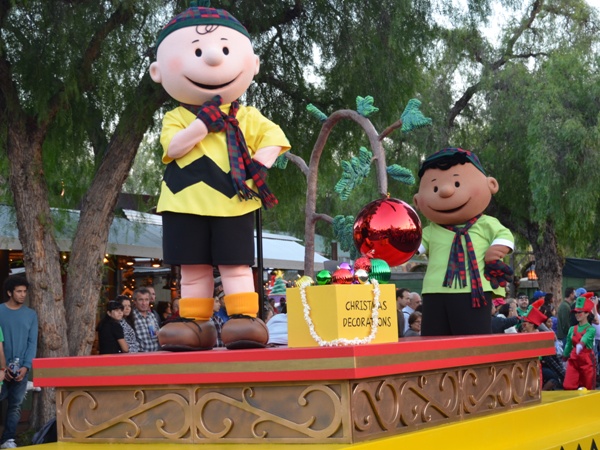 Knott's Christmas Crafts Fair is located in historic Ghost Town.  The whole area is decorated for the holidays with garland, poinsettias, holiday flowers and trees, and lights everywhere.  It really looks festive (in a western kind of way).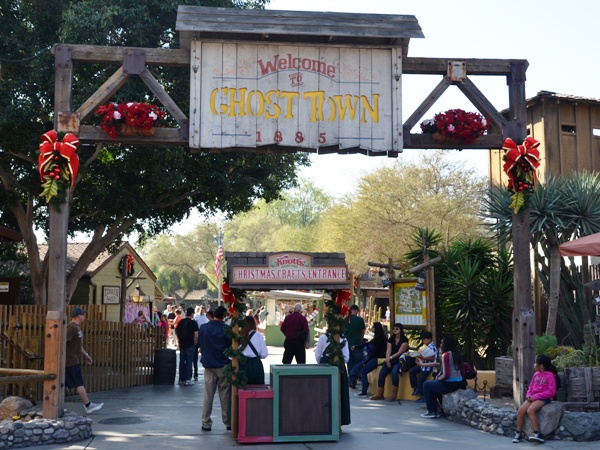 There are kiosks scattered all over which are full of holiday merchandise and trinkets from many different kinds of vendors and artists.  It's fun to wander around and look at the variety of the items and how creative they are.  A lot of the items are handmade by the artists themselves.  I love that you can talk to the artists about their special items and sometimes watch as they create them right there.  It's easy to find that unique holiday gift that was handmade just for you.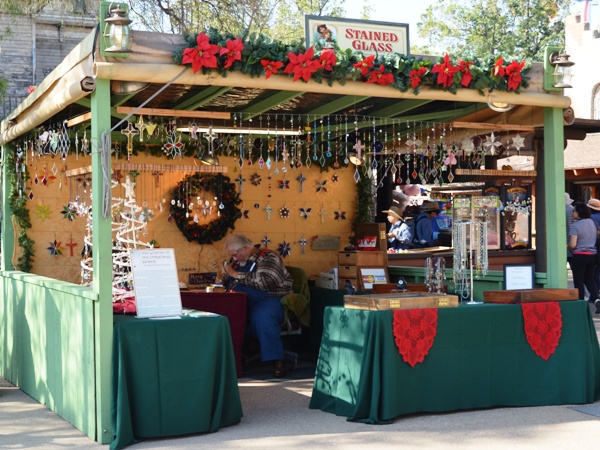 I also found Christmas ornaments and decorations, stained glass ornaments, wind chimes made out of specialty bottles, wooden reindeer, candles and soaps, clothing and stitchery crafts, and so much more.  You sure can spend a lot of time "booth hopping".
And you can also find these handmade Maple Suckers.  They pour hot maple syrup over ice, attach the stick, and let it cool a bit.  They smell great and taste even better!  And only $3!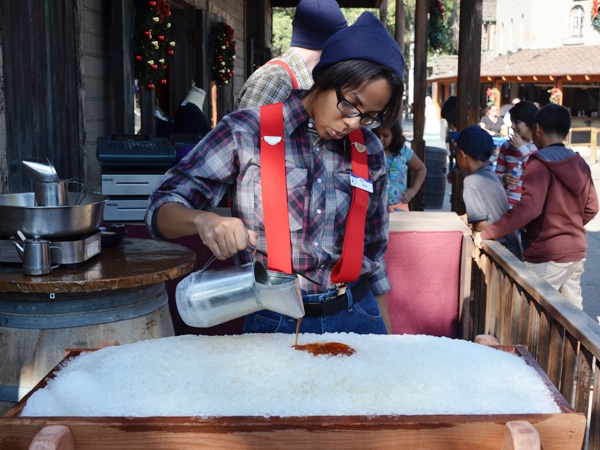 Down the street, the Ghost Town blacksmith is making horseshoes and other items.  You can watch as he forges each item.  This is becoming a lost art and it's fascinating to watch as the blacksmith turns simple metal bars into useful tools.  You can even purchase a horseshoe or other item made right there especially for you.
Santa's Toy Barn is the centerpiece of Ghost Town and it's all decorated with brightly lit trees.  Here you can shop for all kinds of animal plush toys, Christmas decorations, and other toys.  They even have a surprising amount of Disney items for sale.  And of course you can visit Santa and get your picture taken.
Even the General Store is decorated for the holidays with special merchandise.  This is where you can get all the real Knott's souvenirs and goodies (one of several places around the park).  And of course they have Knott's special brand of preserves, jams, Boysenberry Punch mix, and especially the funnel cake mix!
All the regular attractions are also open within Ghost Town.  This is a good time to take a look at the old style "peak-ins" or take a ride on the Ghostrider.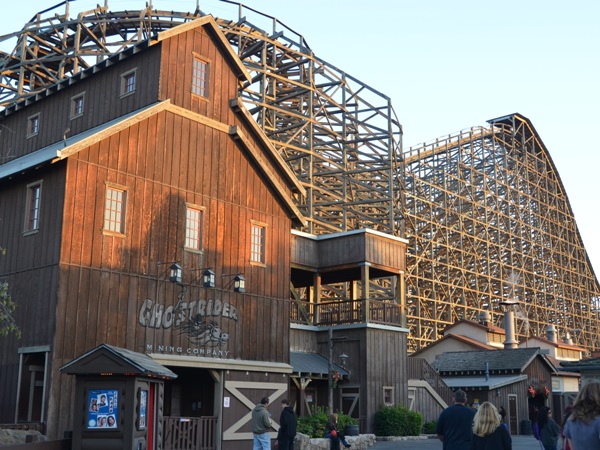 And of course there is plenty of food and drink in Ghost Town, including the Ghost Town Bakery.  They have wonderful cakes, tarts, cupcakes, éclairs, mini-pies, caramel apples, turnovers (Boysenberry and apple), cream puffs, brownies, chocolate covered rice crispy treats, and so much more.  My favorite is a Boysenberry turnover with some hot chocolate.
The Bird Cage Theater is at the far end of Ghost Town.  This is one of the last real melodrama theaters, and Knott's has preserved this wonderful location.  A few times of the year they present actual melodramas with a small group of live actors.  This season they are performing A Christmas Carol and The Gift of the Magi.  This is a MUST SEE.  The performances are excellent and I really recommend it.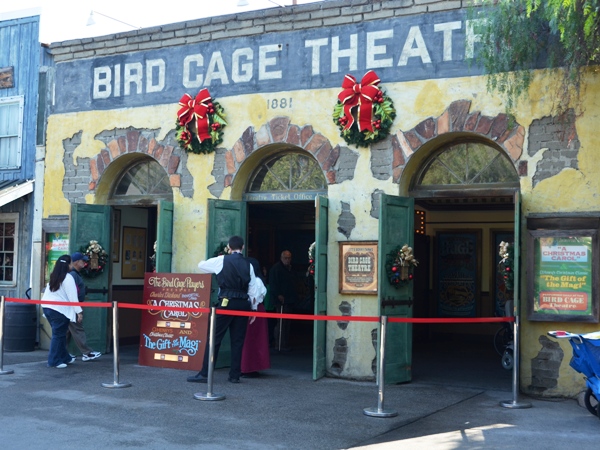 Outside the Bird Cage Theater you can see a real live steam calliope being played before each performance.  This is another unique attraction and is so fun to listen to.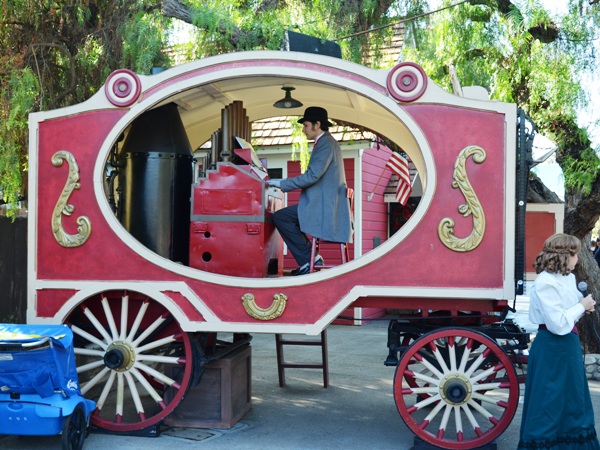 Also in the Christmas Crafts Fair area you can see a live demonstration of glass blowing.  Artist Charlie Keeling shows how he takes hot molten glass, and slowly forms the most interesting glass items.  This is another very unique skill and watching Charlie build his creations is fascinating.  This is another of my recommendations, especially if you have never seen this process.  Trust me, you will be amazed.  There are also specialty glass pieces for sale made by the artist.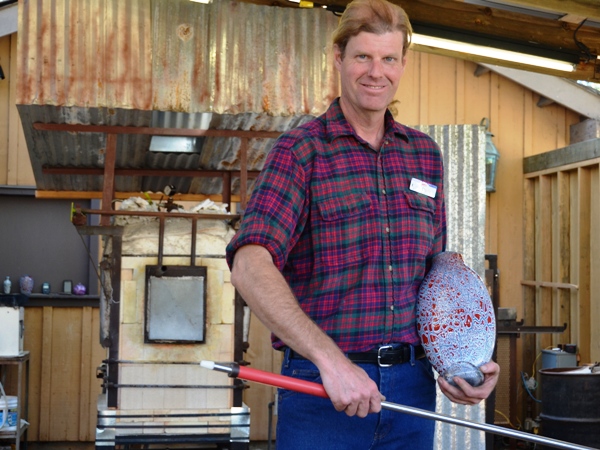 Another demonstration is by artist Dave Clarke who uses a chainsaw and other tools to create animal sculptures.  This is really a sight to see.  He takes big logs, and using a chainsaw and other handheld power tools, he fashions these cute creatures while sawdust is flying everywhere!  The result is impressive.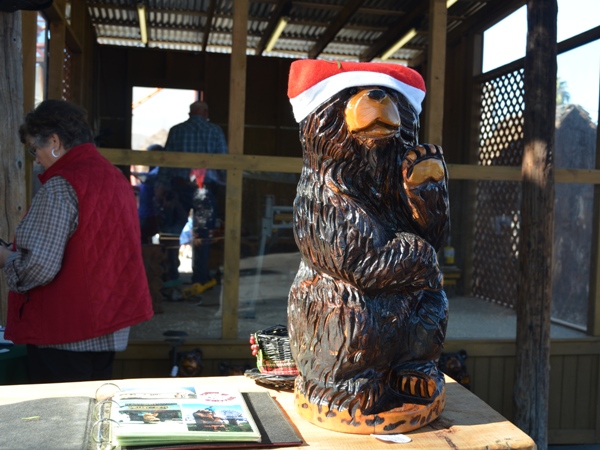 Elsewhere around Knott's Merry Farm you can find other special attractions.  Over at the Timber Mountain Log Ride, the mountain has been converted into Elf Mountain, where you can see the world of Santa's Elves as they prepare for the holidays.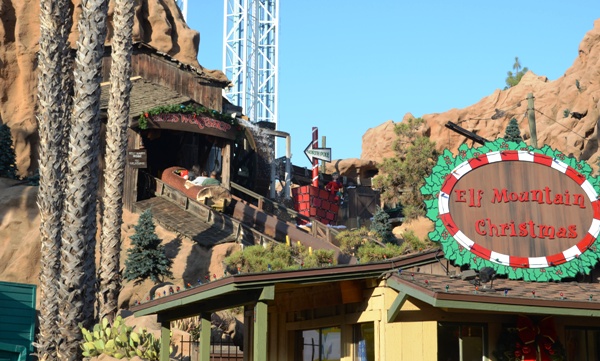 And don't forget a ride on the biggest Christmas Train in the park – the old #41 of the Calico Railroad.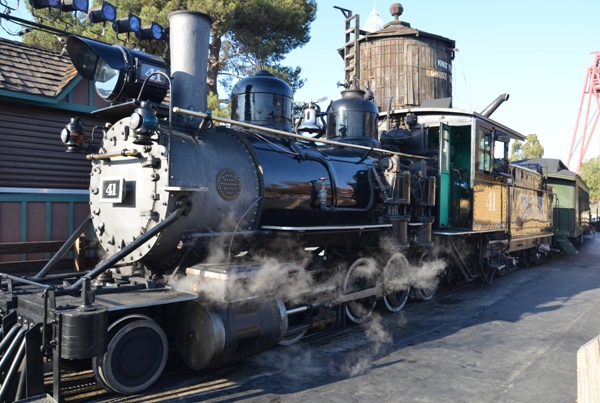 Another highlight of Knott's Merry Farm is A Peanuts Holiday Parade.  This delightful holiday parade starts in Ghost Town, winds through Calico Square, and finishes at the far end of the Boardwalk area.  This is a great little parade features dozens of performers, all the Peanuts characters, and floats depicting everyone preparing for the holidays.
The biggest show of the season is the It's Christmas Snoopy ice show, which is playing over at the Charles M. Shultz Theater.  This is a wonderful full theater with very comfortable seats, a nicely raked audience (so everyone can see) and a real ice stage!  This is not your standard ice show.  This is a marvelous song and dance show that happens to be on ice.  The performer skaters are very talented and even Snoopy appears on ice skates!  The show tells the story of the meaning of Christmas using the skaters and the Charlie Brown Christmas animated cartoon.  It's neat the way they mix the live action with the projected clips from the cartoon.  There is good music, fun sets, creative lighting, and wonderful costumes.  This is a great show and very entertaining.  This is another MUST SEE.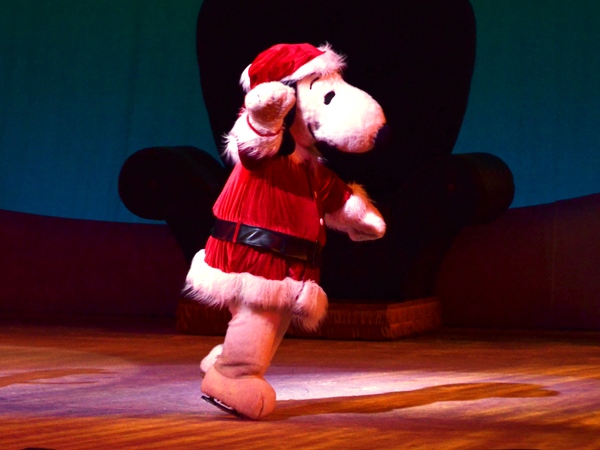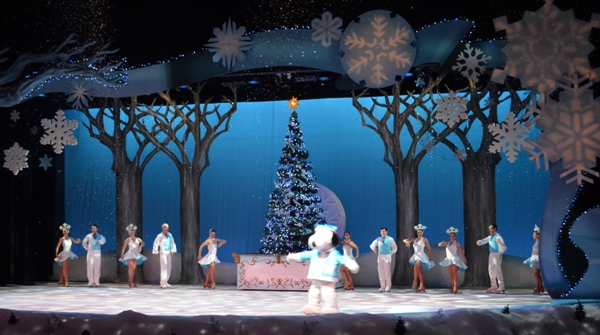 The grand finale of the evening is the Calico Christmas Tree lighting ceremony.  All the Peanuts characters return with a full ensemble of dancers and singers, and the Calico Carolers.  This is performed on the Calico Square Stage, which is a really nice outdoor stage with full lighting, sound, and a festive holiday set.  One of the most moving moments is when Linus comes out dressed as the little Shepherd boy and delivers his meaning of Christmas speech from the Charlie Brown Christmas.  It got a big reaction.  Then they light the beautiful 65-foot Christmas tree.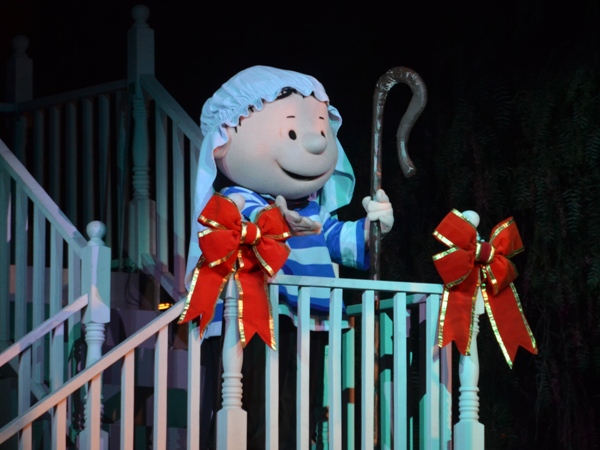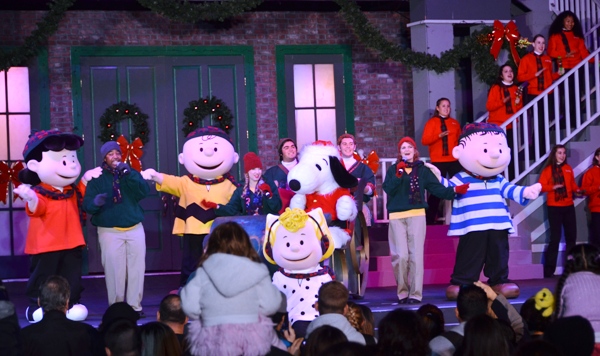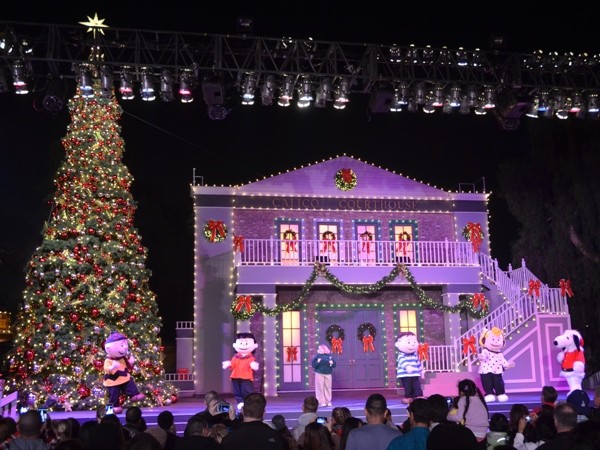 Once night falls, be sure to visit the Camp Snoopy area to see Snoopy's Magical Nights of Lights.  The entire area has been decorated with thousands of twinkling lights and displays.  There are static characters made of lights, landscaping decorated with lights, and a special holiday music track.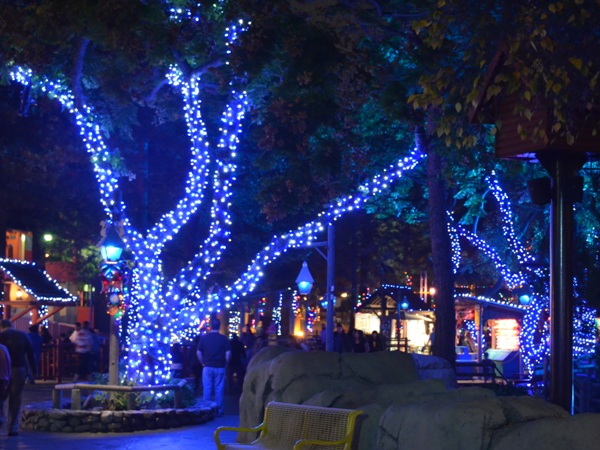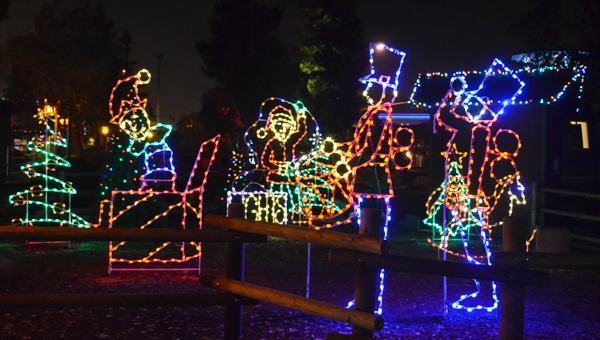 And don't forget your Snoopy souvenir on your way out.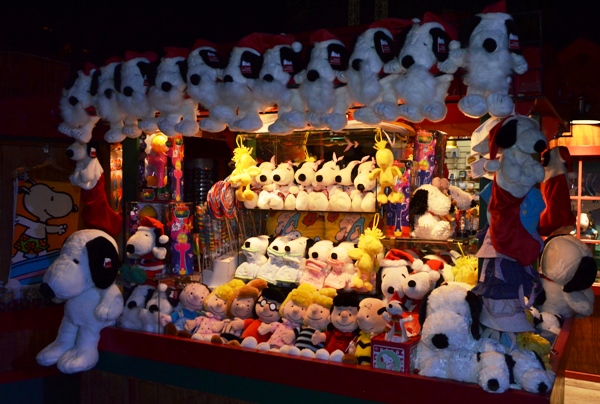 I do have to mention one final place at Knott's Berry Farm that is very special to me.  At the front part of Ghost Town, there is a very unique place called the Geode Shop.  Here they sell real geode rocks, sometimes called "dinosaur eggs".  Maybe you have seen these in jewelry or rock shops after they have been cut open and polished.  Many times they contain crystal formations of various types.  Each geode is unique.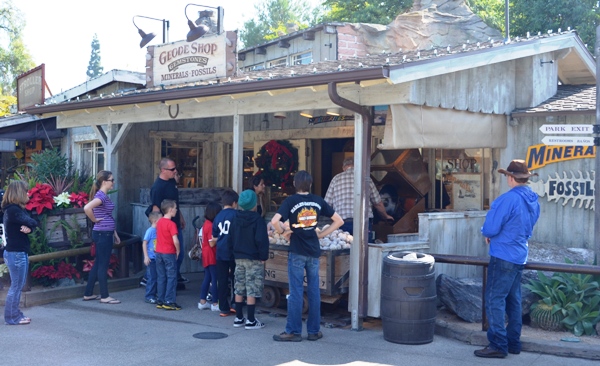 The special thing here is that the geodes haven't been opened yet; they are still whole rocks.  They are all laid out in an ore cart, marked with the price of each individual piece (based on weight and likelihood of being "hollow").  You get to select the geode you want, and they cut it open for you right there.  You get to see the opened geode for the first time since it was covered over by volcanic material over 35 million years ago!  Think about that!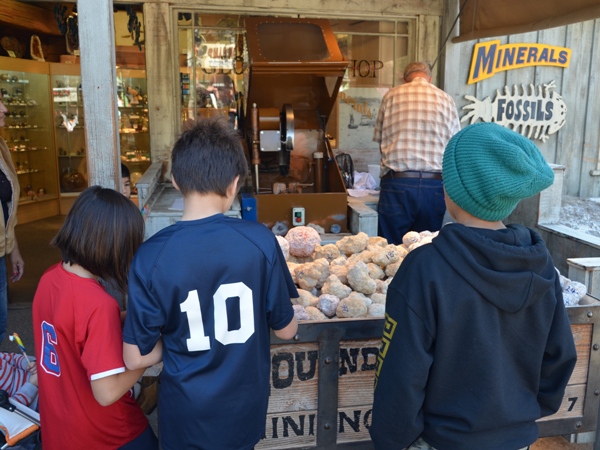 For you couples, this is a perfect gift for each other – each one of you keep a half, and hopefully one day you two will be together forever, just as the geode halves are meant to be together.
I often mark my trips to Knott's with a special geode and this year I wanted something to remember my special trip to Knott's for the holidays.  I selected my geode and they put it in the special saw to open it.  Here is my geode, seconds after it was first opened.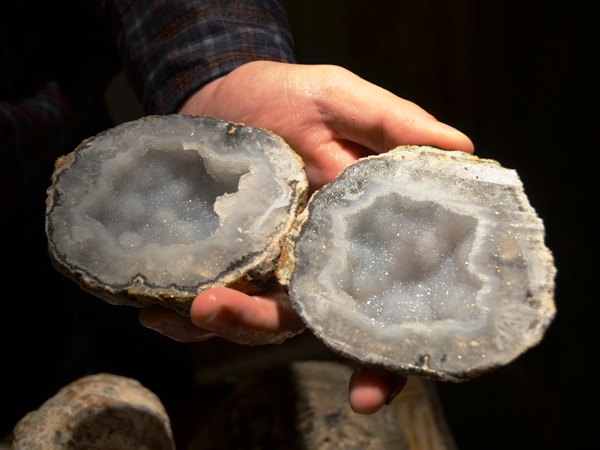 I hope you can see that not only is there an awful lot to do at Knott's Merry Farm for Christmas, or for that matter any time of the year, but also that Knott's offers some great entertainment, the prices are extremely reasonable, and there is good, well-rounded, family entertainment for all ages, and I do mean all ages.
I saw lots of happy faces all day, and when I left I heard many kids talking about the great day they had, and a few were asking if they could come back again.  I had a wonderful day at Knott's Merry Farm and I look forward to going back and doing a full review.  But until then, I think I'll grab a Boysenberry punch and a funnel cake and I'll see you again under the big Knott's sign.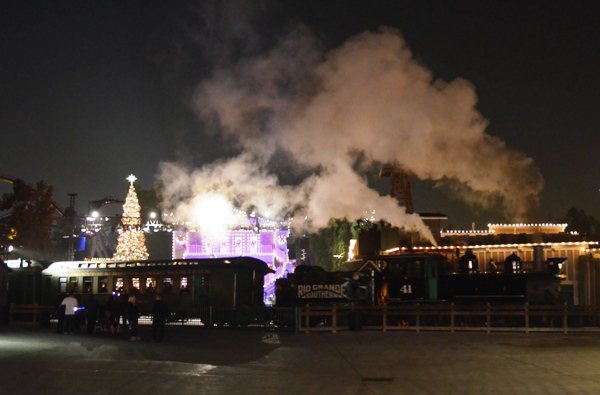 All photographs by Wayne Toigo
Category: Disneyland