This past July, after twenty years of not performing in a New York City nightclub, Jenifer Lewis returned to 54 Below with a new cabaret show called "Black Don't Crack." In a song by the same name, written by Tony Award winning composer/lyricist Marc Shaiman, Lewis sings, "…Oprah Winfrey's got her billions, and Michelle's got Obama, and I still look good out in Hollywood playing everybody's mama because black don't crack…"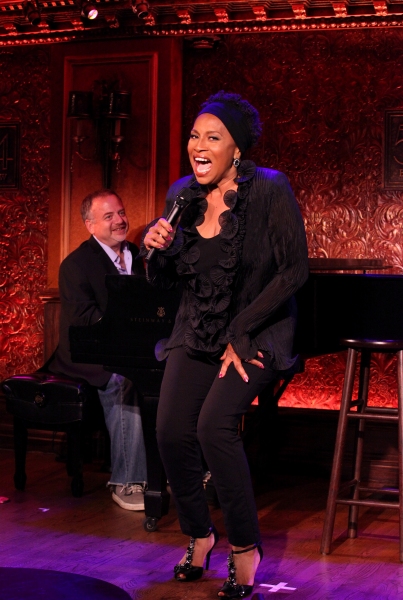 Mark Shaiman & Jenifer Lewis at 54 Below, New York City
Photo: Broadwayworld.com / Walter McBride
Whether she's actually playing the mother or a mother-type of character, Jenifer's career has been diverse as can be. Although her name might not be immediately recognizable to Disney fans, her body of work certainly is.
In Disney's 1988 film "Beaches," Jenifer played one of the divas. In 1992 she played Michelle, one of Whoopi Goldberg's backup singers in "Sister Act." She then played another backup singer in the sequel, "Sister Act 2: Back in the Habit," and she was also seen in "The Preacher's Wife." However, it was her next role that put her into the unofficial Disney fan hall of fame.
In 2006, Jenifer created the character of Flo in Disney Pixar's classic animated feature, "Cars." When Walt Disney Animation returned to hand-drawn animated features, Jenifer created the role of Mama Odie in the 2009 animated feature, "The Princess and the Frog" and in 2010 she reprised her role as Flo in "Cars 2."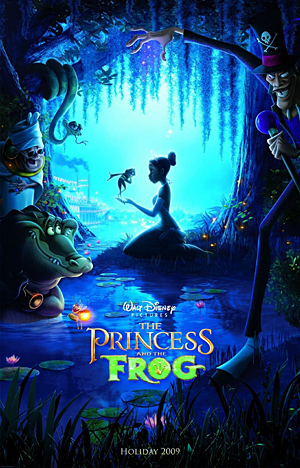 Image: The Walt Disney Company
When asked about her return to the cabaret stage and would there be additional dates Jenifer said, "At the moment I am not planning on any future cabaret shows. I may be returning to New York City this spring, as well as performing in Los Angeles, but right now my focus is my web series, some movies and a few Disney-related video games."
Even though she was a known actress to The Walt Disney Company, she still had to audition for John Lasseter. For both "Cars" and "The Princess and the Frog," John listened to tapes of Jenifer. In the case of Flo, John knew it was Jenifer. For Mama Odie, John did not know the voice he was listening to was that of Jenifer. She said, "That was great (that he didn't know) and made it even more special. He made the choice of the voice of Mama Odie just based on what he heard, not who was behind the voice."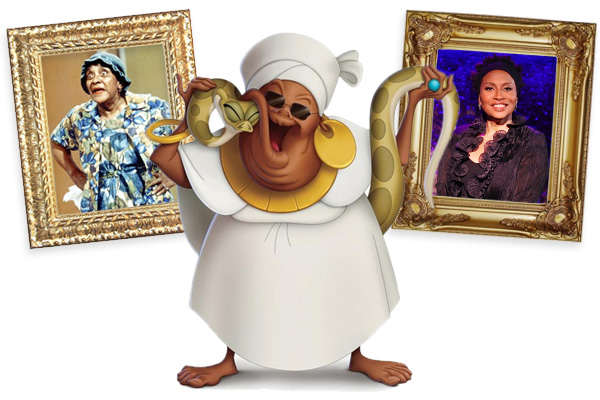 Illustration: Matt Madison-Clark
Images: Moms Mabley/PD-anon, Mama Odie /The Walt Disney Company,
Jenifer Lewis/Walter McBride for Broadwayworld.com
Disney animators are infamous for incorporating something from an actor's performance or physical feature into their character. In the case of Jenifer's roles incorporating something from her into either Flo or Mama Odie wasn't really an option. "As far as physical feature – definitely no for Flo," says Jenifer. "She is a car! And for Mama Odie – that's a big no – I do have my teeth after all!" (Jenifer laughs). "Now as for personality – I think Mama Odie has some of my sass. She may have been 102 years old, but she was still sprightly and does laugh like me," continues Jenifer. "And for Flo, she has my flirtatiousness and she's somewhat of a sage."
"Actors draw on a wide range of sources when creating a character," says Jenifer. "Sometimes it's from personal experiences or life experiences and sometimes it's from the knowledge and observation of others. You always draw from your own experiences – regardless what they are – that's what experiencing life and creating characters is about. You get the role for that reason. If you get the part, you are right for the part."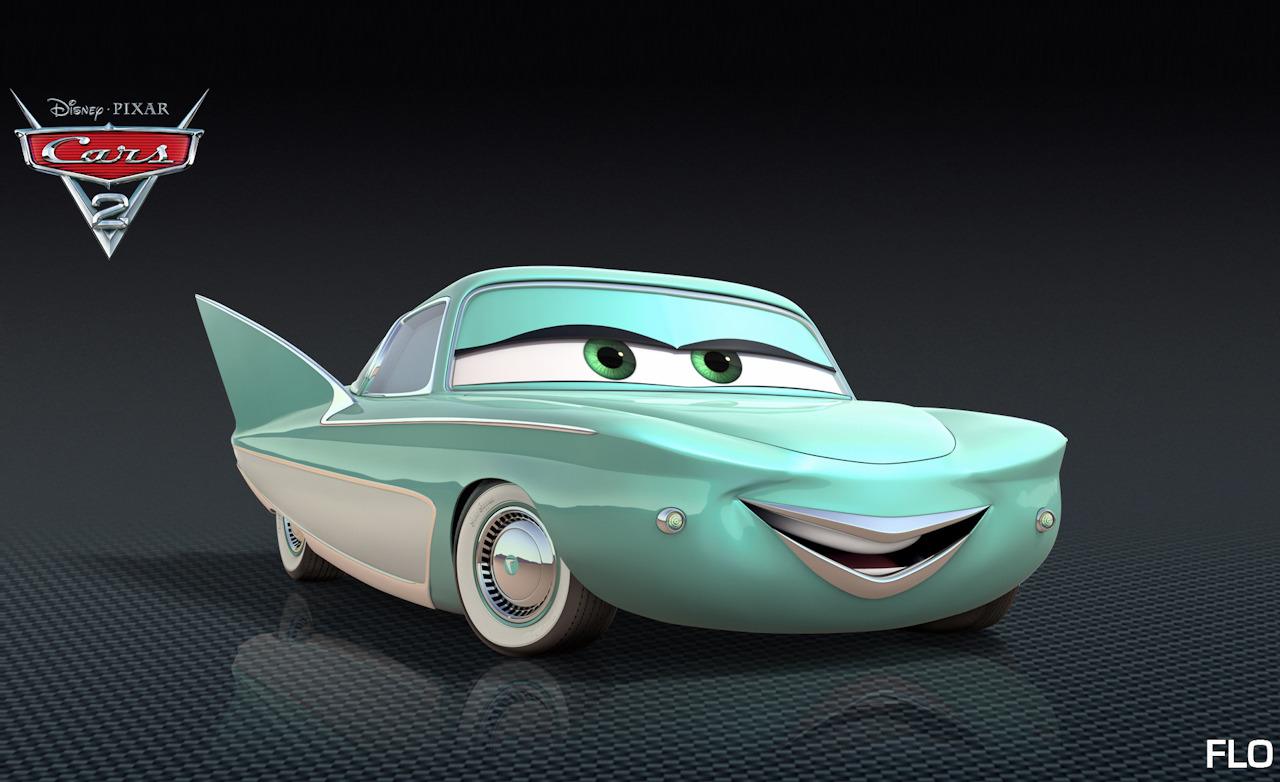 Image: The Walt Disney Company
In the case of Flo, Jenifer said, "Knowing that Flo was an ex-showgirl, given my life-long background as an entertainer, I knew instantly the sort of personality to give her."
For Mama Odie, which to date is Jenifer's favorite character, she drew on her influence from Moms Mabley, one of the most successful African-American entertainers from early vaudeville through the 1960s. "I used to listen to her as a little girl," said Jenifer. "My mother had all her albums and played them all the time. I get a lot of my comic flavor from Moms Mabley's."
Even though Flo was an ex-showgirl, in "Cars" and "Cars 2" Flo never sang. When asked if there ever was a discussion about having Flo sing or giving her a musical number Jenifer said, "If there is a 'Cars 3,' you better believe I will be talking with Mr Lasseter. Perhaps a flashback number with the Motorama Girls!"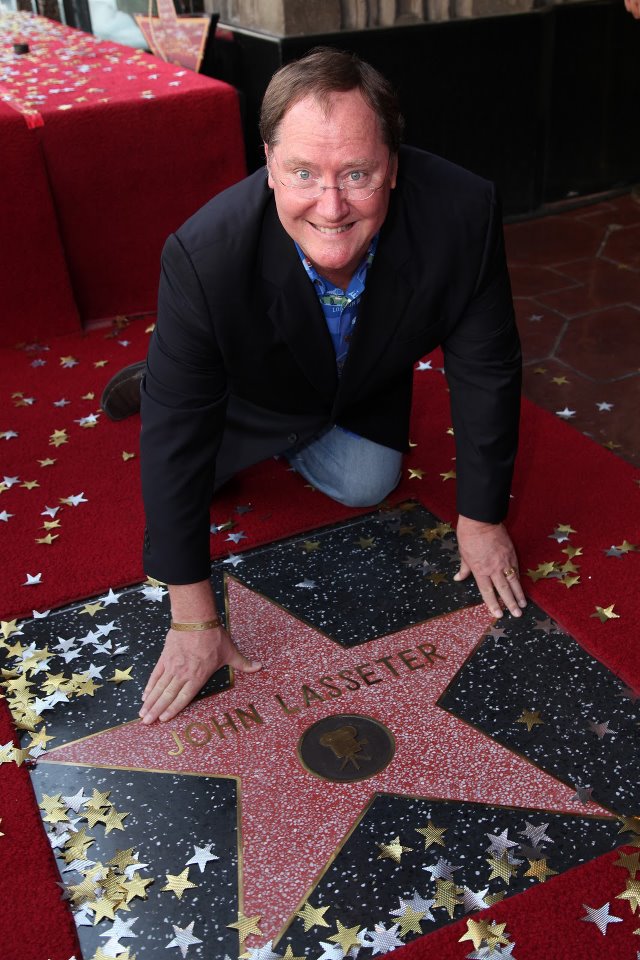 Photo: John Lasseter / Facebook
When Jenifer met John Lasseter she said that he walks around as if it is Christmas morning. "He is about 5-years old and is having more fun than I've ever seen a grown man have," says Jenifer. "He is fun-loving, professional, extremely intelligent and knows exactly what he wants. It's because of that that you want to give him 200 percent in the recording studio. Well… that and his beautiful smile."
Jenifer said when she recorded "Dig A Little Deeper" from "The Princess and the Frog" she said she wanted to get it as perfect as she could. "It took more than two takes and less than 100!" said Jenifer. "I was honored to be working with Randy Newman. I have been singing his songs since the early 80s. I even performed some of his songs in my one-woman show including one in particular, "It's Money That I Love."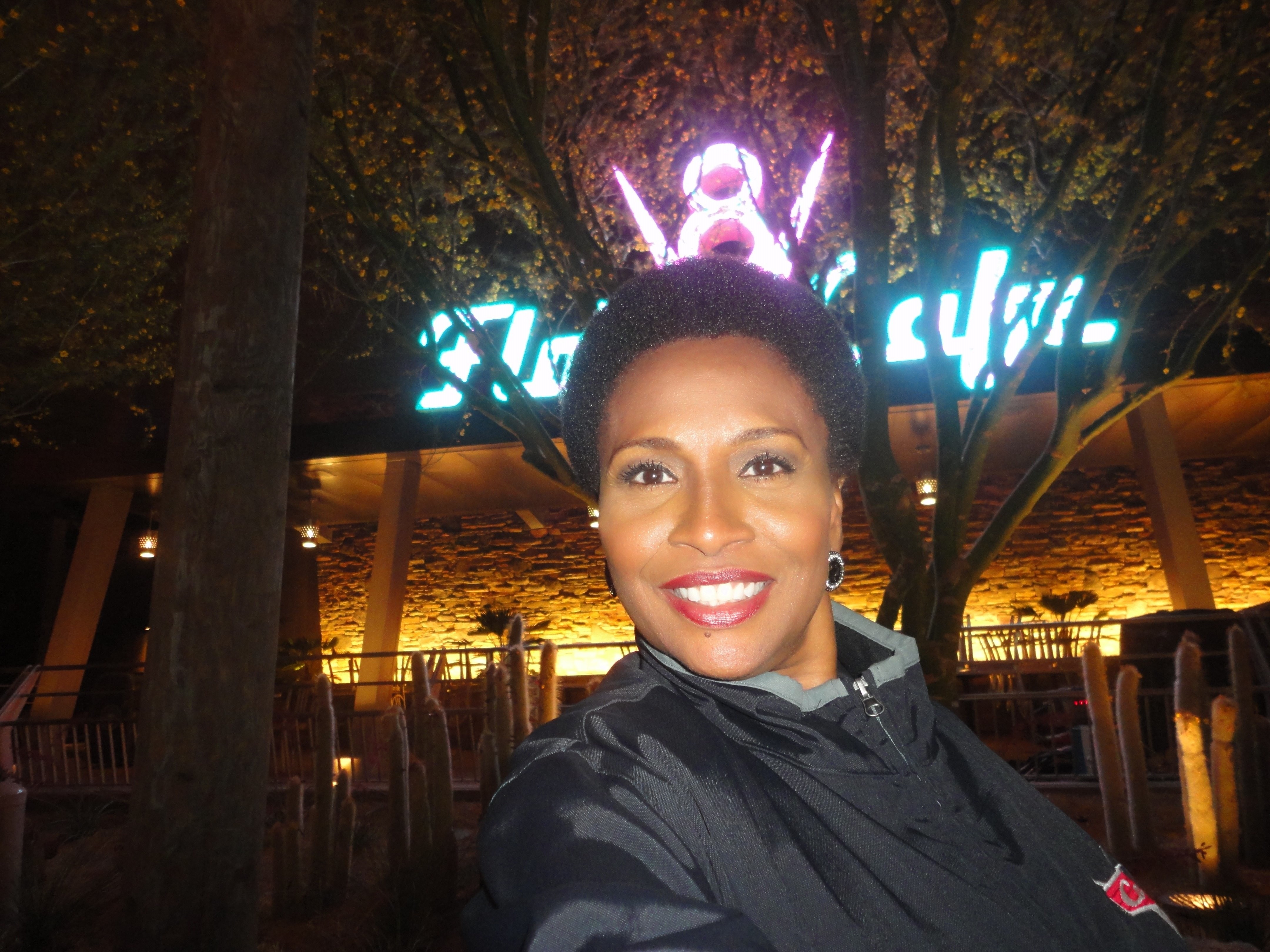 Photo: Courtesy of Jenifer Lewis
"When I first heard that Disney was creating Cars Land for California Adventure I was lit up," says Jenifer. "I was insanely excited to be part of a ride at Disneyland! It will be there forever. It's humbling. John (Lasseter) took us through it before it opened. We were looking at our cars. It was wonderful. My grandchildren will hear my voice there at Cars Land! When I first toured Cars Land I was just overwhelmed. I just stood there and cried. There are no other words to describe it."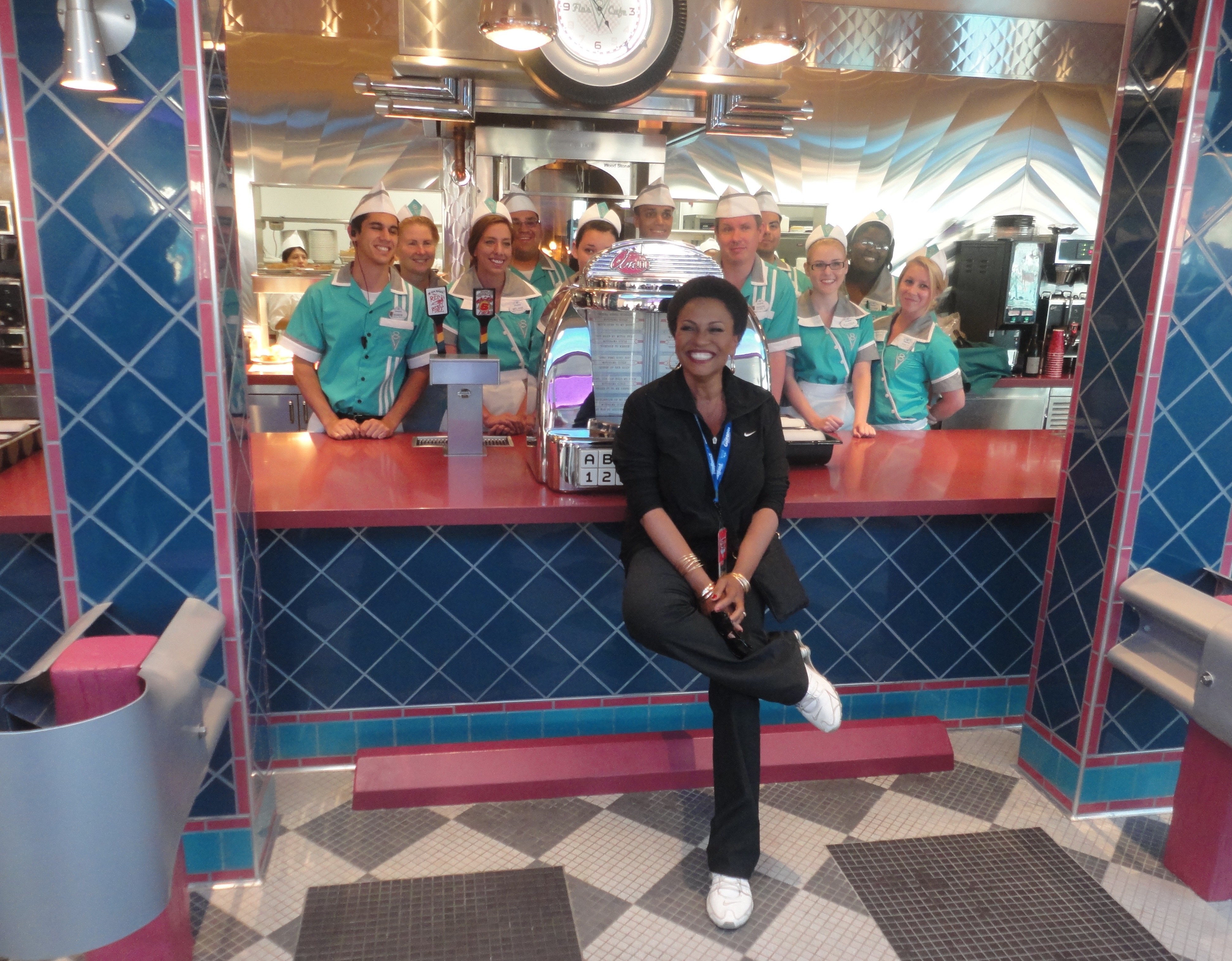 Photo: Courtesy of Jenifer Lewis
Just like getting a star on Hollywood's Walk Of Fame – being immortalized, as part of an attraction at one in the Disney Parks is just as exciting.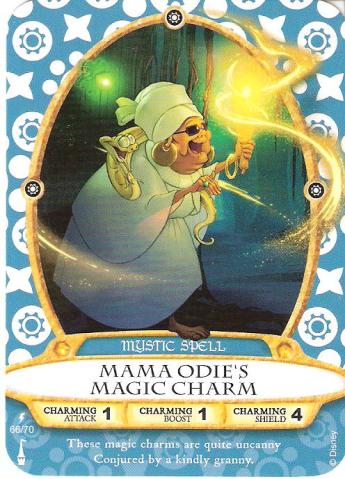 Jenifer's voice is not only heard in Disneyland's Cars Land, but it can also be heard at Walt Disney World as part of the Sorcerers of the Magic Kingdom attraction/game. "Disney has me coming in all the time doing those voices and thank God." (Jenifer laughs).
Through not only Disney lore, but also Wikipedia, Jenifer has been a part of a Disney attraction that she actually never was a part of… Star Tours. When asked about it Jenifer said, "That's not me. It's another actress named Jennifer Lewis. I was the face in front of the California theme park. My picture never got there but I did a 3-hour promotion for the park. It's not me, but I wish it were. People still put it on my resume!"
In addition to her YouTube series, Jenifer is currently filming a couple of movies but says, "I can't tell you what they are quite yet!" In the meantime, we all get to enjoy Jenifer's talents on film and in the Parks!
Category: Disney World, Editorials, News