Whenever Disney completes a new park or opens a new section of the park, the first question on the lips of both fans and vacationers alike is "Oooh – I wonder what this will look like when the holidays come?"  As we all know, Disney is no slouch when it comes to holiday decorations.  When the Disneyland Resort completed the final phase of Disney California Adventure's renovation, I know I asked myself that question!   Now we have the answer, as the resort has revealed Cars Land and Buena Vista Street's inaugural holiday decor!   We'll talk a bit more about this on the DIS Unplugged Disneyland Podcast for the week of 11/22/2012, but for now, it's time to head out on a quick photo tour of the park from both the daytime and nighttime views and get yourself in the holiday spirit!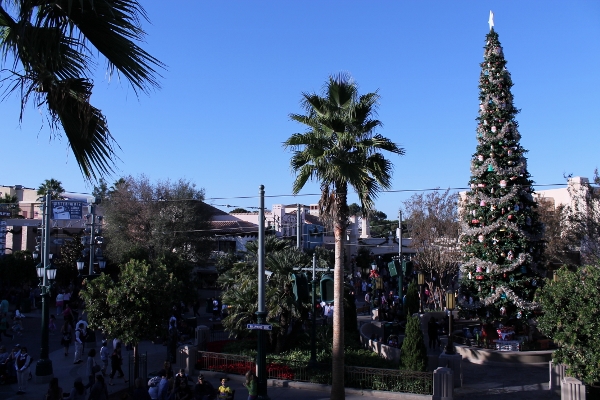 Let's start as you enter the park.
When looking at the park's new holiday decor, it's important to know that Buena Vista Street is a 1920s and 30s environment (post World War I and Depression era) and the folks at Disneyland Resort Enhancement wanted to keep true to that theme.  They went back in time to their grandparents' decor and found their inspiration of simple, but classic decor with minimal lighting – a traditional and risky step.  They also wanted to honor the architecture, by finding elements with a Mission and Spanish theme and found that cedar garland and traditional bells that fit the mold.  Let's walk down Buena Vista Street and take a look!
Oswald's is the first thing you see when you enter the park, so it's fitting that the decor is cheery and sets the tone!   It is best in the daytime, as the folks at the station chose not to light their decorations at night.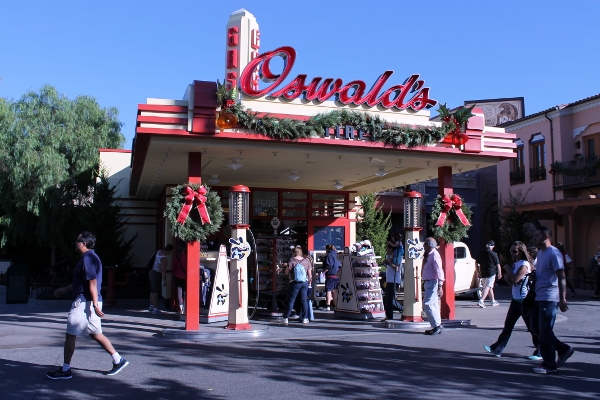 The Los Feliz Five and Dime greets us next, with a simple decor and some fun window displays.  Seems like everyone down the street is trying to compete for the holiday window contest!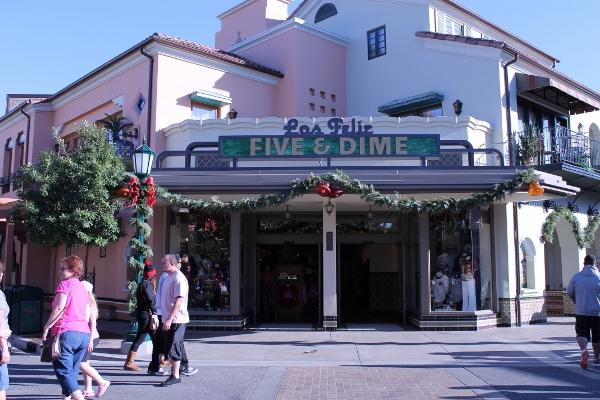 At night, the Five and Dime puts its lights on to let folks know they're open for business!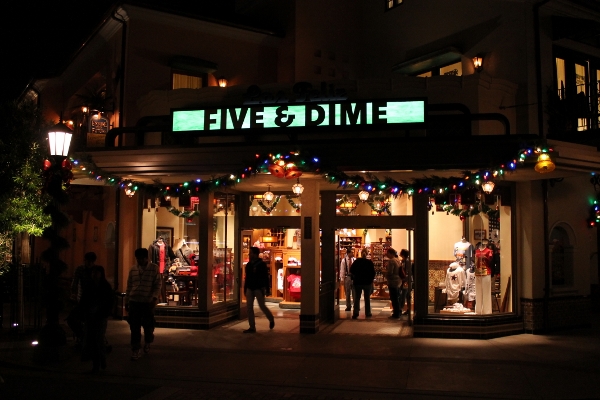 As we head down the street and under the Glendale Hyperion Bridge, the trolley music puts a smile on your face.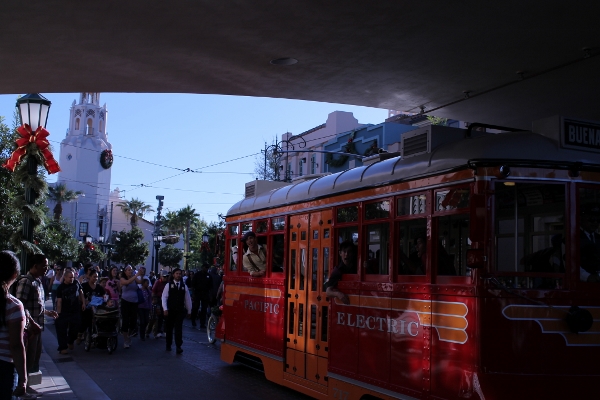 At night, the bridge glows with the rest of the street.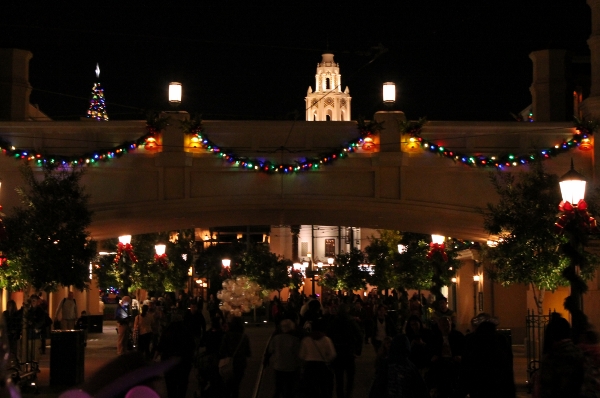 Making our way a little farther, we peek into Elias & Co, to get a glimpse of Santa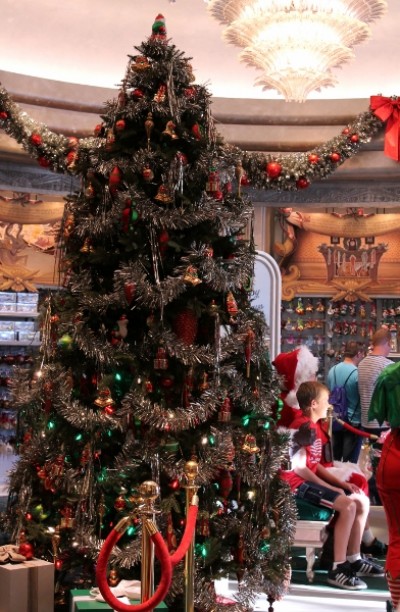 and find ourselves running into Molly, who is ready to bring a bit of holiday joy with her packages.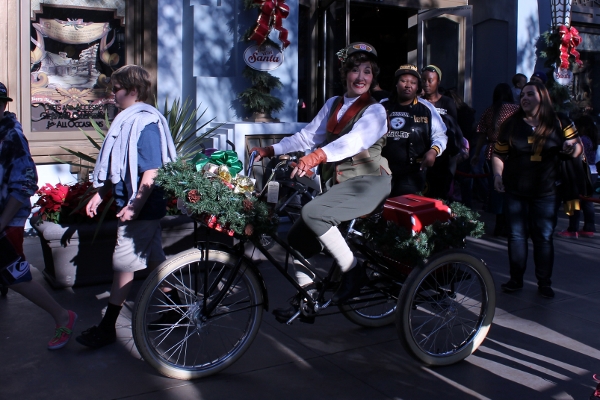 It's always great to see Donna and her pup, Lady, meeting a new friend.  Donna has her best holiday corsage and hat pin on!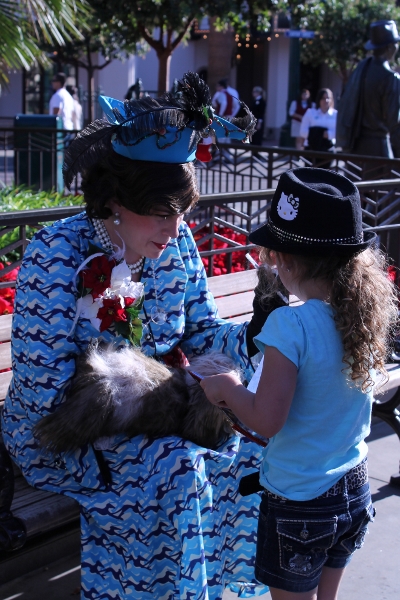 After saying hello to Donna, we couldn't help but notice the tree in Carthay Circle, decorated with the latest fashion in ornaments.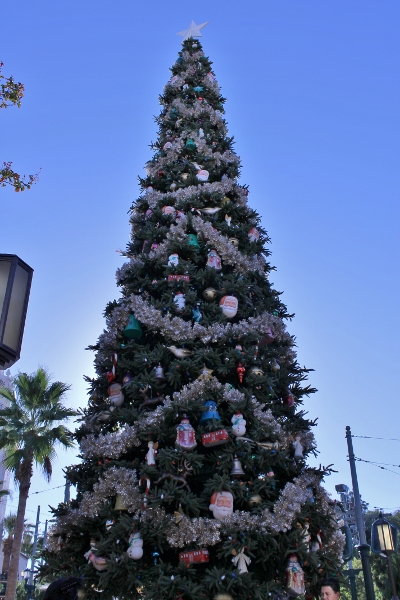 At night, the tree really adds a touch of color.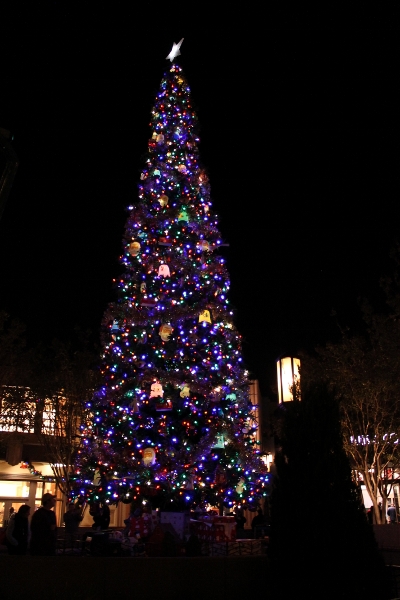 Looking back down the night street with Walt and Mickey makes us realize why he feels that his new California neighborhood is so special.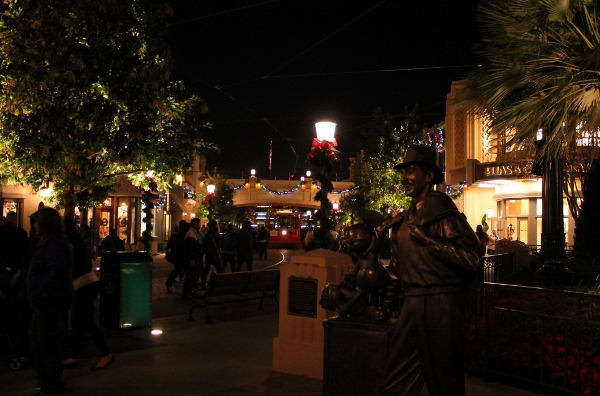 The holiday bustle is always a delight.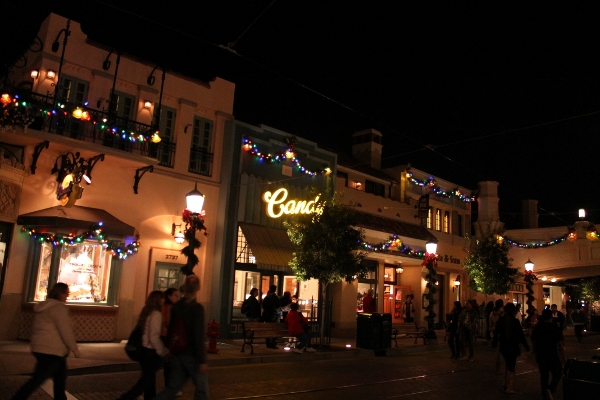 We bid Walt adieu and head further into the park, until we are greeted by Snowy, who was lovingly made by the residents of Radiator Springs during one of our desert snowfalls.  And, yes, it does snow in the high deserts here in sunny California.  The mountain altitude makes for the perfect climate.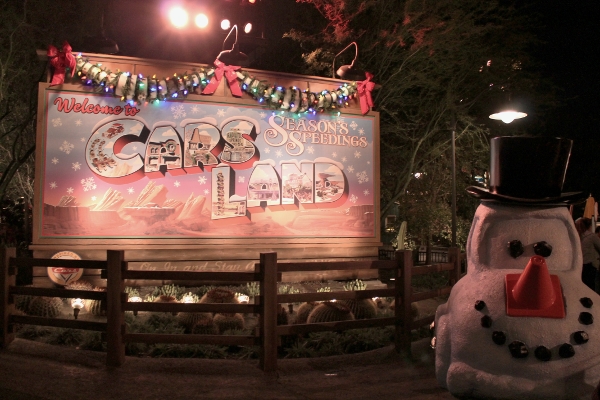 As we head down Route 66, we hear holiday music abound.  Seems like everyone decorated this year!  Fillmore decided he'd built some special yard art and made a great tree.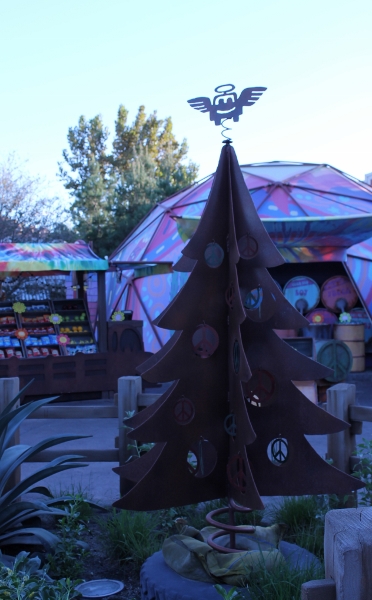 Mater looked around the junkyard and came up with his own version to top Fillmore.  I'm just not sure if that sparking "star" on top of the tree is quite safe, though.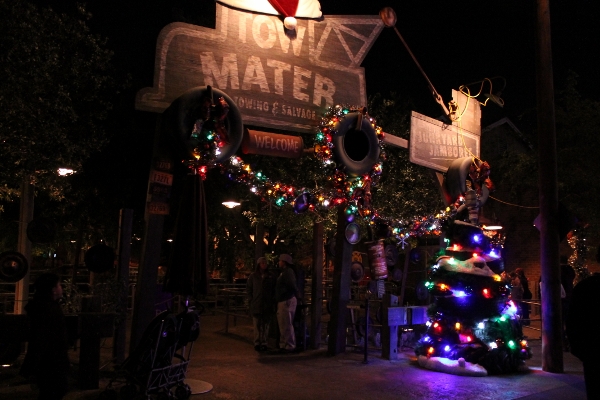 Sarge decided to pull out all the stops this year by having one of the biggest stars on his tree (not sure exactly who he got that hood from…)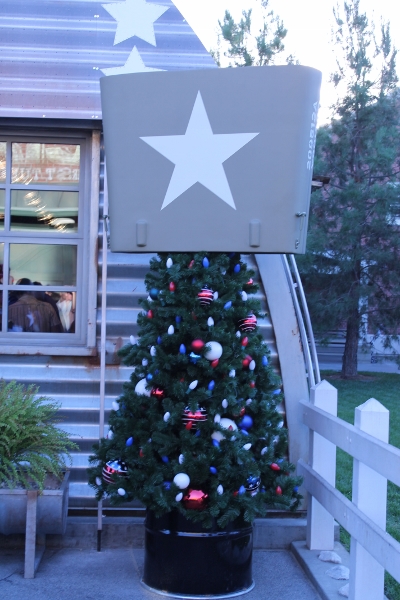 and pulling out all the color at night!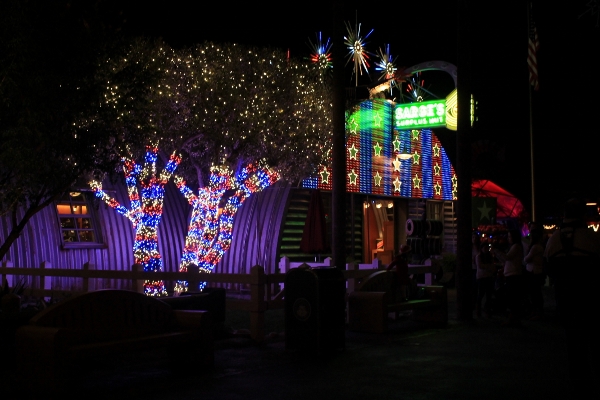 Sally decided to keep the theme going and put up some stars to go along with Sarge.  After all, they are kind of catercorner from each other on the block.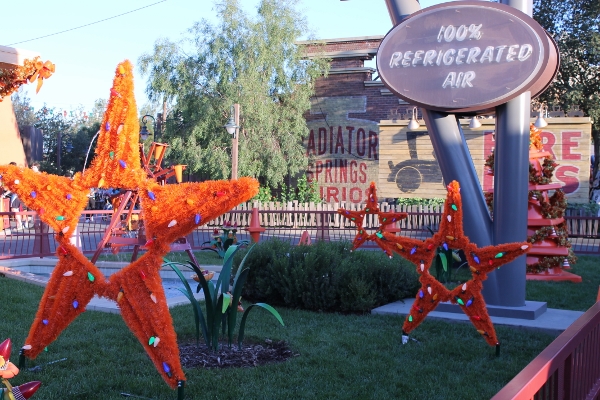 It does look mighty pretty at nighttime, too.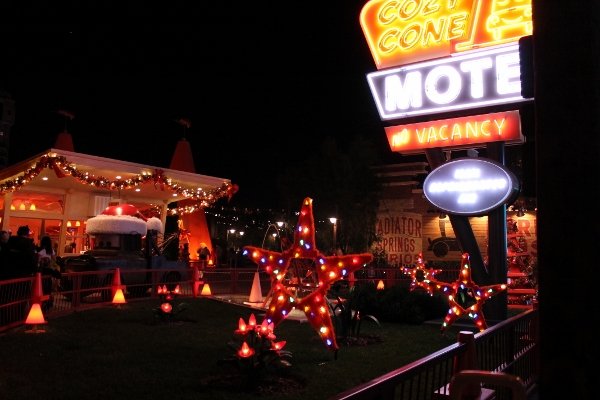 Miss Sally even made a special treat for the lobby – a tasty gingerbread replica of the Motel!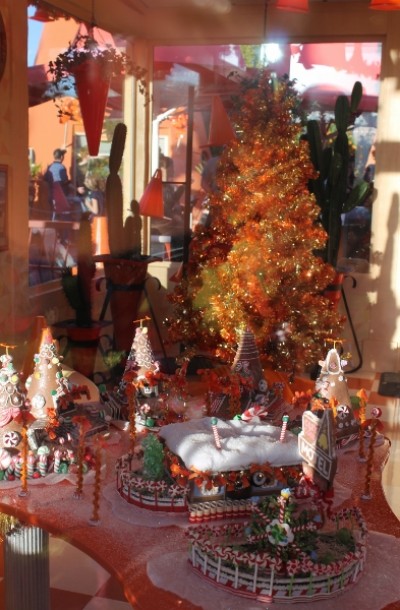 Lizzie even changed the name of the Curio Shop to show that she's got some Winter goods in stock.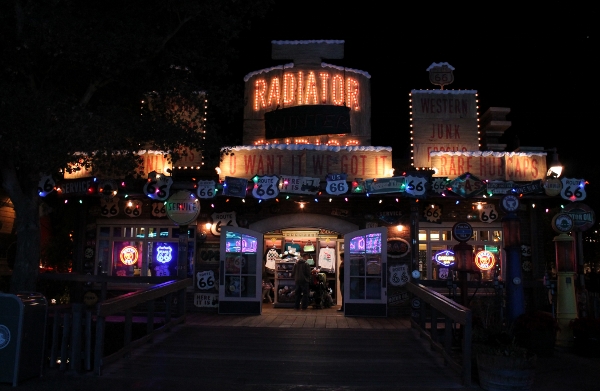 Luigi opted out for simple decor.  After all, who needs a tree when you have an entire tower of Fettuccine Tires?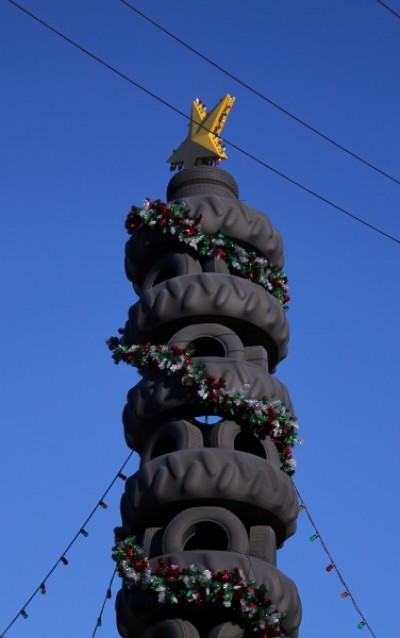 Ramone and Flo get into the spirit, too.  Flo made great use of those air filters,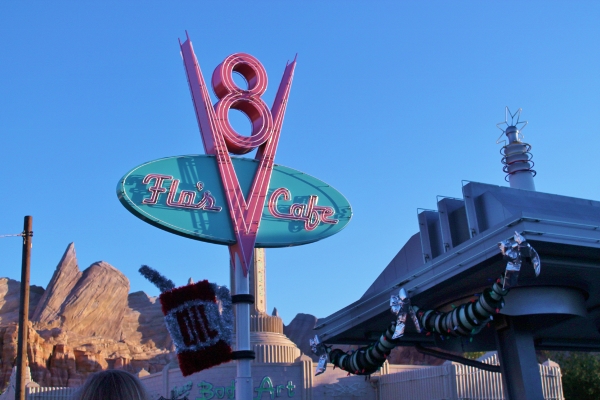 And it lights up really well at night.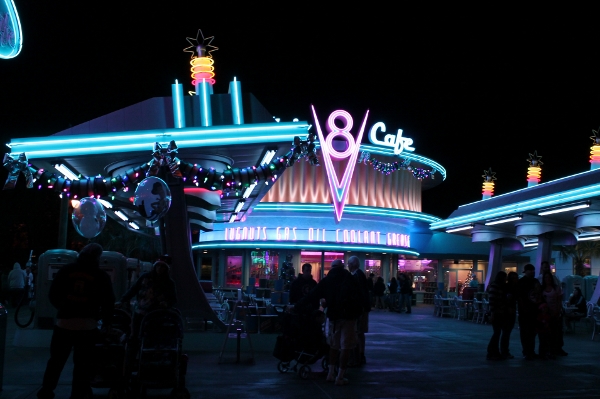 Ramone opted for a simpler, shiny tinsel look.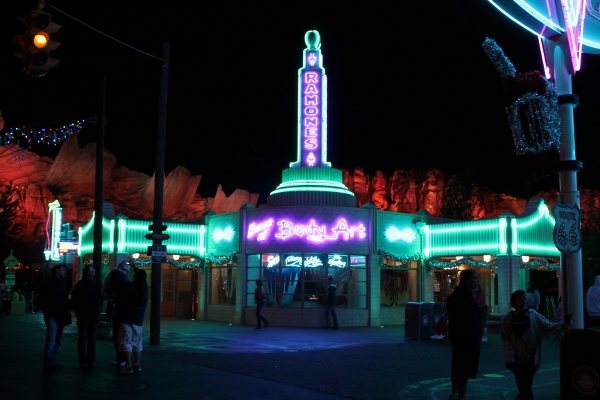 Of course the crown jewel of decor in Radiator Springs is at the Courthouse.  Everyone has pitched in to make the display a real beauty this year!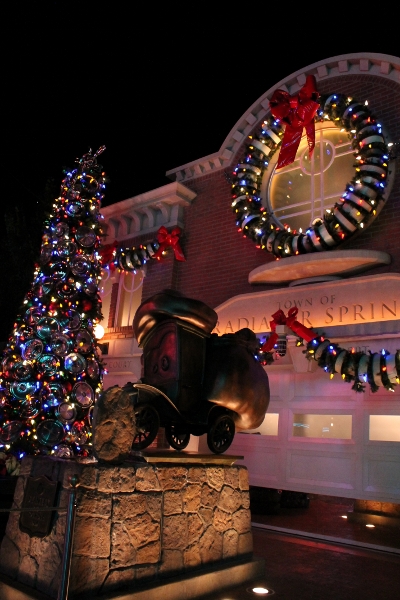 Night or day, this cheery welcome for the holidays is a real treat!  Stanley's hat and sack are a great reminder of Stanley's generosity to the town.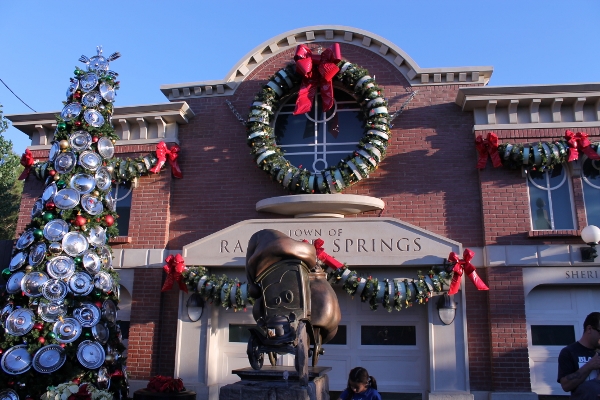 Thanks for walking with us.  I hope you've enjoyed our little tour and I can't wait to share more about what I learned from the Resort Enhancement Team!
Photos by N. Johnson.
Category: Disneyland, News
Disneyland Podcaster for the DIS Unplugged