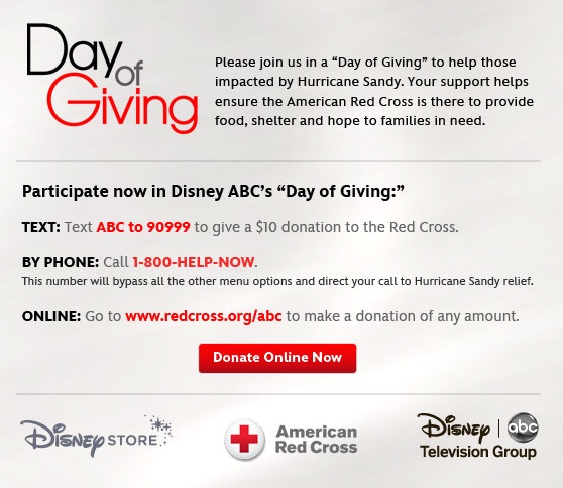 UPDATE: Over $16.8 million was raised during the first Day of Giving. Thank you to those who participated and spread the word! There's still time to donate. If you are interested and able to help, please do so today!
Hurricane Sandy, one of the largest and most intense storms to ever hit the East Coast, made landfall on October 29, 2012. The storm devastated many areas including New Jersey and New York. Homes were destroyed. Streets flooded with ocean water and sand. Businesses shut down. Families were displaced and loved ones were lost. As of today, 16 people were killed from the storm and many others were injured. Over 7 million lost power, and subsequently, heat, as a result of the storm; many are still in the dark or now living in temporary shelters.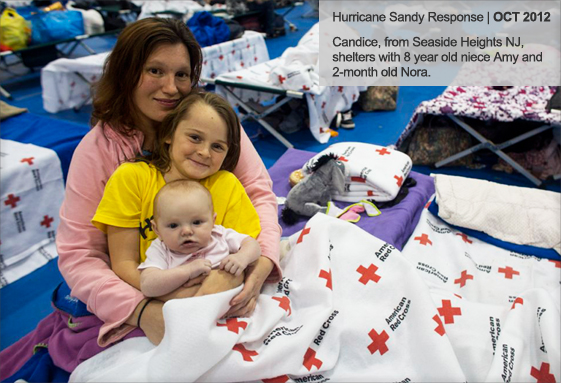 Image: Disney and ABC are sponsoring a "Day of Giving" to raise money for Hurricane Sandy victims.
In order to help those affected by the storm, The Walt Disney Company announced on November 1 that it would be donating $2 million dollars to the American Red Cross and other organizations assisting in the rebuilding of areas that were most affected, primarily the Jersey Shore. Robert Iger, chairman and chief executive officer of the company, said that the storm's impact is almost unfathomable. "Thousands of people in the hurricane's path lost everything and face the daunting challenge of putting their lives and communities back together.  We hope this helps provide immediate aid needed to get through this disaster and begin the road to recovery," he explained.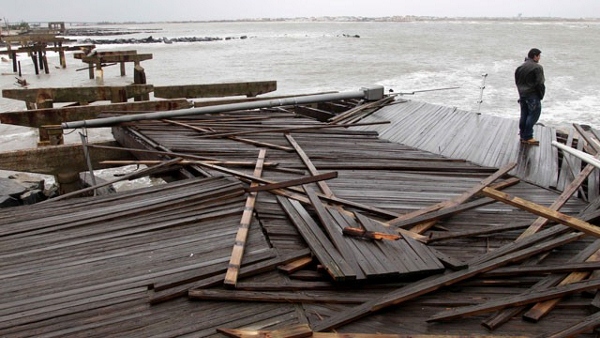 Image: Atlantic City's famous boardwalk shows the power of Hurricane Sandy's wrath.
Today, November 6, has been declared a "Day of Giving" by Disney and ABC. Everyone is encouraged to donate and help the victims of Hurricane Sandy. Money raised will provide food, clothing, blankets, cleaning kits, shelter options, and support to individuals along the East Coast.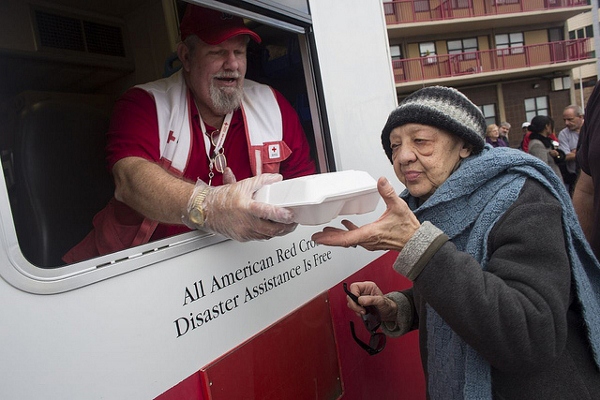 Image: Donations help provide food to hurricane victims like this woman in Bayonne, New Jersey.
Those interested have several options in order to donate including via text, phone, or the Internet. While donations will be accepted after November 6th, it is important to get funds together now when people need them most. Please consider making a donation today so that families can start to recover from what was truly a tragedy for so many.
Image Credits:
Disney Media
The American Red Cross
Category: News
Born and raised in New Jersey, Nicole is an avid Disney fan and frequents both Walt Disney World and Disneyland several times each year. Interests include Walt Disney Imagineering, merchandise, backstage tours, and more. Be sure to check out her other articles here on the DIS Blog!