Have you ever wanted to find a way to immerse yourself in the world of movie making?  Has your daughter dreamed of being on the set of her favorite show?  Has Grandma always wanted to be a contestant on The Price is Right?   Has your spouse ever wished to be able to simply stand where the greatest actors have trod in decades past?  As we discussed on the 10/25/2012
of the
DIS Unplugged Disneyland Podcast
, indulging their "Inner Movie Star" might be just the thing for families with older kids to make their trip complete, if they find themselves with a few extra days on their
Disneyland Resort
trip!  Since I recently visited Paramount Studios for a special event, it inspired me to share some of my knowledge about what to get out of touring some of our more "working" movie studios, as well as give you a comparison of the three major public studio tours available: Paramount, Warner Brothers, and Sony Pictures.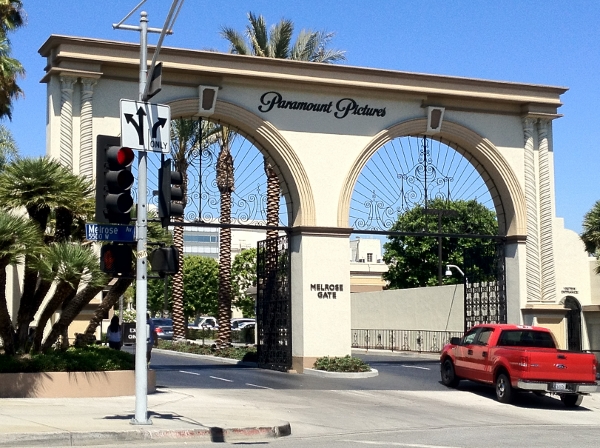 There is really nothing in Hollywood more mysterious than a true movie studio.  Every time we see one of those movies with extras in costume walking from sound stage to sound stage, we're taught to think that it's all that and a box of rocks inside those big gates.  The truth is that these "fantasy factories" are simply places where craftsmen labor hard, workers spend long hours that take priority over a social life, and every member of a crew takes great pride in their work.  While the general public can't simply walk in and look around (many studios have extremely tight security to protect the privacy of client's projects until ready for their premieres), there are a few that do allows guests to pay for the privilege of sneaking a peek into this world.  The Walt Disney Studios, unfortunately, isn't one of them – unless you jump at the occasional event on the lot, an Adventures by Disney Trip, or a D23 Tour.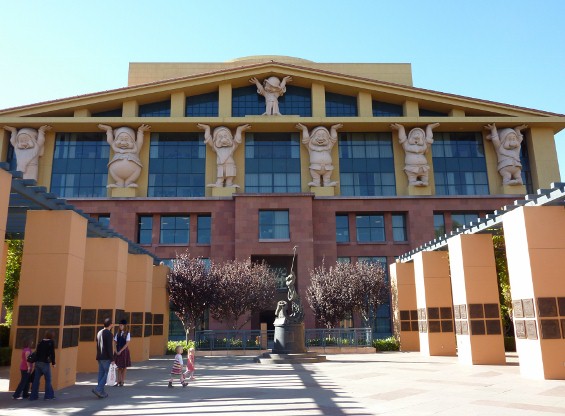 Therefore, studios like Paramount, Sony, and Warner Brothers will have to suffice – and suffice they do!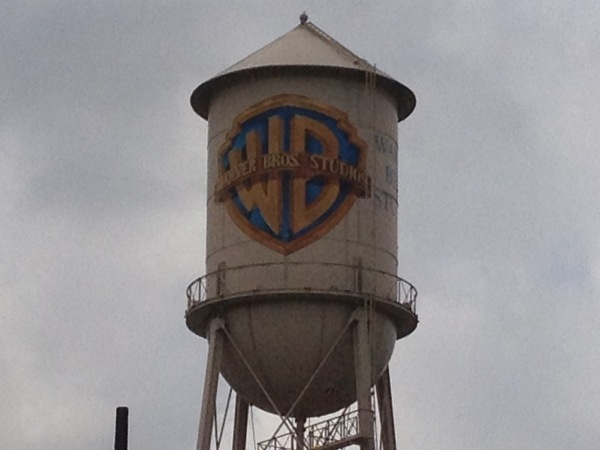 Now, I realize that I would be taken to task if I didn't mention Universal Studios, which has capitalized on being a working movie studio for generations via its on-property theme park.   While they definitely are a working studio, I feel that the theme park aspect really commercializes this too much and takes away from the true studio touring experience and don't think it should be lumped with the others.  It's definitely worth merit for its attractions and unique glimpses into the process, but don't go there with the expectations that you are going to get the same type of experience as the other big studios in town.  Nevertheless, let's take a look at Universal.  As you can see from this aerial view (taken from 22nd floor of the Universal Hilton), the theme park portion has quite a unique layout, as compared to the rest of the studio.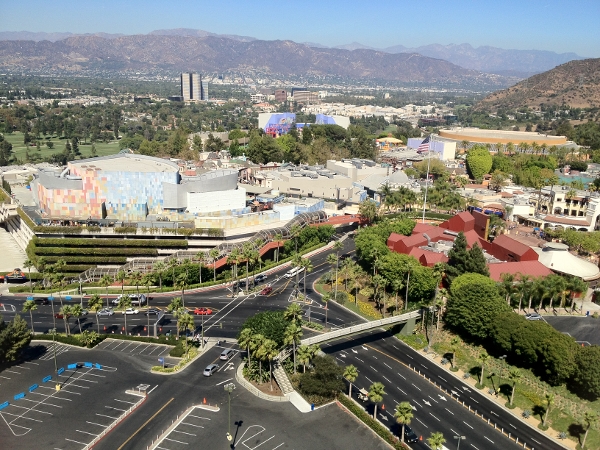 Its unique hillside location provides for some creative architecture and a lot of outdoor escalators!  Notice the covered ones that are snaking up the hill  alongside that colorful parking structure with the plants draping at each level.   The large buildings on the top of that structure actually contain the indoor portion of the Jurassic Park ride, with its large drop sliding down alongside the hidden parking levels to the sound stage level of the park.   You can see the line of fir trees that block the access to the working portion of the studio.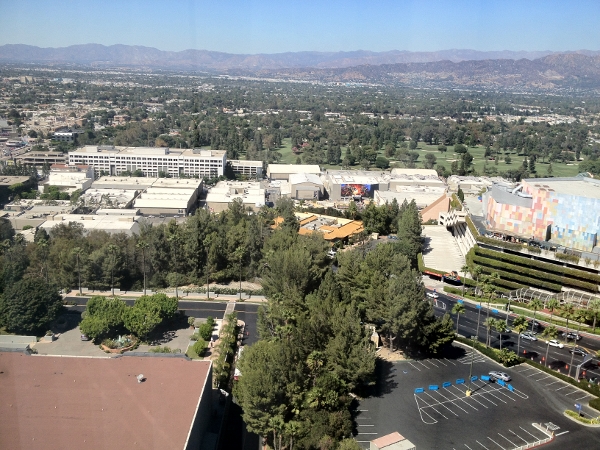 As we all know, backlot access to Universal Studios is accomplished by trams that take you through various attractions that showcase movie effects, such as King Kong, Fast and Furious: Extreme Closeup, the War of the Worlds crash, and custom built "street" sets.  The thing is, Jimmy Fallon gives you the tour via a canned video, unlike the live guides that used to accompany the trams in years past.  You can't really ask questions and get answers and you can't get the up-close and personal experience that comes from walking into a real prop warehouse or costume building and stepping inside the sound stage of a real television show or production being constructed.  That comes at the other studios.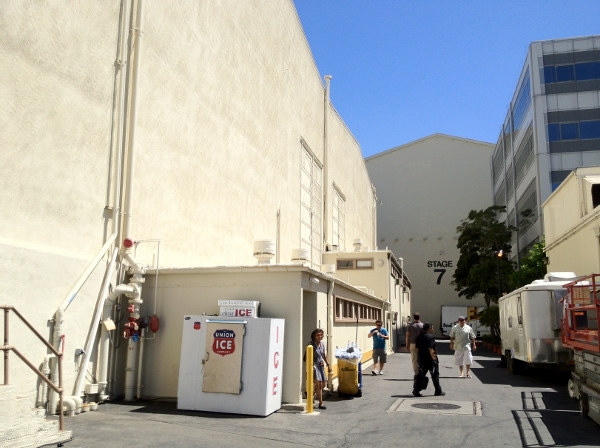 Now let's talk about what I feel makes the other studios in a class by themselves as a touring opportunity.  First, let me give you a little background.
Before 9-11, I spent a lot of hours simply walking around the Warner Brothers backlots visiting or just waiting for my husband to finish for the day.  I stood on the wooden sidewalks of the now-extinct Western Town where Maverick James Garner and many other stars of television westerns sprang into action.  I wandered aimlessly through the plant nursery and the jungle of the Ranch lot, where Fantasy Island was born and the Waltons home still lives and mingled with the studio cats.  I've climbed through apartment facades, sat on the fountain in front of the Friends brownstones, seen a shark fin sticking up from the water tank while cameras rolled, and walked past the houses that made up Blondie Street, where Chevy Chase and Danny Glover once "lived".  I've eaten at the Commissary and gone past the famous ER basketball hoop, and even been chauffeured on a private golf cart backstage and Universal while being pointed at by the tram tour on the way to lunch at Universal Citywalk.  As I've done these things, I've been able to reflect on how very lucky I've been to do the things I have and have really begun to understand and respect what goes into production and the business of it.  Though I'm glad I don't work in the industry, I still think it is fascinating and would pay to see the insides of some of the other studios.   That's why I jumped at the chance to attend a Los Angeles foodie event at Paramount.  After seeing those famous studio gates a number of times, I thought it was high time I went in!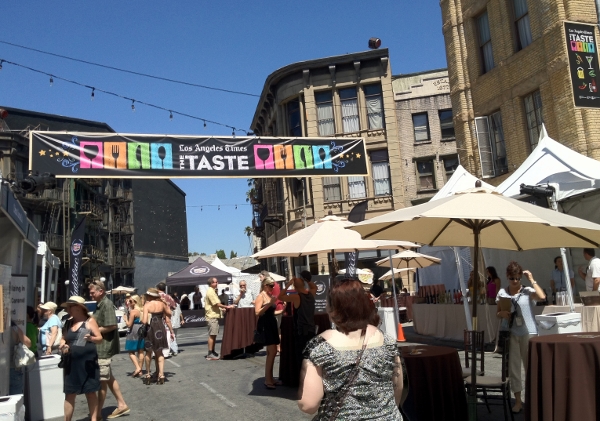 When to Go
Disneyland and movie studios are very much alike.  We see this in how Disney uses movie making techniques to enhance the decor of the parks.   Though people travel to Disneyland year round, it is important to know that work does not always occur year round on a studio lot, especially when we are talking about television series production.  This means that you might not always see productions shooting on your visit.  You need to almost prepare yourself for the way you prepare for seasonal crowds at Disney, so that you or your family members aren't disappointed!  I don't think I can emphasize this enough, so I'll say it in in a bullet…
 When you add a movie lot tour into your vacation plans, you need to set your studio touring expectations according to the month and season. 
So when is the best time to visit?  TV production starts up in mid-August – around the time we here in Burbank go back to school.  Each episode films over a week, with production wrapping a couple days before the day it airs.  Some shows actually tape 7 days a week, and then take their winter hiatus early.  Logically, there is no taping on the holidays or during the break from Christmas to New Year's.  It all starts back up again around mid-January and goes through March.  New pilot shows tape in March and April, to be introduced in May.   Movies shoot year round, but their deadline schedules are what dictates how intensely they focus on filming different scenes.   Some shows are daily – like the game shows – and require guests to fill their studio audiences, but that is a topic for another blog.
Getting There
First off, we need to talk about studio location.  When coming from the Disneyland Resort, both Paramount and Warner Brothers are a quick trip up Interstate 5 North and a left freeway exit onto the 101 Freeway to Hollywood and downtown (west).    Once you pass through Downtown Los Angeles,  the directions are more specific.
Exit for Paramount at Melrose Avenue (westbound) and the studio entrance will be a ways down on your right, between Windsor and Gower.  Parking will be across from the visitor gate.
Exit for Warner Brothers at Barham Blvd and turn right.  Continue over the mountain pass and through the light at the bottom of the hill.  You will see Warner Brothers Studio right in front of you, but you must go around it to the opposite side.  Continue on Barham (which now is named West Olive Ave.) around the studio and make a right on Riverside.  The next street is Avon and you will turn right and follow the signs for parking  on Warner Blvd.  Avon dead-ends into the studio here at Gate 5.
It takes about equal time to get to both studios.  Warner Brothers has several more exits of freeway driving and Paramount has more local street traffic.  Since we're coming from the south, I'll start with Paramount.
Paramount
http://www.paramountstudiotour.com/
Paramount Pictures is actually somewhat hidden in the Hollywood "neighborhoods", even though it's quite large.  It's hidden by almost a fortification of large, rectangular sound stage walls and  buildings from the early 1920's.  Though the fabulous main "Bronson Gate" is off Melrose, the studio has many smaller gates off Gower.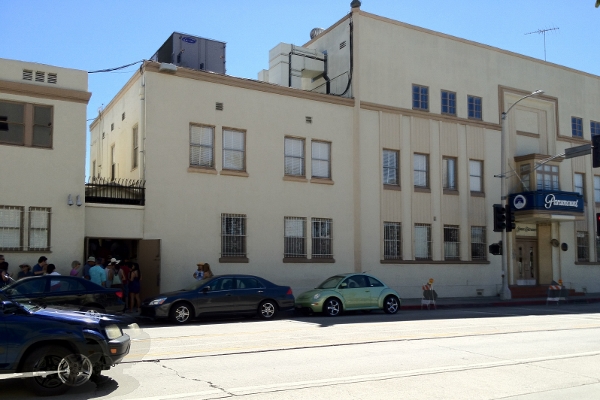 They look almost industrial from the exterior, but from the interior, they are another story altogether.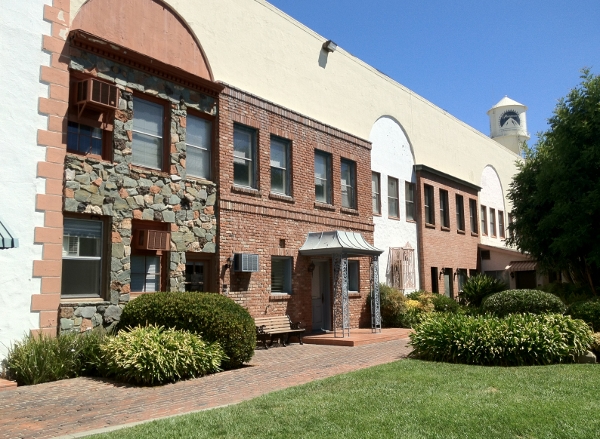 The Lucy Bungalows and Park add a totally different feel to the area.  Notice how each entrance section is different in texture and design?  They could all be used as exterior sets for apartment buildings.  These buildings (and all of the old RKO Studios soundstages) were just one of 3 studios owned in the 1950's by Lucille Ball's Desilu Productions, (the other two being in Culver City and another in Hollywood).  Of course they were eventually sold to Paramount, but owning a total of 39 sound stages between all 3 properties made them a larger company than I ever realized!
Today, as in the past, the bungalows host all sorts of production companies that rent facilities at the various studios for office and creative space.  Throughout the Paramount lot, you can find maps to help you find your way, as well as a signboard to see which productions are currently filming.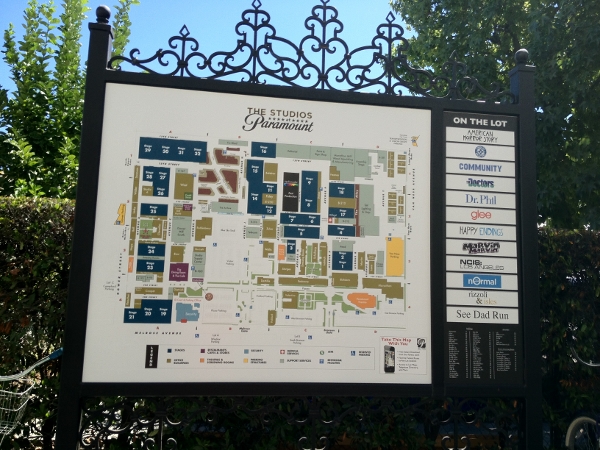 However, having a company bicycle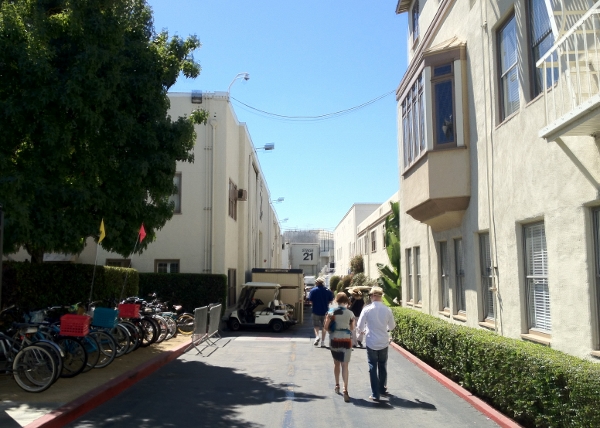 or a unique company golf cart can make traversing the studios much easier.  I absolutely love the communique on this cart, found parked by the Cooper Building.  The owners must have had some issues with practical jokers and their fuzzy dice….  Love the moustache!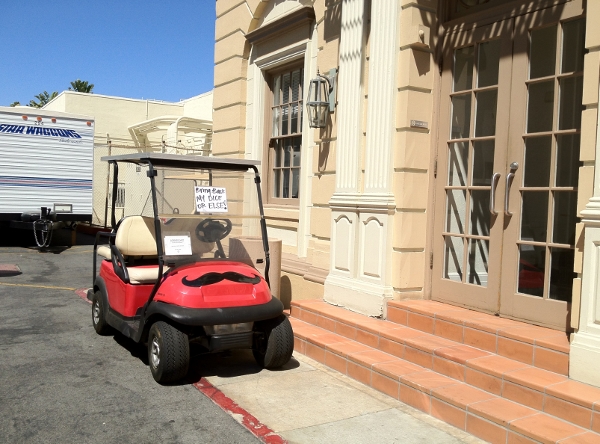 As we walked to our event, we got a chance to notice that all of the administrative buildings were named after prominent actors, producers, and owners from the history of the studios.  I was surprised how easy it was to find a much more detailed version of the map seen above in a quick visit to Paramount's website.  In fact, with a little digging, you can find great maps and old photos of almost all of Hollywood's famed studios.  After all, they need to be published for potential clients to review for sound stage and facility rentals!  We were also entertained by the various historical kiosks that were scattered through the Paseo of the studio, like the one seen here between the Commissary and the Deitrich Building.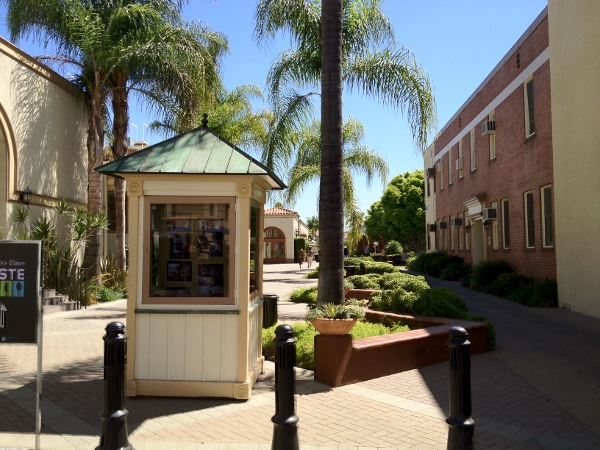 It goes without saying that every historical monument inspires the desire to purchase items, and since the Paseo is right off the tourist office, so it houses the Studio Store and a Coffee Bean and Tea Leaf!    (Note: another golf cart…)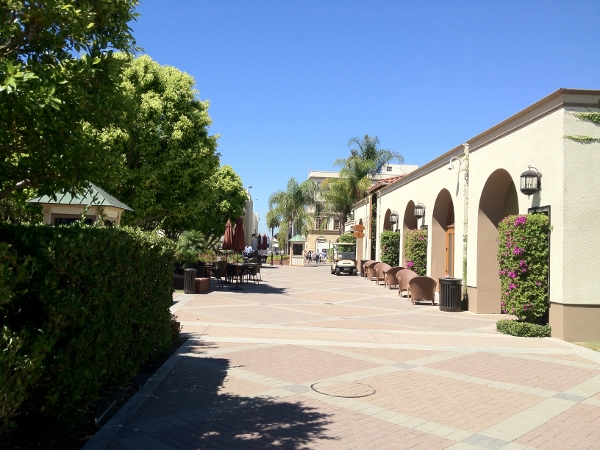 The Paseo is the route that truly links the old RKO/Desilu Gower Studio to the main Paramount lot, which has been next door since 1927.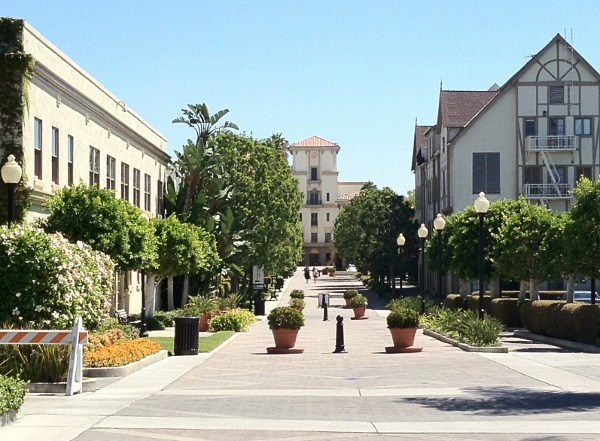 It's also the first set of sites that studio guests see after entering the Bronson Gate.  I always thought it would look more impressive from this vantage point.  Obviously, I was wrong.  It is cool to be looking out though.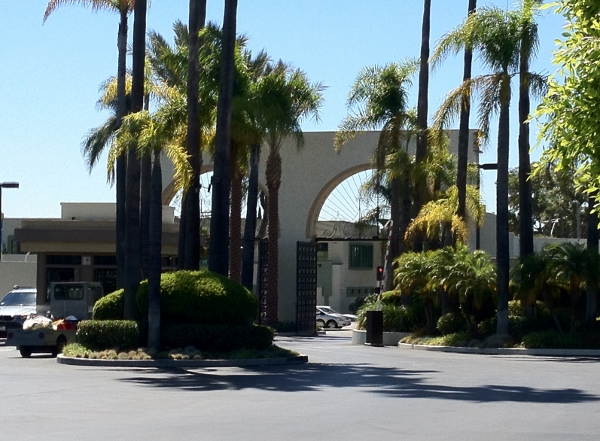 However, I think everyone can agree that there is nothing cooler than entering a movie studios' famed facade street.  Paramount is known for its massive New York street set that has replicas of 48 different (and actual) buildings.  This means that film companies can find an exact location to match a real site in the City for the ultimate in authenticating your shoot and paying reduced production costs by not having to fly everyone to New York and pay for shooting permits.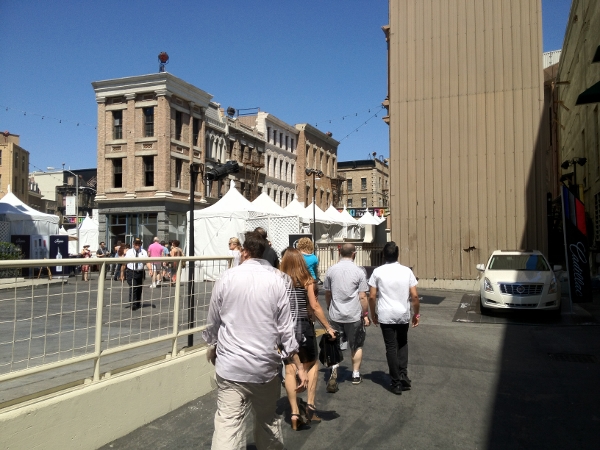 When entering this party, you could easily see how these sets conform to a realistic scene.  As I was taking photos, I noticed how much this one looked like I just came to an intersection where people were setting up for a local street fair.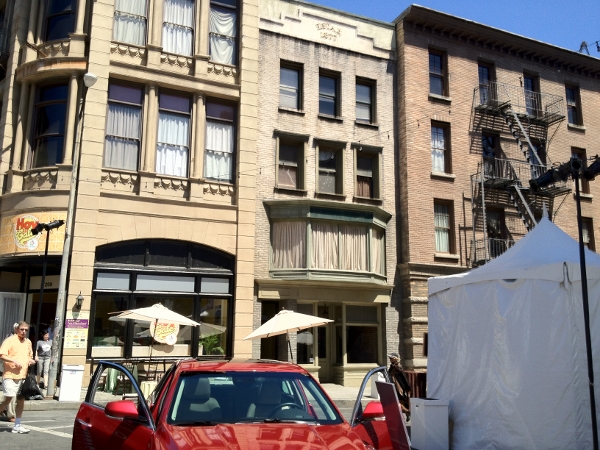 The details on the facades really are incredible.  Take a look at a closeup of the fire escapes on the building in the above photo.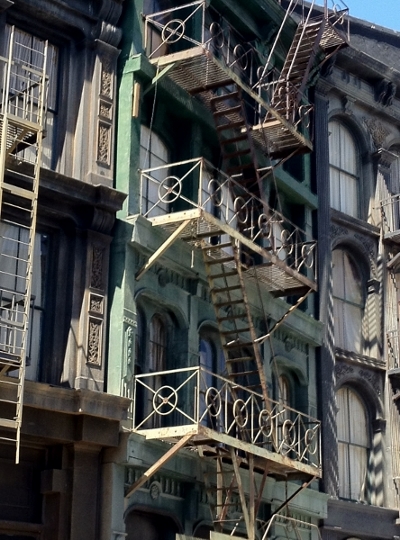 Looking backward from the same area gives you a whole different perspective – as if you were in a completely different neighborhood, uptown.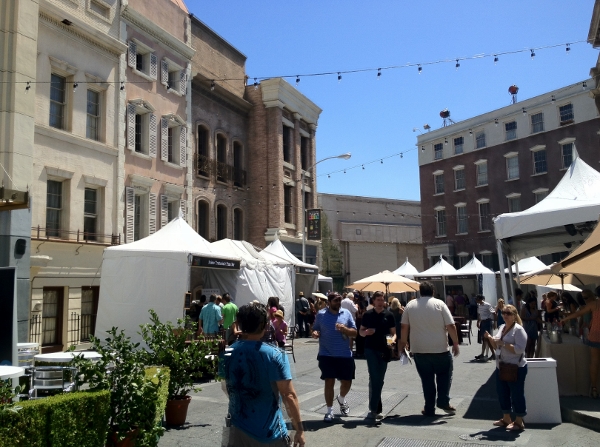 Complete "storefronts" are built into the lower levels for scenes that require a business exterior and simple interior filming.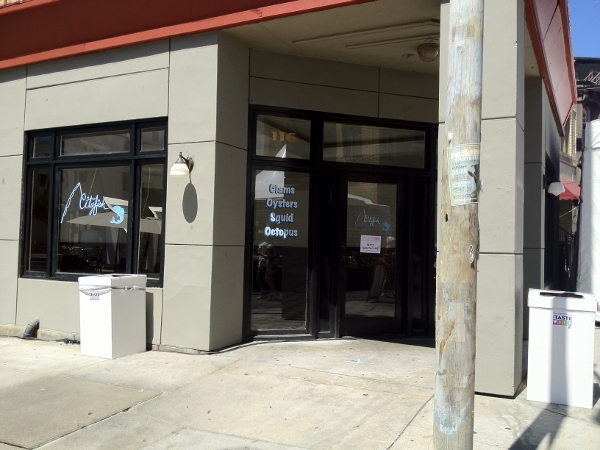 Even downtown office buildings are included.  This is the one I mentioned in the podcast segment that looks like an office building we have all seen somewhere.  It goes without saying that the camera angles are set to cut out the Paramount water tower.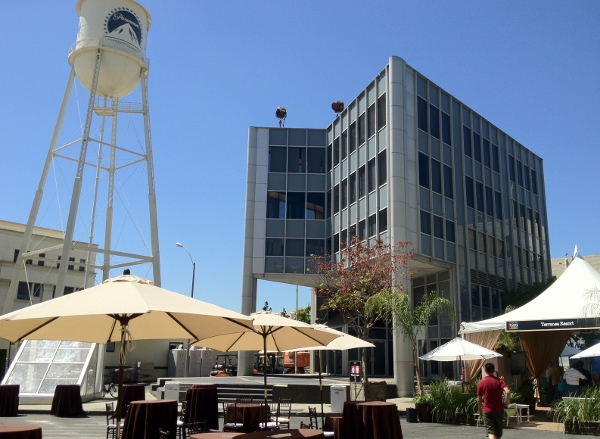 It really helps when studio buildings are made to serve multiple functions.   The Lucy Bungalows are a great example at Paramount, but we can jump over to Warner Brothers to see the same thing in practice.
Warner Brothers Studios
http://vipstudiotour.warnerbros.com/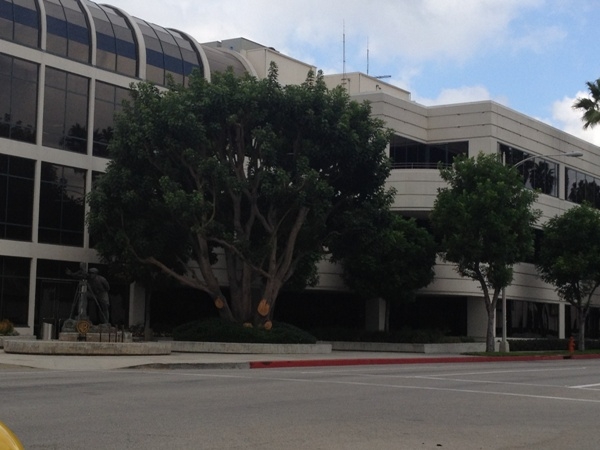 Is this an office building?  Or is this a parking garage?  How about a parking garage that looks like an office building?  That's right.  This 4 level parking structure can be used for at least two different types of corporation exteriors.  This one was originally used for tour visitor parking, before the new center was created.  Speaking of the new tour center,  it's really nice.  It's been moved from its old and tiny home at the main entrance gate at Hollywood Way and into a large space in one of the administration buildings.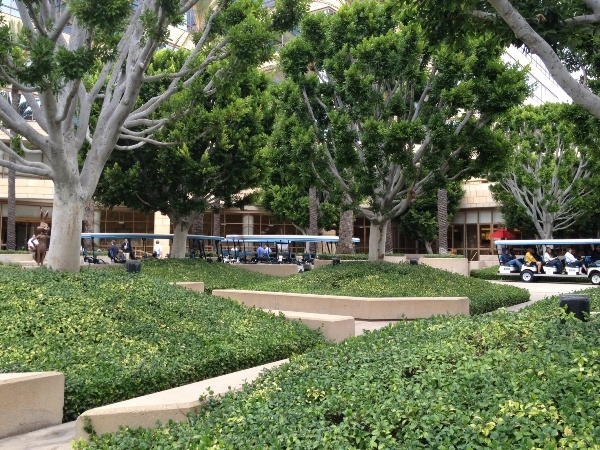 Their trams start you off through Gate 5 and onto the residential portion of the backlot, which has been used for exteriors on an incredibly large amount of movie and television productions.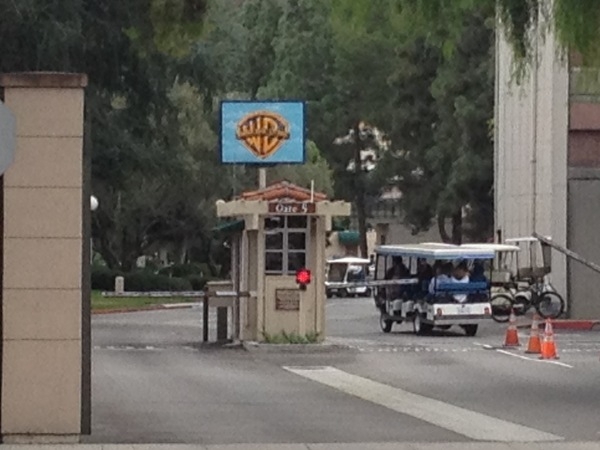 While no tour is the same as another – even on the same day, you'll see a lot of the production facilities and may even go into the area that hand paints these amazing advertisements that line the road on Barham.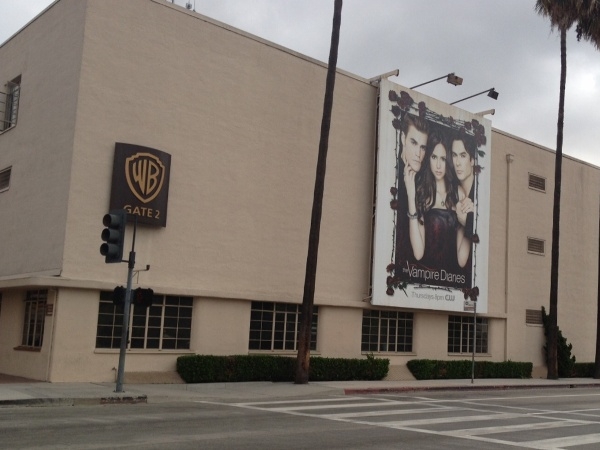 You'll also drive through the working sound stage, with an occasional stop here and there.  The one on the left of the photo is the tallest sound stage in the US. It is actually lower than the surrounding ground level and has a 2,000,000 gallon water tank inside its floor.  It can be modified to do multilevel sets that can't be made anywhere else – all because William Randolph Hearst had an actress for a mistress.  Go figure.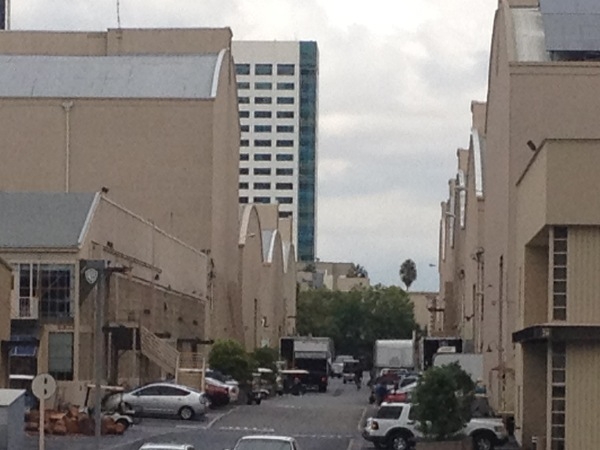 Sony Pictures
http://www.sonypicturesstudiostours.com/
Now it's time to discuss Sony Pictures.  Be prepared for the fact that they are the only studio tour that is entirely walking.  They do accept wheelchairs and ECVs, but there may be some areas that the guest might need to either walk or be limited in access.  I would definitely call ahead.
While I don't have any photos of Sony, their tour website has a lot of great information.  It is also over 1o0 years old and has an amazing history.  When I spoke with them, they mentioned that one thing they are the most proud of is their guides and their knowledge.  All of  their guides have been with the studios and their various owners for quite awhile and have an amazing amount of the studio's history to share with you.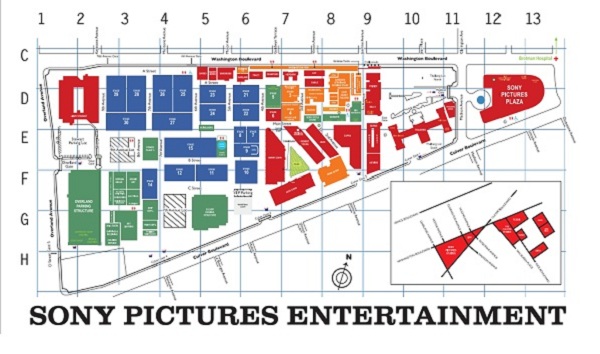 One of the things is that Sony has in its favor is the fact that it is the least expensive of all the tours – and it has free parking,   You could also easily plan on making a day of either Venice Beach or Santa Monica and a stop at Sony.  It is right up the street (either Washington or Culver, depending on where you hit the beach at) from Venice and Los Angeles International Airport.
Now that I've talked about the studios in question, let's get down to the differences in each of their tours.  This handy chart (which I won't mind at all if you print and take with you on vacation) will give you a handy comparison of each tour's offerings.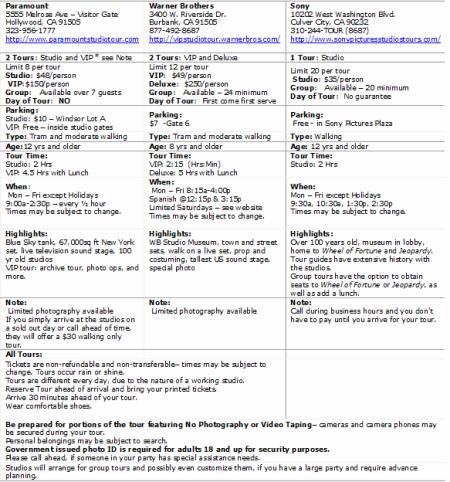 Now that you have all of this information under your belt, it is my recommendation to try one of these tours out.  I think that even the biggest movie and television buff will find them a wealth of information and will even learn some trivia and facts that they never knew!
Photographs by N. Johnson.  Map courtesy of Sony Pictures.
Category: Disneyland, Editorials
Disneyland Podcaster for the DIS Unplugged