Runners from 50 states and 14 countries gathered at the Walt Disney World resort for the Inaugural Tower of Terror 10-Miler weekend.  The collection of races saw children all the way to seniors running various distances all the way to the featured night time race; The Tower of Terror 10-Miler.  Continue through the page break for a recap of the weekend's races and events.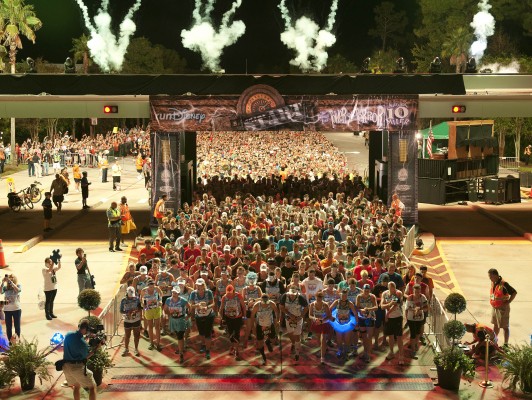 The weekend kicked-off when all runners converged on ESPN's Wide World of Sports Complex for packet pick-up and the Disney Health and Fitness Expo.  Over 30 vendors setup inside the Jostens Center for runners to enjoy all things related to exercise, health, and fitness.
The main festivities kicked off Saturday morning at the Wide World of Sports Complex when 2,500 runners trekked their way through muddy trails, fields, and track during the Happy Haunted 5K Trail run.  It was a perfect morning for the event with a full moon and a slight fog in the air creating a haunted setting.  Brer Fox and The Big Bad Wolf awaited runners along the trail for photo opportunities.  Following the 5K over 1,000 children toed the line in several races geared towards little ones of all ages.  Races included a Mickey Mile, 100M, 200M, 400M and a very cute Diaper Dash.
Finally, the featured event on Saturday night was the Twilight Zone Tower of Terror 10-Miler race.  This was the first runDisney event to feature a new 10 mile course taking runners through ESPN's Wide World of Sports Complex and Disney's Hollywood Studios theme park.  Fittingly enough approximately 10,000 runners started the race in the parking lot of Disney's Hollywood Studios.  When the race started several runners tried to navigate their way through a narrow passage and eventually on to a somewhat boring Osceola Parkway.  As runners entered ESPN's Wide World of Sport Complex they were treated to a run around Champions Stadium; the preseason home of the Atlanta Braves.  After exiting Wide World of Sports runners made their way to Disney's Hollywood Studios for the big and frightful finish.  Racers made their way through Lights, Motors, Action, the Backlot Tour attractions, Pixar Place, and several other areas in the theme park.  It wasn't until the very end when runners turned a narrow corner where they saw the Twilight Zone Tower of Terror looming at the finish line.  All dressed up in its scary purple hue the attraction awaited race finishers and tempted those who dare to ride it later.  Also awaiting race finishers was one of the most distinctive medals runDisney has ever created; a replica Tower of Terror medal that glows in the dark.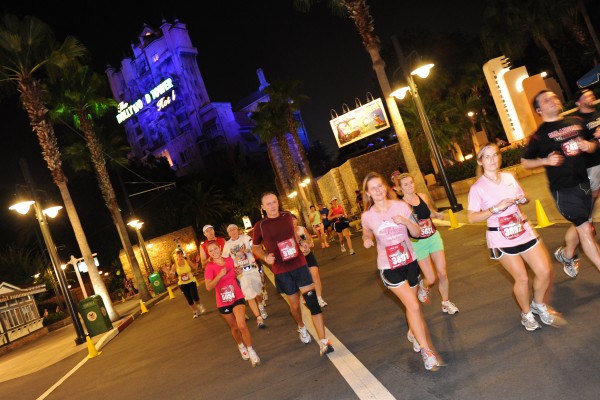 After the race ended runners and their families where welcome to stay and enjoy the Disney Villains Hollywood Bash, a post-race party sure to pull the evil and fear out of your running personality.  All of the major attractions were open for guests to enjoy until 4:00AM including the featured race attraction; the Twilight Zone Tower of Terror.
As the evening came to a close we were left to reflect on our race evening.  The Inaugural Tower of Terror 10-Miler will be remembered for its daunting heat and humidity, its narrow sections of the race course, its spooky sets and character stops along the way, and a very good post race party for those brave enough to stick around.  But most of all this entire race weekend will be remembered for triumphs and success stories of runners who trained for months and got in shape to cross the finish line and earn one of the best medals runDisney has ever produced.
If you think you're not cut out to run a race, think again.  You can do it!  It takes a first step to get started.  If you've never participated in a runDisney event make this the year to do it.  Once you get your first taste of a runDisney race you'll be ready for your second, third, and fourth.  If you need the motivation to get started visit the Disboards.com WISH board.  There you will find people who support each other during their weight loss goals, training efforts, and race success stories.
Until next year's Tower of Terror 10-Miler weekend (Sept 27th & 28th), we'll see ya real soon!
Photos courtesy of runDisney
Friend Aaron on Facebook:  I accept reader friend requests.
Category: Disney World