Halloween Time is here at the Disneyland Resort, and as we talked about on
1. our special 2012 Halloween episode
of the
DIS Unplugged Disneyland edition
that means it's time to celebrate our
annual Halloween Visit and Sugar High
with all of those creative treats that the season brings!
Of course, each Halloween season is a different mix and match of new and old favorites, so let me show you a sampling of the fun things we've tried – such as these Ghostly dipped Pretzel Rods and Caramel dipped Marshmallow pops that are being proudly displayed below at the Main Street U.S.A.'s Candy Palace!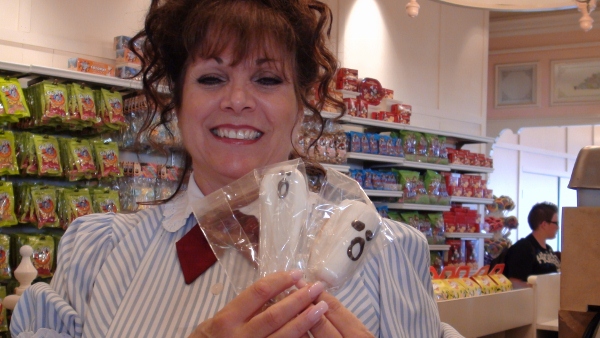 One of the favorite seasonal treats is the specially-decorated caramel and chocolate dipped apples.  There's the traditional "Mickey Pumpkin", dipped in white chocolate, orange sugar, and  chocolate face, as well as the "Minnie Witch", dipped in milk chocolate, white chocolate, rolled in purple sugar, orange coated candies, and topped with an edible sugar hat.  These can be found at any of the freshly-made candy shops.   Oh – and I almost forgot – for you Haunted Mansion Holiday fans, you can take a bite out of Jack Skellington's head – represented in apple form!
Snacking Tip: When purchasing an apple to eat immediately, take an off chance and ask if you can have it sliced!  The policy seems to go back and forth, so be prepared to be turned down. However, if they say yes, they will take it backstage and return with a "ready to eat" apple!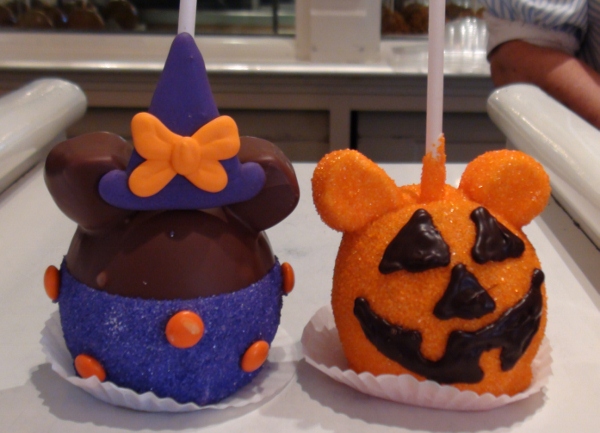 The Disneyland Resort bakeries host a number of other treats.
First up are the cookies.  The Jolly Holiday Bakery hosts a few familiar favorites – the freshly baked, chocolate-iced "Mickey Bat" shortbread and the colorful orange and purple sugar cookies.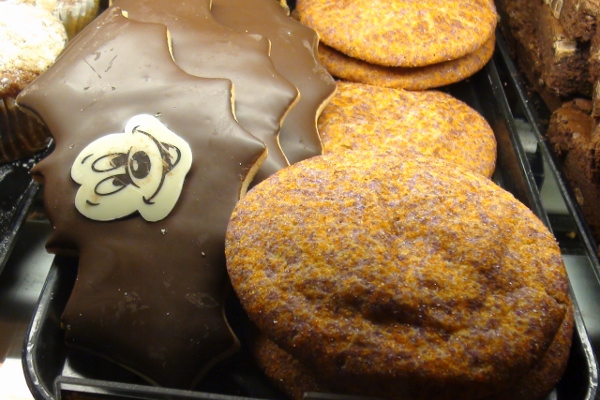 Up next at the Bakery are my two favorites – the Caramel Apple Cupcake – bits of apple inside, with a caramel pumpkin frosting.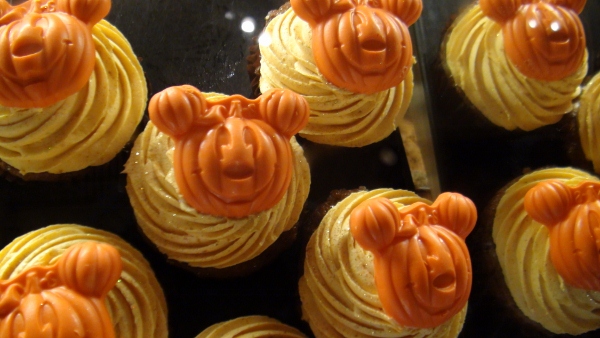 and the Pumpkin Muffin – moist and tender, with its cream cheese frosting!  Mmmmmmmmm…  (Can I say, again, that I REALLY love both of these items?)  Both are topped with a pumpkin Mickey, made of orange-tinted white chocolate .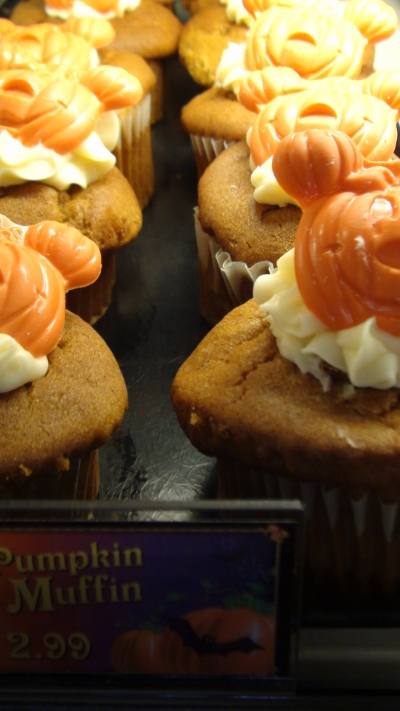 Frankly, I place the Caramel Apple Cupcakes and the Pumpkin Muffins in the same category – anytime decadence!  I have been known to pick both up for breakfast treats!  Any way you look at it, they are both great portable treats to grab on your way into the park!
When shopping for snacks or gifts, don't forget there are a number of fun, prepackaged  items.  There are the usual cookies and rice cereal treats,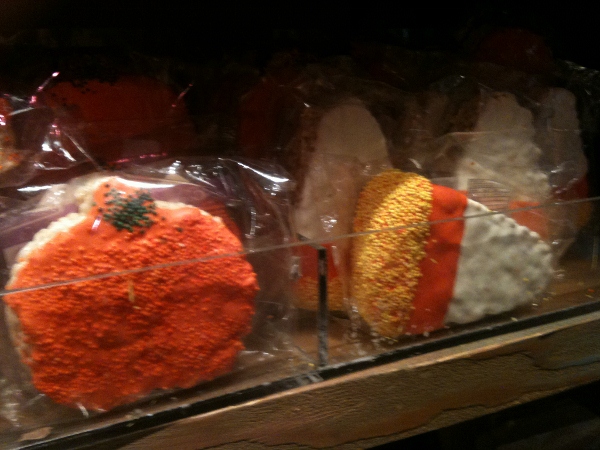 decorated popcorn tins, iced cookies, and the most unusual – the Gummy Candy Corn.  My curiosity forced me to empty my pocket change for this one – which had a surprising blend of vanilla and citrus/tropical flavors.  If you like unusual gummies, they weren't too bad.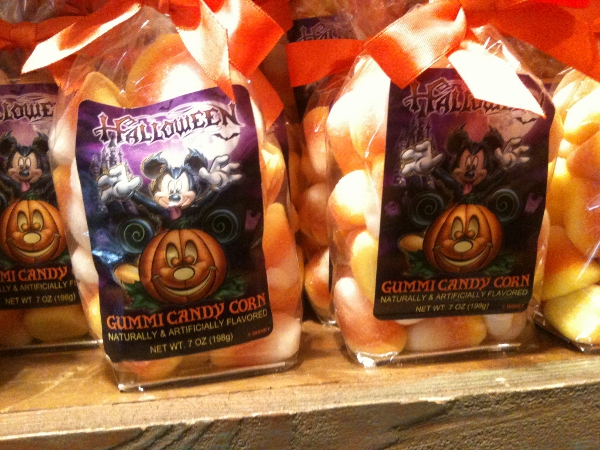 Of course, while you are picking these prepackaged goodies, you can walk over to the nearest shelf and "treat yourself" to a fun Halloween headband to wear while you nosh on your snacks!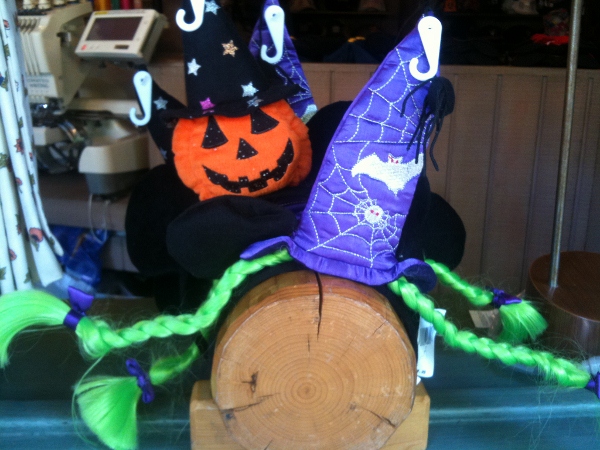 Now, I have to admit, I've saved the best items for last.
Available at the Bakery, Plaza Inn, and other specific locations is last year's favorite dessert is dressed with a fresh costume- the pumpkin mousse topped spice cake in a Pumpkin Donald demitasse!
Savings Tip: Check prices on the house-made specialty treats  at different locations before buying.  In 2011, it was actually $1.00 cheaper to pick up the dessert at the Blue Ribbon Bakery than at the Plaza Inn.  Any treat savings is good savings!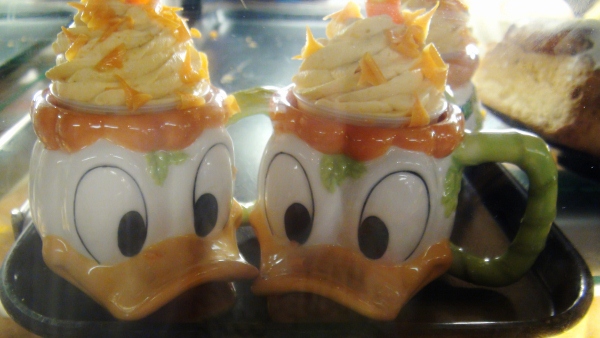 Collector tip: One trick I've learned with the demitasse was to ask them to package the cup in a clear clamshell and the dessert in an iced coffee cup with lid. They are not allowed to handle the dessert, so they will ask you to place it into the cup for them.  That way the ceramic cup is safely packaged and you can take the dessert away and eat it at the parade or in a queue line!
The last and possibly best treat for true collectors is the Coffin Bucket!  You can either purchase it at a designated popcorn vending cart or get it with a muffaletta sandwich and chips at the French Market – which I think is the better value!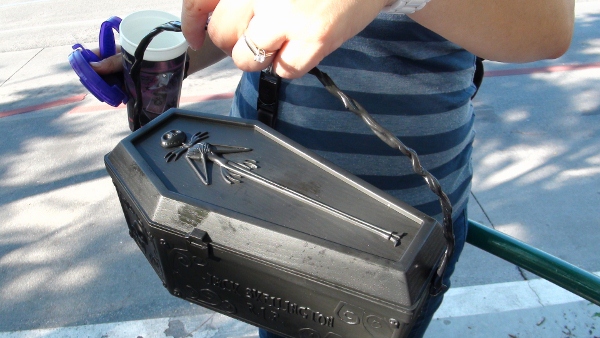 Collector tip: If you do get it at the popcorn cart and want to keep it in pristine condition, just ask them to place the popcorn into the usual paper carton.  If you eat at the French Market, you can probably ask them to do the same thing with your sandwich!
One last tip, keep in mind that the snacks are so popular that they may be sold out of some treats early in the day so you may have to settle for one of their year-round bits of tasty goodness.  When this happens, it's obvious that many of us agree – if you love to indulge yourself, Halloween Time season does not disappoint!
Photos by N. Johnson.
Category: Dining, Disneyland
Disneyland Podcaster for the DIS Unplugged