Ask tourists what their least favorite part about visiting a theme park is and you'll most likely find one answer: waiting in line. Disney Parks has been at the forefront of innovation when it comes to enhancing guest experience with line queues. Interactive screens with trivia questions or games and the FastPass+ system have both helped alleviate some of the frustration associated with waiting for one's turn. However, a new technology currently being tested at Walt Disney World could put these old methods to shame. Ladies and gentlemen, I now bring to you the next generation: FastPass+.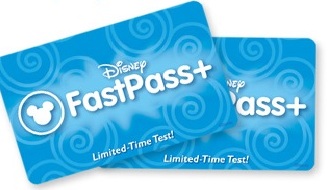 Image: Disney's next generation in the FASTPASS system is being tested in the parks. Learn more about it here!
Disney's FASTPASS was first introduced in the parks in late 1999. Back then, it was a relatively new concept, with the exception of the old world fairs, and was something that would ultimately change how many tourists visit their favorite attractions. The concept was simple: insert your park ticket into the designated FASTPASS machine and out it pops with a new ticket advertising a time for you to come back to the attraction; once you return, you're ushered into a separate line queue with a significantly shorter wait time. Although such parks as Six Flags and Universal Studios caught onto the idea and subsequently began to charge guests for this option, Disney Parks have maintained that it is a complimentary service.
Like all technology, as time passes so does the desire to expand upon an idea so that it is reborn bigger and better. And, lucky for park goers, this is exactly what Disney is planning to do with the new FastPass+ system. Taking a cue from its predecessor, FastPass+ will revolutionize how guests tour Disney Parks. In order to ensure its success, the Disney Imagineers have been randomly selecting vacationers to test the system on a day of their upcoming trip.
Image: Guests who have been chosen to participate in a trial test of FastPass+ receive this package in the mail. It includes information about the system and RFID-encoded cards.
Approximately a week before their departure date, such chosen guests receive a letter from Disney asking them to participate. Included in the mailing are RFID-encoded FastPass+ cards. Guests are then given a chance to select up to four "experiences" at a park with a range of attraction offerings. While Epcot was tested in the spring, Magic Kingdom is currently going through the trial. Times are chosen for each option and confirmation is sent via email.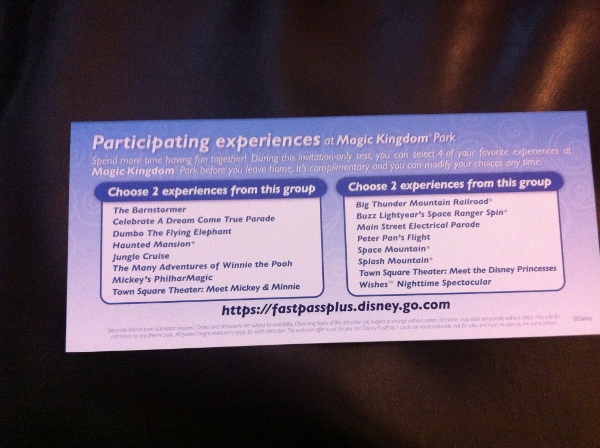 Image: Current testing for FastPass+ is being done in the Magic Kingdom through the end of September.
One might notice that Wishes! Nighttime Spectacular and the Main Street Electrical Parade are included in these options. I found this interesting and am wondering how it will be executed. In the past, dining packages have been available for other nighttime experiences, but reserving a time for a parade hasn't been an option in quite some time. I do remember days of older vacation packages offering vouchers for special seating, but haven't seen that recently. This has me more and more intrigued about how personalized FastPass+ will lend itself to be.
Those guests who do not set up their experience times before leaving home can do so at Disney's Magical Express area in Orlando International Airport.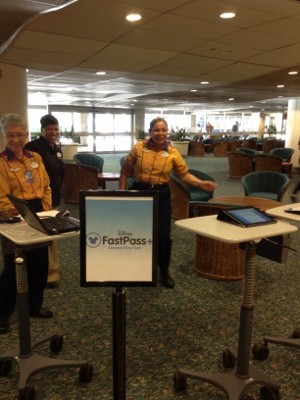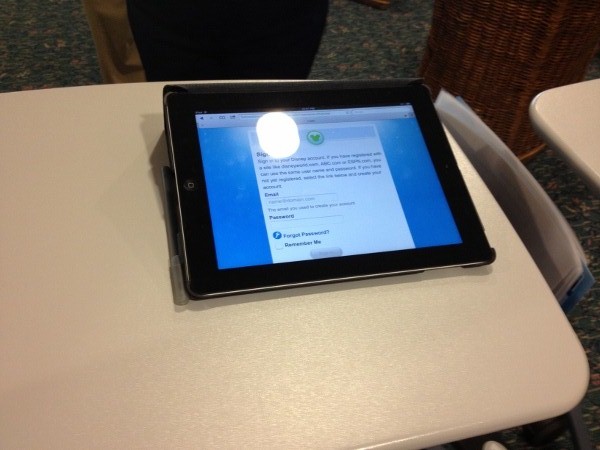 Images: Cast Members at Disney's Magical Express area in Orlando Airport are available to assist those who have been chosen for the test.
Once inside the parks, the lucky few follow the schedule they planned online and enjoy the day. Similar to the concept of the original FASTPASS, guests arrive at each attraction at the designated time according to the plan they created online.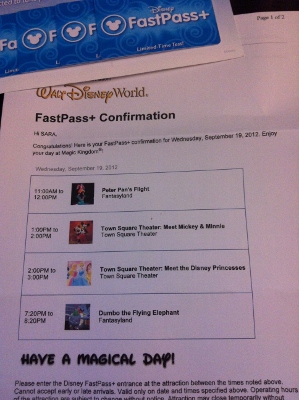 Image: A printed schedule from the FastPass+ system helps guests keep track of their reserved times for each attraction.
RFID scanners are in place to read the encryption on each family member's FastPass+ card: simply tap the card on the Mickey icon to enter. Cast Members are also on hand to assist and monitor progress.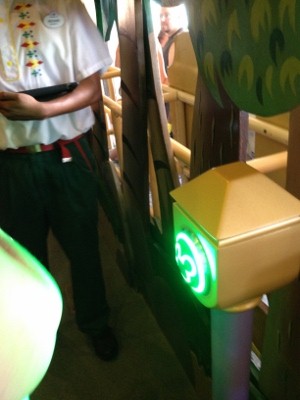 Image: Guests tap their FastPass+ cards against the glowing Mickey head icon to check-in at reserved attractions.
For the time being, it appears that Cast Members at each attraction are also tracking the inner workings of the process using iPads that are connected to the system. Sara McWhirter, a frequent Walt Disney World guest, was one of the lucky few to be chosen for this FastPass+ test during her recent trip. Because it was noted on the reservation that Sara and her husband were celebrating their wedding anniversary, this was something acknowledged at each attraction they visited using the FastPass+ system. That's a nice touch, if you ask me.
McWhirter is not a fan of over-planning for a Walt Disney World vacation, but did find some benefits of the new FastPass+ including knowing what attractions they would experience ahead of time thanks to the planning done online. "All in all, it seems to be something that might make peak wait times more manageable.  For either time, I think proper planning of what you want to see and what your party wants to do is key.  For off season, I'm not so sure that it's such an important thing needed for your park visit," she said. This is due to the fact that attractions wait times are smaller when the parks are not as busy.
In the end, FastPass+ seems to be an exciting new venture for Disney Parks. I'm curious as to how many options are added to the list of experiences available for guests. If the system proves to be successful during this round of testing, it could very well lead to a new way of vacationing both with its pros (less waiting in line and ability to plan) and cons (less spontaneity). What are your thoughts on this next generation of Disney's FASTPASS?
Image Credits: S. McWhirter
Category: Disney World, News
Born and raised in New Jersey, Nicole is an avid Disney fan and frequents both Walt Disney World and Disneyland several times each year. Interests include Walt Disney Imagineering, merchandise, backstage tours, and more. Be sure to check out her other articles here on the DIS Blog!