The retro craze seems to be everywhere these days, and Southern California seems to be at the top of the nostalgia list.  For Disneyand fans, nowhere on earth could be more nostalgic than remembering the world of your childhood or getting to experience a past that you only knew from the history books.  Well, The Anaheim Historical Society decided to partner with a gentleman named Charles Phoenix, who specializes in bringing that retro world to life through his humorous slide shows.   His unique style of photojournalism allowed our audience to "ride along" with him on his quests to experience the retro culture of Anaheim and Disneyland, at its finest.   From the novelty of the now "unsafe and thus extinct" Pack Mules Through Nature's Wonderland (ridden by DISer, Michael Bowling, below) to the kitschy hotels that surrounded Disneyland Park,  Charles recently took us on a whirlwind tour of his retro "heaven".   Join me for a brief outline and then listen to the DIS Unplugged Disneyland Podcast as we discuss our Adventure in "Anaheimland"!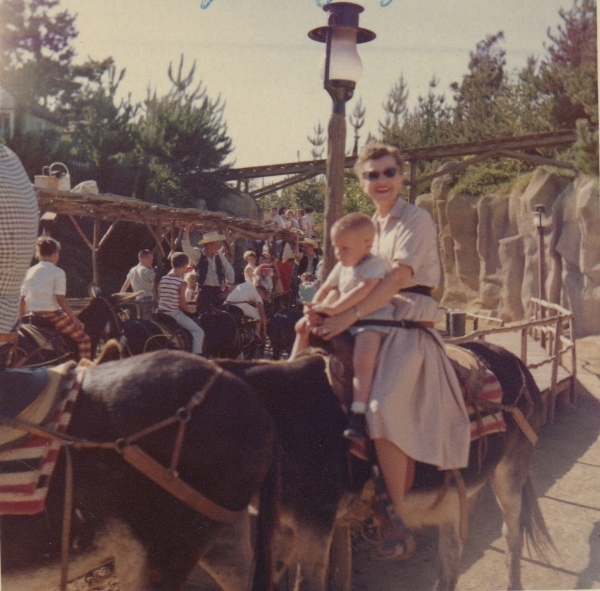 See the "colorful" man below?  This is the understated guru of retro culture – Charles Phoenix!  He's a very shy and retiring man who must hate speaking in front of large crowds, judging by the way he's dressed.  Or not.  Apparently, this is not his only airbrushed suit….
Charles' presentation began with retro culture in the city of Anaheim.  Much of it has gone the way of modernization, but a few of the classic motels and eateries still exist.  He showed us many of the unique neon signs and A-frame motels that adorned the Disneyland area, as well as the basic kitsch and food that can still be found – at not quite the same prices, but pretty reasonable – such as Chalet Pancakes and Steak, Miss Donuts, and the La Palma Chicken Pie Shop.  He also talked about 1950's and 1960's community landmarks, businesses, and products that were classic examples of retro Anaheim and Disneyland, such as Carl's Jr, Vans Shoes, and Doritos.  Yes, I said Doritos.  They were invented at Disneyland in 1964.
He also had photos of some of the retro hotels that are Disney Good Neighbor Hotels and still a part of the Anaheim landscape,  including the Candy Cane Inn, the Alpine Inn, and the Stovall Inn of Tomorrow, which we talk a bit about on the podcast.  These hotels are still surrounding Disneyland, with the latter  across from Disney California Adventure on Katella Avenue.  This means you could even choose to experience a bit of retro history in their lobby on your next visit!  While there, don't forget to see its famous Topiary Garden!
Then came the photos of Disneyland.   Wonderful photos that really gave you a sense of how much Disneyland has grown and changed – like the photo of Michael and his mom, below.  You can see that Dumbo used to sit right behind the castle, almost where the carousel is now, and that the carousel is a bit farther back than Dumbo is now!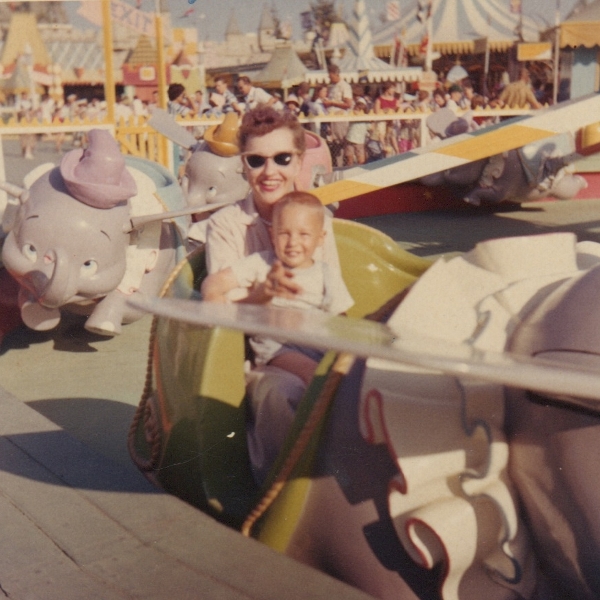 He also spoke of how Frontierland and Tomorrowland were both begun, shaped by the culture and perspective of the era.   It was then considered "safe" to ride mules and on top of stagecoaches going through bumpy terrain, "entertaining" to get your photo with the Chicken of the Sea Pirate Ship's authentic one-legged pirate (with only one leg), and "thrilling" to get your photos taken with real Indians in an Indian Village.  There were other things that we would be surprised about, but you should really 
 to hear all of them.
If you'd really like to get a feel for retro Disneyland, consider planning your trip around one of the Dapper Days events.  If you'd like to see the Disneyland influences on the retro hotels around the park or even have some adventures finding them on your own,  spend some time in the surrounding Anaheim area. Buy a day pass on the Anaheim Rapid Transit or ART, travel its routes, and get off at any spot that looks interesting!   If you're a frequent Disneyland guest, this might just be the unique experience that you are looking for to add a touch of Walt's world to your next vacation!
Photos courtesy of the Bowling Archives and by Nancy Johnson.
Category: Disneyland, News
Disneyland Podcaster for the DIS Unplugged