Halloween Time at the Disneyland Resort began September 14th and all your favorites are back, along with a couple of new surprises.  I crisscrossed the Parks getting pictures to share with you, and I think there's only one thing I missed…more on that later.  This year Halloween isn't just limited to Disneyland Park, with a bit of it spilling over into Disney California Adventure.  We have a lot of ground to cover, so let's get started.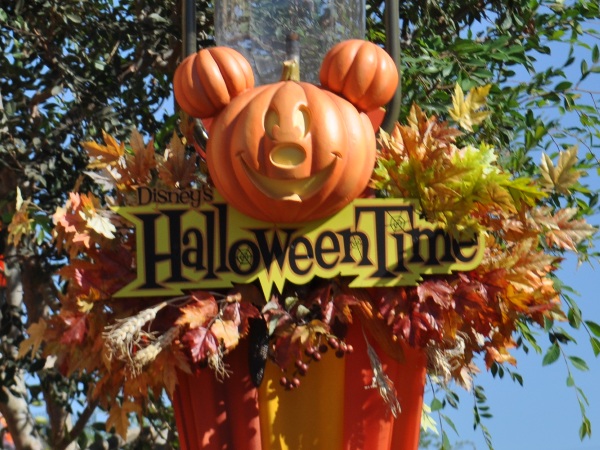 You can tell it's Halloween Time as soon as you walk through the tunnels and catch a glimpse of the giant pumpkin in Town Square.  You'll find pumpkins in the windows and on the ledges up and down Main Street USA.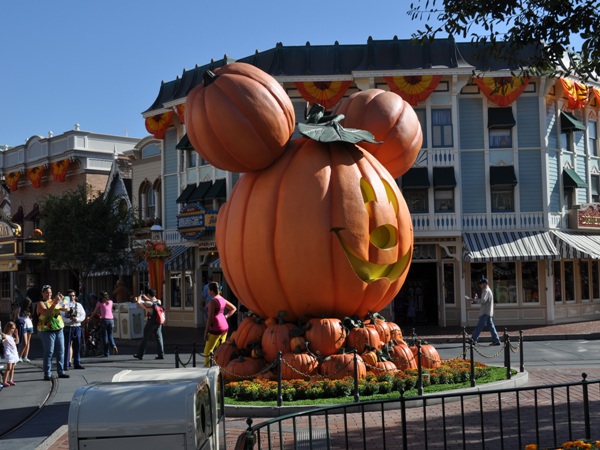 You'll also find your favorite performers, like the Disneyland Band and the Dapper Dans, sporting the colors of Fall.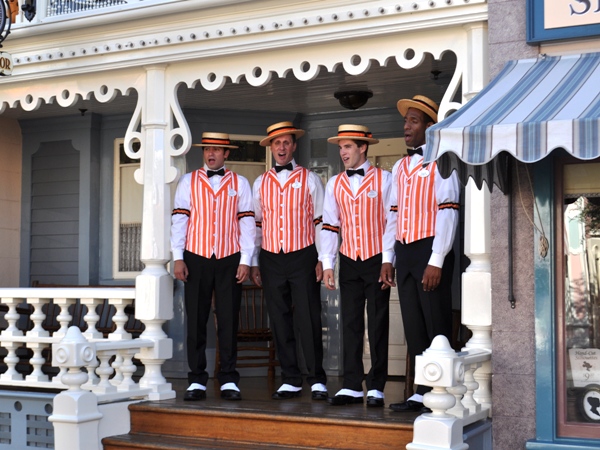 If you missed all those clues, the shops around the Disneyland Resort will clear up any confusion.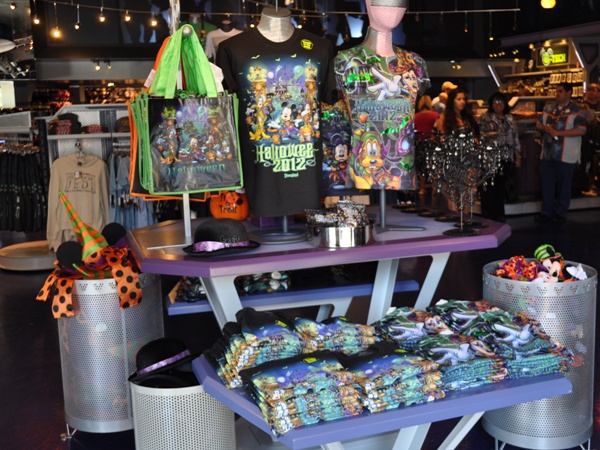 Space Mountain is my favorite ride in the Parks.  Space Mountain Ghost Galaxy is my least favorite holiday overlay.  However, because of my dedication to this blog, I got my FastPass and went on the ride.
Nothing new this year.  If you liked it last year, you'll like it this year.  If you cried through the whole queue like the little girl that was behind me in line…you probably won't like it.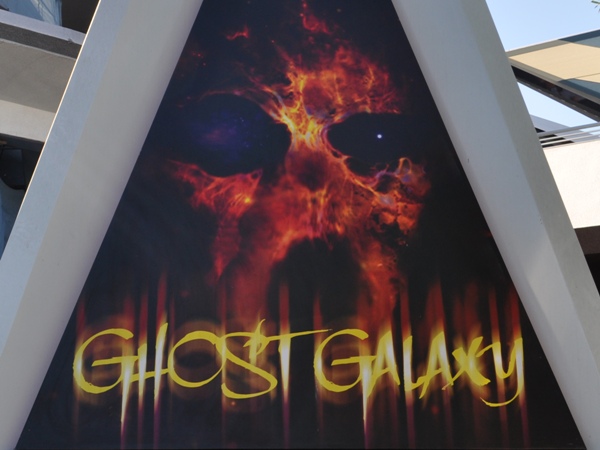 Now over to the best holiday overlay, Haunted Mansion Holiday.  Every year, Jack Skellington and his friends transform Haunted Mansion from mid-September through the end of the year, and this year is no exception.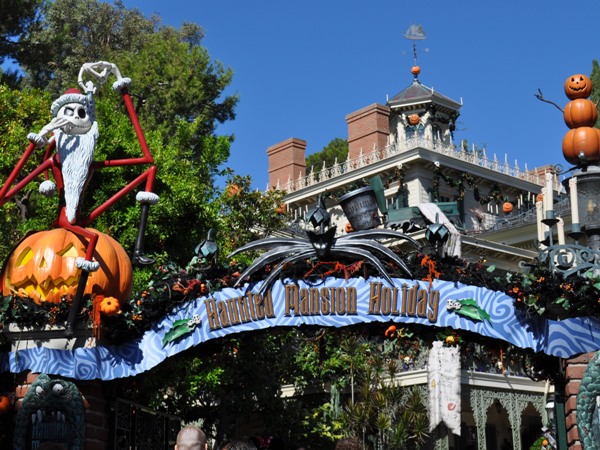 There are slight changes each year to the decorations, but the major change comes in the ballroom scene where the bakers of Disneyland build a huge gingerbread house.  This year's is one of the tallest ever and features some very neat effects.  You're going to have to trust me on that, as getting a picture on a moving vehicle inside a dark mansion is virtually impossible…in the meantime, here's another picture of the mansion.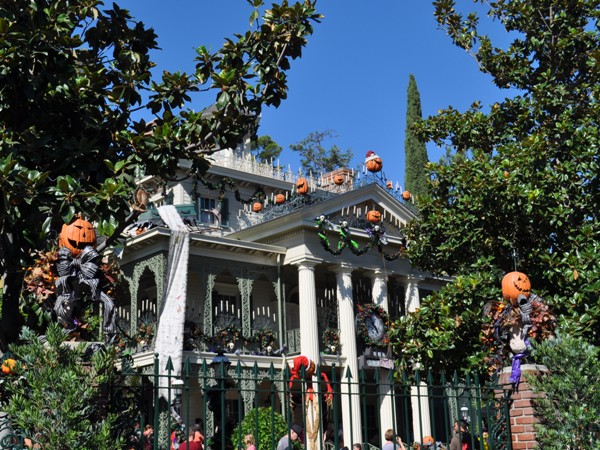 The theming also spills over to the French Market restaurant, which typically features one or two scary items on their menu for Halloween Time.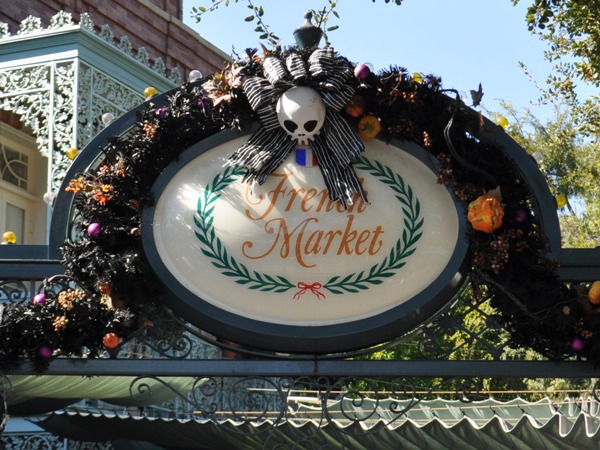 Crossing back to Frontierland, you'll find the beginnings of Dia de los Muertos coming to the park outside the Rancho del Zocalo restaurant.  Dia de lose Muertos is celebrated November 1st.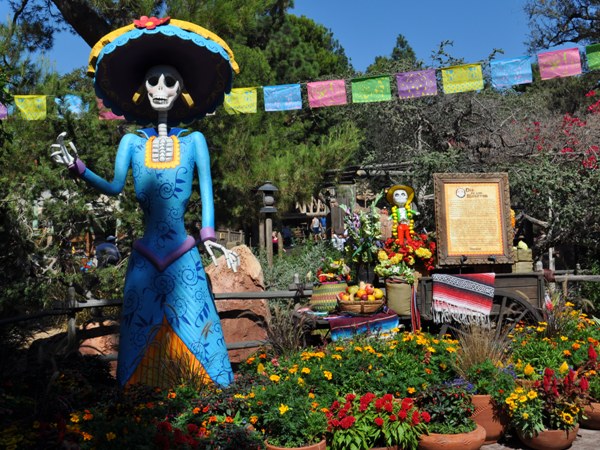 One of the changes this year is the expanded activites taking place at the Big Thunder Ranch.  The Jamboree that has been entertaining guests on a temporary basis has now become a Halloween Carnival.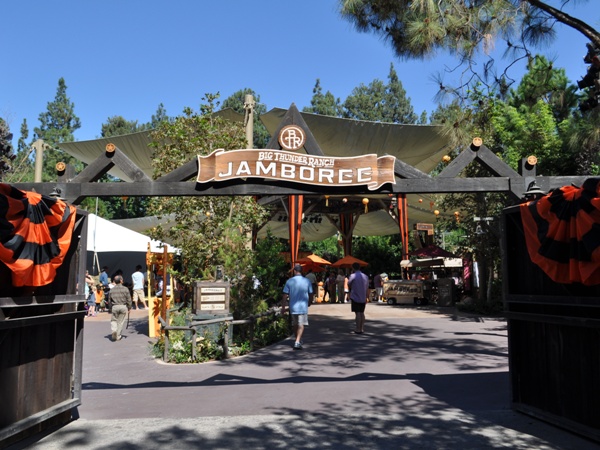 Young guests can play games like witch's hat ring toss.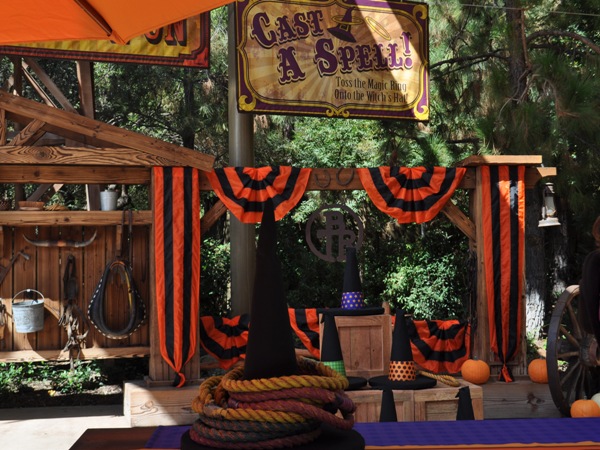 They can also color a Halloween mask.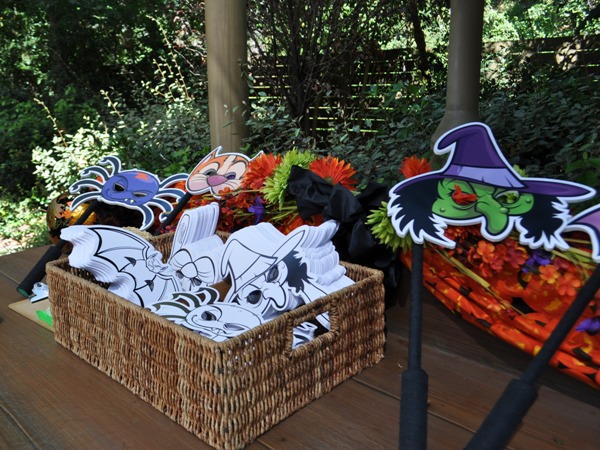 Several times a day, characters lead the young guests on a parade to show off their masks.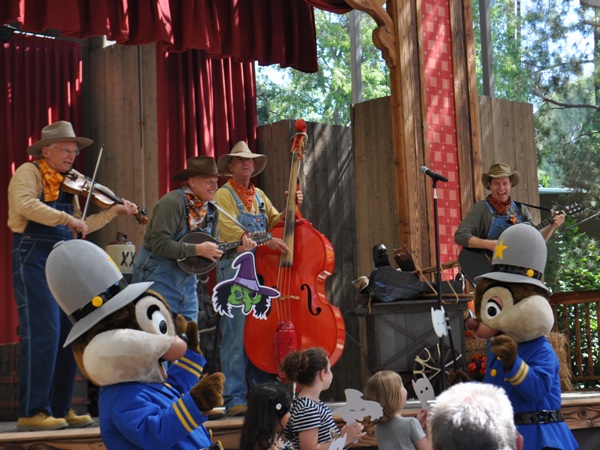 Billy Hill and the Haunted Hillbillies provide the music for the Carnival, performing such favorites as "Ghost Riders in the Sky" and "The Devil Went Down to Georgia".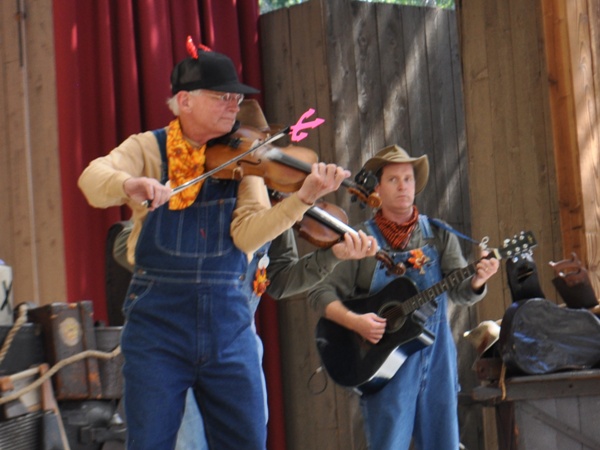 Pumpkin Carvers show off their skills during the Carnival.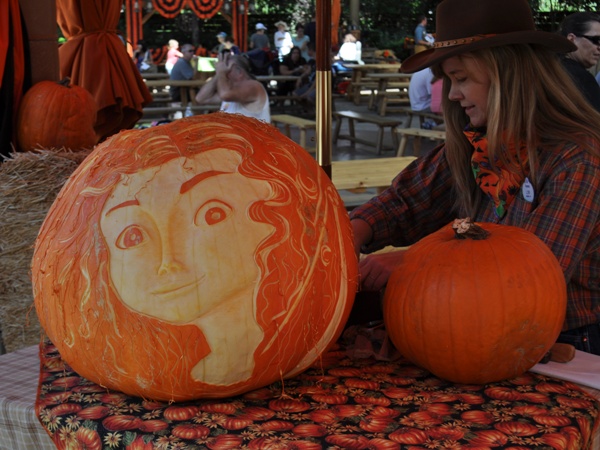 Speaking of pumpkins….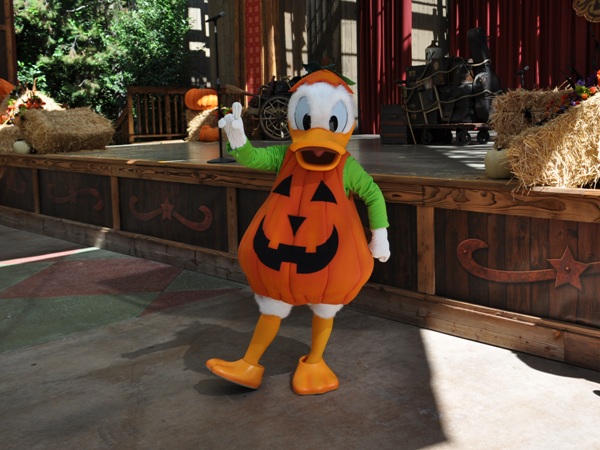 Now for the one thing I DIDN'T get to see.  Inside this nondescript tent is supposed to be the Magic Cauldron Sideshow, where guests can conjure up a Disney Villain.  I was there up to an hour after it was supposed to have opened, and it was still at least 20 minutes from opening.  If you've had a chance to see it, comment on this blog and let us know how it was.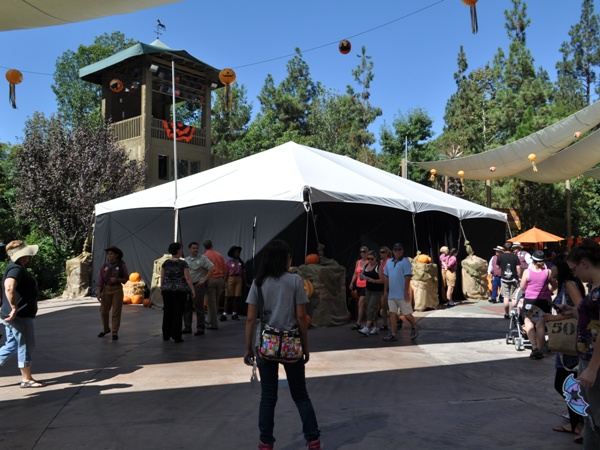 Over at Disney California Adventure, Tim Burton's new film "Frankenweenie" has taken over Hollywood Land.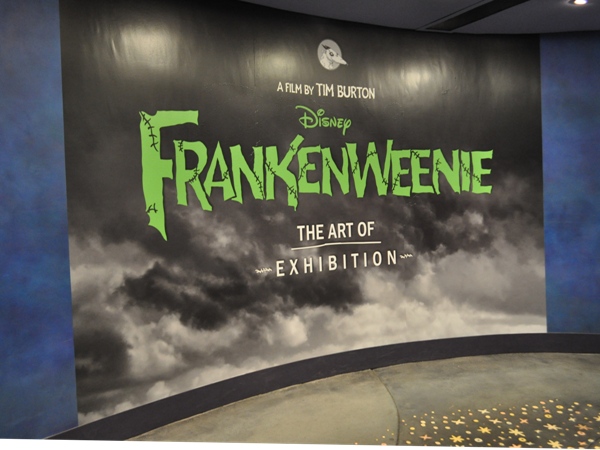 Inside the lobby of the Animation Building are several actual sets that were used in the movie.  Producer Allison Abbate showed the media around prior to a recent Annual Passholder preview.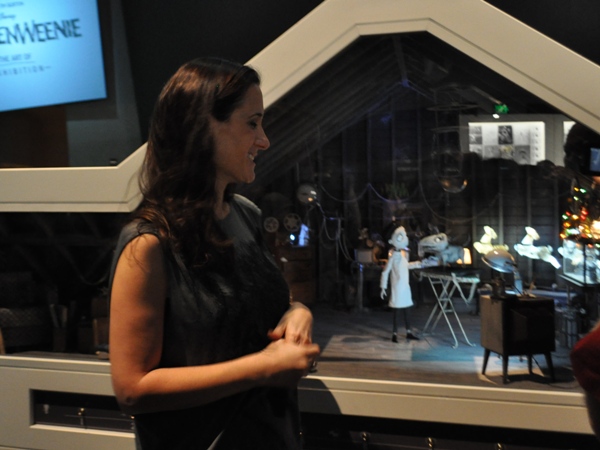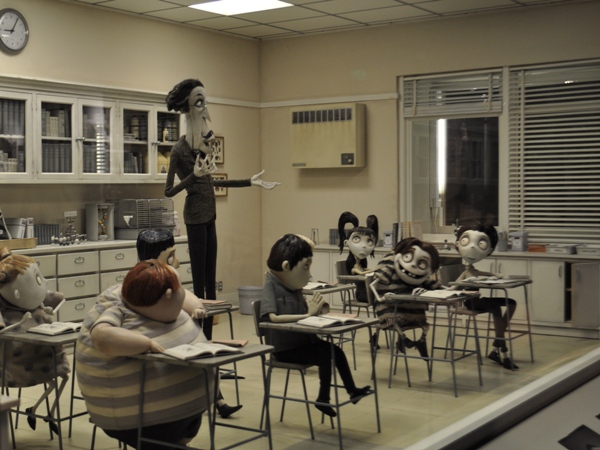 The exhibit also includes sketches and models created by Tim Burton.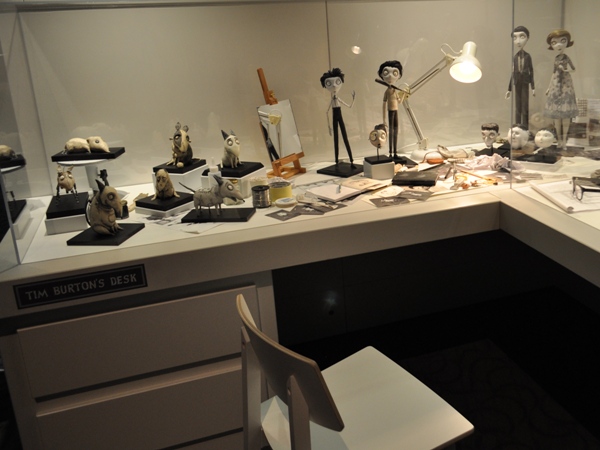 Elsewhere in Hollywood Land, Frankenweenie has taken over the MuppetVison 3D theatre.  For the next couple of weeks, you'll be able to see an extended 4D sneak peek of the film.
You can even find a couple of special Frankenweenie themed food and drink items at Award Wieners.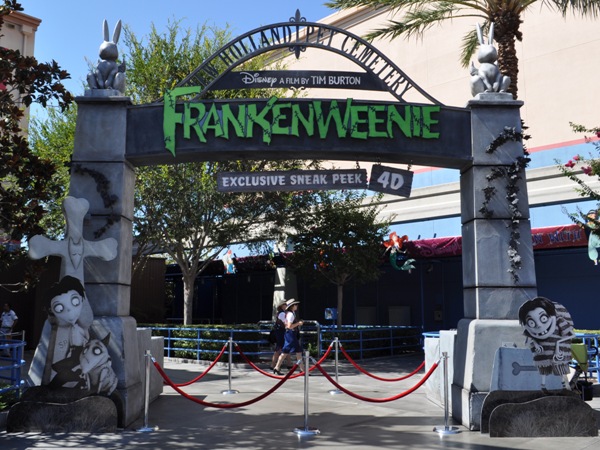 Halloween Time is in full swing at the Disneyland Resort, but the real fun begins on September 28th when Mickey's Halloween Party returns to Disneyland Park.
Until then, keep an eye on the DIS Unplugged Blog, the DIS Unplugged: Disneyland Edition Podcast and the disboards for all your Halloween Time information.
Category: Disneyland