If seeing all the unique Disney sites in Southern California is on your Disneyland vacation agenda, there's a new addition to the list – Disney baby in Glendale's Americana at Brand.  This beautiful, upscale shopping venue, near Walt Disney Imagineering in Glendale, CA, provides an idyllic setting for the Disney Store's newest concept – celebrating those magical moments with your baby!
Come along while I introduce you to the Americana and the Disney Baby store, as well as treat you to the sites and sounds of the opening ceremonies – including a special, musical video treat at the end of the blog! (Can you say "House at Pooh Corner"?)  Trust me – you won't want to miss it!   Of course, you can always listen to the episode of the DIS Unplugged Disneyland Podcast, where
1. we talk about the event
!
The Americana at Brand was an interesting choice for the first Disney baby store.  Like its sister, The Grove at LA's Farmer's Market, it focuses on creating a new environment for the retail shopper.  It isn't a "Plaza" or a "mall" in the traditional sense as it hosts mainly high-end retail chains, such as Free People, Calvin Klein, Lululemon Athletica, and Art of Shaving, several specialty dining experiences – like Granville Cafe, Trattoria Amici, and Frida Mexican Cuisine, a few entertainment options – like a 14 screen Pacific Theater, and a passel of luxury condos and apartments sitting on top of all of it!  Of course, there are more known (and sometimes more affordable) merchants, such as H&M, J.Crew, Auntie Anne's, Rite-Aid, and Barnes & Noble to flesh the patron demographic out a bit and help out the residents, but those are scattered throughout.  This means that Disney is looking to sally up to the bar with some pretty noteworthy competitors in the luxury goods market.
The Americana also has one other advantage for Disney – it's in their neighborhood!  The Disney Stores and Consumer Products main offices are just down the street – just like the home of the original Disney Store, the Glendale Galleria.  It's easy for the execs to keep an eye on how things are progressing and make changes as the business grows.
Whatever the reasons Disney chose to open a store here, you can see why it was the right place.  You get your first glimpse of the Americana's difference, from the moment you head down through the parking garage.  That huge chandelier and open glass elevator shafts tell you that it's not your average place to be!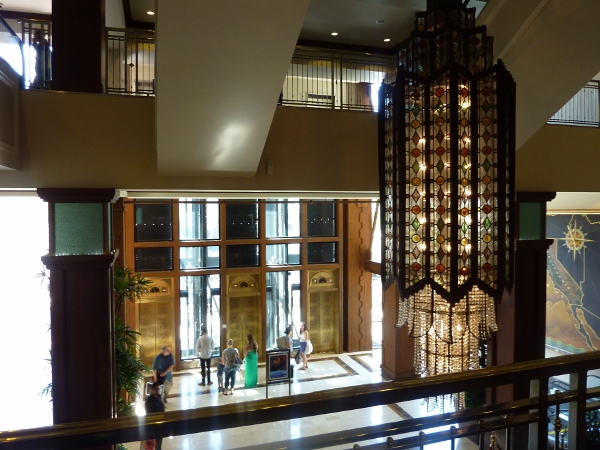 Coming out of the parking garage, you are met with The Commons.  As you circle around it, you get your first glimpse of the unique architecture.  I personally love to watch the glass elevator ballasts, as they travel up and down the steel-beam girders of the structure.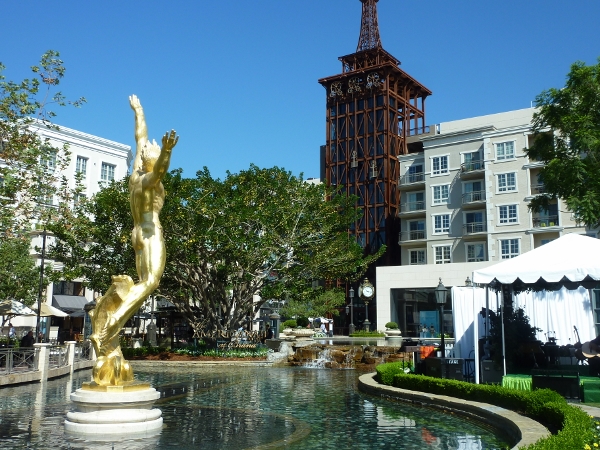 Its open grassy areas and dancing fountain shows welcome visitors to this "new way to shop".  The Commons area and streets host events, such as free movie nights, kids' activities, impromptu concerts, a weekly farmers' market, and special promotional events like the Disney baby publicity event.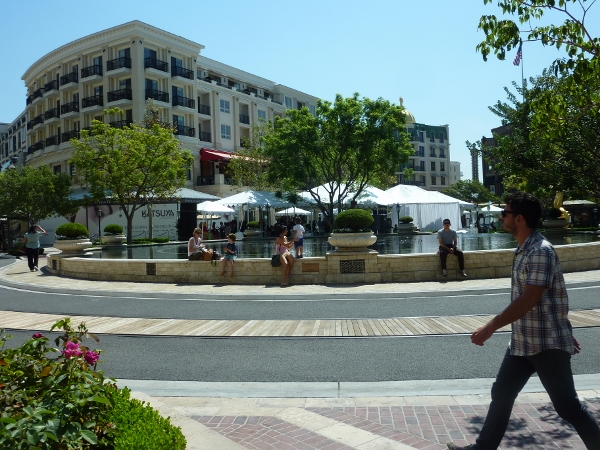 Shopping is on a traffic-blocked street, with a wooden pathway running down the middle for the Americana's Trolley.  Today, it made a special trip, carrying many of our Disney friends and actress Alison Sweeney's family, as they headed to open the new store.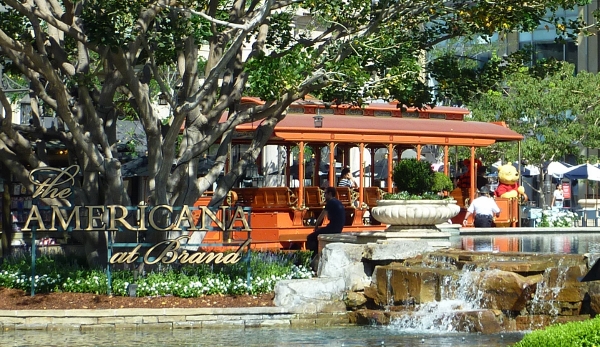 To get to the Disney baby store, simply follow the trolley down the street until almost the end.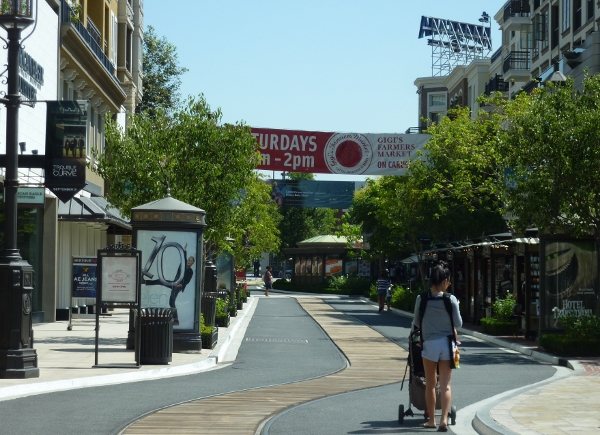 There, you will see the charm of the store design peeking out at you and trying to draw you in!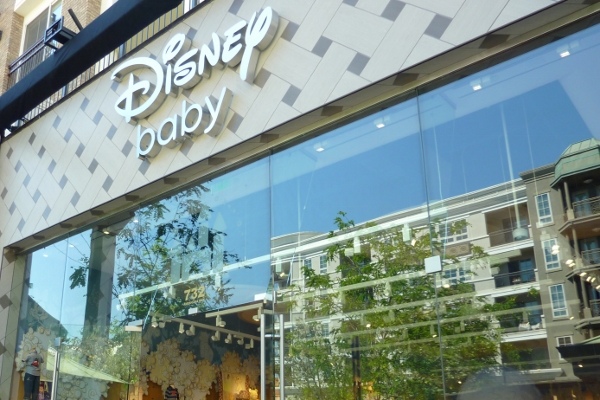 Before I get started, let me share a few things that the Disney Store's Director of Communications for North America, Jim Babcock, had to say before the event started.  He was very excited about this new venture.  The Americana Disney baby store will remain the only one of its kind for the immediate future, but they are planning on carrying some of its selections in the Times Square Disney Store.   They are also thrilled that they have expanded their online offerings at disneybaby.com to coincide with the store's opening.
Disney baby's offerings focus primarily on newborn to 24 months.  The store's manager did let me know that they are carrying a few items in sizes up to 3T, to transition from infant to toddler or for that "slightly-older" sibling that wants the same outfit.    This is a pretty narrow market for Disney to stick their toes in, but the business in baby retail has proven tried and true for Disney.  After all, how many of us have bought Disney baby items for our friends and loved ones?  Yep.  I thought so.   Let's go inside and see what they've come up with.
When you enter the store, you can't help but notice The Tree.  Its theming is all over the store; from the fixtures to the ceiling canopy.  The Tree, itself, has a magic all its own.  It transitions through a rainbow of colors, which will also be reflected on the "skyline" – the walls above the fixtures, but below the ceiling.  The manager let me know that they have an offering in the works that involves the tree, too.  In the near future, you'll be able to purchase "My First Ears Celebrations."  These packages (price and exact items yet to be determined, but possibly in the realm of $50) might include invitations, special Mickey ears in blue, pink, or black, photographs and photobook, as well as a magical ceremony in front of the tree.  How fun would that be to be on a family vacation to bring the whole gang in to experience this unique offering for your little one?  I think a new "Disney Geek" rite of passage may have just been born! (And if everything they told me was included, $50 might make a very reasonable price point!)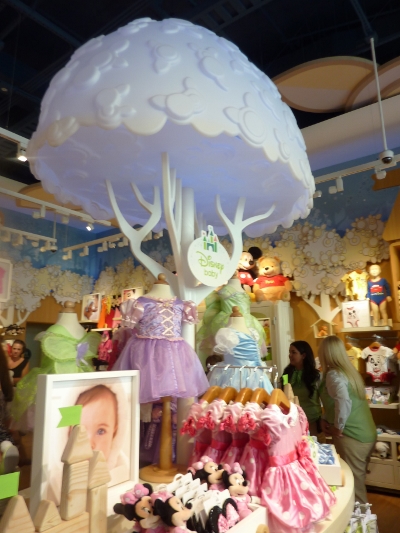 Looking around you, you'll find they've separated it out into "neighborhoods", but not the traditional Disney Store ones.  These store "divisions" are based on the categories of Magical (bonding) Moments that parents have with their new babies.   You enter the store in the "Dressing Baby" zone.  Here are clothes, costumes, shoes, and other items that relate to the fun you can have while getting your little prince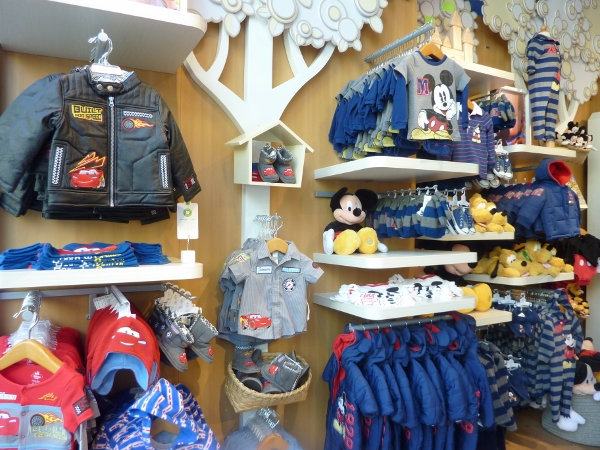 or little princess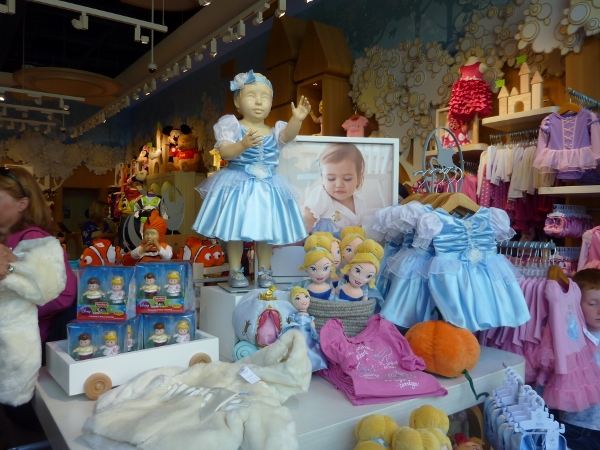 ready to go.  (I love this Nemo costume…..)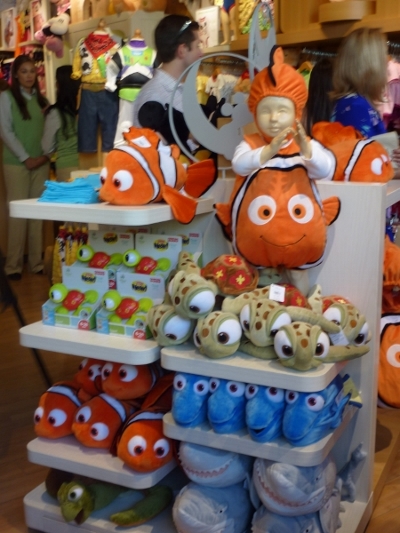 Another Magical Moment are that we can all relate to is "Bedtime".   The snuggles, the stories, and of course, the PJs are all represented here, along with some new bedding and accessories.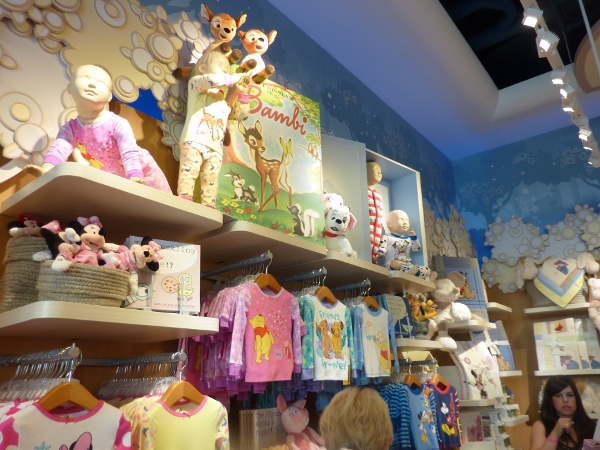 My favorite part of  this area was the giant crib mobile.   From a retail-design perspective, this is perfect.  It isn't a one-trick pony.  It's made up of display cases, where they can rotate out the displays, based on the new clothing lines!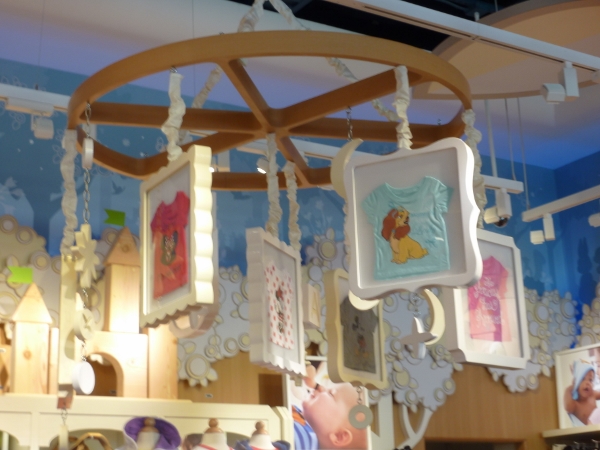 Behind the mobile, on the back wall, was the "On-The-Go" Magical Moment.  This is designed off the idea of "Who doesn't love running off and exploring the world with their little one".  Here you'll find some exclusive car-seat, stroller, diaper bag, and travel-related items.  I loved their partnership with StorkSac.  I had a plain brown one, but would have loved the bright silver, or Red and Black Mickey one!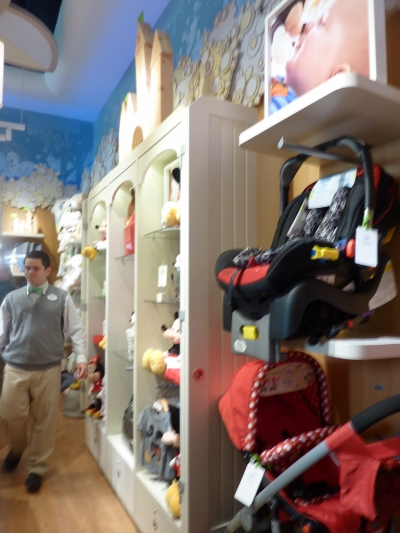 Now Disney starts them young (no doubt about that), but Disney baby has something to get that little one hooked on Vinylmations before they enter the world!  The exclusive "It's a Boy" and "It's a Girl" pieces will be a hit.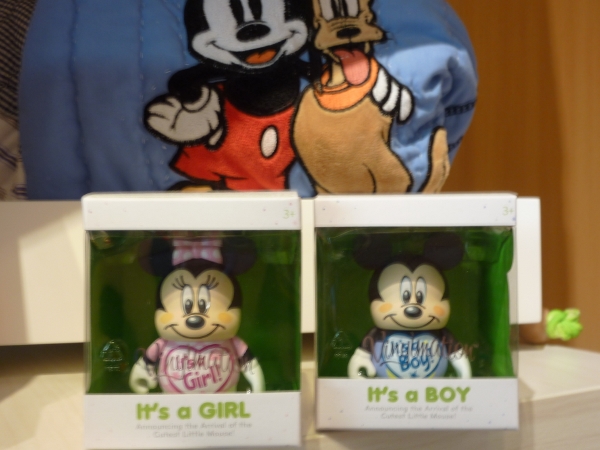 Speaking of going, the cash-wrap design was also a sweet touch.  Small World has been one of the major design themes in the Disney Baby line since it was introduced and is now carried throughout the store.  The geometric building blocks make for a great backdrop for your final Cast Member encounters.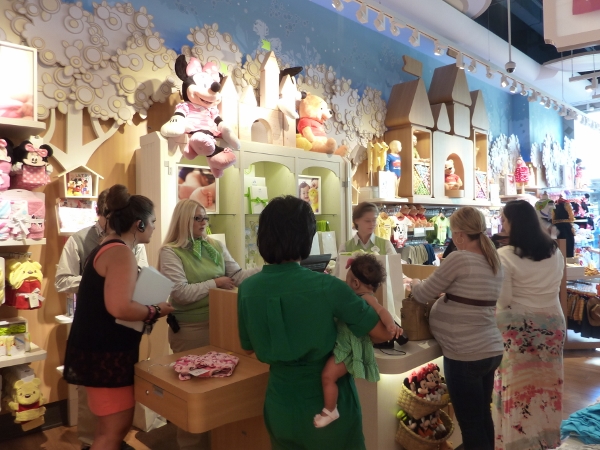 Any time you shop at Los Angeles' upscale retail centers, you might just happen upon some celebrities.   One of those celebrating the opening of the store was Former Miss USA, Ali Landry.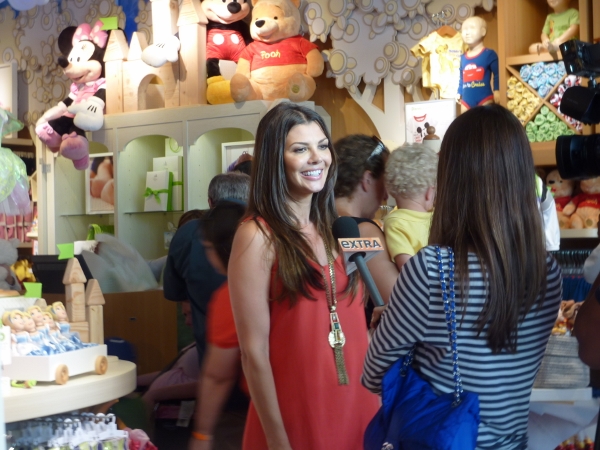 Since this was a star-studded, special occasion, let me tell you a little about what fun we had.
On hand to host the Opening Celebration was DIS friend, Jim Babcock.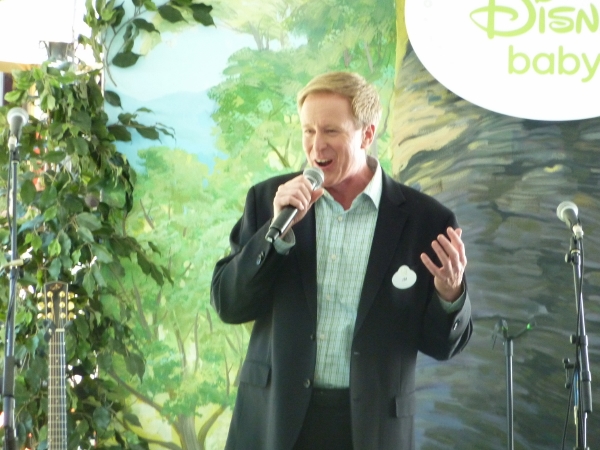 He was one of the most jubilant Master of Ceremonies that I've heard in a while, as he gushed about the military moms that were there, being treated to a special day by Operation Shower!  (Click on their name to visit their website and see how these wonderful folks make having a baby special for moms whose spouses are deployed to serve our country.)  These moms seemed to be having a great time as they received one surprise after another!
The moms and the media watched live on screens from the Americana's Commons as Disney mom, author of The Mommy Diet, and actress, Alison Sweeney, was on hand to open the store with Disney Consumer Products President, Bob Chapek.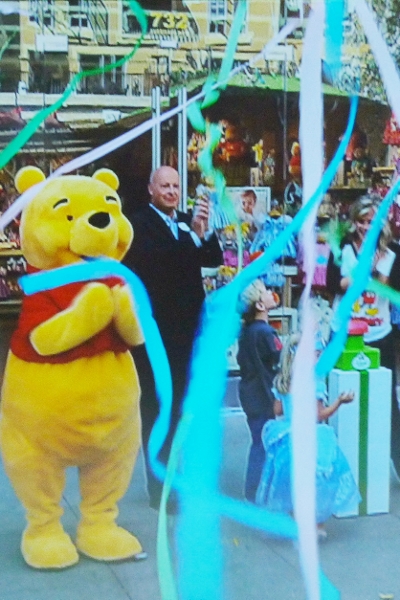 Alison then joined us in the tent help Jim put the moms through their competitive paces.  Prizes abounded as the moms answered musical trivia, played BINGO, and challenged each other to games of "Dress the Baby".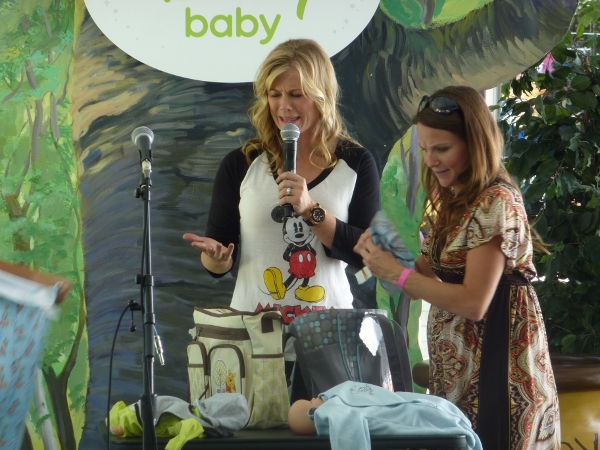 The moms also enjoyed some swag and a sneak peek of the newest, Disney-branded baby products.  Tents labeled with the Disney baby Magical Moments, let them experience some of the products for themselves.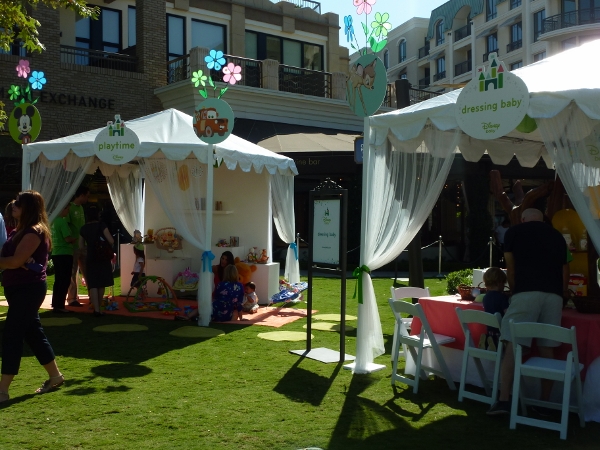 I had fun fishing for prizes in "Bathtime",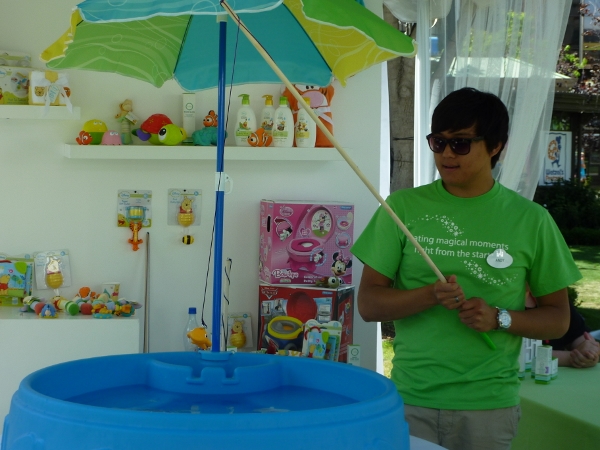 trying snacks in "Mealtime",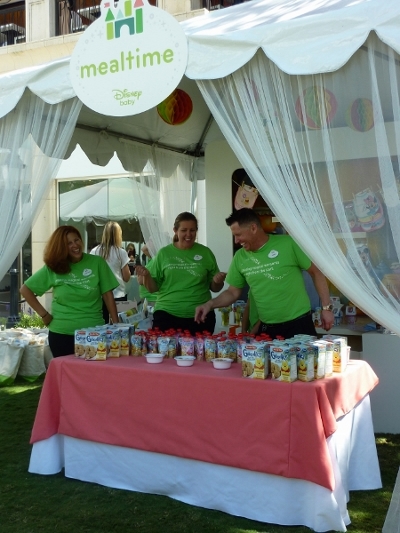 and watching the moms get their copies of the new "It's a Small World" book and CD signed by illustrator and animator of the Small World app, Joey Chou.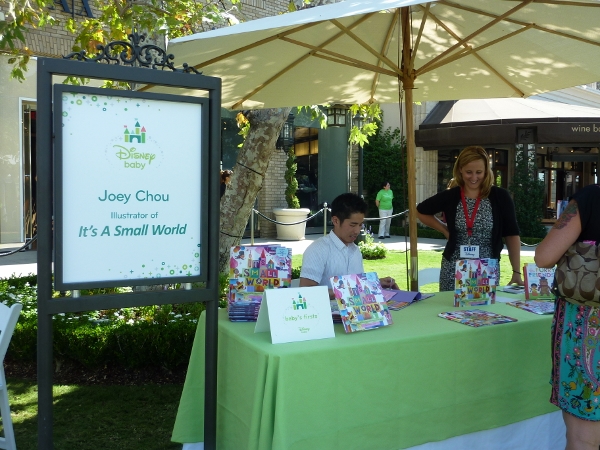 I think the biggest surprise for the moms came when the Blue Sky Riders were introduced to sing "House at Pooh Corner", one of the most popular lullaby songs since 1970.   As they band was introduced, you could feel the excitement as they realized that they would be hearing Georgia Middleman, Gary Burr, and Kenny Loggins perform the classic song live for them, under a tent, in the middle of a retail center.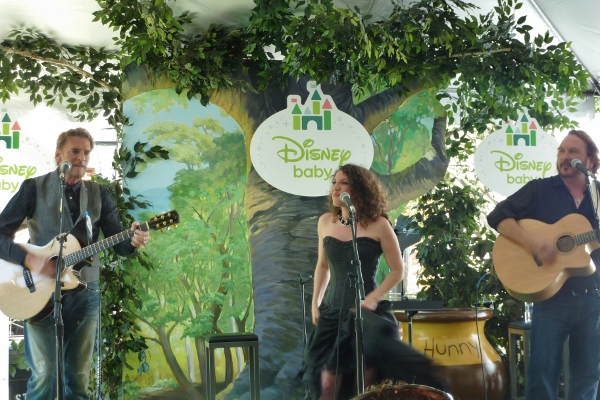 I knew you would all enjoy experiencing this special concert, so I've included it here in the blog.  I've sang that song so many times to my girls that it brought back some great memories.
(By the way, that isn't me joining in on the first chorus.  I did join in on the second, however – Kenny said to and who am I to argue!)  They also performed two numbers from their upcoming debut album, due to be released in February, 2013 and the crowd really responded well to them (I know I did).   I got a chance to speak with Kenny and Gary after the event and they are really excited about their new collaboration.  Kenny said they aren't limiting themselves to any specific genre (since Gary is a Country Music Hall of Fame writer) and that they are just enjoying experimenting with all of the instruments and music they enjoy.  I think you guys should give them a listen – you'll enjoy it.
As I was leaving the Americana, I thought about how lucky I was to be experiencing all of these things and how I've gotten to share the fun I've had with others.  Now, as a visitor to Los Angeles and Hollywood, you won't see this kind of thing every day, but sometimes you get lucky.  If you were here for a Disneyland trip, and decided to do Hollywood and Glendale instead of a Disney park on a crowded Saturday, you might just stumble upon it.  How will you know if you don't experiment a little with your vacation destinations!
Photos and video by N. Johnson.
Category: Disneyland, News
Disneyland Podcaster for the DIS Unplugged