In 2010, the DIS Unplugged Podcast put forth a challenge to its listeners and their communities. The premise was simple: help us raise a million dollars for Give Kids the World (GKTW). Wait a second…a MILLION dollars? That's simple?! Yes, you heard it right! Pete Werner, host of the DIS Unplugged, proposed this scenario: find ten friends to donate $10. If 10,000 people were able to try and succeed, a million dollars would be raised to help children with life-threatening illnesses enjoy a week of peace and joy. Since it first launched, The Power of 10 campaign has raised well over $80,000 in its efforts. Fundraisers to help have included DIS meets in locations as far away as Canada to lemonade stands to craft sales to personal donations. For some, the thought of organizing a fundraiser can be overwhelming. How do you get started? What do you need to know? Who can you contact for help? Let's talk about what you can do to help GKTW, no matter how big or small your idea may be.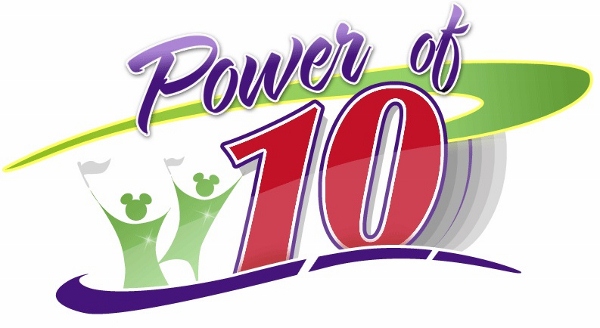 Image: Continue reading to find out how you can help Give Kids the World!

Forming an Idea
If you are a regular listener to the DIS Unplugged, it comes as no surprise that GKTW fundraisers can be held on a large scale. However, raising money for the organization could be done in any capacity, whether it's simply asking friends and families for donations or organizing a bake sale, holding a car wash, or setting up an event with local friends from DISBoards.com. No idea is too big or too little. The sky's the limit! What talents do you have? Are you crafty? Do you like to paint or knit? Do you have a winning recipe? Does your work hold special "jean days" allowing employees to dress down for a charity donation? No matter what you decide, make sure it is an activity that you enjoy. Bounce ideas off of your friends and family members and see what you can come up with.
Here's just a few ideas to help you get started…
– Donation Jar at Church or Work
– Skip a Favorite Treat Once a Month & Donate the Money to GKTW
– Ask for Donations in Place of Birthday, Christmas, or Christening Gifts
– Teachers: Ask for Donations in Place of Gifts & Link GKTW on Your Class Website
– Bake Sale
– Trick or Treat for GKTW
– Lemonade or Iced Tea Stand
– Mow Lawns, Walk Dogs, or Shovel Snow
– Car Wash
– Gather Friends for a Movie Day & Ask for a Small Donation
– Craft Sale at a Local Church
– Hang Neighbors' Holiday Decorations for Donations
– Involve School PTO/PTAs
– Sponsor a "Jean Day" at Work
– Ask Local Businesses to Leave a Donation Jar by the Register
– Participate in a 5K, Triathlon, or Other Marathon – Get Donations from Sponsors
– Organize a "Tricky Tray" Fundraiser
– Work with Friends or Colleagues to Sponsor a Silent Auction
– Plan a DIS Meet by Posting a Thread & Working Together on an Idea

There are just so many ways that you can raise money. Don't be intimidated! Remember your goal and get those creative juices flowing. Your fundraiser could be simple if you are short on time and resources or large. Either way, you're doing an amazing thing for some very special children and their families.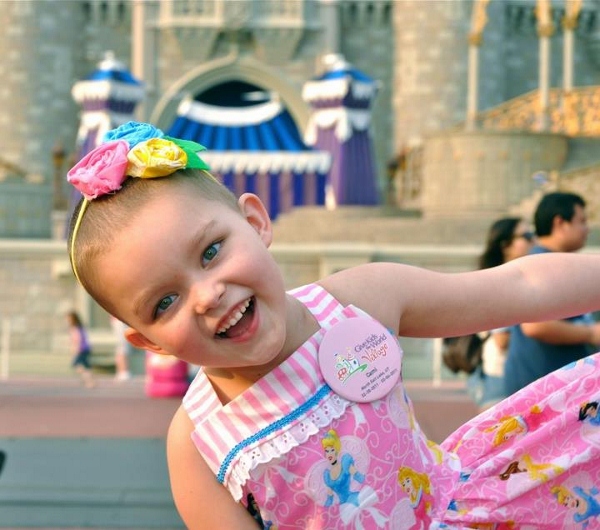 Image: Give Kids The World is a non-profit organization that exists only to fulfill the wishes of all children with life-threatening illnesses and their families from around the world to experience a memorable, joyful, cost-free visit to the Central Florida attractions, and to enjoy the magic of Give Kids The World Village for as long as there is a need.
Getting Organized
Once you have an idea in mind, sit down and plan out the logistics. Who can participate? Where will the fundraiser or event happen? Who could you recruit to help you? Is there a fee involved – how much? Make a list of what you need to be successful, the target audience, people to contact for help, possible venues (if organizing an event), and other important information that needs to be decided ahead of time.

Ask for Help
While some of the more basic fundraisers require little help, others would be more successful if multiple people were involved in the planning.
– Who could help make your fundraiser even better? Consider asking friends, relatives, colleagues, church groups, school organizations, and local businesses for help.
– Do you need a venue for the fundraiser? Many stores offer their parking lots or other spaces for charity work. Churches, YMCAs, schools, firehouses, etc. also have space that might be of use to you.
– What resources would help? Businesses of all sizes are often eager to get involved with fundraisers as it provides them with positive press in the community. Draft a letter stating what you want to do, who it will benefit, and what you need to succeed. Be formal in your language and give specific facts about GKTW. Then, set-up a time for you and any helpers involved to make merchant visits to local strip and shopping malls, large department stores, and "Mom & Pop" businesses in your area. Many are happy to help or will put you in contact with someone else who can. Don't be shy – if you need help, ask for it!

Publicize Your Event
All fundraisers need people to participate in order for them to be successful. How will others know that you are raising money?
– If you're setting up a donation jar in your workplace, get permission to send out an email to the staff or hang up flyers telling who you are raising money for and where the jar will be housed.
– When sending out birthday or christening invitations, include a note asking for donations in place of gifts.
– Contact your local newspaper and churches to see if they'd be willing to post an advertisement.
– Create a website and/or Facebook page for your event. Spread the word through social media, email, and word-of-mouth.
– Ask if you can hang flyers at stores, churches, schools, firehouses, and other hot spots in the community. Be sure they are colorful and eye-catching. Make good use of white space and limit the amount of text on the flyer so that the public can quickly focus on what you are trying to achieve.
– If you use email often, create a signature line advertising the event or its website/Facebook page. Include the link in a different font so that it's more noticeable.
– It would also be helpful to contact GKTW directly and let them know of your plans. Many times they will assist in publicizing or providing logo merchandise to sell or auction off.
Image: Give Kids the World provides a week of "yes's" to those children who are honored at this whimsical resort.
Enjoy the Experience
During your fundraiser or on the day of your event, take some time to enjoy and reflect on your goal: helping the families of GKTW. Whether you raise $5 or $5,000, each penny will go to good use and bring smiles to the faces of these children.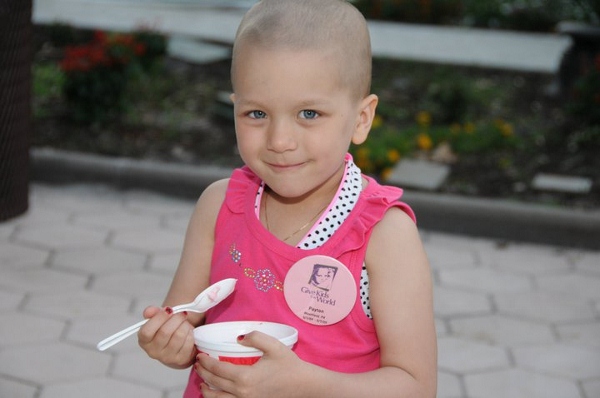 Image: Children at the Village can enjoy ice cream for breakfast as a part of their fun-filled stay.
Submitting Raised Funds
After you have collected and tallied the money raised, you have a few options for submitting them to ensure that they are counted towards the Power of 10 campaign. You may send a check directly to GKTW (include "Power of 10" in the Memo section), pay with credit card through GKTW's website, or use our donation page.

In Closing…
Fundraising for GKTW can be highly rewarding. There's no better sense of accomplishment than helping those who need joy in their lives. Revel in the experience and keep your goal in sight. Let us know how you're doing. We'd love to hear about your ideas, assist in planning, and help you celebrate after you're done.
For more information:
DIS Boards GKTW Fundraising Forum
Image Credits: Give Kids the World
Born and raised in New Jersey, Nicole is an avid Disney fan and frequents both Walt Disney World and Disneyland several times each year. Interests include Walt Disney Imagineering, merchandise, backstage tours, and more. Be sure to check out her other articles here on the DIS Blog!