Back in 2009, I was blessed with the opportunity to volunteer at a very special resort called Give Kids the World Village (GKTW). The Village could only be described as a place of wonder and whimsy, from its giant mushroom carousel to the cozy villas that many families call "home" for a week in paradise. What makes GKTW so unique though is its mission and dedication to serving those who are in need of a smile. Let's take a look together at just how the staff here creates magic for its very important guests.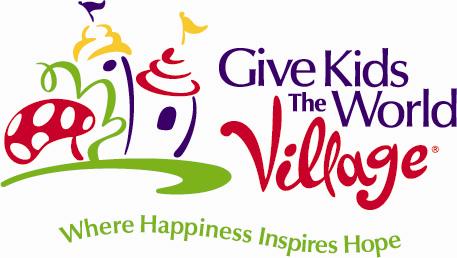 The story of Give Kids The World begins with a little girl with a wish and the desire of one man to make that wish come true.
The little girl's name was Amy. Amy had leukemia and one wish – to visit the theme parks in Orlando. To facilitate Amy's wish, the request of a complimentary stay was made to a respected hotelier. As he had done many times before, the hotelier gladly obliged and Amy's wish was that much closer to being realized. Sadly, the remainder of Amy's travel plans took too long to arrange and her wish was never granted; Amy had passed away. Time simply ran out.
This unfulfilled wish inspired a man, the hotelier, to make a vow that no child in need would ever be failed again. That man was Henri Landwirth and his desire to ensure that Amy's story would never repeat itself is where the story of Give Kids the World begins.
Enlisting the help of colleagues in the hospitality industry as well as leaders in Florida's major theme parks, Landwirth set forth to create a program that would fulfill the wishes of children needing time away from doctors, hospitals, and medical treatments. Working together with his partners, Landwirth was able to create the "Give Kids the World" program which had the ability to fill the wish of a child with as short as 24 hours notice. That wish was one which would bring joyful, magical, and memorable experiences to children with life-threatening illnesses and their families. As the amount of wishes began to grow, it was clear that a designated place would need to be built which could better serve the unique needs of such families – a village like no other was about to be born.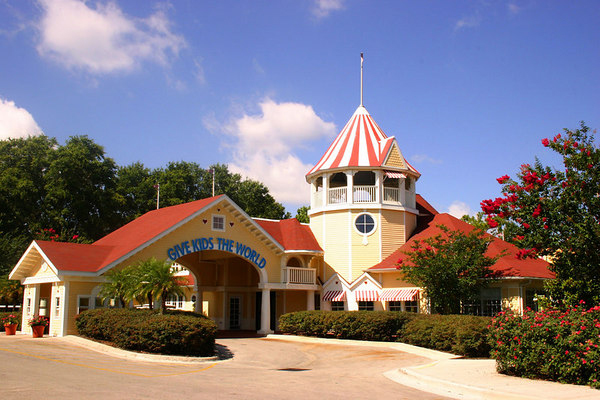 Image: Give Kids the World Village is a 70-acre nonprofit resort located near Central Florida's most beloved attractions. It provides cost-free, week-long vacations to children with life-threatening illnesses and their families.
The gates of Give Kids the World Village first opened in 1989. Today, this 70-acre "storybook resort" is the home of over 140 villa accommodations and countless entertainment options specifically designed for children with special needs. All elements of the Village are handicapped accessible, from the carousel to the ice cream parlor to the swimming pools and water play areas.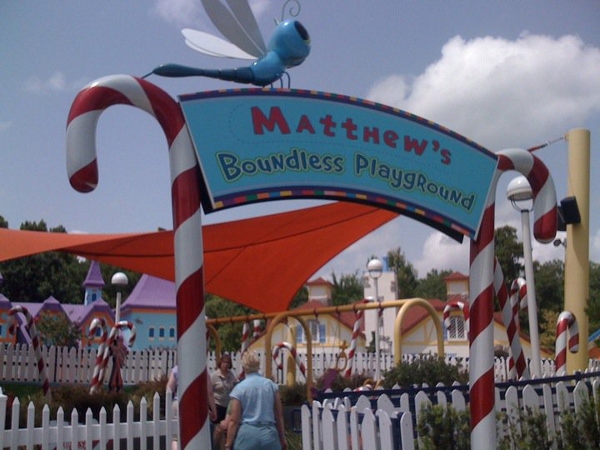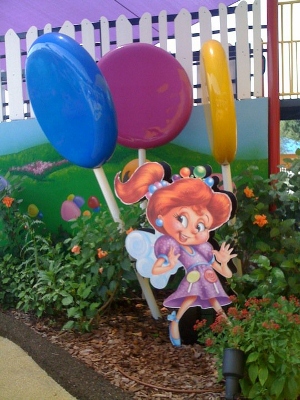 Image: Matthew's Boundless Playground is the world's largest and only life-size version of the popular game Candy Land. It is completely handicapped accessible and features colorful characters and trails to explore.
During a family's stay at the Village, they are honored with a private living space complete with a driveway and "Welcome Home" sign out front. Inside the villa, guests enjoy a two bedroom/two bathroom suite with washer and dryer as well as other amenities to make their stay more comfortable. Various dining options are available at the resort including a delivery service for those who would rather enjoy a meal inside than at one of the Village's eateries.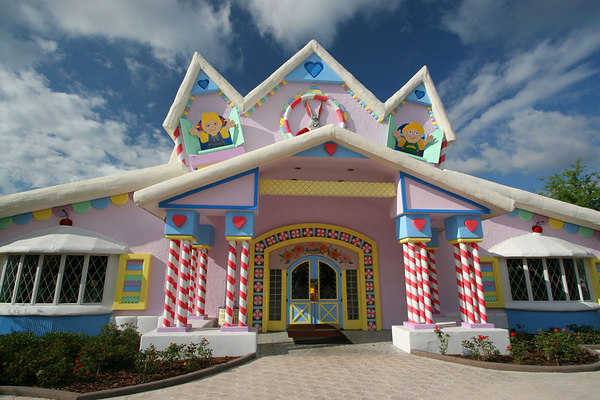 Image: More than three million meals have been served in The Gingerbread House restaurant. Over 2,000 dolls donated from families around the world line the walls and more than 27,000 peppermint candies are featured on the tables inside.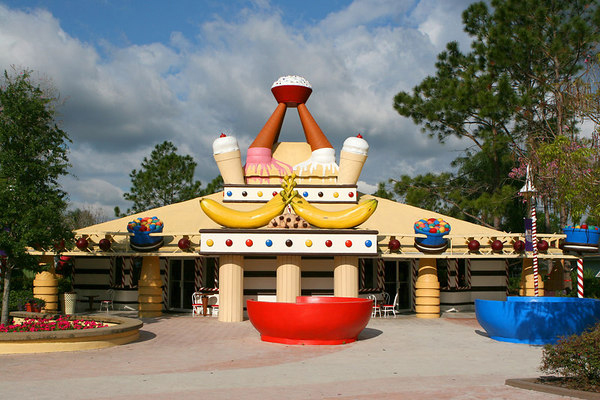 Image: Children can enjoy ice cream any time of the day at GKTW even at breakfast!
Over the course of families' week-long stay, numerous entertainment options are offered including photos with favorite Disney or Universal characters, horse and pony rides, Christmas celebrations (every Thursday night!), a pirates and princess party, and more. Similarly, the Village provides access to Orlando's theme parks as well as transportation so families do not have to worry about traveling on their own. This cost-free vacation offers a chance for both adults and children alike to break away from reality and enjoy such magical experiences together. To date, more than 115,000 families have visited the Village from all 50 states in the U.S. and over 70 countries from around the globe.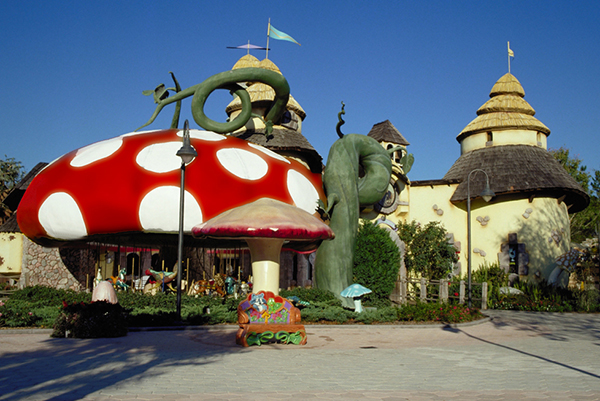 Image: The Castle of Miracles and Enchanted Carousel are just some of the entertainment options for families staying at the Village.
Having visited Give Kids the World Village firsthand on several occasions, I can attest to the fact that its staff and volunteers (affectionately termed "Angels") help bring the spirit of Landwirth's vision alive. This whimsical village is truly a location like no other and offers its children and their families once-in-a-lifetime experiences that create memories to be cherished forever. Next week, I'll share with you some of the plans GKTW has for the future and how you can help them make dreams come true for children needing a smile.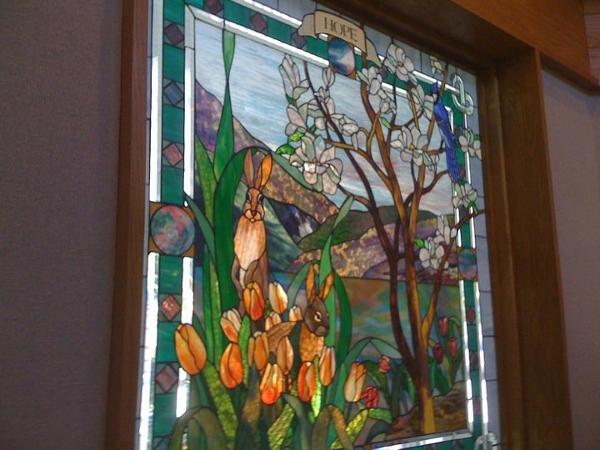 Image: GKTW offers hope and a sense of renewal for children and their families. It has been reported that many children experience a period of better emotional and/or physical health after enjoying a stay at the Village.
For more information about donating to Give Kids the World, please visit:
List of DIS Events to Benefit GKTW
Image Credits: N. Mancini & Give Kids the World, Inc.
Category: Disney World
Born and raised in New Jersey, Nicole is an avid Disney fan and frequents both Walt Disney World and Disneyland several times each year. Interests include Walt Disney Imagineering, merchandise, backstage tours, and more. Be sure to check out her other articles here on the DIS Blog!