First off, let me preface this article by saying that I am a big fan of the Walt Disney Transportation System. I love having the option of traveling where I want to go without worrying about navigating unfamiliar streets. Road maps, GPS units, and street signs need not play a role in where I visit and how I get there. With that being said, I do feel that some improvements need to be made in terms of logistics and carry-through. And that leads me to our overall guiding question: Do the flaws of Walt Disney World transportation outweigh the convenience? Or, is the system convenient enough to turn one's head to the flaws?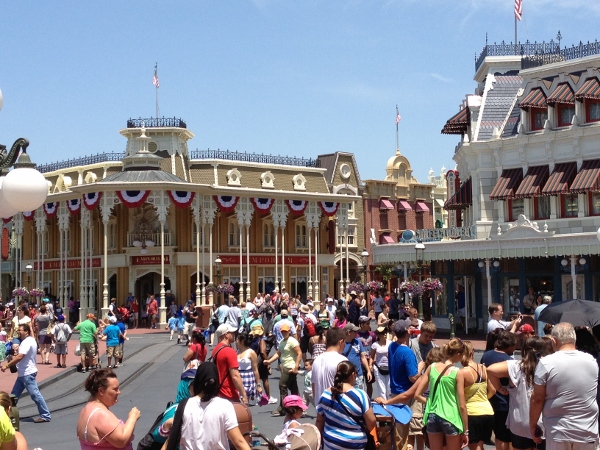 Image: As Walt Disney World continues to grow, how will its already saturated transportation system compete with the crowds?
One of the many advantages Disney boasts of staying at an on-property resort is the use of its complimentary transportation system. Guests may travel to the theme parks, water parks, Downtown Disney, and Ticket & Transportation Center via bus, monorail, or boat. This is a tremendous perk, and when used in conjunction with Disney's Magical Express airport transfers, allows guests to travel throughout the more than 27,000-acre property without the need for a rental car. From a business standpoint, it eliminates the need for a guest to venture off-site; Disney can essentially control where a traveler goes from the second he lands in Orlando up until his flight back home.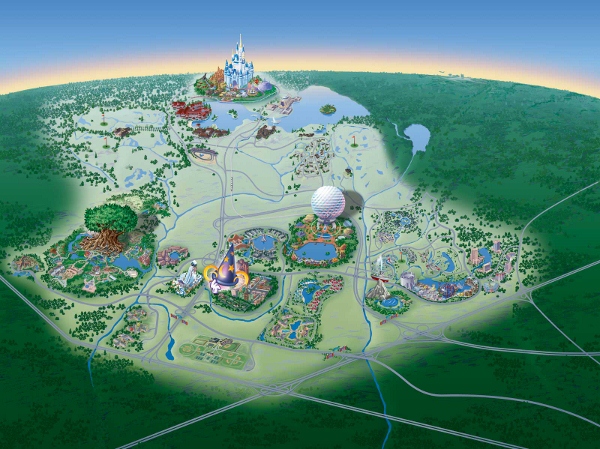 Image: Walt Disney World is built on over 43 square miles of property.
The Disney buses (or "motor coaches," to be technical here) have been a part of my trips to the World for over two decades. Back in the early days, Disney bus drivers gave the spiel discussing park hours and events. Some were good; others were bad. As time progressed, the lack of consistency in terms of information and creativity led to a recorded track of information, and subsequently, themed music, to be played on all buses. I thought that was a great move and really enjoy listening to the different tunes as I travel around the property.
Monorails and boats (water taxis, ferryboats, and the like) have also played a role in my ventures. I love the fact that I can take a relaxing boat ride from Old Key West over to Downtown Disney. Taking a break from the busy parks by hopping a monorail and exploring its connected resorts is also a favorite of mine.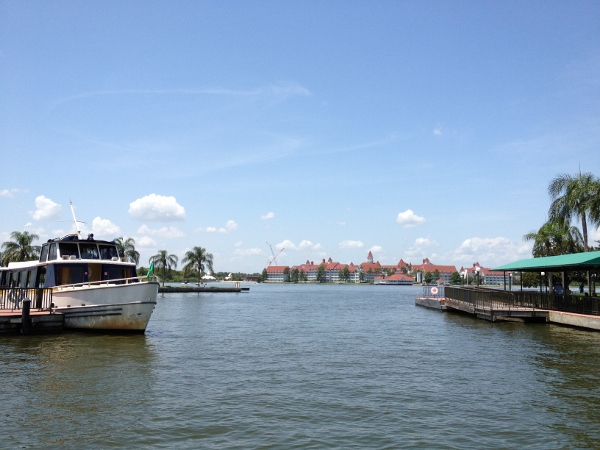 Image: Disney transportation offers bus, monorail, and boat service.
However, over the past few years, I have noticed that my beloved Disney buses are becoming more and more unpleasant. The main cause: poor planning. Even the most novice Disney World visitor realizes that there are some parts of the calendar year that the parks are more crowded than others. Typically, the weeks surrounding holidays and summer vacation tend to be filled more so than other times during the year. To say that Disney and its transportation management team are unaware of this is foolish. So, why aren't more buses (and boats, when one really thinks about it) being used to combat the crowds?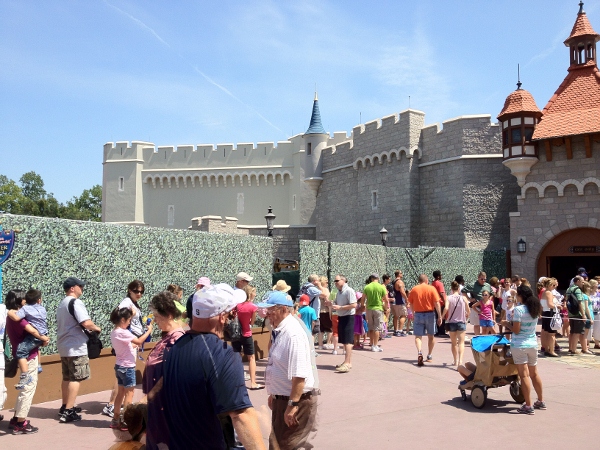 Image: The current Fantasyland expansion project promises to draw large crowds. How will Disney transportation handle the increase in numbers once the area opens?
We have all seen it happen. The fireworks go off and crowds flock to the bus terminals. Lines for resorts sometimes wrap around several times their actual length. Buses become overcrowded, and guests are expected to stand. In doing so, many times individuals are packed onto the buses like sardines – elbow to elbow, knee to knee – sometimes having no other option but to hold onto one another when the bus is en route. Is this really convenient? Can one really "take in the sights," as Disney claims on its website, from such a scenario?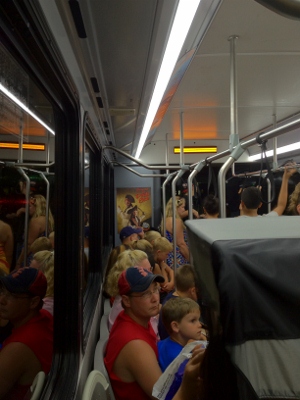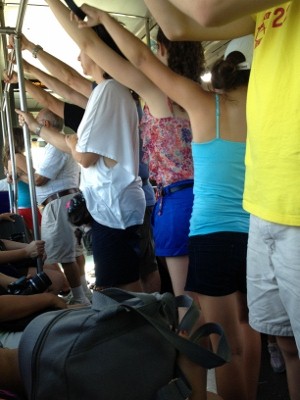 Images: Crowded buses has become the norm for Disney transportation during high peak seasons.
While Disney isn't violating any laws as long as guests are behind the designated standing line near the driver, the true safety and excellence in service the company is known for comes into question. Is it really safe to have some 10, 15, or 20 adults jammed together with little to hold onto while the bus is in motion? Can a driver really see if a small child (or adult, for that matter) is illegally sitting on a step by the back doors? Similarly, what does this scenario say about Disney's concern for quality of experience? Riding a Walt Disney World bus squished next to a stranger on a hot day is not my idea of fun.
One would hope that Disney examines this trend which has become the norm lately. More buses should be designated during high peak times to accommodate the increase of travelers. Likewise, partner resorts should be given their own buses – Animal Kingdom Lodge Jambo House and Kidani Village, for example, share one bus. Port Orleans Riverside and French Quarter do as well. I could go on and on. If Disney is making an attempt to fill their resorts to capacity (and building more resorts) then they also must recognize the need for increases in service especially when it comes to transportation. No one wants their first trip to the World shadowed by an uncomfortable bus experience.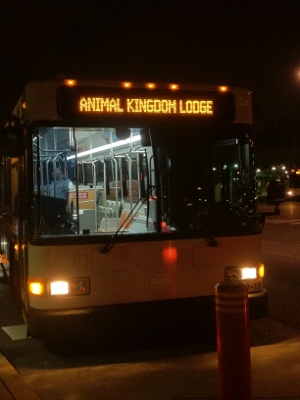 Image: A bus ready to board passengers outside Disney's Hollywood Studios.
It seems that more and more guests are turning to rental cars in order to avoid such occurrences. Hertz, E-Z Rent-a-Car, Budget, Alamo, and more are consistently offering promotions to help drive traffic (no pun there) towards their business which, in turn, promotes one's exploration of venues off of Disney property. If Disney is concerned with keeping guests on-site, I would think that the company would be improving the experience of its transportation options rather than ignoring it. All in all, one would hope that Disney takes the initiative to improve this service as the property continues to expand. Otherwise, guests will need to make a decision between dealing with the spotty transportation system or shortening their stay and renting a car – either way, it's a conversation worth considering.
What are your thoughts on the Walt Disney World Transportation System? Is it convenient or truly flawed? Post your thoughts here and let us know how you feel.
Category: Disney World, Editorials
Born and raised in New Jersey, Nicole is an avid Disney fan and frequents both Walt Disney World and Disneyland several times each year. Interests include Walt Disney Imagineering, merchandise, backstage tours, and more. Be sure to check out her other articles here on the DIS Blog!