Some like it bold. Others like it sweet. Many prefer whipped while a few salivate over it iced. No matter how they like it, guests can now find their favorite Starbucks beverages and treats inside Disney parks thanks to a partnership with the Seattle-based coffee chain, the largest in the world.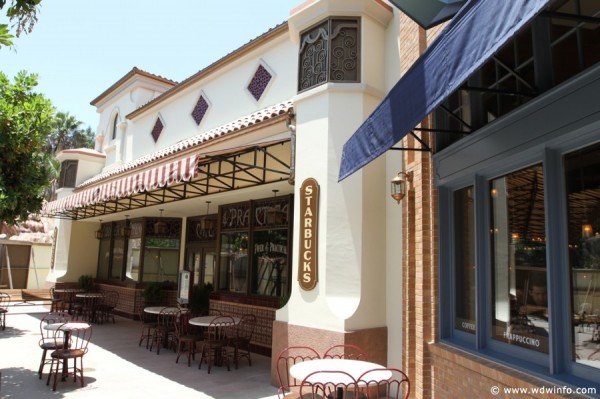 Image: The Fiddler, Fifer, & Practical Cafe is the first Starbucks location inside a Disney theme park.
This spring, Walt Disney Parks & Resorts signed a deal with Starbucks which will lead to the opening of six Starbucks cafes inside various parks both in California and Florida. This was after what I can see as being a successful "test run" of a cafe location in Disney Village at Disneyland Paris which opened in 2009. The first Starbucks eatery inside a park opened this past June in Disney's newly "re-imagined" California Adventure. Cafes will soon appear in Disneyland Park, Epcot, Hollywood Studios, Magic Kingdom, and Animal Kingdom. Because Disney has been criticized over the years for its poor coffee beverage options, this is welcome news to those seeking a pick-me-up in the "Happiest Place on Earth."
I recently had the opportunity to explore the California Adventure Starbucks location and was pleasantly surprised. Although I was as excited as could be due to my being a frequent Starbucks patron, I was a bit skeptical. Disney has strict policies regarding outside vendors in their parks or Downtown Disney especially in terms of quality and types of products sold, employee training and costuming, and the like. I also knew that Starbucks cafes are common in bookstore locations and have been somewhat disappointed by them in the past. How could Disney and Starbucks pull it off? Would the Starbucks I've grown to know and love suffer due to Disney's promise of theming and story? I can confidently say that neither company was short-changed in this collaboration. In fact, I don't think much could be better.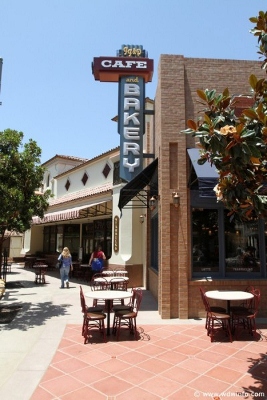 Image: The cafe sits near the entrance and along Buena Vista Street.
Located near the park entrance and immersed in the idealized 1920s Los Angeles neighborhood Imagineers created to honor Walt Disney's road to fame, Starbucks is tucked into a stone building nestled in the heart of Carthay Circle. One might have to look carefully to find any Starbucks signage as the companies worked together to advertise the location in such a way as to not modernize the theming.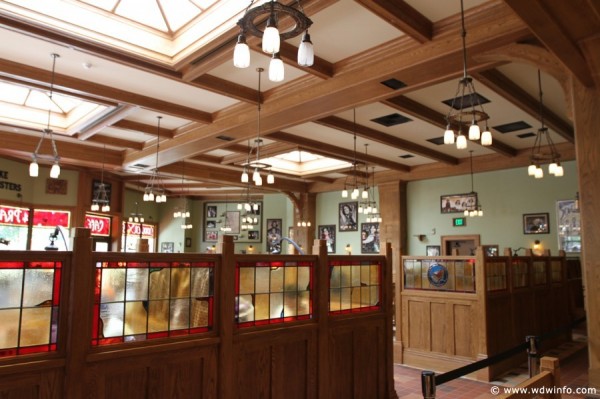 Image: The music-themed decor of the cafe.
The official name of the eatery, Fiddler, Fifer, & Practical Cafe, pays tribute to the beloved characters in "The Three Little Pigs," an early Disney cartoon short. Upon entering, guests find themselves surrounded by Spanish tiles, bold stained glass windows, and dark wood paneling all fitting the theme of the surrounding Buena Vista Street shops. Baristas in the cafe wear aprons and name tags matching Disney's standards for costuming instead of the traditional black or forest green Starbucks aprons.
The cafe is divided into two sections with lunch fare on one side and official Starbucks products on the other. Cinnamon rolls, roast beef and cheddar sandwiches, turkey reubens, salami and olive tapenade sandwiches, and paneer and roasted vegetable sandwiches are offered. Similarly, house-made soups are available with selections such as chicken tortilla, vegetarian spinach, portobello barley, minestrone, and more.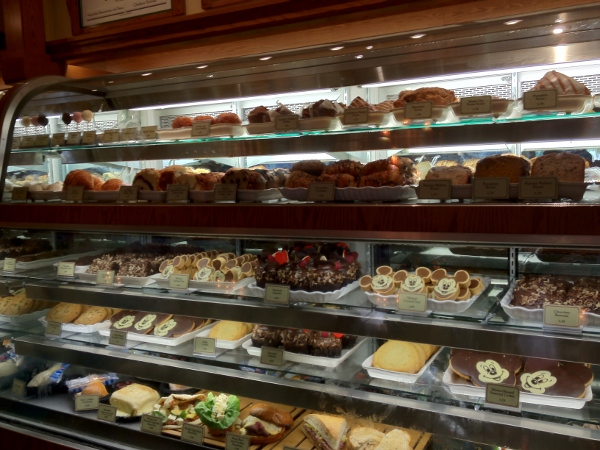 Image: Sandwiches, snacks, and more available for purchase.
While these items are excellent options away from the standard park fare, the Starbucks offerings were my focus during my visits (three in one weekend, in fact – I told you I'm a frequent customer). A menu of coffees, Frappuccinos, lattes, espressos, and snacks is proudly displayed above a glass counter.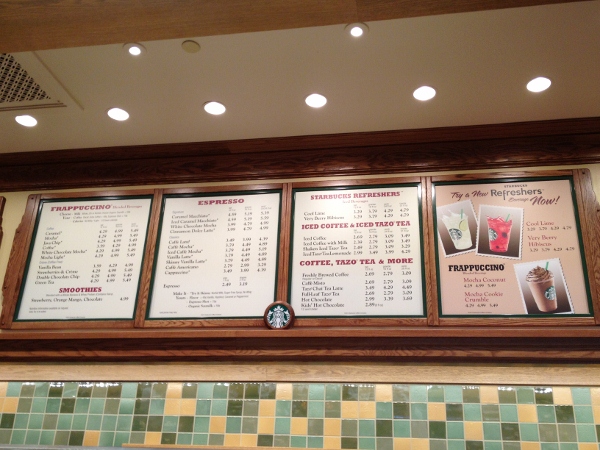 Image: The full Starbucks menu is available at the cafe.
Unlike other Starbucks locations inside stores in your hometown, this cafe has the full menu without deletions so you can choose your favorite beverage without concern. For me, this meant my beloved iced green tea latte was on hand and made my days at the parks even better. Breakfast sandwiches, paninis, wraps, yogurt parfaits, and smoothies are also available. Unfortunately, no Disney-Starbucks merchandise is available at this time.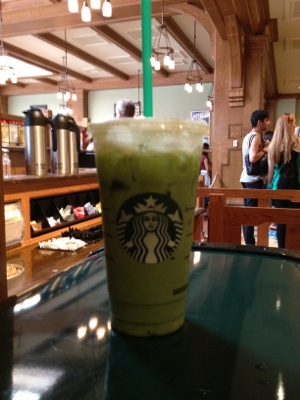 Image: One of the many beverage options available at the cafe.
In addition to the menu, this cafe offers a quiet escape from the hustle and bustle of a busy park. Indoor seating includes booths, tables, and window-side stools for use. Similarly, just through the side doors you'll find open-air seating where you can recharge while listening to the trickling of Carthay Circle fountain. The latter proves an excellent spot to regroup as the indoor area can become a bit busy; if it's too warm to enjoy a seat outside, I'd recommend the stools overlooking Buena Vista Street. They're comfortable and face enormous glass windows that let you people-watch and relax.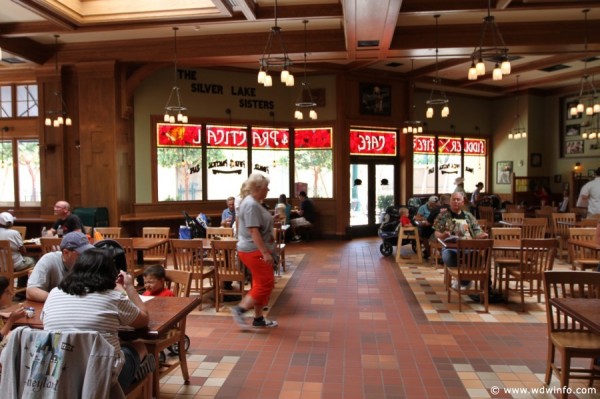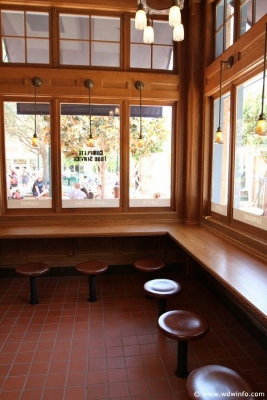 Image: A variety of seating options are available both in and outside of the cafe.
While I highly recommend visiting this cafe, I do want to point out that the price of certain items appeared to be about $1 more than your neighborhood Starbucks location. This brought the cost of my favorite latte up to just over $5, a price I gladly will pay during a busy vacation.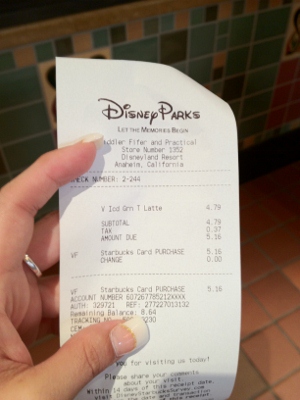 Image: Prices at this Starbucks location average about $1 more than other cafes.
One of the rumors surfacing the Internet has been that while a guest may use her Starbucks gift card here, she will not earn stars towards the company's rewards program. After checking my balance, I have found this to be nothing more than a rumor. Thanks to Disney, I am now only five stars away from getting a shiny new gold card advertising my status as nothing more than a glorified caffeine nut. Hey, if you've stuck with me through this article you must enjoy a java fix every so often too.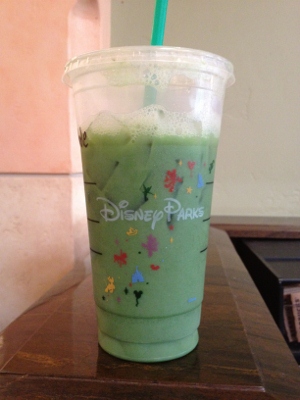 Image: Disney Parks & Starbucks – A Perfect Pair!
All in all, I am excited that Disney and Starbucks have partnered together in order to help bring better options to the parks. Due to their commitment to quality products and giving back through the forms of various charitable donations, the two companies are bound to find success while working together over time. This is already obvious based on the amount of people that can be seen on line in the cafe or walking around the park showing off their beverages emblazoned with the Starbucks logo. So, the next time you are looking for a little jolt of caffeinated pixie dust, consider stopping by the Fiddler, Fife, & Practical Cafe and indulge in your favorite Starbucks treat. Be sure to look for locations inside other Disney parks soon!
Image Credits: N. Mancini & wdwinfo.com
Category: Dining, Disney World, Disneyland, Editorials, News
Born and raised in New Jersey, Nicole is an avid Disney fan and frequents both Walt Disney World and Disneyland several times each year. Interests include Walt Disney Imagineering, merchandise, backstage tours, and more. Be sure to check out her other articles here on the DIS Blog!