Planning a trip to Orlando can sometimes be a daunting task, especially when you are combining both Disney and Universal theme parks into the equation.  As I was planning the Universal portion of our vacation I came across something new we had to try.  Universal Orlando has introduced a new character breakfast.  The Superstar Character Breakfast features the same characters you'll find in the new Superstar Parade that takes place later in the day.  To learn more about this new character breakfast continue through the page break.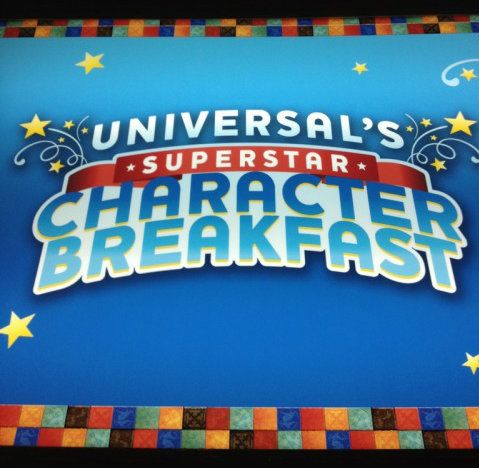 There once was a day when Universal Orlando's theme park character breakfast took place at Confisco Grille at Islands of Adventure.  Featured characters included Spiderman and a line-up from Dr. Seuss's Cat in the Hat.  This was a buffet breakfast with characters randomly visiting tables throughout your meal.  Well, just like a superhero, Universal Orlando pulled a disappearing act on this all you can eat character breakfast and opened up a new character breakfast around its new Superstar Parade at Universal Studios theme park.  The new Superstar Character Breakfast features characters from Nickelodeon's Spongebob Squarepants, Dora the Explorer, Hop, and the hit comedy Despicable Me.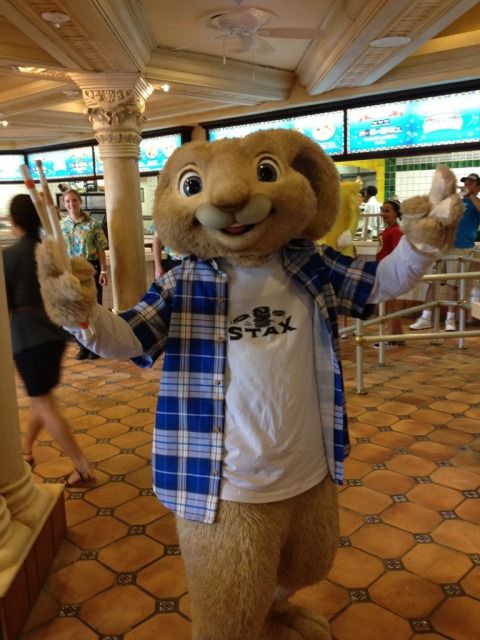 Because this character breakfast was so new during our 2 day visit to Universal Orlando I waited until we were onsite before I made a reservation.  You can now book this character breakfast online at Universal Orlando's website.  You are required to pay for your breakfast in advance at the time you make your reservation.  I was given tickets for each member of my family to bring with us to the breakfast.  The breakfast takes place at Café La Bamba which is near the front section of Universal Studios.  The cost of the breakfast is $26.99 for adults and $10.99 for children ages 3 – 9.  Tax is included, but not the tip.  During our character breakfast no discounts were available.  Also included in the price is VIP viewing for the Superstar Parade later in the day at 5:00PM.  Keep in mind that before the parade starts some of the same characters at this breakfast come out and do meet and greets with guests with their floats in the background at specific locations in the theme park.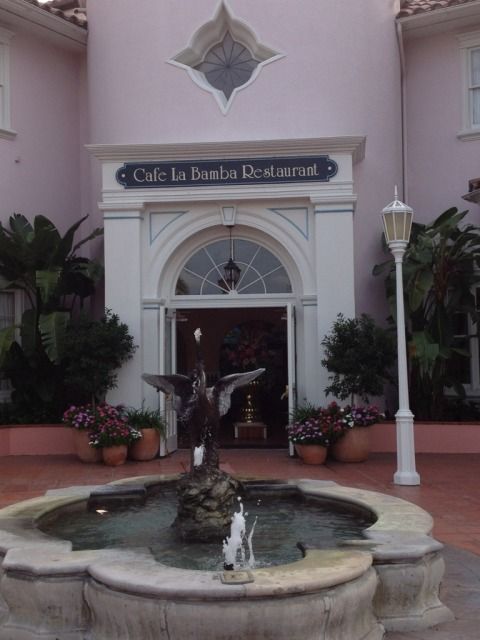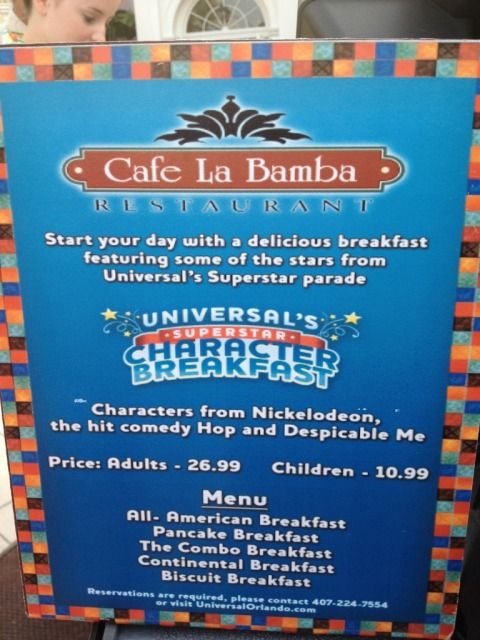 When you arrive at Café La Bamba you are greeted outside the front door at a podium staffed by 2 Team Members.  They take your tickets, check you in, and escort your family inside.  The Team Member explains to you how the breakfast works.  You are shown a breakfast menu on video screens above the kitchen area.  There are several options to choose from like scrambled eggs, pancakes, French toast, and other combinations.  You should know that once you've selected your platter that is your only entrée for the character breakfast.  You are not allowed to choose more breakfast options after you've finished your entrée.  Once you've made your breakfast selection you are seated by a server who takes your drink order.  Drinks are continually refilled throughout your character meal.  After a few minutes of waiting your server delivers your breakfast entrées to your table.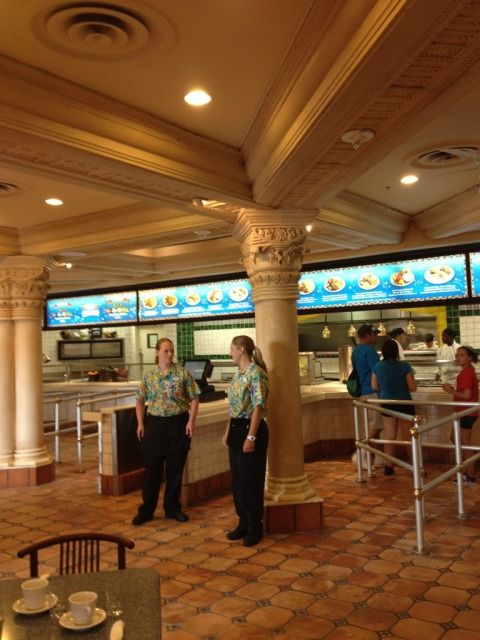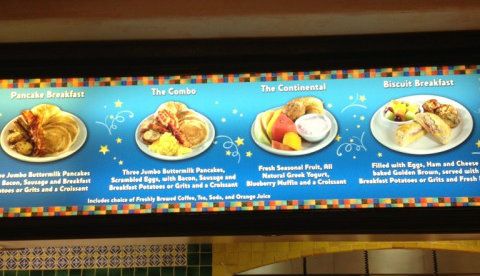 During your meal characters are visiting tables for autographs and photo opportunities.  There is a Team Member inside the restaurant who is making sure all of the characters are visiting all of the tables.  This same Team Member introduces new characters to the restaurant by making a grand announcement to everyone as they enter through the back entrance.  During our specific character meal we saw everyone who was part of the character lineup, including Dora and Diego, Hop, Spongebob Squarepants, Squidward, Gru, and 2 Minions.  There are quite a few characters to visit during the meal.  Music is playing in the background and, at times, the characters stopped visiting tables and began a restaurant dance party with children who wished to dance with them.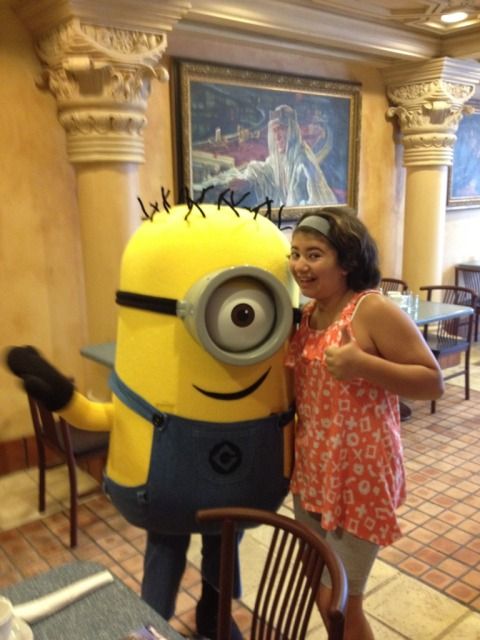 This character breakfast is an improvement over the Spiderman/Cat in the Hat character breakfast that was held in Islands of Adventure.  The food is served hot and fresh versus sitting out on a buffet.  Additionally, there are far more characters at this breakfast to interact with guests.  They all did a great job interacting with us at our table.  The minions were especially great.
What would have really made this character breakfast great would have been the ability to get additional breakfast items.  You do get a large plate of food; however, I personally enjoyed the hash browns so getting seconds of those would have been welcomed.  The same was true for the rest of my family.  Getting a second helping of bacon or scrambled eggs would have been enjoyable.  You should also know this is not an inexpensive character meal.  Considering it is a pre-plated meal it is rather pricy.  For our family of 3 adults we paid nearly $81 plus tip.  Although that price is on par with most theme park character breakfasts this one is not a buffet and it does not have the overwhelming selection of food you'd find at other character meals.
Putting value aside this is a good character breakfast and an improvement over the previously held Spiderman/Cat in the Hat breakfast.  If you have children who enjoy the Nickelodeon character line-up and are fans of Despicable Me you'll certainly want to consider giving this character breakfast a try.  It's a nice opportunity to see and interact with characters in a more relaxed and comfortable environment.
Friend Aaron on Facebook:  I accept reader friend requests.
Category: Universal Orlando