I must preface this article by stating the below information is based solely upon what I've been able to piece together since the closing of Pleasure Island.  Some of the information is based on fact or statements put out by Disney, while other information is based on discussions with cast members, guests, and well known insiders on discussion forums.  What follows is my observation of the big picture, which lead to the closing of the clubs at Pleasure Island.
The closing of Pleasure Island was a hotly debated topic within Disney and the fan community.  On the surface, reports of gangs, violence, declining revenue, families mingling with heavily intoxicated guests, and "guest demand" seemed to be the reason for the demise of the once wildly popular adult entertainment district.  I argue the true reason actually goes back to the lack of planning for the West Side. Continue after the break to find out why.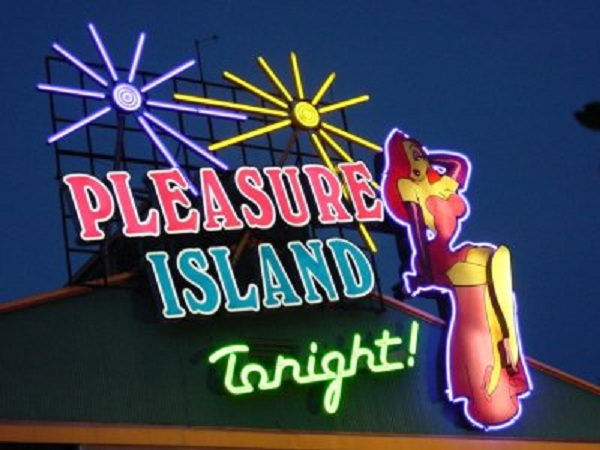 Pleasure Island operated exactly as intended with wild success.  Unfortunately, the West Side was built as a quick reaction to Universal's CityWalk. They were in such a hurry to build it that they didn't give much thought to the design of parking or lack of viable transportation options around Pleasure Island.  As attendance grew at Downtown Disney, these problems became more evident.
A series of management changes took place and in 2004, leading to a different philosophy for the island.  The first change was the removal of the turnstiles, allowing all guests to walk through at their leisure in an effort to increase foot traffic to the West Side. 2004 also saw the first permanent closing and repurposing of an existing club as the Pleasure Island Jazz Company was closed to make way for Raglan Road.  This was significant for 2 reasons: it was the first attempt at letting a 3rd party operate on the island and it assured the island would never be gated again.
2005-2007 saw a series of changes.  The nightly New Year's Eve show was removed, the fireworks cut, the West End Stage torn down, advertising slashed, and the signature spotlights removed.  If there is a recipe for strangling the golden goose, that's a pretty good start.
In summer 2007 Downtown Disney also had some negative press regarding teens/gangs hanging out and causing problems and there was even a pipe bomb found on a Monday morning. To be very clear, the teens were not on Pleasure Island, they were largely hanging out by the AMC theater.  Orange County Sheriff's Department had been cracking down on gangs on 192 and feared they might have moved on to the theme park areas to congregate.  Disney immediately stepped up their enforcement and anyone spotted loitering was asked to leave.  Additionally, there was a pipe bomb bomb explosion in the parking lot shortly after midnight on a Sunday night several months after the gang crackdown.  It was not on Pleasure Island and hardly the result of people dancing and having a good time in clubs.
The next common reason for close stems from Disney's "guest demand" statement.  They claim surveys were done and guests want more dining and shopping experiences.  If this were true, surveys can be easily turned to your advantage. However, I have it on good authority that these surveys never took place.
And finally, we come down to what matters most: revenue.  Was Pleasure Island's revenue declining?  We'll never know for sure, but most observers would agree the answer is yes. Was Pleasure Island still profitable? According to Kevin Lansberry, VP of Downtown Disney at the time, the answer was yes!  So why close a profitable venue?  To make MORE profit another way! Remember the opening of Raglan Road?  Disney took a club they operated, turned it into a 3rd party location where they could collect rent, and therefore increased profit.  After seeing the success of Raglan Road, they closed Rock N Roll Beach Club with presumably the same idea. Rumor has it a tenant snatched it up very quickly, leading management to come up with the idea(or be able to justify it to Burbank) to close all the clubs and lease the space out to 3rd parties.  That tenant reportedly dropped out after they closed the clubs since the clubs created the foot traffic that made it a good location.
So there you have it!  The West Side created a traffic flow problem, which lead to them un-gating the island, creating a successful 3rd party venue on the island, cutting the fireworks, slashing advertising, cutting entertainment, closing 1 club only to see the plot quickly snatched up, justifying closing to Burbank and just like that, the clubs are closed.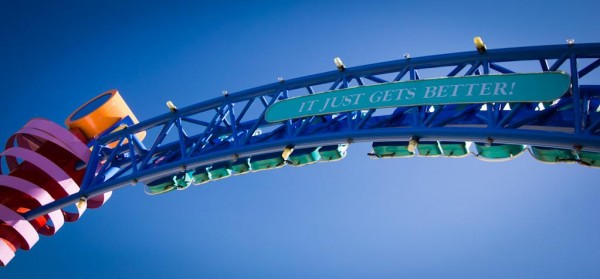 So what IS coming to PI? As discussed in the July 4th Downtown Disney segment of the DIS Unplugged podcast, we were promised a bold new vision of shopping and restaurants within 2 years, but after nearly 4, we have 2 demolished clubs replaced with grass and 3 empty buildings containing 5 closed clubs. Announcements such as Hyperion Wharf have fallen through and all we have is the hope that eventually something exciting will be done with the former club locations.
So what were your best memories of Pleasure Island? Do you miss it? Sound off below!
Category: Disney World, Rumor Mill