Nothing beats the Florida sun better than a sugary treat from your favorite eatery at Walt Disney World. Mickey bars, Dole Whips, cupcakes, popcorn – you can find it all in the parks. But, did you know that there are other unique concoctions available to tempt your sweet tooth? Over the next few weeks, I'll share with you some of the lesser known sweet spots that are sure to make your next trip to the World just a bit more scrumptious. Let's get started…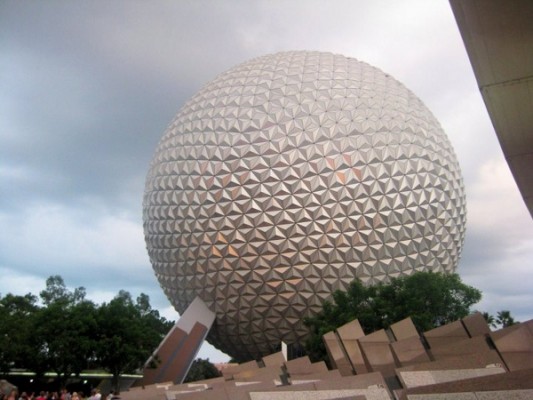 Image: Looking for a unique and tasty treat at Epcot? Continue reading to find out one location to satisfy your sweet tooth!
It is no surprise to many Walt Disney World visitors that Epcot offers a wide variety of foods from around the globe. I don't have enough fingers on my hands to count how many times guests talk about Le Cellier's steak, Rose & Crown Pub's fish and chips, and the funnel cake found outside the American Adventure. With this being said, Epcot is also home to one of my favorite sweet spots: The Joy of Tea stand.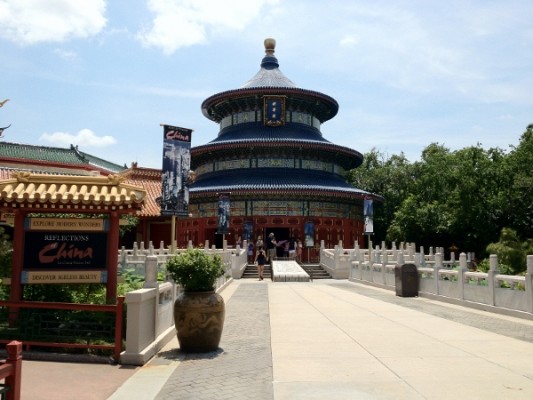 Image: Epcot's China pavilion is home to The Joy of Tea stand.
Nestled along the World Showcase Lagoon in the China pavilion, The Joy of Tea offers a compilation of delicious drinks and snacks. Guests looking for a refreshing way to beat the heat, for example, can indulge themselves in a peach oolong or mango green iced tea. While many individuals are familiar with the health benefits of green tea nowadays, few realize the ways that oolong tea can help a wary park goer. According to many doctors, oolong tea can increase alertness, relieve physical and mental stress, and lead to weight loss – and who wouldn't want this during a Disney vacation? The tea's benefits have long been known in China where it has been produced for centuries. Oolong tea is a partially fermented tea and integrates the best qualities of both black and green teas. The Joy of Tea stand adds to the flavor by combining it with fruit as in the peach oolong or my personal favorite, the strawberry oolong tea slushie, which is a pink oolong tea combined with shaved ice.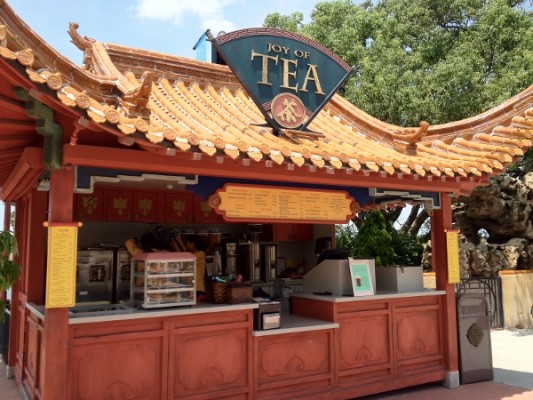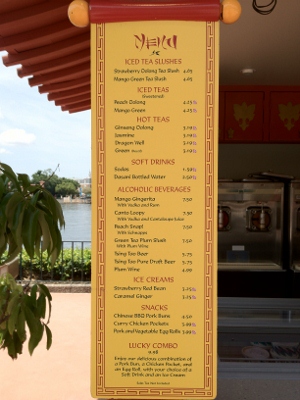 Image: Offerings include iced teas, slushies, specialty ice creams, and more.
Guests looking for a bit more pizzazz in their beverage might consider one of the alcoholic options available. The Joy of Tea stand offers numerous options including the Mango Gingerita made with vodka and rum, the Canto Loopy with vodka and cantaloupe juice, and the Green Tea Plum Slush which is a frozen tea drink made with plum wine. A small variety of Chinese beers are also available.
To complement your drink of choice, the stand even serves snacks such as strawberry red bean and caramel ginger ice creams. Hot items are also available including Chinese barbeque pork buns, curry chicken pockets, and egg rolls. Sodas and water are for sale as well.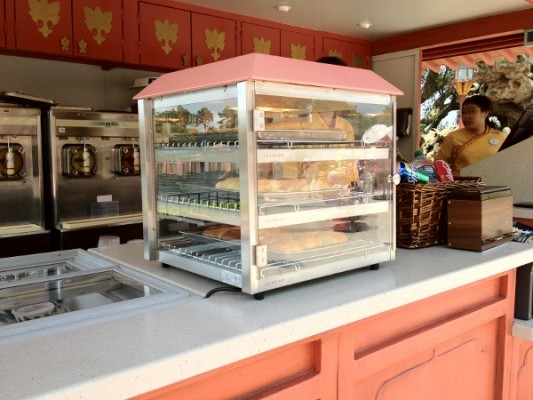 Image: Other than drinks, The Joy of Tea also has both cold and hot snacks available.
The Joy of Tea Stand is located just outside the China pavilion in Epcot. Prices average from $2-$10 depending upon the purchase. I highly recommend this location as a unique spot to satisfy your sweet tooth or for a light snack. It definitely adds a bit of variety to your day!
Image Credits: N. Mancini
Resources: WebMd & Oolong Tea Benefits
Category: Dining, Disney World, Editorials
Born and raised in New Jersey, Nicole is an avid Disney fan and frequents both Walt Disney World and Disneyland several times each year. Interests include Walt Disney Imagineering, merchandise, backstage tours, and more. Be sure to check out her other articles here on the DIS Blog!