The idea of reserving your times for riding major attractions is beginning to extend throughout the Orlando theme parks.  Universal Orlando is now experimenting with such a system at Islands of Adventure.  To learn more about this system and how you can purchase your ride times continue through the page break.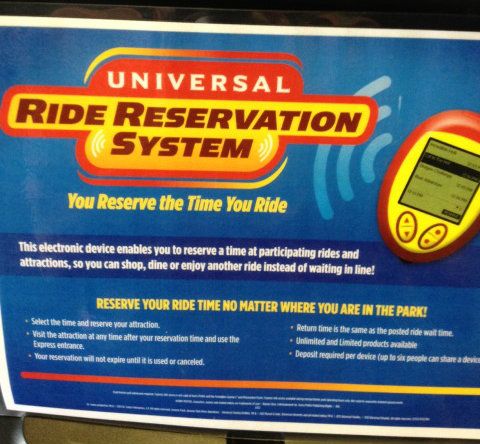 As you walk towards the exit of Islands of Adventure you may notice a sheltered area staffed with Team Members sitting at a table.  These Team Members are assisting guests who would like to try Universal Orlando's new ride reservation system.  Currently, the new system is only available at Islands of Adventure and not next door at Universal Studios.  You should know this new reservation system is not replacing Universal's Express Pass system.  You can still purchase the Express Pass option at this same location if you wish.  The ride reservation system is just a lower-cost alternative.
The premise of the system is to allow guests to purchase a ride reservation packages which will allow them enter an attraction through the Express Line.  There are currently 2 ride reservation packages to purchase.  The first is $39.99 plus tax per person.  This package allows you to make one reservation for each Express Pass attraction.  Once you've cycled through these attractions you can no longer make anymore ride reservations.
The second package is $49.99 plus tax per person.  This ride reservation package allows you to make multiple reservations on Express Line attractions throughout the day.  It's an unlimited reservation package.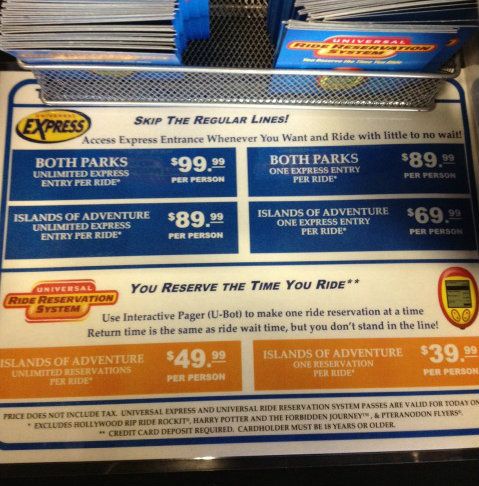 When you purchase a ride reservation package you are given an interactive pager called a U-Bot.  It has a key ring on it in case you want to hook it to your belt loop or key chain.  When you make your purchase the Team Member programs your U-Bot with the appropriate package.  As you go through Islands of Adventure it's up to you to make your ride reservations.  Once you've made your reservations you will be told when to return.  The return time will be around the length of time you would have waited in the stand-by line.  For example, if you made a ride reservation with your U-Bot for the Amazing Adventures of Spiderman at 2:00PM and the stand-by wait time was 60 minutes the U-Bot would tell you to return to the attraction at 3:00PM for your ride time.  At 3:00PM you would be able to enter the attraction through the Express Pass queue.  You must show your U-Bot to the Team Member at the ride entrance so they can allow you into the Express Line queue.  Currently, a refundable deposit is required for each U-Bot you are assigned.  Up to six guests can share one U-Bot to make ride reservations.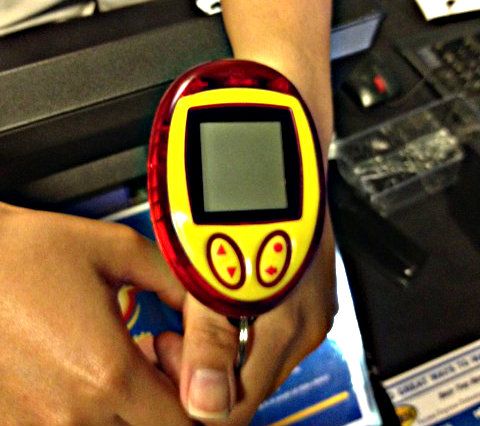 The timing of this experiment seems to coincide with Walt Disney World's "X-Pass" ride reservation system experiment.  The difference is Disney was randomly selecting guests to test "X-Pass" for free, whereas Universal has opened up their experiment to everyone in the park at a cost.  The Team Members I spoke with said if the experiment goes well they would eventually spread the system over to Universal Studios.  Also, rumors are swirling about Disney's X-Pass system becoming available for online bookings in the future.  Universal's system does not currently allow for online bookings.
What do you think of this new reservation system?  Was it put in place to as a reaction to Disney's X-Pass experiment?  Please leave us your comments below or on the DIS's official Facebook page.
It's worth noting the area where you purchase your ride reservation packages seems out of the way to guests entering the theme park.  It's far closer to the exit of the park versus the entrance.  We happened to stumble across it by coincidence after stopping to take a photo near the park's iconic lighthouse.
This system experiment is brand new and could change at a moments notice.  If you are interested in the system and wish to try it make sure to ask a Team Member where to purchase it when you enter the theme park.
Friend Aaron on Facebook:  I accept reader friend requests.
Category: Disney World, Universal Orlando