On June 15, Carthay Circle Restaurant opened to the public at Disney's California Adventure, and luckily for us, we had reservations for an 11:20 lunch.  There were six of us in our group, and with great anticipation we met up at the restaurant at the appointed time.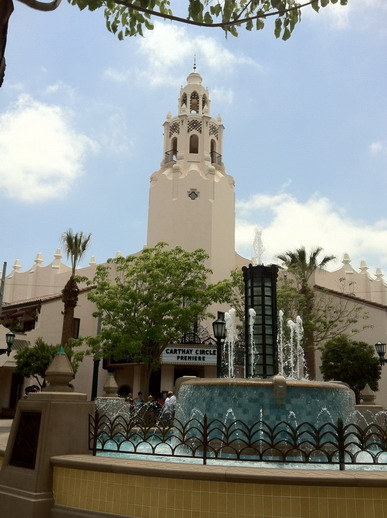 I have to admit, I didn't take as many pictures as I should have while in there.  The entire restaurant is truly breathtaking.  As Tom said in his preview blog, the Carthay Circle Restaurant is designed after the Carthay Theater, where Snow White premiered in 1937.  Decorations and artifacts are tastefully displayed throughout the restaurant, and I hear that they will change from time to time, giving us another thing to discover when we eat there.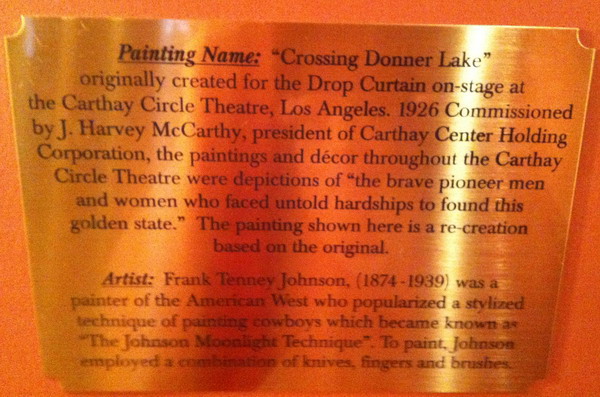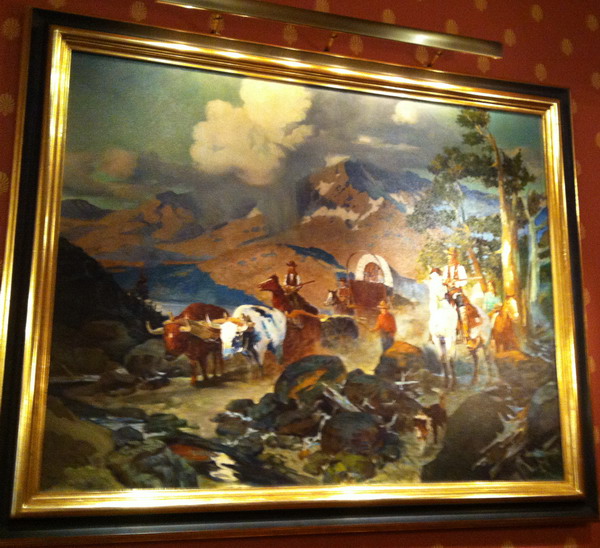 The restaurant has four main sections.  On the main floor are the foyer, where guests check in, and a lounge that offers drinks and snacks.  Club 1901, California Adventure's counterpart to Club 33 can also be found here via a separate entrance.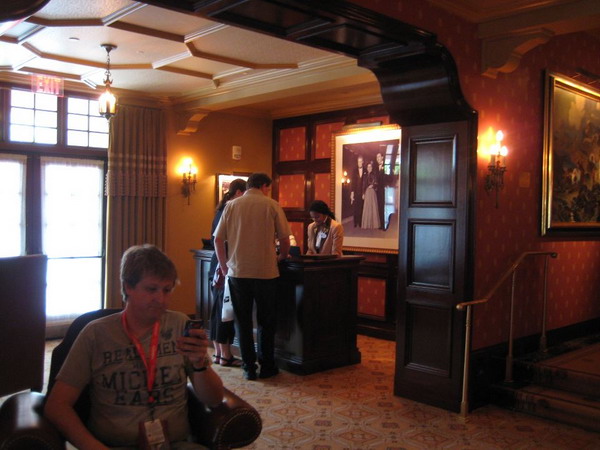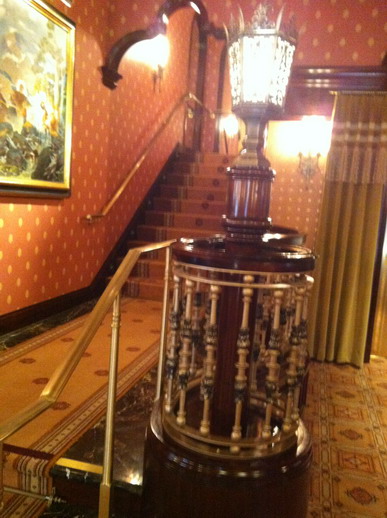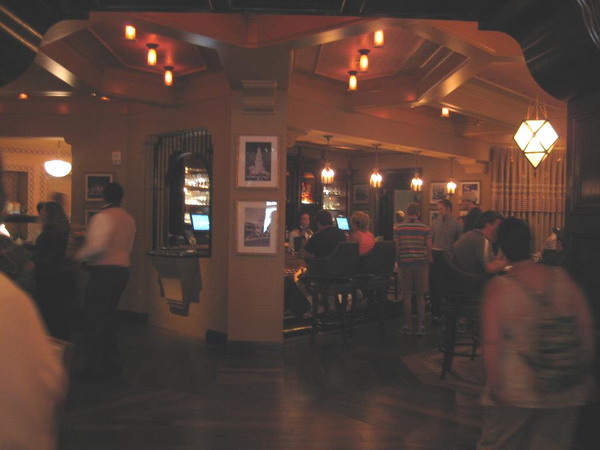 The main restaurant is on the second floor, and consists of several rooms plus two outdoor dining balconies.
The main room has a cupola, with forest scenes painted around it that look like they are right out of Snow White.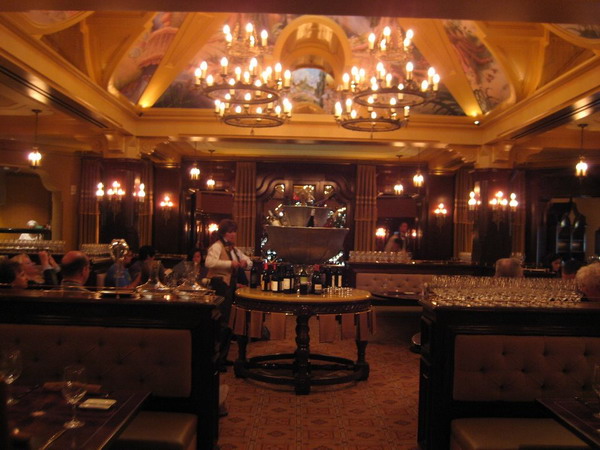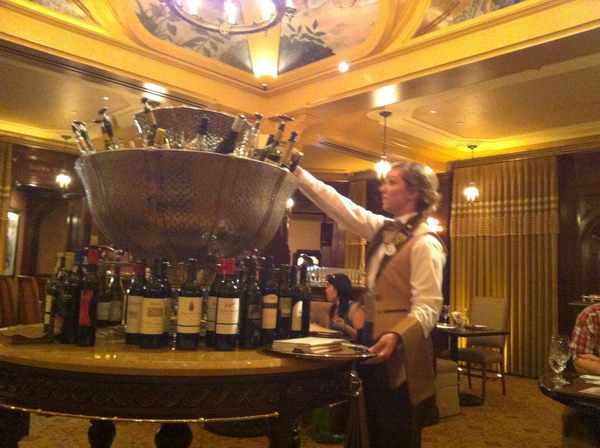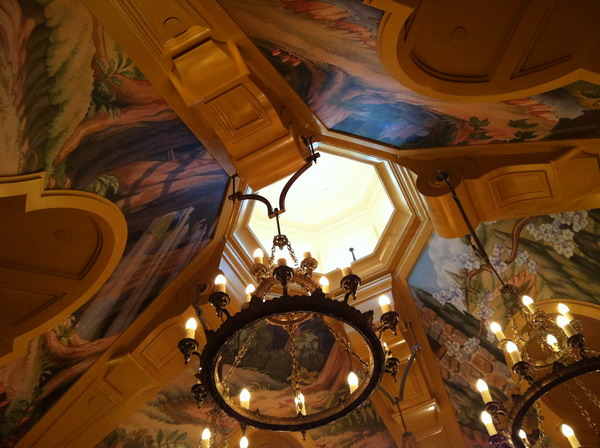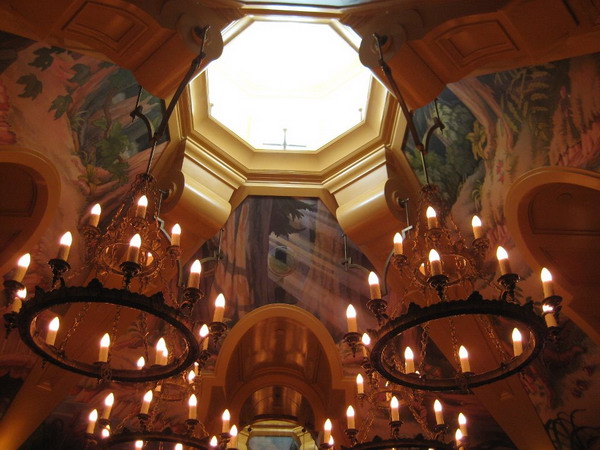 The chef's prep area is also located here.  We were able to watch Chef Andrew Sutton working behind the station.  Next time, I hope to see Chef Gloria Tae.  They both come from the famous Napa Rose Restaurant, and that alone should give guests an idea of the delicious food they will enjoy.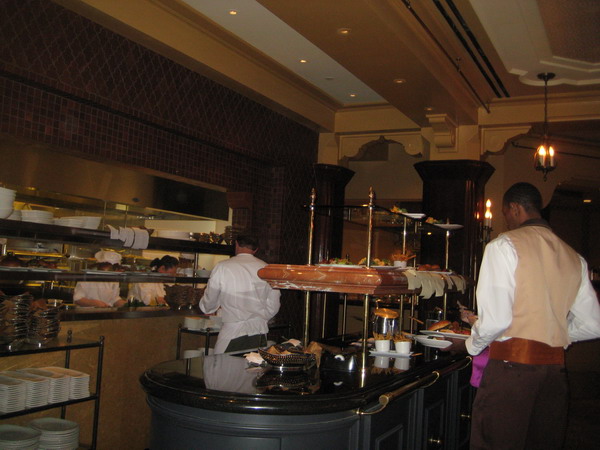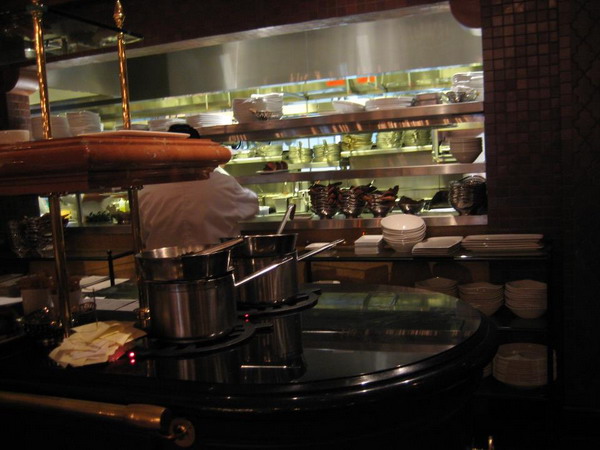 Surrounding the main room are several side rooms.  There are two wing rooms that are nice and long, and open to the balcony dining areas.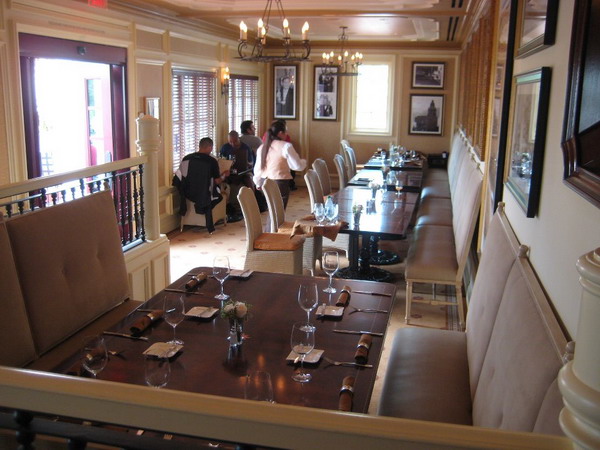 This balcony looks out to the north, and from here you can enjoy such entertainment as the Red Car News Boys show on Buena Vista Street, the Fireworks at night, or just people watching as you enjoy your meal.  I did not notice heat lamps, though, so I wonder what it will be like to eat here on cool evenings.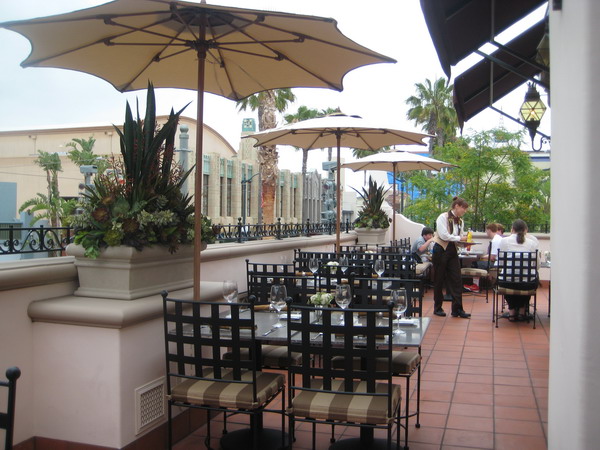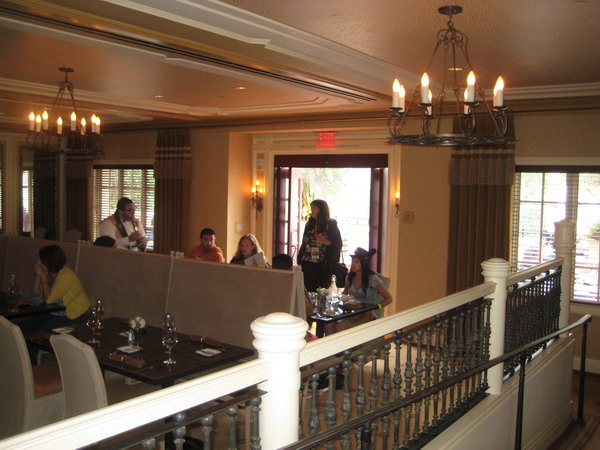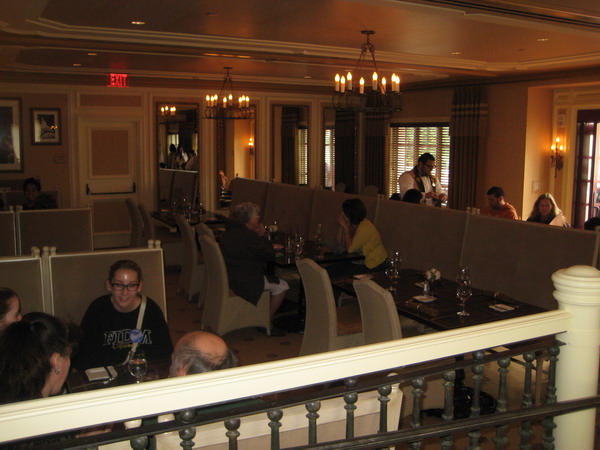 Other rooms were much more intimate. They all had names.  There was one room that I thought would be good for meetings or a small group dinner.  I think this one was called the Buena Vista Room, and sits ten around the table.  This room is in the main tower of the building, as evidenced by the round walls.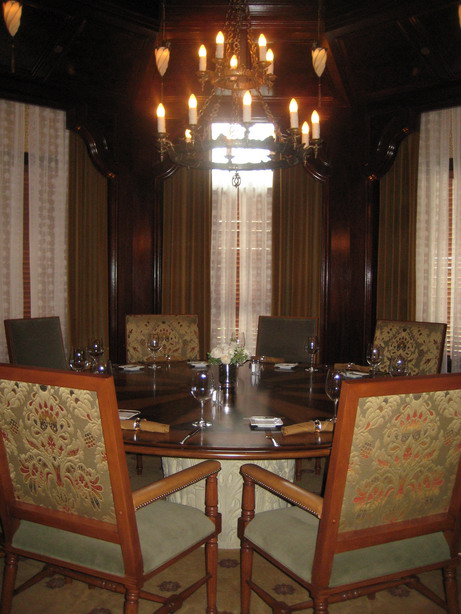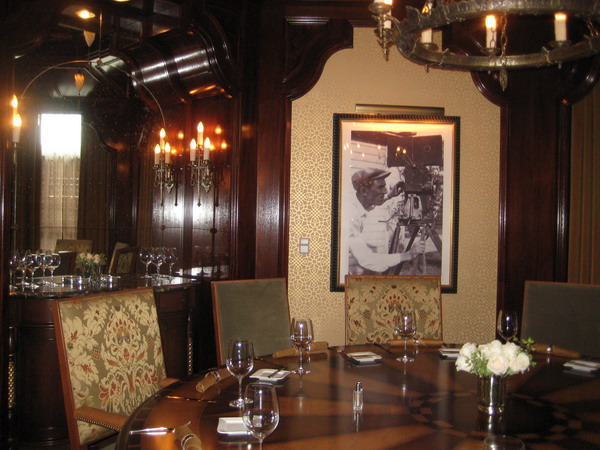 Other rooms are smaller, and secluded enough to provide an intimate setting.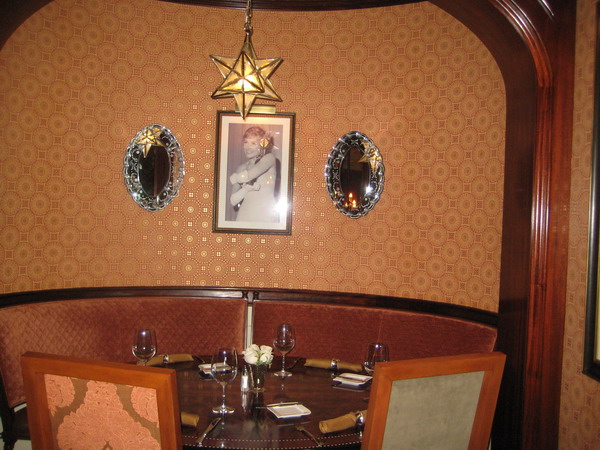 The restaurant can hold up to 200 people, but with all of the different rooms, you never feel crowded.  I love the design of this restaurant.
The host had to keep waiting for us as he led us to our table because we were gawking at everything.  But, finally he sat us down.  Soon our waiter, Michael, came, and what excellent service he gave us.  This is a high-end restaurant.  He laid the napkins in our laps, and catered to our every need.  Even so, I did not feel out of place dressed in my tourist casual clothes.
Since there were six of us, we ended up ordering a nice selection for lunch.  We all decided to order appetizers and/or desserts, so we qualified for the World of Color viewing section (picture below shows where we stood for the show).
We started off with the Carthay House Biscuits.  These were delicious!  They were filled with cheddar cheese, bacon, and jalapeño.  They had a mild bite to them.  They were served with apricot honey butter.  I thought they were good with and without the butter.  We also got bread with butter that had some salt on top.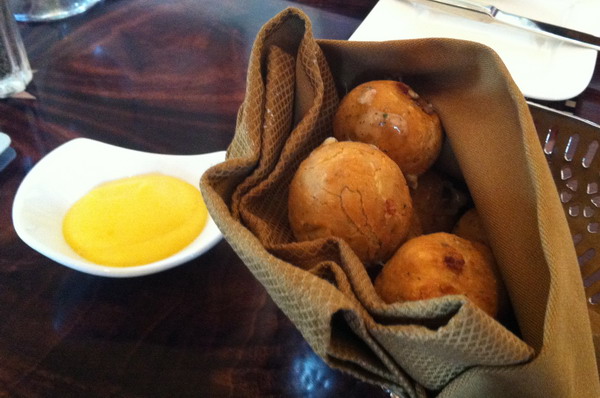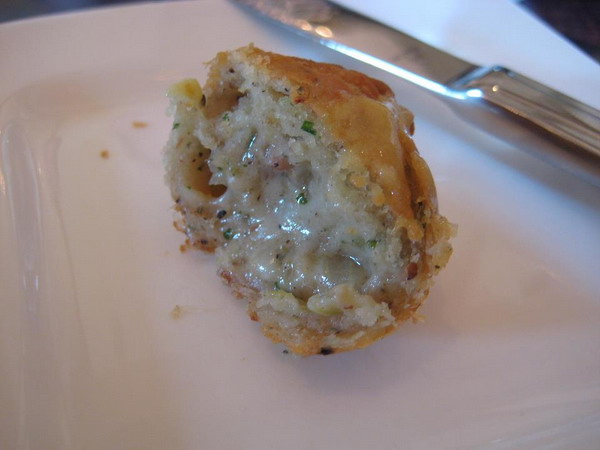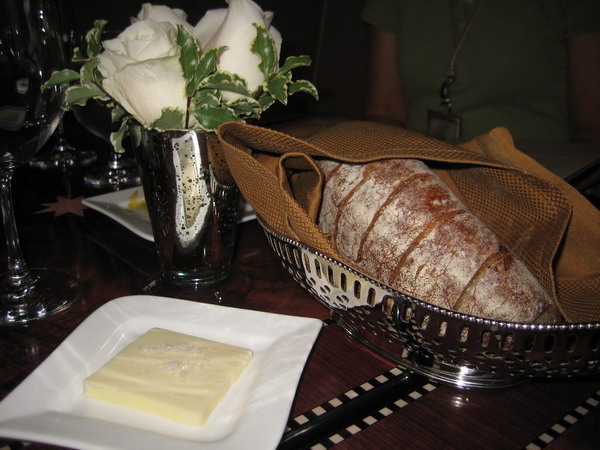 For appetizers, we ordered grape leaves and goat cheese, with a side of roasted garlic.  This was good, especially the garlic (it was soooo good). We also ordered the Duck Wings and the Halibut Ceviche.  We sampled the appetizers, and we all declared them to be pretty delicious.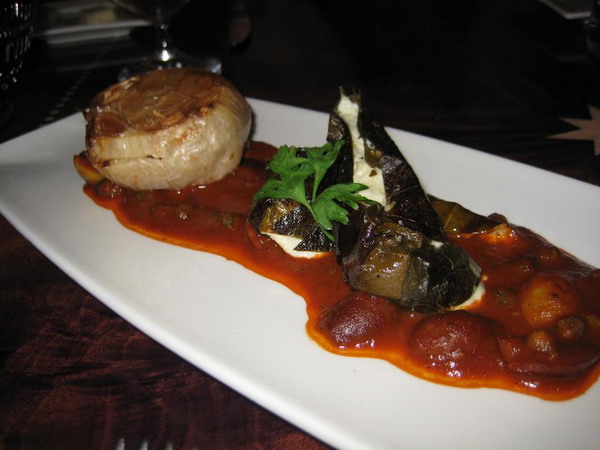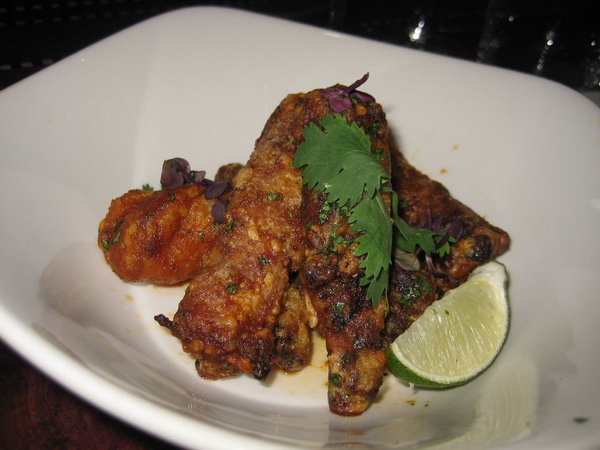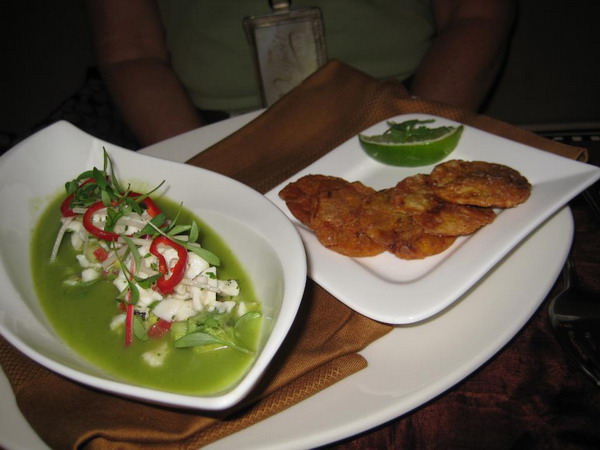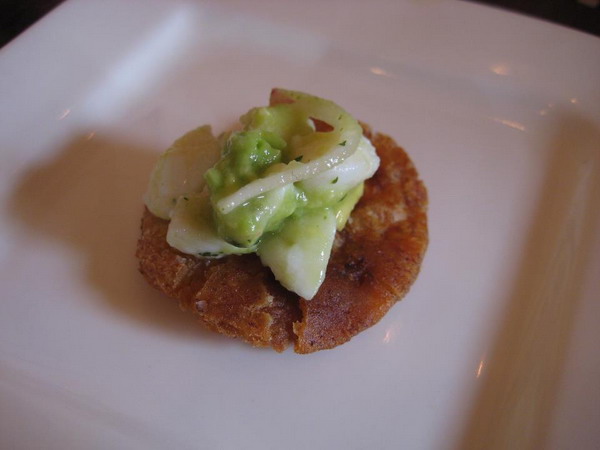 Our friend, Yasmin, ordered the Summer's Season Soup for her appetizer (she didn't share with us, but said it was quite good).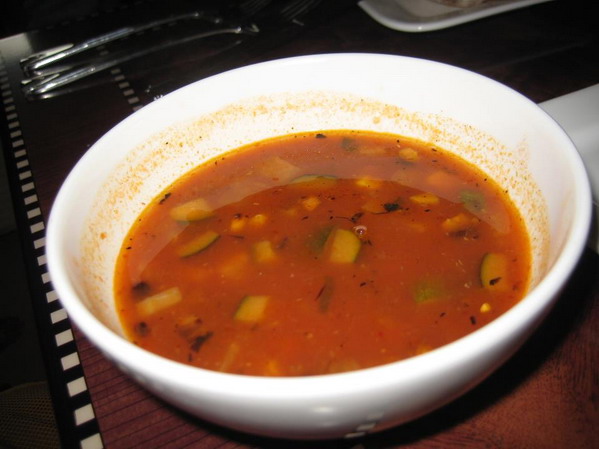 Mike (Flynn Rider on the boards) also ordered a Carthay Manhattan.  They brought a sphere of ice for it.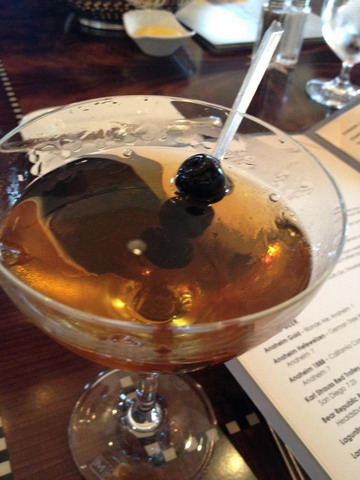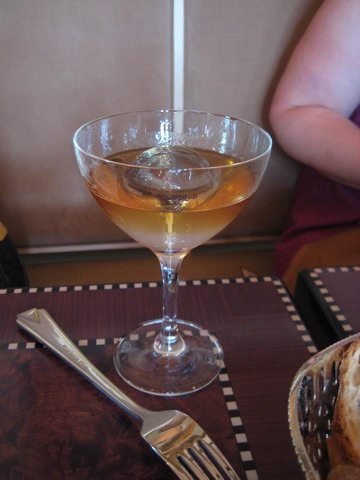 We waited a long time between appetizers and our entrees.  If you are in a hurry, this is not the restaurant to come to, and I think that it is nice to enjoy a meal in a leisurely manner.  It was a nice change to actually have time to enjoy our surroundings and talk to each other during a meal.  Michael came out several times to ensure that we were okay and to let us know how our food was coming along.
Nancy and I shared a Grilled Angus Flank Steak Cobb Salad.  With the bread and appetizers we were fine sharing this meal, and it was really good. I was given a narrow plate to put my share of the meal.  I do not remember being charged for the split plate serving.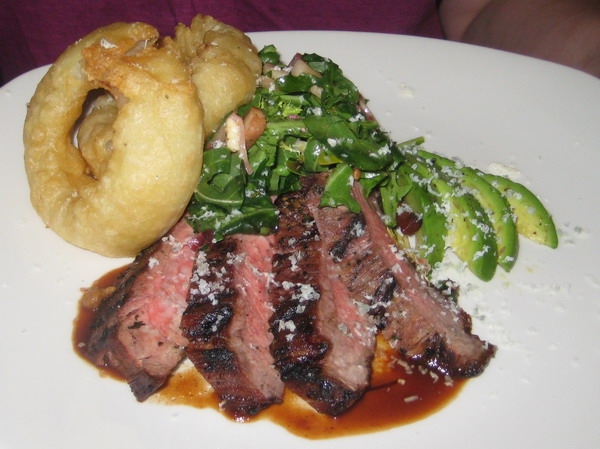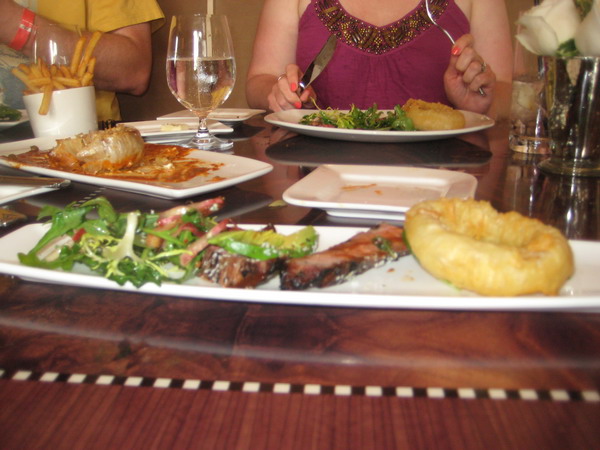 Kelly had the Cavatelli Pasta with Tuscan style Braised Lamb.  I'm not really fond of lamb, but she really liked her meal (she did go on raving about it).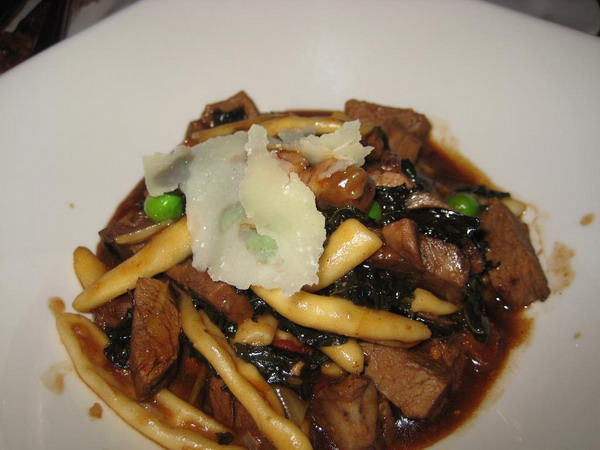 Yasmin had the udon noodle bowl with mussels and shrimp.  This was another hit.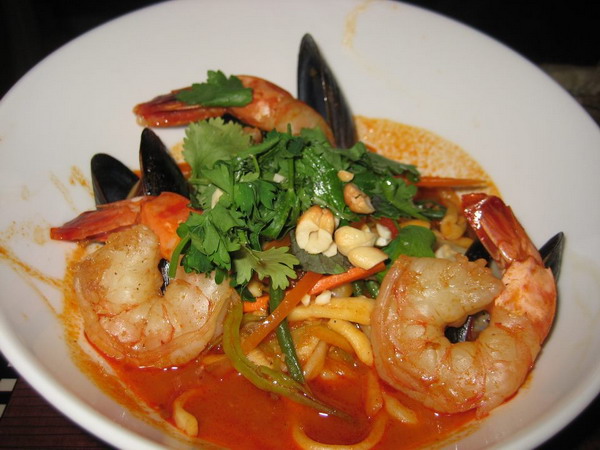 Chris Vettel ordered the chicken liver and onions.  I have never been a fan of liver, but this was very good.  I would order it for a future meal. It was really good.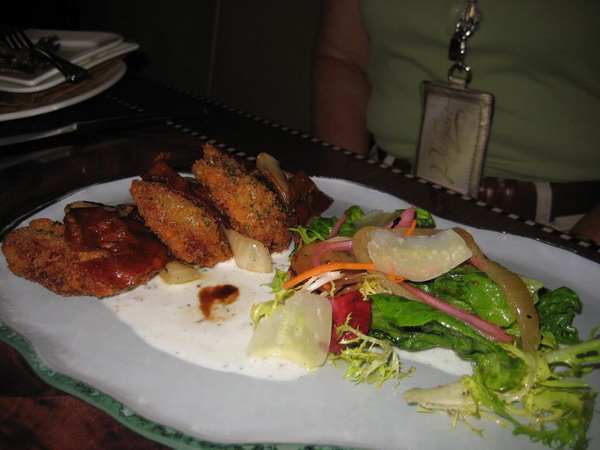 Mike ordered the $22 Angus burger.  This was a hearty burger, and he claimed it to be extremely good.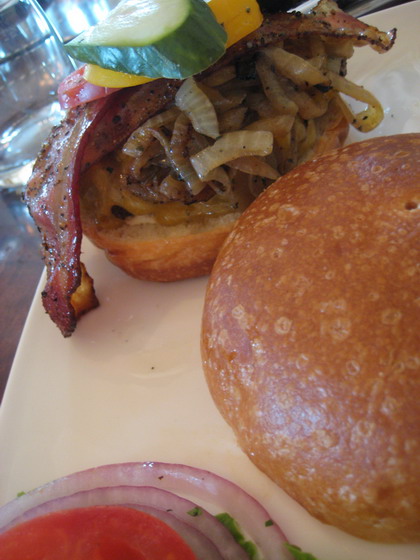 Since we had a leisurely lunch, we decided to share some dessert.  We ordered the Fried Banana Split Monte Cristo Sundae and the Peach and White Chocolate Mousse Cannolis.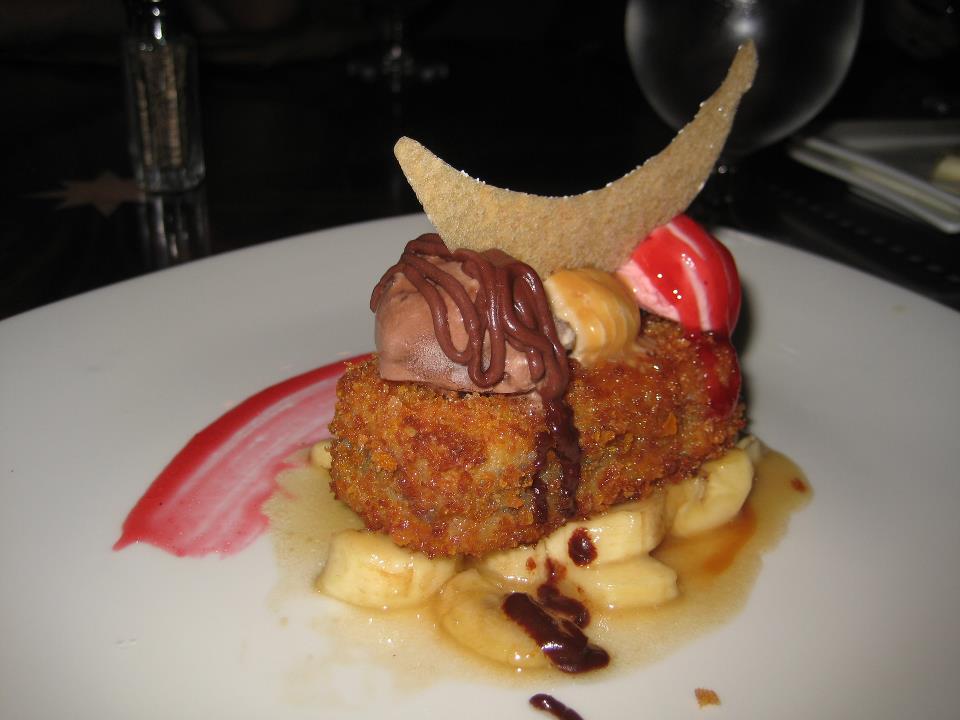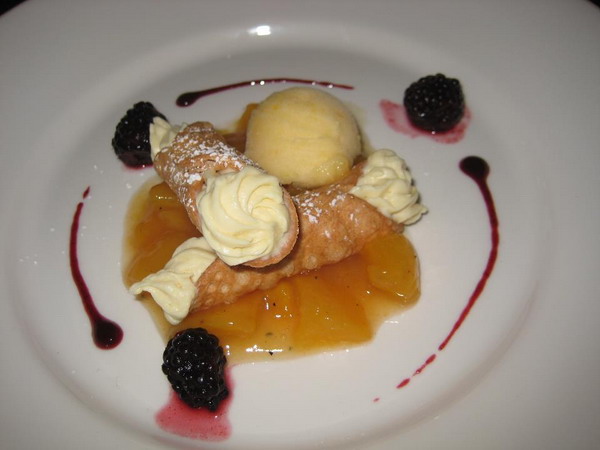 I think we spent about two hours for lunch.  The service, the décor, the food, was outstanding.  Yes, the restaurant is pricey, but the chefs deliver quality food in a stellar atmosphere, so it is worth it.
The following night, I was able to have dinner there with friends Ros Tobe, and Chrysty and Daniel Summers.  This time, we sat in the central room, and though it was a bit busier than the side room, that did not intrude on our dining experience, but enhanced it due to the beauty of the decor.  We had a wonderful time.
Again, we had bread and the Carthay House biscuits to start off our dinner.  For an appetizer we also had the gorditas. These were very good.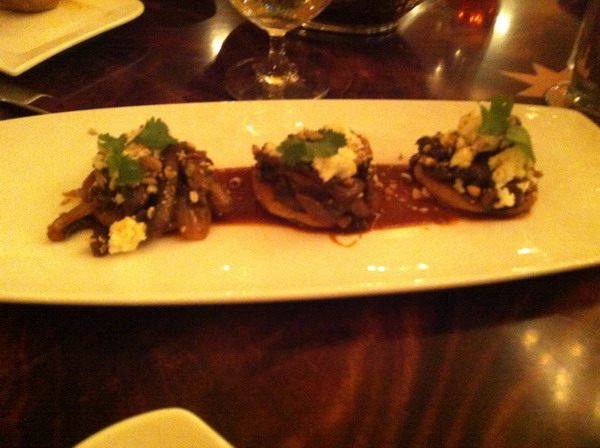 For dinner, Daniel and I ordered the rib eye steak, and Chrysty and Ros ordered the bacon-wrapped shrimp.  I ordered my steak medium rare, and it came out perfect.  The only complaint that I would have about my meal is that there was too much meat for me.  I would have preferred half the portion of meat with some vegetables on the side.  Daniel, however, had no problem finishing off his steak.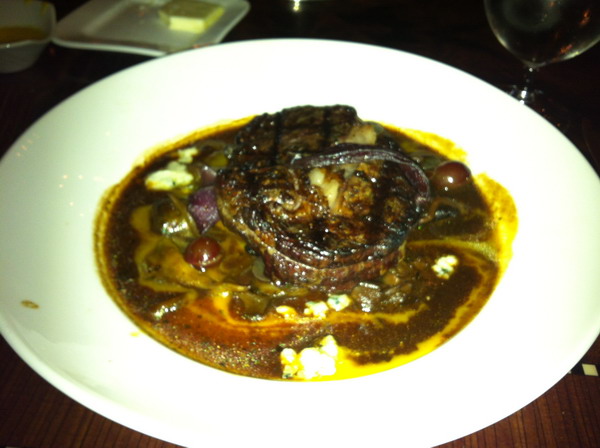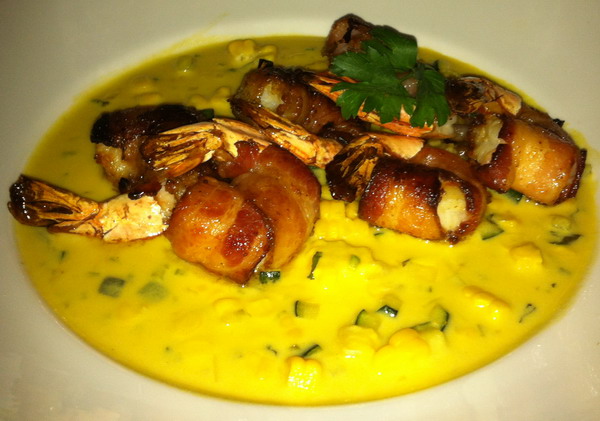 Again, dinner was excellent.  We did not have dessert this time, and since we only had three appetizers, we were only able to get three World of Color viewing passes.  Luckily for us, Chrysty and Daniel had eaten lunch there, so there were plenty of tickets to go around.
You should note that lunches will get passes for the 9:00pm show, while dinner will get passes for the 10:15pm show.  You can request the other show, but it is based on availability.
On Friday, we arrived at the World of Color area at 8:15, so we were able to get spots right up against the railing.  We had a wonderful view.  On Saturday, we got to the area as the show was beginning and so we ended up standing behind other people in our area.  We still had a good view of the show.
The picture below shows the area where guests who dine at the Carthay Circle Restaurant stand to watch World of Color.  Since we were not sure where we needed to go, we asked the cast members, who very helpfully pointed the way.  There is a sign at the entrance to the section that says Carthay Circle viewing section.  The first night we saw the show we arrived 45 minutes ahead (8:15pm), and had excellent viewing.  The second night we saw the show we arrived just as it was starting (which is why it really is better to see the 10:15pm show after dinner instead of the 9pm show), and so even though we were in a good area, there were people in front, and being 5′ tall, I had to shift now and then so I could see the show.  My understanding is that even if this area is full, the cast members will put Carthay Circle guests in the best viewing locations available.  I was really pleased with the positive service here.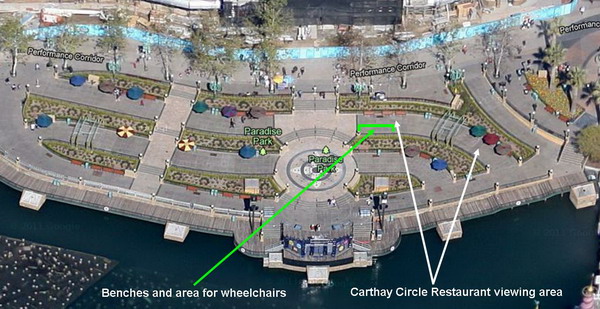 I was really glad we had the opportunity to dine at the Carthay Circle Restaurant.  I believe that people will choose to eat here for the beauty of the surroundings, ambiance, excellent service, and delicious food.
This is definitely a step up for the Disneyland Resort, and another sign that California Adventure has finally come into its own as a destination theme park.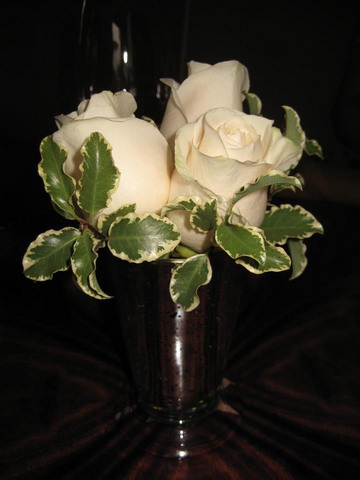 Special thanks to Kelly Willey and Nancy Johnson for the use of some of their pictures.
Category: Dining, Disneyland