You say you don't do the teacups. You say those round-a-bout rides make your head spin. Well, Mater's got a whole herd of baby tractors out there who understand that and will be real sweet to ya! Come on in to the Junkyard here in Cars Land and I think he's got an attraction for you that might surprise you a bit! Mater's Junkyard Jamboree is a quaint new addition to Disney California Adventure and I took the hit (for all of us "spin non-enthusiasts" out there – me included) and got me a downright pleasant little hoe-down with a right sassy little tractor!
So what's all the fuss about? Let me try to describe the origins. In fact, there have been a lot of folks in the internet community who are writing this off as being "just a ride they bought off the shelf and dressed up". To be honest, it is an attraction that has its base roots in a simple carnival ride. I heard folks at the preview talking about it being similar to a Scrambler ride. I can see that is some of its aspects. However, if you are willing to try it, Mater's Junkyard Jamboree has so much more to offer.
When you look at the fact that Mater is probably the most relatable and beloved of all the characters in Cars, having an attraction centered around Mater has to fit with that sensibility. The expectations of this ride are that it needs to have charm, be a little playful and "rough around the edges", and also have a lot of pride in itself – just like Mater. Also, it has to be true to itself and its theming. This is a lot to expect from a limited capacity ride. Let's see why we on the Disneyland Podcast Team think it delivers.
The Entrance and Queue
When you head over to the Mater's Junkyard, you notice it's, well…, different than the rest of Cars Land – as it should be. After all, isn't Mater a little different than all the other residents of Radiator Springs? You can see it in his Junkyard sign,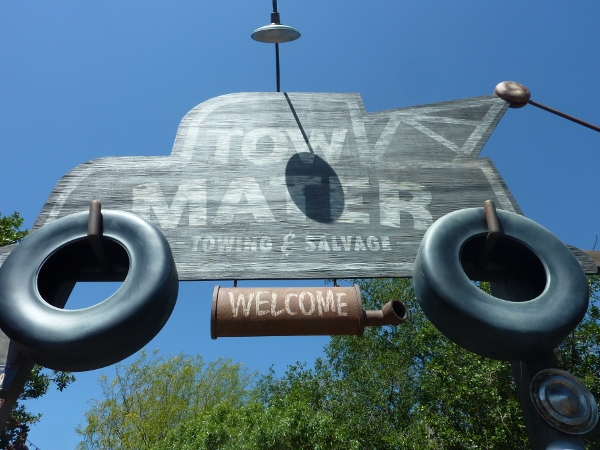 in his "down to earth" decor,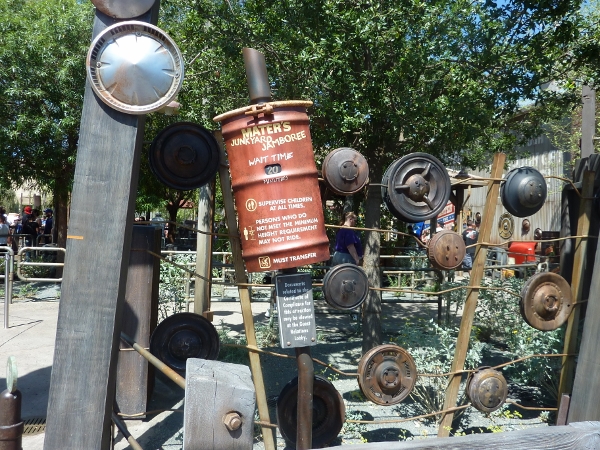 and in his memorabilia collection.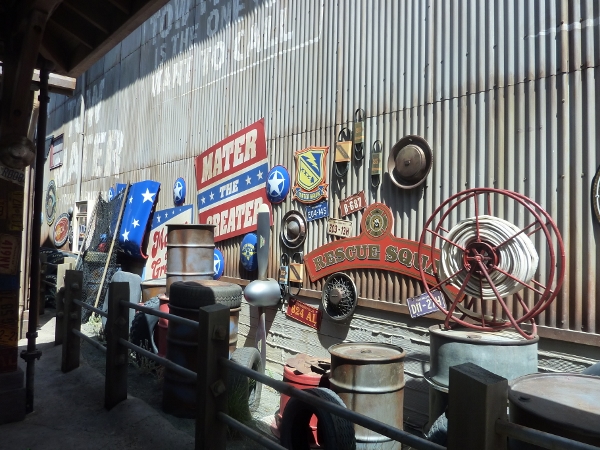 You know what else you can see that's different than the rest of Cars Land –  his entire queue from the entrance!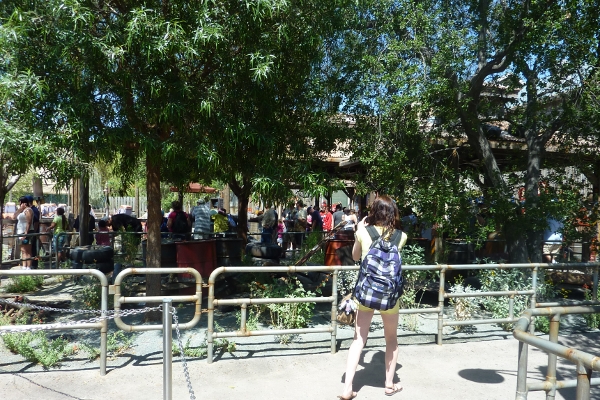 That's right. The entire queue is there before your very eyes, so you can get a great guesstimate of how long your wait will truly be. (Long queues are a hot topic in Cars Land discussions these days!) I also think Mater's Junkyard Jamboree is going to have longer queues than even Disney expected, due to the surprising nature of this ride.
If you are a fan of Mater's Tall Tales, good news! So is Mater! The wall of the garage building is covered with memorabilia from some of his (and Lightning's) greatest adventures! It's fun to talk about which things belong to which episode…..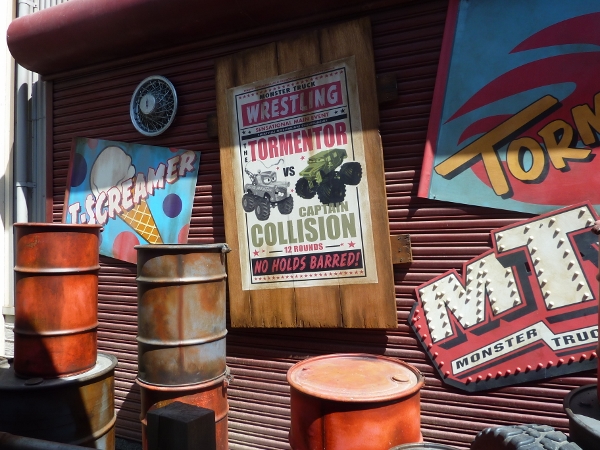 and some surprising ones that I don't even remember seeing!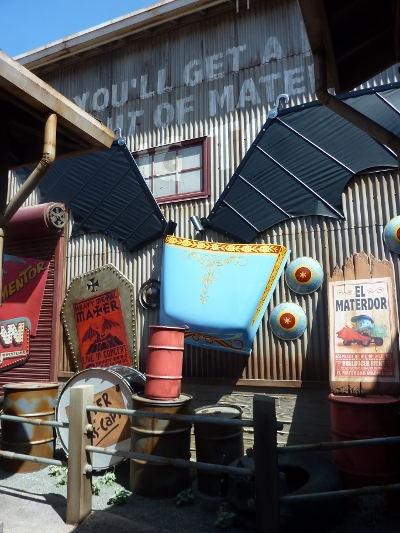 Those are some impressive bat wings, a la Chernobog… Heavy Metal Mater. I'm already heading to see if I can watch it somewhere…
One of the things I felt was smart in this (and of the other) queues, is the use of cooling fans that blend with the decor of the attraction. The largest shade building has a beautifully themed one.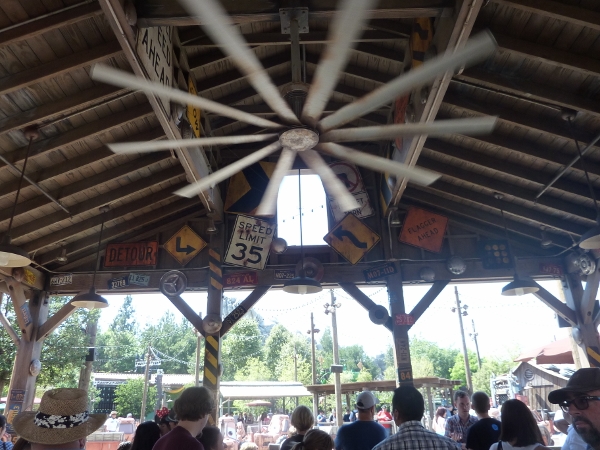 Between the shade building and the tree plantings, this is a well designed queue for our Southern California heat. Notice the two separate shade buildings, in the background of the photo, that serve as the final loading pens.
The Imagineers were also smart enough to increase the attraction capacity by creating side by side ride systems and then blending them in seamlessly with the theme. If you've spent any time on a farm with cattle pens, you can appreciate the fact that this really does feel like two large holding pens with a cattle chute down the middle!
The queue does split into two separate lines, right before you reach the traffic cast member. I noticed that a lot of folks hung to the right, because of the nature of the queue flow. Keep an eye out for this, as you can easily slip into the other side, if you see it happening.
The Attraction
After you are moved into the final holding pen, you get a chance to really look at the baby tractors and aren't those little darlins' cute! Each one of them Holstein Heifer Chewall Diesel Powered models is unique – in their combination of eye color and expression! The only thing I wish was that they had name tags hangin' somewhere' round their windshield!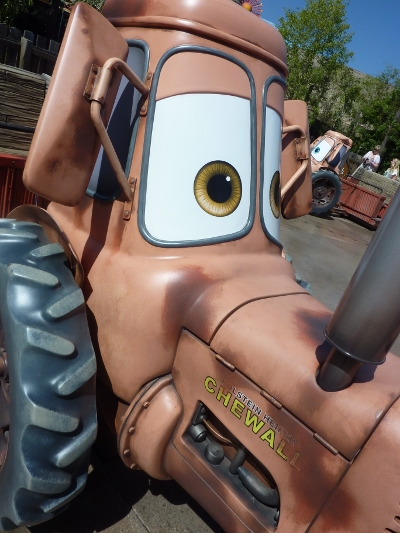 Riding these with my kids is like riding Dumbo: they always want a specific color and waiting in line gives them time to choose! Eye color seems to be the driving factor. (Just a friendly warning from one parent to another….)
Now, a word about boarding. Each tractor's wagon holds a combination of up to 3 people. 2 adults and a child, 2 children and 1 adult, or 3 medium-sized adults. Parties of 1 or 2 are welcome, also!  A big tip to remember – the more weight in the wagon, the farther and faster you whip!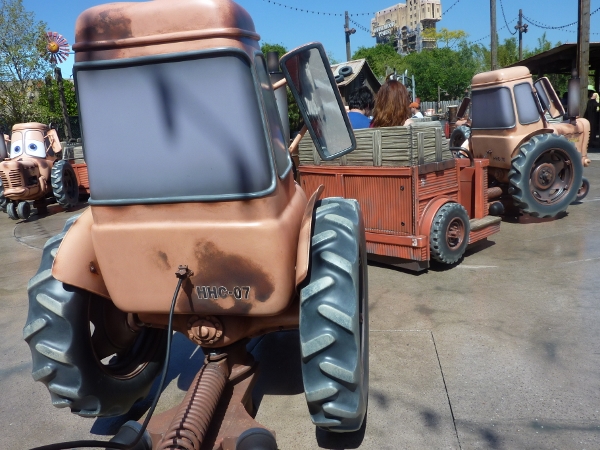 When the ride starts up, you need to pay close attention to the tune your tractors will be hoe'n-down with.   Larry the Cable Guy and Disneyland's own Billy Hill and the Hillbillies recorded 7 new songs about your ride experience – all unique and extremely clever (and the length of your ride)!  If it's a day for a long queue, you may be lucky enough to hear all of them!
After you enjoy your tractor dance, you may want a photo with your cute little host.  If you can't snap it quick, you have another chance to pose with one of the junkyard's babies.  Take a visit over to Mater's Petting Zoo, where there is someone waiting for love from you!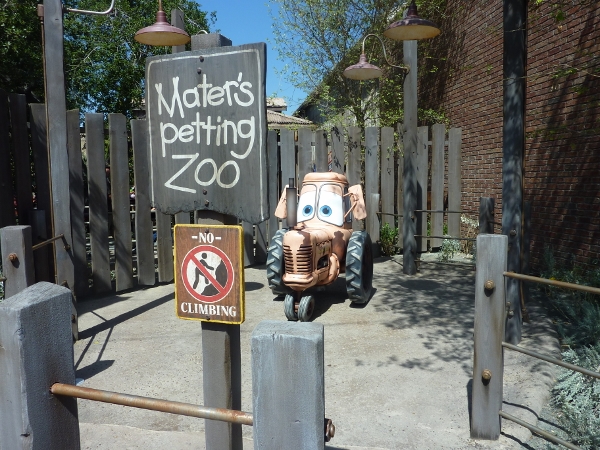 Photos by N. Johnson and C. Martin.
Category: Disneyland, News
Disneyland Podcaster for the DIS Unplugged