Take a trip back in time with me…
"It was July 1923.  I packed all of my worldly goods – a pair of trousers, a checkered coat, a lot of drawing materials and the last of the fairy tale reels we had made – in a kind of frayed cardboard suitcase.  And with that wonderful audacity of youth, I went to Hollywood, arriving there with just forty dollars.  It was a big day the day I got on that Sante Fe California Limited.  I was just free and happy!"
-Walt Disney
Now put away that portable time machine….you won't need it.  Instead, visit the new main entrance area of Disney California Adventure, a tribute to Los Angeles of the 1920s and 30s.
Join me for a walk down Buena Vista Street.
As we go through the new turnstiles, based on the Pan Pacific Auditorium, we'll encounter the Red Car Trolley.  We could take that up Buena Vista Street, but not today.
On the right are the restrooms and lockers…beautiful from the outside, but inside they take you back to Sunshine Plaza.  Let's avoid those.
Next we'll stop at Mortimer's Market where we'll grab a piece of fruit and a bottle of water to hold us over for the rest of our journey.
Behind Mortimer's is Kingswell Camera Shop, where we can stop later and pick up our pictures with the characters.
For now, let's continue through the Elysian Arcade to Julius Katz & Sons for the finest in home decor.
Next, a stop at Atwater Ink & Paint for some kitchen goods.  Atwater is a salute to the animators that worked with Walt Disney.
We'll even find their animation school upstairs.
At the end of the block, let's hit Trolley Treats for some fresh salt water taffy….they make it right there in their candy kitchen.
I hope you're not too full from the taffy, because we're heading around the corner to Clarabelle's Ice Cream.  I'm getting one of the hand-dipped ice cream bars, probably the mixed berry sorbet dipped in dark chocolate topped with blue raspberry "bursts" (can't call them Pop Rocks in 1920s Los Angeles).  Maybe you should go for the classic vanilla with milk chocolate and sprinkles.
I think we may have spoiled our lunch at Fiddler, Fifer and Practical Cafe.  We should probably get a sandwich to go.  We may also need to return here later to get more energy from a Starbucks coffee drink.
The seating outside Clarabelle's and the Cafe will provide us some nice shade as we enjoy our sandwich later.
For now, let's continue our walk around Carthay Circle.  There's another stop for the Red Car Trolley here…
…and of course, the beautiful Carthay Circle Restaurant.  We'll have dinner there later.
Before we head down the other side of Buena Vista Street, we need to stop for a moment and admire the brand new statue of Walt and Mickey called "Storytellers".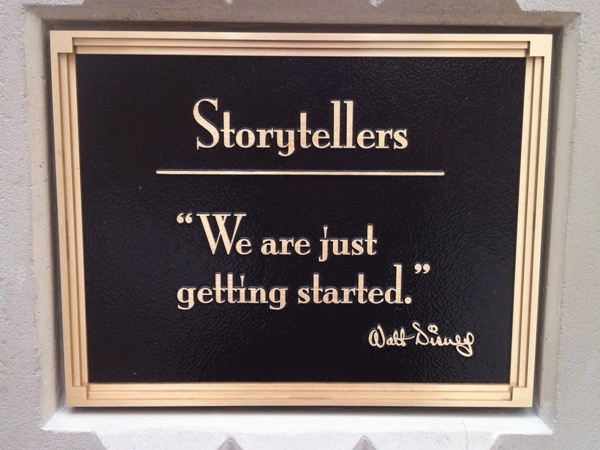 [NOTE: This picture of the plaque next to the statue will have to do until the statue is unveiled on June 15th.]
At the corner of Buena Vista Street and Hollywood Boulevard is Elias & Co., the biggest store on the block.  We'll find all the souvenirs we need in there.
As we head under the Glendale-Hyperion Bridge, let's peek into Big Top Toys.  Maybe we can pick up a stuffed Oswald the Lucky Rabbit.
We're getting close to the end of our walk, but first we need to stop into Los Feliz Five & Dime.  We'll be able to get a hat here shaped like the ears of that new kid, Mickey Mouse.  Heck, we can even put our names on the back.
Back behind the Five & Dime we'll walk by Guest Services and First Aid…hope we don't need that, but with all this walking, maybe a bandage would be a good idea.
Ah, yes…the last stop on our journey down Buena Vista Street…Oswald's.   Let's pick up one last travel mug for the road.
As we head out the main entrance, I want to thank you for joining me in this walk down Buena Vista Street.  I hope you enjoyed it as much as I did and come back soon.
Video: Buena Vista Street Full Overview
For more pictures, be sure to check out our Buena Vista Street gallery.
[NOTE: All photographs for this blog were taken during the Annual Passholder previews of Cars Land and Buena Vista Street. The DIS Unplugged and/or the author paid for admission to this event.]
Category: Disneyland