Looking for adventure and friendly competition? How about a fun-filled game of Flip the Haggis? Is archery more your style? This summer, young guests of the Walt Disney World Resort will have the opportunity to participate in The Highland Games Tournament at Epcot, a kid-focused event filled with competitive games and activities.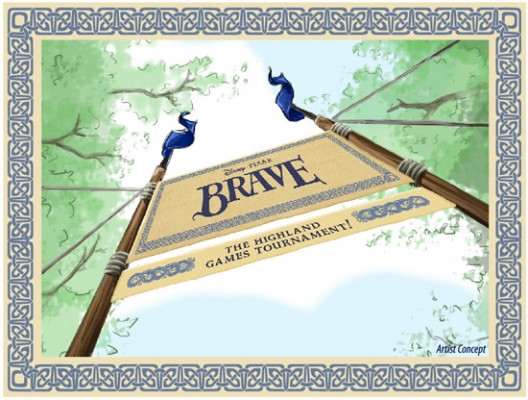 Image: Get Ready to Compete in The Highland Games!
Based on the new Disney-Pixar film, Brave, children can enter the arena and participate in a variety of games such as the Mini Caber Toss, Haggis Flip, archery, and Cake Toss. Guests can even find out what family they will represent in the games and craft their own stone rubbing. Little ones looking for even more adventure might explore the whimsical playground while parents enjoy free enhanced wireless internet. All of these activities take place daily from 11 am until 7 pm along the Rose Walk leading into World Showcase from Future World and will conclude July 8th.
Those looking to meet Merida can find her at Magic Kingdom's Fairtytale Garden. There, families can interact with the heroine, try out bows and arrows, meet the mischievous bear cubs from the film, and complete small craft activities in a fun setting.
Be sure to bring your camera to both Magic Kingdom and Epcot for these events! They promise to be daring enough for even the BRAVEst adventurer!
Image Credits: Photos & Videos Courtesy of Disney Media
Category: Disney World, News
Born and raised in New Jersey, Nicole is an avid Disney fan and frequents both Walt Disney World and Disneyland several times each year. Interests include Walt Disney Imagineering, merchandise, backstage tours, and more. Be sure to check out her other articles here on the DIS Blog!