If you're a Disneyland Resort fan, you definitely know how long lines can get.  Unfortunately, Cars Land at Disney California Adventure is no exception to this rule.  I'll bet you a cozy cone of churro bites that the Radiator Springs Racers and Luigi's Flying Tires queues will never be void of guests, since these two attractions are fun and never quite the same experience with each ride.  Speaking of that, the line for those churro bites at the Cozy Cone Motel will also be a challenge for many.  So, what's the strategy for coping with these queues?  How do you make the most of your Cars Land experience?   I'll give you some insight and try to help you work your way through the desert of Radiator Springs!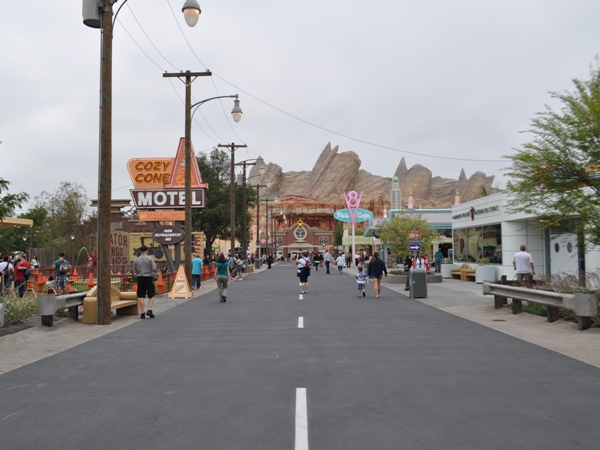 Attraction Queues
Before I get started discussing strategy, let me make sure the most important piece of information is out there.
Use the restroom and have a resealable drink container handy BEFORE entering any of the ride queues!
This is THE most important planning strategy you can have, especially since there is only one set of restrooms in all of the area.  There are no drinking fountains and only a couple easy "escape exits" in any of the queues and being timid and waiting for a break in the queue will not make things any better.   My 5 year old had to go as we reached the last lap of a queue line.  We managed to politely make it out the correct path and were allowed back in at a meeting point, but it was touch and go for a few minutes.   Uttering the words "Excuse me!  Potty Emergency" may make you feel stupid, but boy do people quickly move out of the way and give you empathetic smiles that make you feel better about stepping on their toes…
Another thing for the captive queue audience to know is that , as of this writing, Disney is testing a new guest satisfaction technique – snack vendors wandering through the queue.  Besides being a "genius technique" from a merchandising standpoint, this gives the captive guest a chance to get that snack to keep them occupied.  Dressed as 1930's deliverymen (think milkmen all dressed in white uniforms), these popcorn, ice cream, and drink vendors add a nice touch of era theming!
While we are talking about the similarities of the 3 queues, it should be noted that each of the Cars Land attraction has a minimum height restriction and child-swap capability.  Simply ask the cast members at the entrance for directions.
Now that we've gotten all of that out of the way, let's start with the ride that is on everyone's mind.
Radiator Springs Racers
The good news is that this is the only attraction in Cars Land to have a FastPass, as well as a permanent Single Rider line.  The bad news is that this is the only attraction in Cars Land to have a FastPass, as well as a permanent Single Rider line.  Why?  Because that FastPass line on the left can increase the wait time of the Stand-By line by a reasonable margin.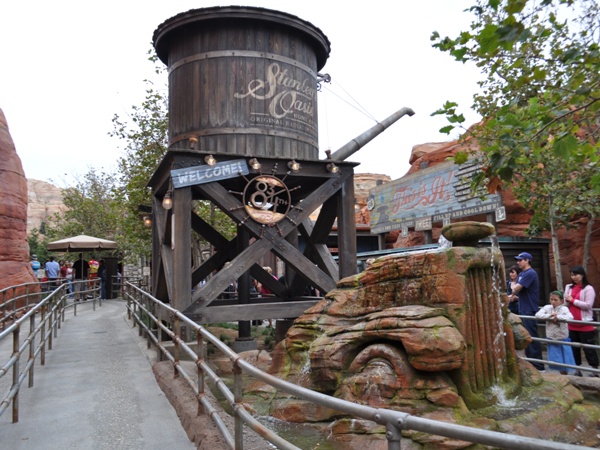 Guests who need assistance in boarding (transferring from wheelchair or scooter) are directed through the exit queue and have their own special boarding area, where the race cars pull off into a separate "service bay" for them to take all the time they need.   This area has its own boarding queue line, as well, allowing guests to experience the atmosphere of the canyon.   This process is much like that of Toy Story Midway Mania.
My best guestimate is that the Stand-By queue was built to house about a 2 to 2.5 hour wait in the main line, with another hour worth if they open the extendable section.  That's a capacity of about 3.5 hours!!!  Obviously, guests will be competing for FastPasses, Single Rider line, and early arrival.  And you Walt Disney Worlders thought the race for the coveted Toy Story Mania was controversial!
If you want a FastPass, you will have to join the masses at "rope drop" (the opening of Cars Land for the day) and fight your way to the FastPass machines. I think one can safely assume that if the Radiator Springs Racers FastPass "sell-out" patterns are the same as the popular attractions over in Disneyland, the entire day's FastPasses will be gone by noon.  This leaves guests two options: break your group up into single riders (which doesn't work for families with small children) or endure the Stand-By queue.
So, if you don't get a FastPass, how do you handle that Stand-By queue?
There are several factors that affect your time in a queue, but the most critical are construction and distraction.  If it's designed right, the time passes quickly.  If not, it feels like an eternity.  That's where our two factors come in.  The construction of the queue and the scenery around it can help relieve boredom.  In this case, the queue weaves under the speed track, through the rock formations, into the canyon that is home to Stanley's original radiator cap store, and through other buildings from Stanley's original settlement – all the way up to the cave entrance of the Comfy Caverns Motor Court.  By winding the queue, it keeps first-time guests excited about what may be behind the bend (and not knowing how far it is that they really have left to go….)    It also allows room for more guests in a smaller space.
Besides being places of interest and landmarks to text your position in line to the rest of your party (that are elsewhere in the park), the also have great bits of distraction in them.  There are historical road markers, visuals, such as antiques radiator caps, store signage, western cactus plantings, and even the building made from bottles.   All of these things make great I-Spy games or even discussions with older kids about the history of Route 66.  Those old-fashioned snack vendors are on hand, here, in case you need some ice cream to while away your time.  If you can make it through the settlement buildings, you are footsteps away from the boarding area!
While I'm not completely decided, I do feel that this will actually be one of the easiest of all of the Cars Land queues to handle.  One of the things I enjoyed the most about this never-ending queue is that even though it is long and crowded, you really feel that you are deep inside a real desert canyon.  It's serene (as much as it can be with a couple hundred people around you) and you honestly can't hear the rest of California Adventure around you.  It really does buffer you from the real world.  That in itself may help you enjoy it more.
* By the way, the above potty incident actually happened in this queue.  Lesson learned.  The hard way.
Luigi's Flying Tires
Luigi's is the other attraction line that will drive you batty, if you don't know what to expect.   This fact that this queue is so long for a limited capacity ride (where you have to wait for a set number of riders to get off and then new riders have to get back on) has caused much discussion and discontent from some die-hard fans, though I'm not sure what the expectations of these unhappy folks were.  We all knew this would be a really popular attraction, due to the nostalgic ancestry to Tomorrowland's 1960's Flying Saucers.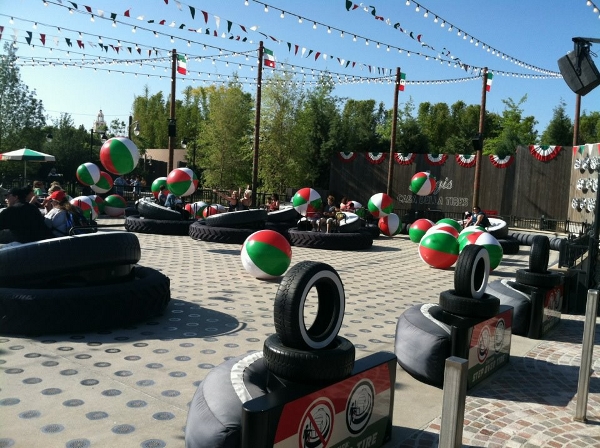 That being said, this ride has NO FASTPASS, so accept the fact now that you are going to have to go through the entire queue and make the best of it.Keep in mind that, from the entrance to 
Casa Della Tires,
you will have approximately 1 hour of wait time.  There is an area outside to set up and overflow queue that appears to have another 45 minutes to 1 hour of waiting space to it.   If this is in use (which it probably will be for a while)As for escape exits, there aren't really any great chances to leave the queue (walking fully upright) until you move outside the Casa Della Tires building for the Italian Garden.  This gate merges you into the overflow queue area and the wheelchair entrance.   Once you enter the Garden, you must wait until the Instruction Circle for the next exit opportunity.While the Showroom itself, is not as exciting, the changing area  has some fun decor in all of the posters and memorabilia that Luigi has collected.  One way to handle the boredom is to see how many references to the movie characters (from Cars 2) that you can find! The best way to get through the Italian Garden portion of the queue is to study the guests that are already on the tires.  Watch for their strategies and mistakes and then learn what not to do.  For instance, don't try to steer your tire to the left, while your fellow rider is reaching out to the right to catch a beachball!    Then, discuss and plot your own strategy.  If you have smaller kids (ride minimum height is 32 inches), or ones that will try to insist on riding by themselves, this is the time to discuss why that isn't a good plan –  that they won't weigh enough to be able to move the tire on their own.  (We had to do that with our 7 year old and once we got on the ride, she understood.)  Frankly, I think this ride will also lead to some great conversations about motion, physics, and Machiavellian technique with beachballs between adults and older children, too.   I can't wait to discuss that with my girls!Since all guests have different perspectives and preferences when they go to Disneyland, I would say to keep an open mind and see what you think about the total experience before making judgments!
Mater's Junkyard Jamboree
The 3rd and final attraction queue is Mater's.  The queue for this is definitely the simplest and you can see it all in one glance!  Even better, is that the queue splits into two simultaneously operating "dance floors".   The queue is in a fixed space, with no sign of a designated "overflow area", like the other two attractions, but it really doesn't seem to need it.   When you enter the Junkyard Jamboree, you'll follow a single queue until about a 5 minute wait to board. The line then splits to service the two sides of the attraction.   For an limited capacity/intermittent loading attraction, the queue moves very quickly.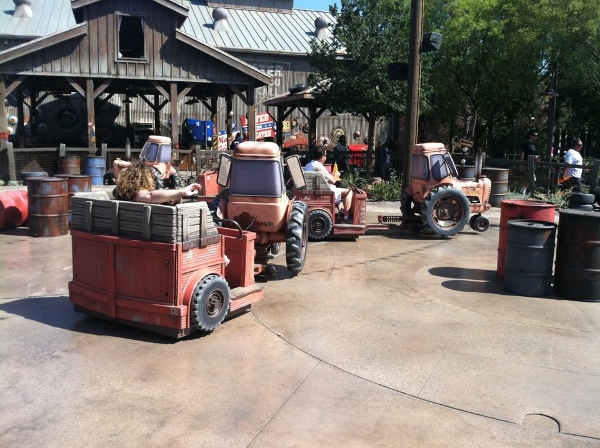 One issue I ran into on Mater's junkyard Jamboree was that of the Souvenir Sipper cups.  Apparently they haven't fully thought out what to do with guests that have purchased these adorable traffic cones, because they aren't the easiest shape to store in backpacks or totes and they are not "spill proof".  If you have them in hand, prepare to be turned away until you can store your cup in a bag.
Dining Queues
While the attractions have obvious queue questions, the dining locations can also be challenging.  One more so than the other.   I'll start out with the easier of the two.
Flo's V8 Cafe
Flo's is stacking up to be a very popular "counter service" eatery and the lunch and dinner queue is showing that.  During peak times of the day, it spills into an overflow line that rounds the north side of the building.  Cast members are positioned at the entrance to the building, as well as on the opposite side of the queue's safety break, to keep the line in check.    One of the things I thought was great about the overflow process was that menus are provided by the cast member at the door to keep things flowing.
Cozy Cone Motel
While the concept is great on paper, Disney fans have been questioning the logic of having only 1 or 2 items available at each of the 5 Cones.  Now with the Cozy Cone Motel coming to life, there is great evidence that is a bit of a logistics problem for guests that want items from more than one Cone.  This isn't too much of an issue for families with 2 adults, but it gets a bit tricky for single parties or single parents.   My family spent quite a bit of time snacking and watching, as quests lined up to try these quick treats and we noticed some trends.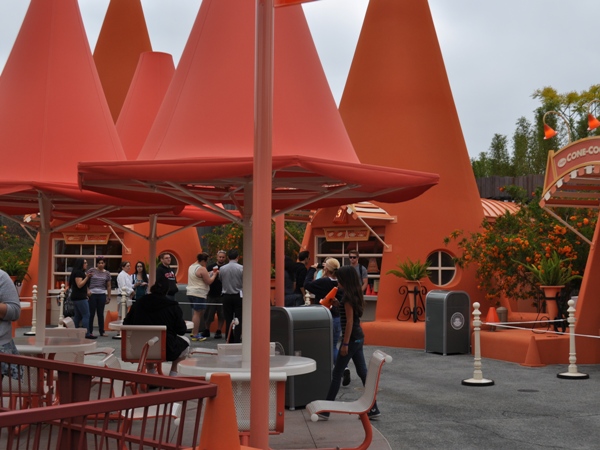 The shortest line seems to be at Cone #4 – Cone Coctions, which serves Pretzel bites with Cheesy Sauce and Red's Apple Freeze.  The most popular Cones were #5 – Pop-Cone, with it's rotating selection of flavored popcorns, and #2 – Soft Serve Ice Cream and Floats.  Cone Queso came in third, by serving either breakfast or hot entrees.
Take a few minutes to study each menu and deciding your choices before committing to a line.   If you have more than one person who can stand by themselves in a line, make the most of it.  Assign specific cones to different members of your group.
Soda can be bought at Cone #1 Churro, Cone #3 Cone Queso, & Cone #5 Pop Cone.  All other cones have specific drinks.
Remember to be polite to the line behind you and pocket your money BEFORE you take your cone from the cast member.  Because everything is served in cones, there is no place to put your snack while you put things away.
When the queues for each cone fill, they trail outward, toward the street.  Cones #1-3 will be parallel to each other, as they snake past toward the Cars Meet and Greet.  If you see this cluster, simple ask someone in line to let you know which cone they are waiting to order from
If I've missed any queue tips, please share it with us in the comments below!   Hopefully some of these hints will help you to bring more understanding and patience to your queue experience!
[NOTE: All photographs for this blog were taken during the Annual Passholder previews of Cars Land and Buena Vista Street. The DIS Unplugged and/or the author paid for admission to this event.]
Photos by T. Bell
Category: Disney World, Disneyland, News
Disneyland Podcaster for the DIS Unplugged