Since the start of its construction in 2009, Radiator Springs Racers in Cars Land has been one of the most anticipated attractions in the history of Disney theme parks.  Of course, die-hard Disneyland Park fans will disagree and give Luigi's Flying Tires top honor, but that is another blog for another time.  This Disney California Adventure attraction has all of the visual splendor, edge-of-your-seat action, and heartfelt joy that the Cars movies show us.    After you watch the ride-through video that we shot at the Annual Passholder Preview on June 9,  I am going to show you a few things that might make your experience at Radiator Springs Racers a bit more enjoyable – with or without a FastPass!
I'm going to start out by jumping on the topic of Fast Passes for this attraction.  These will go fast, so if you aren't an early riser or bold enough for an ensuing cage match with other guests, plan on using either the Single Rider Line or relegating yourself to the Stand-By queue.  I predict that these Fast Passes will be extremely coveted and that the entire day's allotment will be gone by noon.  I'm basing this on how quickly FastPasses at Space Mountain, Indian Jones and the Temple of the Forbidden Eye, and Haunted Mansion Holiday are sucked up during peak season.  Anyone who doesn't think this summer will constitute peak season in Cars Land may want to read a bit more about the parks….
Other important details:
Minimum height is 40 inches.
There are no drinking fountains or easy access to restrooms in the queue.  Take care of this before you enter the line.
Interior queue line seems to be built to handle 2 to 2.5 hours from entrance to loading.  If they open up the queue extension, it could possibly increase that time to a total of 3 to 3.5 hours.  You can develop strategies to cope with these longer lines, if you know what you are up against and come prepared.
To enter the ride, head just past Cross Street and Ramone's House of Body Art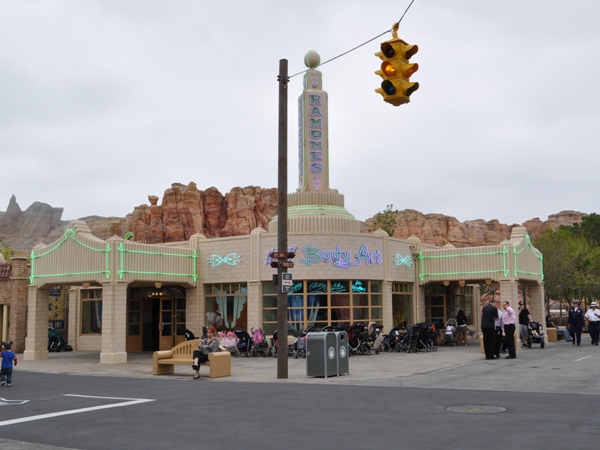 and turn right at the Courthouse, toward the outskirts of town.  You'll see the entrance straight ahead, with the FastPasses housed in the vacant Lube O Rama building to your right.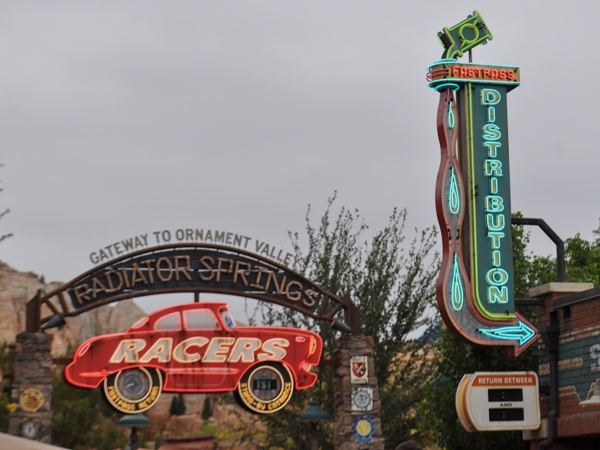 The attraction entry sign is where you are sorted into the queue you will enter.  Guests who need assistance in boarding (transferring from wheelchair or scooter) are directed through the exit queue and have their own special boarding area, where the racecars pull off into a separate "service bay" for them to take all the time they need.   This area has its own boarding queue line, as well, allowing guests to experience the atmosphere of the canyon.   This process is much like that of Toy Story Midway Mania.  FastPass and Single Rider have their own entrances as well.
As I said before, if you are going Stand-By, make note that this is a seriously long queue – probably the longest in the Disneyland Resort.  Just remember that there are NO restrooms or drinking fountain for this very long line, so be prepared.  The good news is that there are vendors walking the queue with a variety of snacks – in case you forgot my advice.
As you enter the Stand-By queue, you'll see winding paths that lead you away down under the road and off into the high desert mountain pass.
When you go under the road, take caution.  Your feet might get a little wet.  We found a small bit of water coming down the slope ahead of us – a trickle of overflow from the actual Radiator Springs!
The queue is probably one of the most unique that Disney artists have ever created.   It takes you directly back in time, through Radiator Springs History.   Figuratively and literally.  When you get to this point, you start seeing different signs and historical plaques that tell of how Stanley came to find Radiator Springs and stake his claim to form a settlement.
As you wind through the canyon and rock formations, you are taken into Stanley's original radiator cap store, and through other buildings from Stanley's original settlement – all the way up to the entrance of the Comfy Caverns Motor Court.
Besides being places of interest and landmarks to text your position in line to the rest of your party that is elsewhere in the park, they also have great bits of distraction in them.  There are historical road markers, visuals, such as antiques radiator caps, store signage, western cactus plantings, and even the building made from bottles.  Yes, I said bottles.  There's an entire building made of them.  And concrete.  Google Route 66 and bottle buildings.
If you have shorter kids, be warned.  Each of these buildings has big open windows and they will ask to be lifted up to see out of them.  You will get tired of doing this by the end of the queue.  Don't say I didn't warn you.
The FastPass and Single Rider lines run parallel and meet the Stand-By line at the mouth of the Comfy Caverns, as seen on the left, past the Stanley's Oasis water tower in this photo.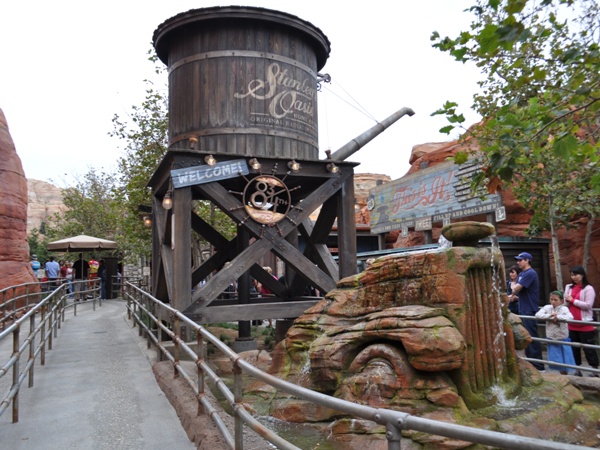 You board your cars within 40 feet of  queue from that point.  Take a couple seconds to take in the details and look at the suite names on the motel doors.  It's yet another one of those details that Disney doesn't skimp on.
When your Car picks you up, you will be able to determine its gender and personality from its unique features and colors.  Never the same car twice, it seems!  You'll be taken on a leisurely drive on some of the very same roads that Sally and Lightning took on their first drive together, up to the Wheel Well!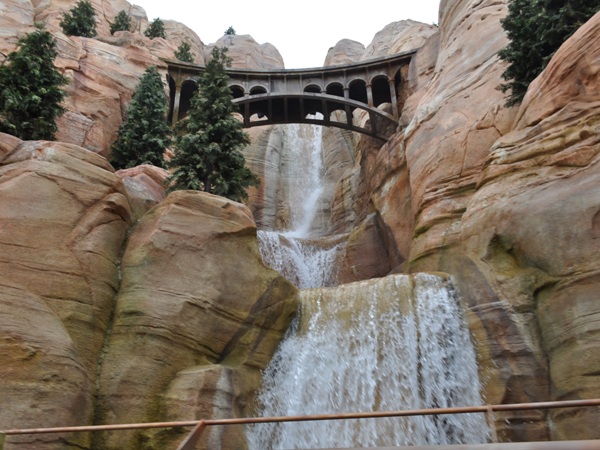 Then, you'll return into Radiator Springs that evening.   There, you will meet up with all of your favorite Cars characters as your drive into town.
As you can see in the video, the effects used in Radiator Springs are amazing, and, YES, the Cars characters are full sized.  I thought this was wonderful to be able to actually be surrounded by them as "actors", rather than as miniature toys.  There were some amazing effects, such as Mater leading you to the next scene and Red watering the flowers.   Even having Doc Hudson give you a lesson on racing was a great treat!   This was the part of the attraction that my kids remembered the most about!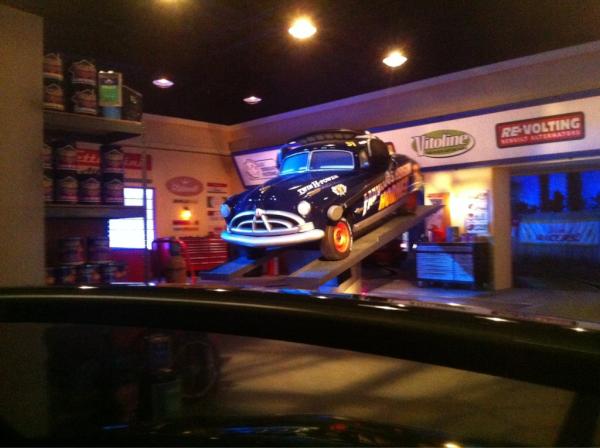 Finally, Luigi helps your Car change its style to look like a true race car – in tricked out fashion and sends you on to the Starting Line to wait for your competitor.  Luigi and Guido meet you there to start your engines and get this friendly little competition going!
You hug the road and increase your speed as you glide over the interstate,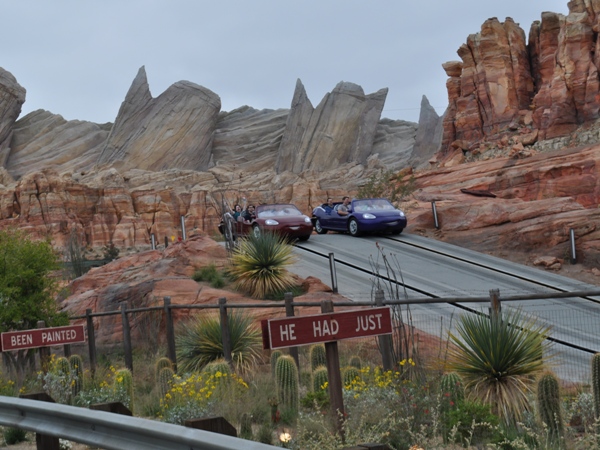 head into the speed loop,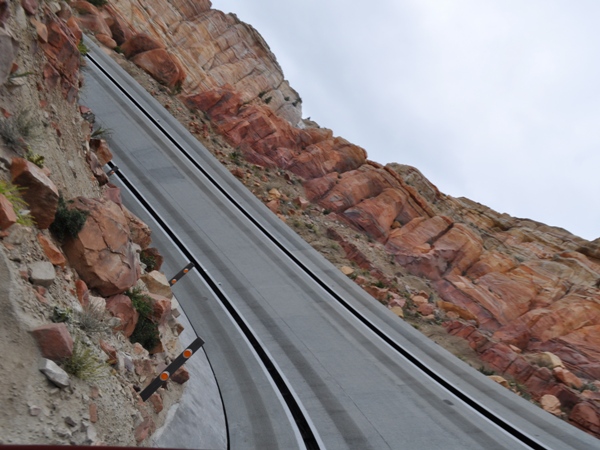 and work your way to victory at the Finish Line!   Remember, the outcome of the race is actually random, so no one knows who the victor will be!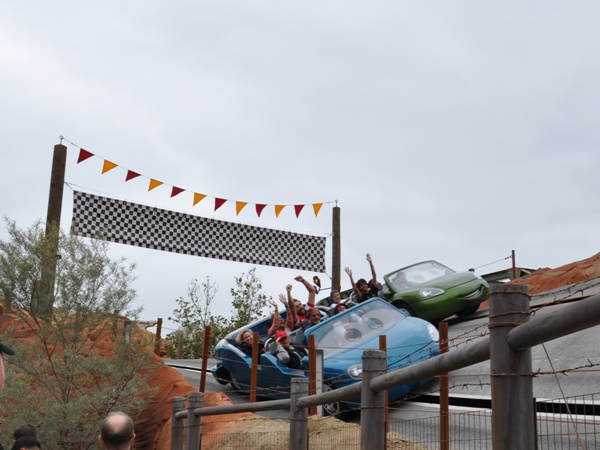 With a solid mix of amazing animatronics, stunning visuals, and the thrill of the speed ride, this attraction really is the "Total Package" for Cars lovers!  This attraction really is the Total Package for Cars lovers!  Ka-Chow!!
[NOTE: All photographs for this blog were taken during the Annual Passholder previews of Cars Land and Buena Vista Street. The DIS Unplugged and/or the author paid for admission to this event.]
Photos by T.Bell, W.Toigo,  N.Johnson, C. Martin, and MJ Willey.  Video by D. West.
Category: Disneyland, News
Disneyland Podcaster for the DIS Unplugged