With the opening of Disney-Pixar's movie "Brave", comes a new character interaction opportunity.  At the first opportunity, my youngest and I ran off to Disneyland to explore their introduction of their newest princess, Merida.   With all of the other meet and greet experiences out there, I was intrigued with the way they were marketing this new adventure.  The concept renderings had her teaching a guest to shoot arrows at a target – a scene out of the movie.  While Disneyland has done some interactive meet and greets with the Princess Fantasy Faire and their Princess Training School, this was promising to be a novel new style of meet and greet experience.   Since my daughter Lily is a hard sell for actually talking to the princesses, I took my tough little critic down to evaluate it.  Come along and we'll share what we found!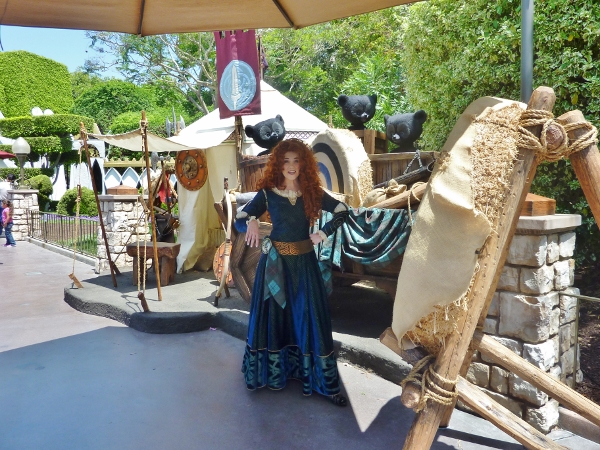 Our first job upon arrival was food.  But you don't really care about that, so I'll move on….  Our next task was to figure out Merida's location.  All we had heard was that it was in Small World Plaza in Fantasyland.  We checked the Times Guide and found that her meet and greet was open on Friday through Sunday, from 8:30am to 3:00pm and on Monday through Thursday from 9:30am – 4:30pm, so we immediately headed that way.  (I don't know if this is a permanent schedule for her, so I would have to recommend checking your daily sheet.)  We didn't have to look too hard for it; the area directly across from the ride had been decorated in all sorts of Celtic banners and art of all sizes.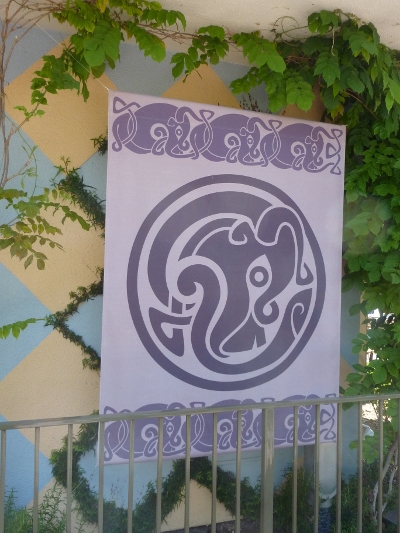 As we approached, friendly cast members greeting us with a bit of dancing and brogue accents.  They directed us up the steps and onto the elevated plaza directly across from it's a small world's entrance.  This is the same area that they use as overflow queue during Small World Holiday.  When we arrived, the wait was about 15 minutes or so, with the queue running down and back toward the area with only one turn.  I suspect this will get longer with popularity and the Cast Members are certainly prepared for that.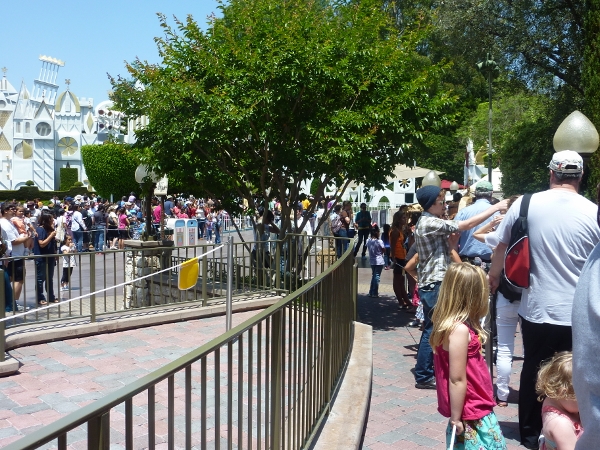 While we couldn't see much at first, as we neared the head of the queue, Lily got very excited (she is 5.5 after all….).  The first things we could get a true glance at were the triplet bears.  Their playful movements and chatter made both Lily and I wonder how they worked, since they seemed timed to position themselves a certain way at certain times for the PhotoPass photographer.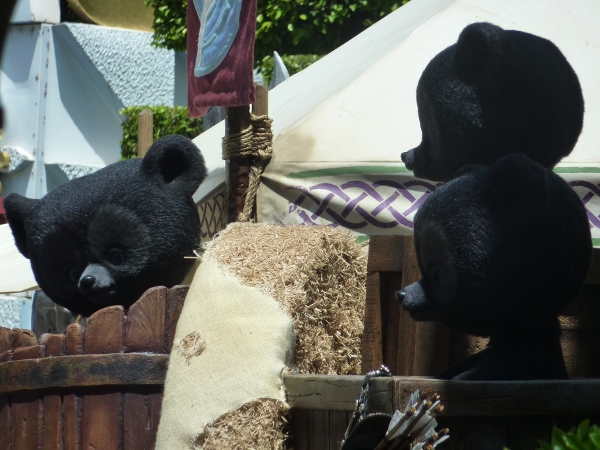 The second thing I noticed was that the layout of the meet and greet area was designed so that the archery boss (target) creates a "privacy wall" so that guests with Merida experience a true one-on-one session and don't feel pressured to hurry.  The guests in the queue also gain a bit more of an anticipation build from not being able to see everything that is going on.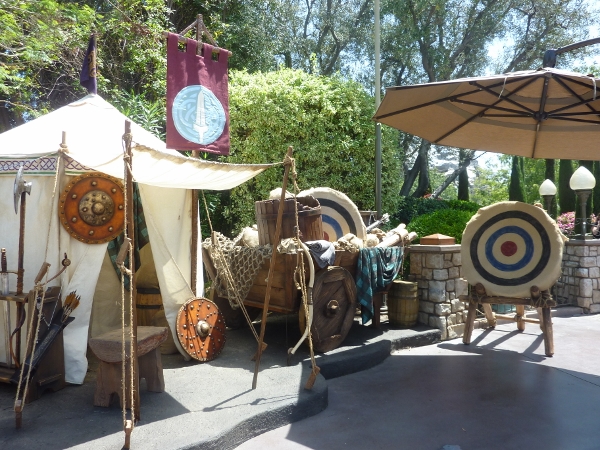 When you do come in to visit with Merida, she is warm and inviting.  While Lily was so excited to meet her when we were standing in the queue, as soon as it was our turn she became shy and hid behind me.  Merida immediately went down to her level and chatted with her.  Lily still hid behind me, but later thought she was very pretty.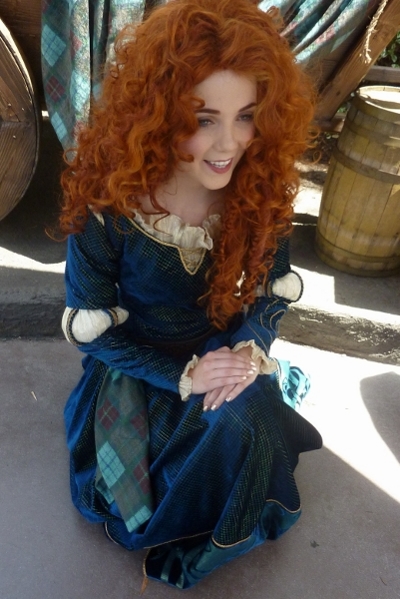 Merida talked with us and then introduced us to the triplet cubs.  She even requested that they join her in our picture and they decided they would be happy to pose, showing us a couple of different expressions.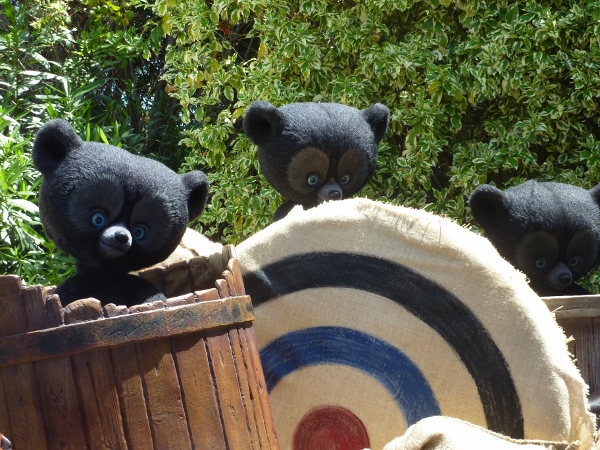 There was the obligatory Cast Member on hand to take your pictures for PhotoPass, but would also happily use your personal camera.  I was actually not prepared to include my devastatingly beautiful likeness in this shot, but Lily still wouldn't let go of my leg….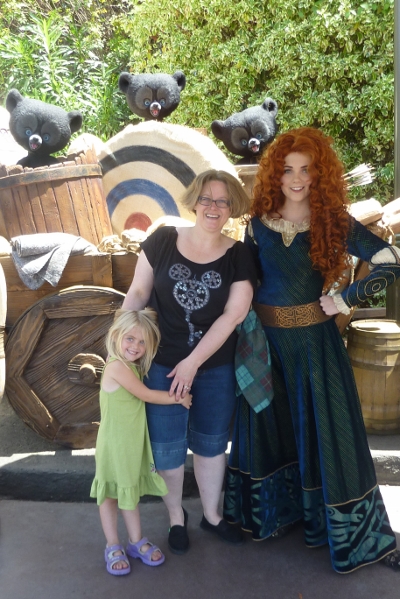 We had a good 2 or 3 minutes with Merida, which seemed to be about the same amount of time that Rapunzel and Flynn spent with us.  It's definitely longer than you get with most of the princesses at the Princess Fantasy Faire.   After we left Merida, we checked out her tournament pavilion.  Everything that a traveling combatant needed was there:  Shields,  banners to identify you, weapons, supply crates, extra equipment and a bench to sit for a while.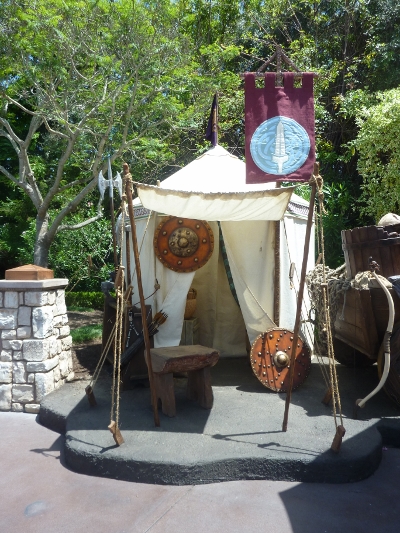 It was after this that Lily finally let her excitement out and ran for the next step of the meet and greet – the Archery Shoot!  The positioning of this activity made perfect sense, as they used the landscaping for their safety zone behind the bosses.  There was one Cast Member inside the boundary to greet each family and give them their bow, already nocked with an arrow.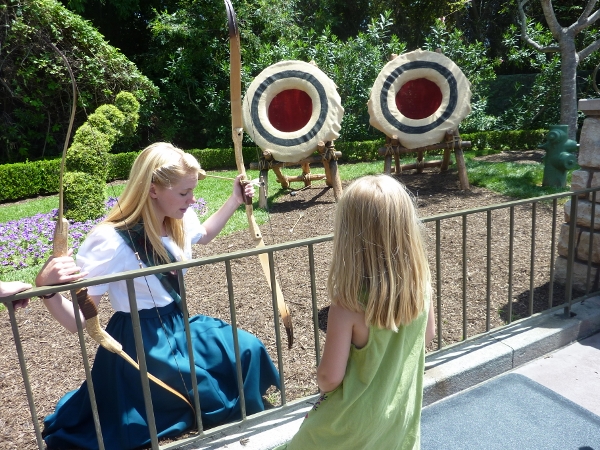 The Cast Member outside the boundary would then help each new archer to learn how to shoot.  Each arrow had a ball-tip, to bounce off the target, if missed.  The eye of the boss was a catch pocket for bulls-eyes.  Lily hit the lower white edge and I hit the inner one.  So close.  If those arrows had points, both of ours would have stuck.  A PhotoPass Cast Member was here, as well.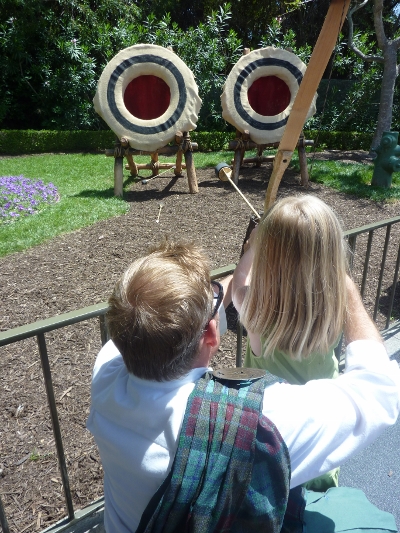 Lily was very eager to try this and let the Cast Member help her with no shyness at all.  Once we completed our rounds with a bow, we were directed to the stairs where we entered the queue.  Here we found more fun activities.
The first one we came upon was "What Clan Are You?".  A handsome lad would spin the wheel and tell us our clan name.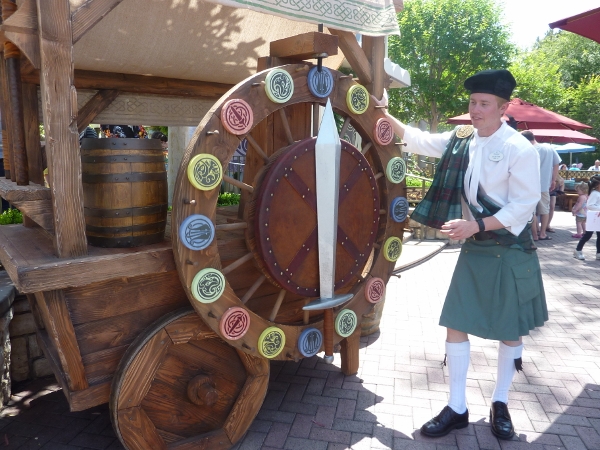 Once our clan was identified, we were told to visit the third stone at the next station.  Here we found a Cast Member who told us we were going to make stone rubbings of our clan's patriarch.  Our's was Macintosh.  The others were Clan MacGuffin, Clan Dingwall, and Merida's own Clan Dun Broach.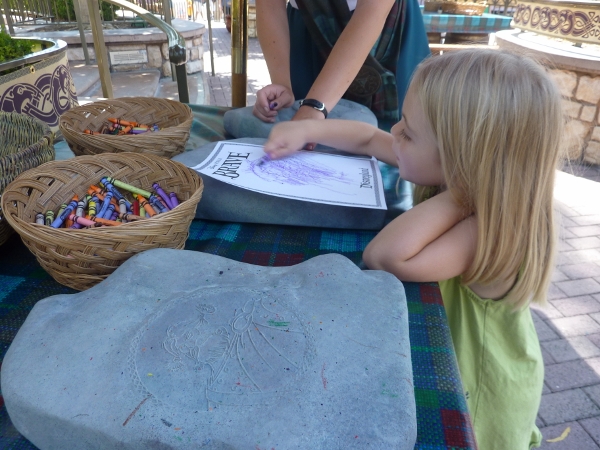 Since Lily loves to color, this was an unexpected surprise.  She had never done a rubbing before and caught on quickly.  She was allowed to do more than one, since it wasn't busy.  Other kids were enjoying it, as well.  An older girl of maybe 9 or 10 was terribly upset with her parents because she had just painstakingly rubbed just the outlines of one of the characters, so that she could use them like a coloring book page.  It was the age old dilemma – the parents didn't want to "waste time" on her coloring and she didn't want to "waste her coloring time" on rides and attractions.  Been there, done that.
Once Lily had done her two rubbings, she looked over to the other picnic tables and saw the traditional baskets of crayons and coloring pages of Merida and her horse, Angus.  She knows the sight of these baskets well, from every visit to Big Thunder Ranch.  At this point I realized that once she started, we would be there for at least another half hour.  There was one more activity to do, so I convinced her to hold coloring off for the last thing.
We then heading with the Stone Rubbing's Cast Member over to the Cake Toss.  Apparently, these little "cakes" are a favorite food of the bear triplets.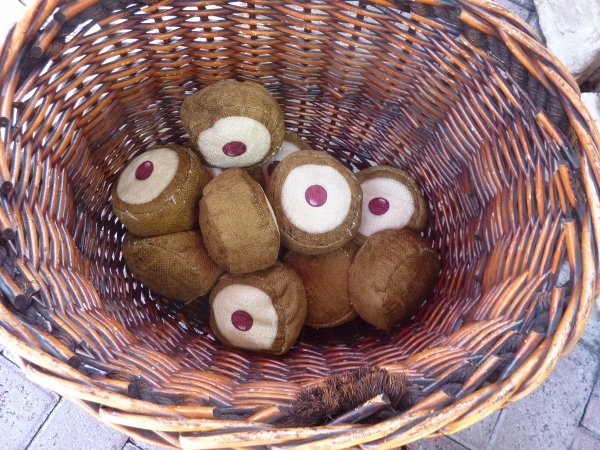 The objective of the Cake Toss was just that, toss your three cakes through any of the three holes in the game board.   If you scored, there was a net strung up underneath to catch them.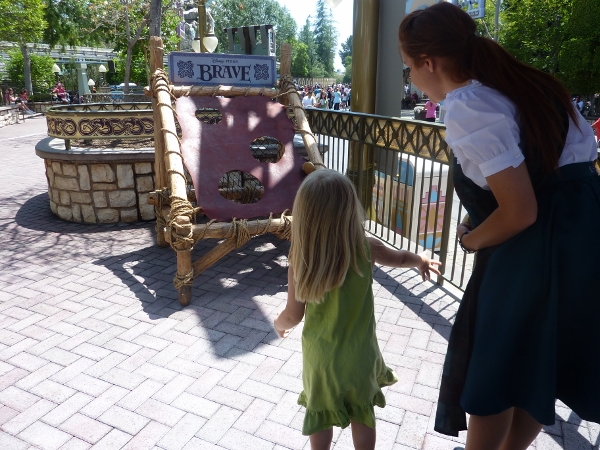 Lily liked this enough to take breaks from coloring to attempt it over and over again.  On her very last toss, she managed to get one through the holes!
Our overall time with this experience was about an hour, since Lily has to color for at least half an hour.  For those that don't suffer from crayon addiction, I'd say to allow up to 30 minutes for the queue, 3 minutes with Merida, and 15 minutes doing the rest of the activities.  Less, if they aren't crowded.  There really weren't any lines for the activities, as I think most will do the meet and greet and bypass the rest for ride time.
Now that she's old enough, I asked Lily if she had any advice about the experience.  She said "I was scared to meet the lady with the hair, but I liked doing the archery and I had fun.  I'm happy I brought my pages home to color some more!
Note: Merida is also greeting guests in the Magic Kingdom's Fairytale Garden at Walt Disney World.
Photos by N. Johnson.
Category: Disney World, Disneyland
Disneyland Podcaster for the DIS Unplugged