As Universal Orlando continues their 'Year to be Here' campaign, new attractions, shows, and announcements continue to roll out to the public.  Keep reading through the page break and let's take a look at what guests and visitors have to look forward to this summer.
The Updated Amazing Adventures of Spiderman now part of early admission
Universal Orlando has decided to give their resort guests an additional perk.  Not only will they get early admission to the Wizarding World of Harry Potter they'll also get to enjoy one of the best theme park attractions on the planet.  Resort guests will get to experience the recently updated 4K-HD Spiderman attraction 1 hour before Islands of Adventure opens to regular theme park guests.  It will be a great opportunity to enjoy the attraction with limited wait times and even ride it over, and over, and over again to see the new and exciting details of the ride.  If you are staying at one of the 3 onsite resort hotels make sure to inquire about early park admission when you check-in.
Universal's Superstar Parade Debuts
Now showing on a daily basis at Universal Studios is the all new Superstar Parade.  The high-energy parade will make its way through the streets of Universal Studios and feature such characters from 'Despicable Me', SpongeBob Squarepants, Hop, and Dora the Explorer.  New and colorful floats will tower over guests as they move along and make stops through the streets of the theme park (New York & Hollywood Blvd).  We've also heard that characters will interact with guests during 13 smaller shows prior to the parade throughout Hollywood Blvd.  Check your guide map for specific parade times and locations.  The DIS Unplugged's Corey Martin and Dustin West attended the grand opening press event and captured some video and photos of the parade.  You can find them here.
Universal's Cinematic Spectacular – 100 Years of Movie Memories
The newly launched night time show, 'Universal's Cinematic Spectacular – 100 Years of Movie Memories' has debuted at the lagoon inside Universal Studios.  The night time spectacular will highlight some of Universal Pictures' fun, dramatic, and awe-inspiring films over the past century.  The show will incorporate waterfall screens, colorful fountains, and pyrotechnics all against an incredible musical score.  The show's narrator will feature the voice of Morgan Freeman.  The night time spectacular will run year-round except during annual special events.  Be sure to consult your guide map for specific show times.  The DIS Unplugged's Corey Martin and Dustin West attended a media preview event and captured some video and photos of the show.  You can find them here.
Two Newly Themed Miniature Golf Courses Open at Citywalk 
As previously reported the two newly themed miniature golf courses under construction at Universal Citywalk are now open.  The Haunting of Ghostly Green and the Invaders of Planet Putt are a dynamic double-feature of 36-holes of miniature golf.  The Hollywood Drive-In Golf uses cutting-edge effects and LED lighting to bring the movies to life while enjoying a round of miniature golf.  The price for 18-holes of golf is $13.99 for adults and $11.99 for children plus tax.  The course operating hours are 9:00AM until 2:00AM 7-days a week.  You can check out a wide range of photos from the mini golf courses here.
Updated Blue Man Group Show is in Full Swing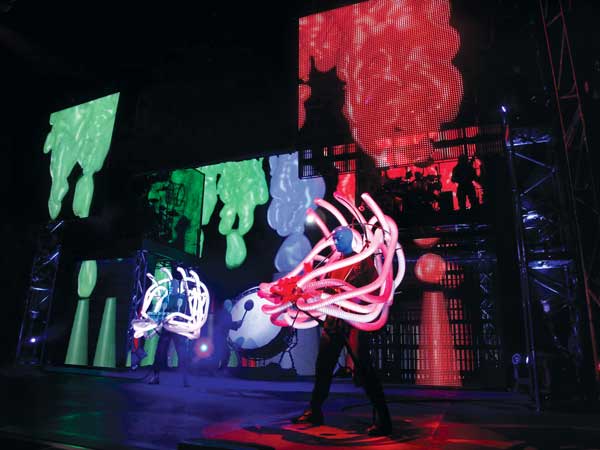 Back in late February The Blue Man Group show at Universal's Citywalk began shows with exciting new scenes, show elements, and props.  The updated show is now in full swing and includes scenes with popular technology like GiPads (gigantic iPads) and other contemporary modes of communication.  The musical Blue Man Group team has incorporated new sounds into the show sure to get guest's attention.
New Blue Man Group VIP Experience
Also recently announced is a new Blue Man Group VIP experience.  A VIP lounge called Bluephoria will give guests the opportunity to gather with friends and family 45 minutes before the show and to reconnect with them after the show.  Included in the VIP Bluephoria experience are 2 alcoholic or non-alcoholic beverages, an official Blue Man Group program, and an exclusive meet & greet with a Blue Man from the show.  The cost of the Bluephoria VIP experience is an additional $20 per person with the purchase of your show tickets.
The new Despicable Me attraction on schedule for summer opening
Most of the walls around the new Despicable Me attraction are down giving guests a first look at the new façade.  Visible to guests are the front porch of Gru's house and his monster car.  The new attraction called Despicable Me – Minion Mayhem is set to open sometime this summer.  Universal has not given us a specific date, but we could see soft openings of the attraction as early as mid-June.  Minion Mayhem will be a simulator based attraction where guests will go on a wild adventure with Gru and hundreds of minions.  Who knows, guests may become minions themselves.  Despicable Me – Minion Mayhem will occupy the space formally home to Jimmy Neutron's Nicktoon Blast which closed permanently on 8/18/11.
Universal Orlando rocks the house with its Summer Concert Series
From June 9th – July 14th Universal Orlando will be hosting its annual Summer Concert Series full of top singing and musical talent.  Included in this year's lineup are such acts as Nickelodeon's Victorious, Josh Turner, and ZZ Top.  The concerts take place on Saturday evenings at 9:00PM at the Music Plaza Stage inside Universal Studios theme park.  All of the concerts are included with your general theme park admission.  New this year guests can purchase a Summer Concert Series ticket for $59.99 for admission after 7:00PM to attend a single concert.   Although the lineup is not complete here's what is on tap so far.
June 9th – Nickelodeon's VicTORIous
June 16th – ZZ Top & 3 Doors Down
June 23rd – Josh Turner
June 30th – Al Green
July 7th – Lupe Fiasco
Juy 14th – TBA
Universal Orlando Discounts Announced
Universal recently released some discounts for Florida residents and annual passholders.  Here's a look at a few of them.
Theme park ticket discount plus 3rd day free for Florida residents – Florida residents can buy a 2-day 2-park ticket for $99 plus get a third day free.  These tickets must be purchased online by 5/31/12 and are good for admission through 6/30/12.  Proof of Florida residency is required.
Florida residents save on Blue Man Group tickets –  Florida residents can save up to $35 per adult ticket on Blue Man Group performances from 4/16/12 – 6/17/12.  Child tickets start as low as $29.  Proof of Florida residency is required.
Resort annual passholder discounts announced – Summer and beyond annual passholder discounts for the three on-site resort hotels have been released by Universal Orlando.  Mention you are a Preferred or Premier annual passholder at the time of booking your room.  You will be required to show proof of your annual pass at check-in.
Those are all of the updates for now.  Be sure to check back for future updates or visit our Universal Orlando section on wdwinfo.com.  It's full of information, photos, and video about the Universal Orlando resort.
Friend Aaron on Facebook:  I accept reader friend requests.
Category: Universal / Sea World, Universal Orlando