This week, Alice Davis, Walt Disney Imagineering's most famous costume designer, will join the ranks of those who have received the ultimate Disney honor – a window dedication placed on Main Street USA in Disneyland.  Many, including myself, agree that this ceremony  is long overdue, based on her contributions to some of the most beloved attractions that Disney has developed: it's a small world, Pirates of the Caribbean, and Carousel of Progress.   She was the first expert in how to design costume elements that bring life and storytelling to the art of Animatronics and has served as a consultant to Disneyland and the Walt Disney Company for many years.  While I have yet to interview her personally, I still felt the need to share a little bit about her with you, to celebrate the occasion.

Having a bit of a background in costume design myself, Alice Davis has always been one of my personal role models. (I was a design and textile geek, what can I say…)  I have met and chatted with her on a couple occasions and have found her to be one of the most modest and gracious ladies I've met.  The first time I spoke with her was in 1995.  She was with her husband, legendary animator Marc Davis, and I had bypassed him to ask her to autograph a book on Disney history.  She seemed surprised that I knew of her accomplishments and respected her work.  Frankly, if you've ever gotten a chance to see her most famous work up close, you would be in awe.   This photo of one of her Hungarian doll costumes is such a fabulous example of her attention to detail!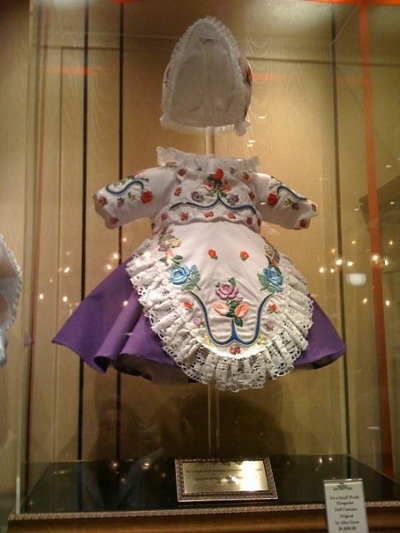 So how did Alice become involved in some of Walt Disney's most influential projects?  I think that it is best to quote lyrics from her favorite song –  "Fate steps in and sees you through."   Fate indeed played a great role in Alice's career.   Alice Estes determined at an early age that she would go to the famed Chouinard Art Institute and study animation, since she loved to draw and paint.  When the time came, she received a full scholarship, but the Animation program had a 3 year waiting list.  So she wouldn't lose her work scholarship, the head of the Institute suggested she enroll in her only opening: Costume Design.  In 1947, Alice was encouraged to take animation classes on the side, as long as she worked as an assistant to the instructor – Disney Animator Marc Davis.    This, however was not the beginning of the relationship that brought about their 44 year marriage.
During the end of her time at Chouinard, Alice worked in another position at the Institute.  Fate stepped in and brought the two together.  After graduation, she took a position with a busy lingerie house in Los Angeles, becoming a head designer for her skill with patterns and textiles, as well as elastics.  She was asked to do her first project for Disney during this time: the gown for Sleeping Beauty's live action reference footage.
She gave up her career in lingerie and swimwear to marry Marc Davis in 1956.  It was then that Walt Disney became interested in Alice's knowledge and experience in costume design.   When the Small World project came up, he turned to Alice to lead the project.  She had 1 year and a team of 4 women to produce traditional costumes for 300 international dolls.   Her experience with this project gave her the skills to become the leading authority on developing costumes for robotic figures and their unique challenges.  Alice discovered, through trial and error, that audio animatronics are very hard on their clothing, due to their repetitive movements.  She established the tradition of making duplicated costumes to keep on hand for each animatronic, so that they may be quickly replaced when rips ruin the garments. Consequently she then became the one to bring the idea of  keeping design and swatch books for each costume, all so that it will be easier to replace and repair them in the future.
After Small World successfully opened at the 1964 New York World's Fair, she was asked to collaborate with her husband, Marc, on developing the costumes for Pirates of the Caribbean.  Marc had done the design work during the early planning of the attraction, so Alice's job was to bring the paintings and drawings to life.   These figures were more of a challenge, with their complex hydraulics and unique positioning within the attraction.  Alice became such a resource that she still is consulted when audio animatronic questions arise.
Alice then went on to redesign the costumes for Carousel of Progress when the World's Fair ended and it was shipped to Disneyland.  She has some marvelous stories she tells at guest appearances about her work with both Pirates and the Carousel of Progress.  (Hopefully I can share some of those with you at another time.)
After becoming a Disney Legend in 2004, Alice remains a fixture within the company, consulting on many projects from animatronics to films like Pixar's UP.  She is also extremely popular in the Disney community, from making appearances at events like Destination D (pictured below with Marty Sklar) to local Disney community activities, such as the event at the Griffith Park Carousel (top photo).   She is a favorite speaker, telling humorous stories of what it was like to work for Walt Disney in the early days, as well as what it was like to be married to one of Walt's Nine Old Men!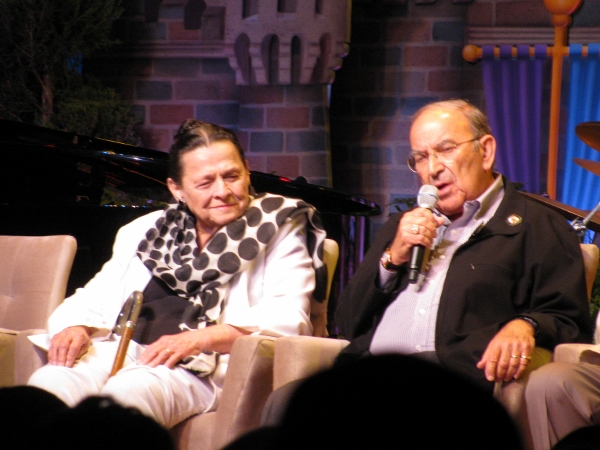 On May 10, 2012, Alice was given possibly the highest honor that Disney affords to those who make substantial contributions to the development of Disneyland – her own window on Main Street USA.   Tom Staggs, Disneyland President, George Kalogridis, and Mickey Mouse hosted a small crowd while they revealed Alice's new window.  Also present, were a collection of Alice's sketches and Small World costumes.  I was excited that they included the Hungarian one I showed you in the above photo!
If you'll notice in the photo of the unveiling ceremony below, there is a small draped easel to Mickey's left.  This is my favorite thing about the Window Ceremony.  The recipient is given a replica of their window to take with them.  Very cool.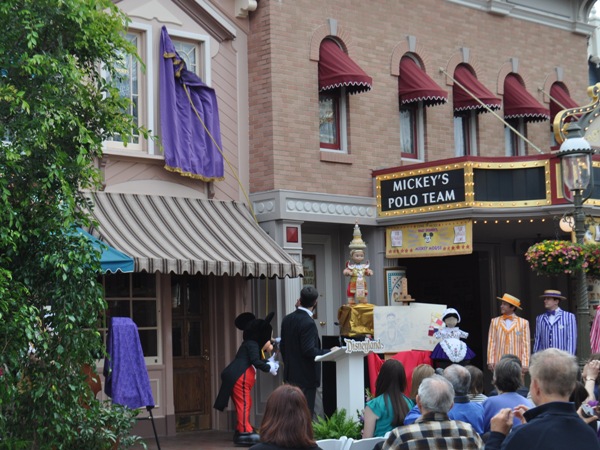 After the reveal, Alice spoke about how she would walk by Marc's window, see that the one next to it was still empty, and then confessed that she always hoped that her name would be there one day.    It was truly a touching sentiment, knowing that now their names would be together for generations to see and remember, especially since Marc passed on to greater projects in January 2000.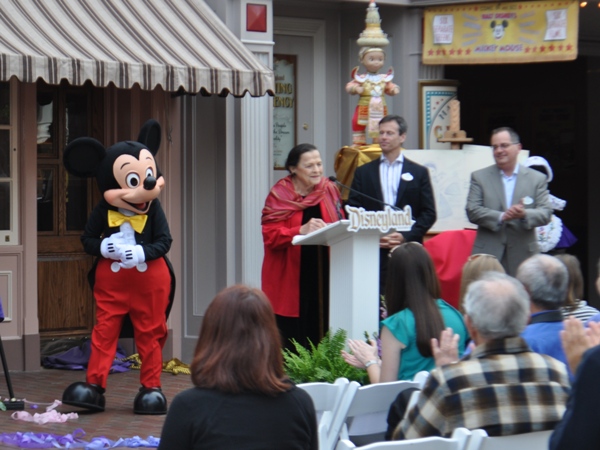 Near the end of the ceremony, Alice was serenaded with a rendition of  When You Wish Upon a Star by the Dapper Dans.  Touching, because (as I mentioned above) this is her favorite of the Disney songs.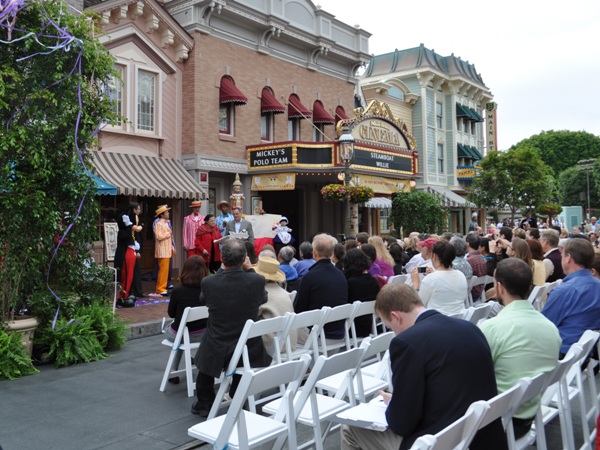 If you want to see the new window, you'll find it next to her husband's, above the entrance to the Disneyana shop, on the castle side of the Main St. Cinema.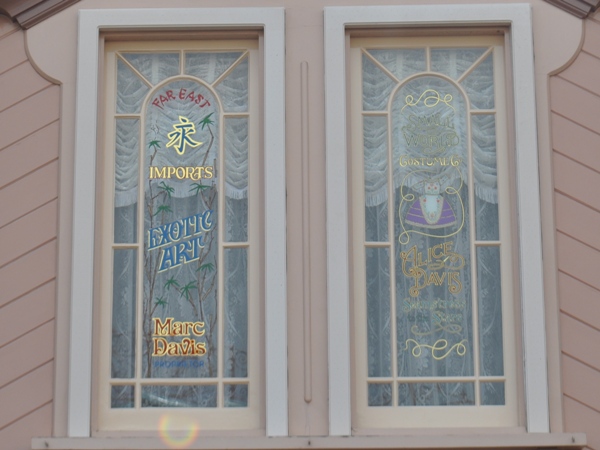 The window features that same beautiful Hungarian dress and bears the inscription:
Small World
Costume Co.  
Alice Davis  
Seamstress
to the Stars
Photos by T. Bell and N. Johnson
Category: Disneyland, News
Disneyland Podcaster for the DIS Unplugged