This post is the story of Shelly Ehler, a mom who came up with a great idea and followed through with her dream!  The following is Shelly's description of her journey from ABC's Shark Tank straight to Walt Disney World.
——————————————————————————————————————————————————————————————
I thought of the idea for my children's towel one day when I was at the pool with my two sons.  When it was time to leave and they wanted to change into their dry clothes, my oldest son asked me to make him a "tent" to change behind in privacy.  While I was holding his "tent," my little guy wanted it to be his turn and it got me thinking that I wish there were something to put over them so they could change on their own.  That night I slept on it and by morning the ShowNo towel was born.  I made my first prototype the very next day and my kids LOVED it!
Image: One of Shelly's first prototypes at home
What I realized is that although I originally thought of it as a "changing towel," ShowNo is really so much more!  It's the perfect bath towel that kids can use to dry off on their own.  It's a great cover up that kids can wear to the pool or beach to keep them warm from the breeze and protected from the sun.  It's a wearable towel that kids can wear instead of Mom having to carry it.  It also lays completely flat for use as a regular towel! I knew I was onto something big…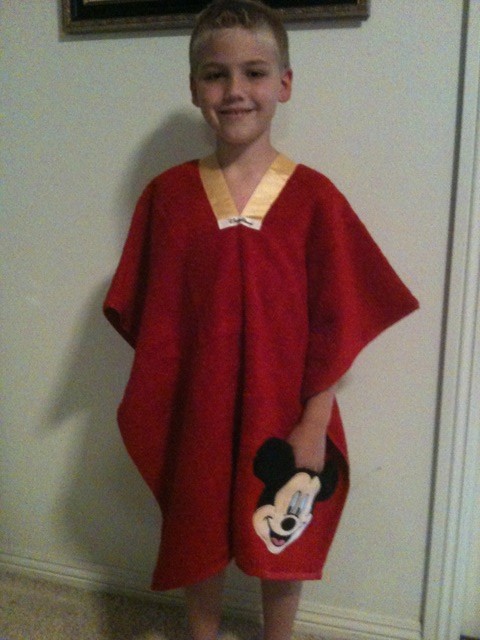 Image: Shelly's son trying out one of the first Mickey towels
I started making them on my own and selling them at home parties.  They were a huge hit!  I knew I needed to set my sights higher and came up with the idea to market them to water parks.  I figured out how to print the park's logo on the ribbon trim around the neck making it the perfect souvenir!!  I went to the World Water Park Trade Show with this idea and off we went!  I was terrified because I knew I had a great idea and knew it was going to explode, but had no idea how to make it happen.  I knew nothing about manufacturing and had no money to hire anyone to help me. My husband and I were small business owners to a company that was not recession-proof and we eventually lost our business and home.  It was a very difficult time.  The voice of my head would say, "You are a fool.  You don't know what you are doing.  You have no money, connections or resources.  It's too hard.  Get a real job!"  The voice of my heart said, "Forget that!  You dream the dream.  You believe it.  Not a little. All around.  Without one single doubt.  That's your job.  I'll take care of the how."
Image: Disney ShowNo towels on sale at Walt Disney World water parks
Thankfully I listened to the voice of my heart!  I decided to follow that voice in faith and within a few months I had my towel on The Today Show, started selling to major theme parks such as Legoland, Six Flags Hurricane Harbor and Raging Waters and was cast on ABC's Shark Tank!!  The show features several people with ideas for new products or businesses and we have to pitch our ideas to a group of investors (sharks).  If they like us, they choose to invest in our product!  I had 3 sharks fighting over me, and chose to take an offer from QVC's Lori Greiner (inventor of retail items who is referred to as the "Queen of QVC").  She handed me a check on the spot (that's never been done before!).
Video clip: Shelly on "Shark Tank"
Within months Lori and I got a deal with Disney Parks and I feel like I'm living my happily ever after.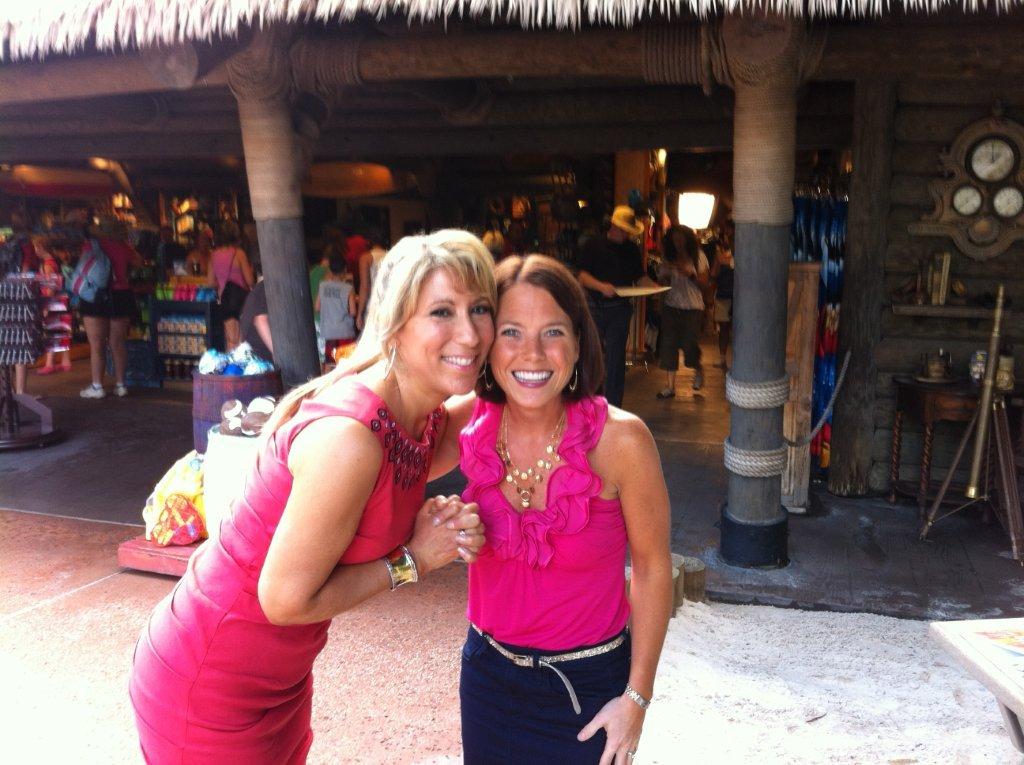 Image: Shelly and her "shark", Lori Greiner at Typhoon Lagoon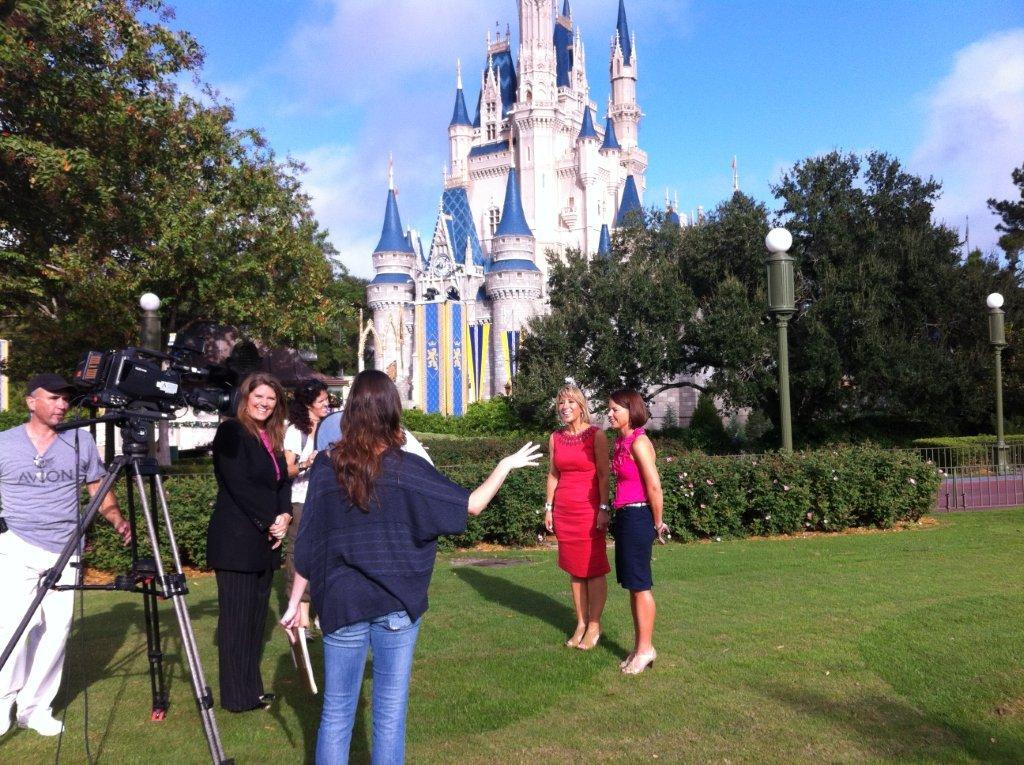 Image: Shelly and Lori filming a "Shark Tank" follow-up in front of Cinderella's Castle at Walt Disney World
It really is quite amazing.  The thing is, the voice of my head was right.  I had no money or connections or idea what I was doing, but I had my FAITH.  I believed in absolute faith and in that faith, Shark Tank became my how and Lori became my how!  It really is a miracle and I don't know if I'll ever get over it!
——————————————————————————————————————————————————————————————–
ShowNo towels are available at Walt Disney World's water parks Typhoon Lagoon and Blizzard Beach. They are currently for sale on the Disney Store online, but will only be available until Thursday, May 10.
Full Disclosure: The DIS has no financial relationship with Shelly Ehler or ShowNo towels, we just think they're a great product!
Category: Disney World, Editorials
Leah grew up in a little farming town in Illinois, right on the Mississippi River. Her Chicago-born husband, David, left the city for her, and they're now raising their three children (Jacob, Jonah and Lydia) just 12 miles from her hometown. As the Senior Editor of the DIS (wdwinfo.com), Leah spends a lot of time writing about, reading about, and discussing Disney. So, it should come as no surprise that one of her family's favorite ways to spend time is going to Walt Disney World and traveling on Disney Cruise Line. She also enjoys shopping, watching movies with her husband and doing crafts with and for her kids.