When most of us arrive at Disneyland, we get through the turnstiles, take a picture at the Mickey flower bed, head through the tunnel under the tracks, make our way up Main Street and are on our way as quickly as possible.  We go from attraction to attraction, having tons of fun to be sure, but still with the goal of simply heading from one attraction to another, one destination to another, throughout the whole day.
But have you noticed some of the things you pass along the way?
I want to take you on a little tour and point out some of my favorite things that maybe you've overlooked or not seen how really interesting it is.  They are everywhere.  So let's stroll through Disneyland and find some of the things that maybe you haven't noticed.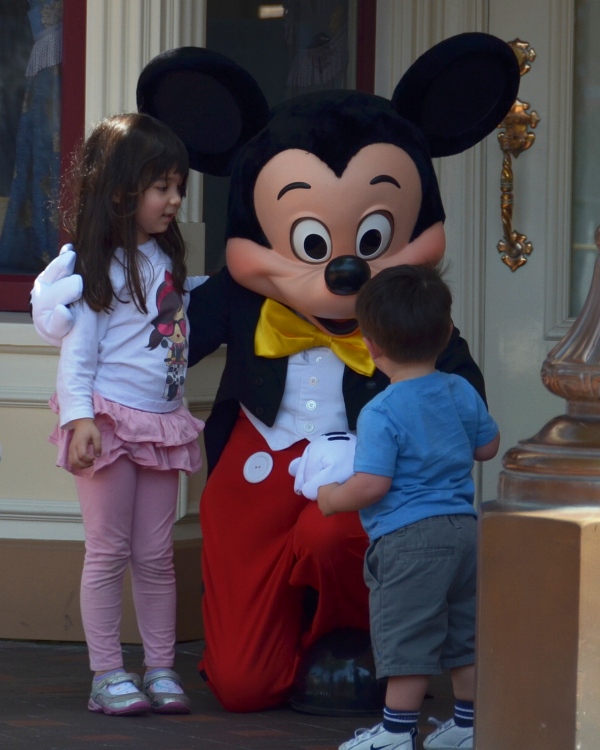 One of the things we love about Disney Parks in particular is their attention to detail and the "fully immersive experience" that we all love when we're there.  But have you noticed what makes up those things?  Have you noticed some of the things that you pass by every trip?  It might be part of the background, or you might find something in some remote less traveled corner, or it just might be something you pass every visit and just never taken the time to really see what is there.  Have you noticed that?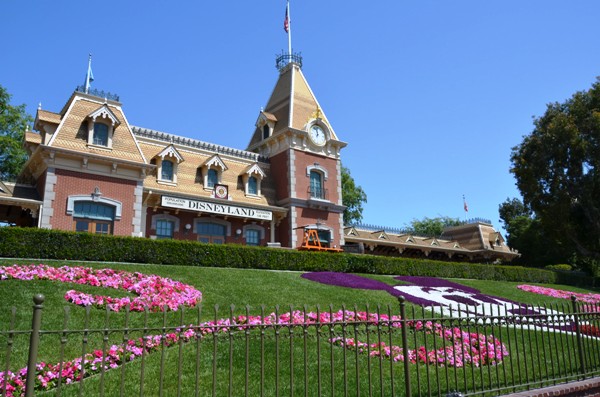 Have you noticed: Mickey's Flower bed.
The first thing is right at the Mickey flower bed.  Have you noticed that the flowers change regularly?  Maybe not if you visit every week, but with each season the Mickey flower bed changes to something appropriate.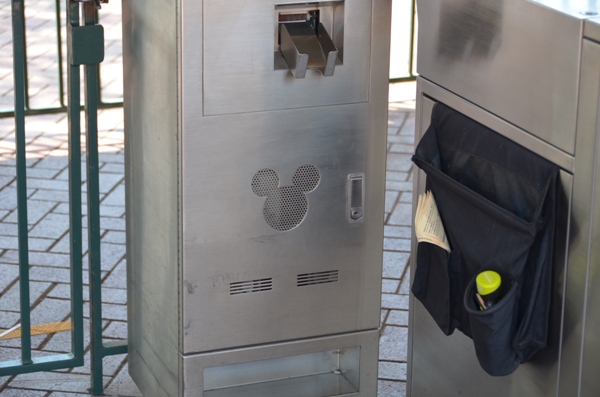 Have you noticed: Hidden Mickey in the ticket podium.
Go just inside the turnstile, but before you go too far, turn around and look at the ticket scanner podium.  There is a little air vent toward the bottom in the shape of a Mickey head.  Many say that this is a "Hidden Mickey".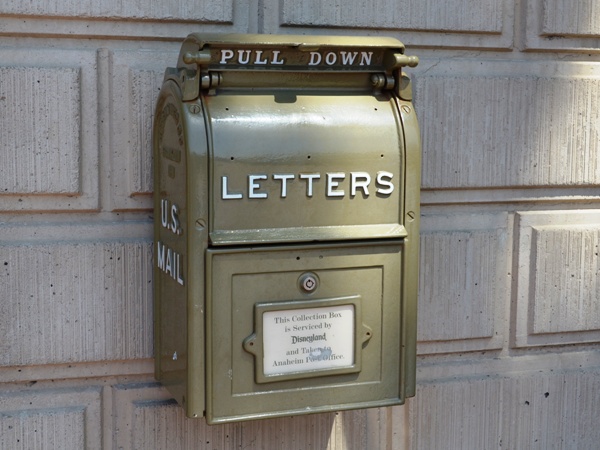 Have you noticed: Disneyland mailbox.
Now head to the left railroad track tunnel, but stop before you go through.  Look to your right.  You will find an old style mailbox.  Have you noticed that or wondered if it's just part of the scenery?  Well it is a real mailbox, operated by Disneyland.  And all the mail that goes inside is taken to the post office.  It's for your post cards and letters to friends.  They used to cancel your postage stamp with a Disneyland mark, but I'm not sure if they still do that.  I'll have to try it.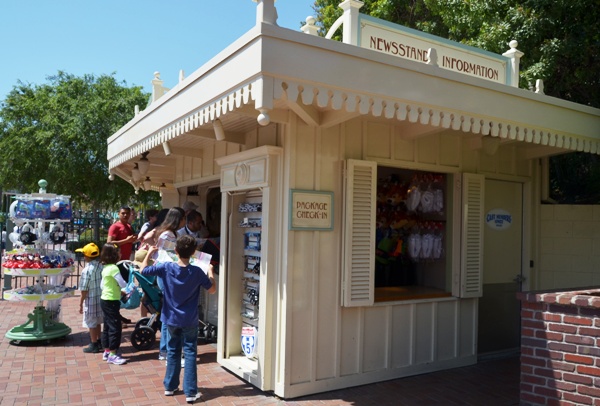 Have you noticed: Package Check-In at the News Stand.
Now turn around.  See the newsstand.  Just souvenirs right?  But have you noticed the little sign that says "Package Check-In"?  Well this is a little known and seldom used service that's available to everyone.  Have you ever bought that big plush or a whole bunch of kitchen souvenirs and didn't want to carry them around all day?  Well you can take your package here and they will hold it for you all day until you are ready to leave.  And you don't even need a locker.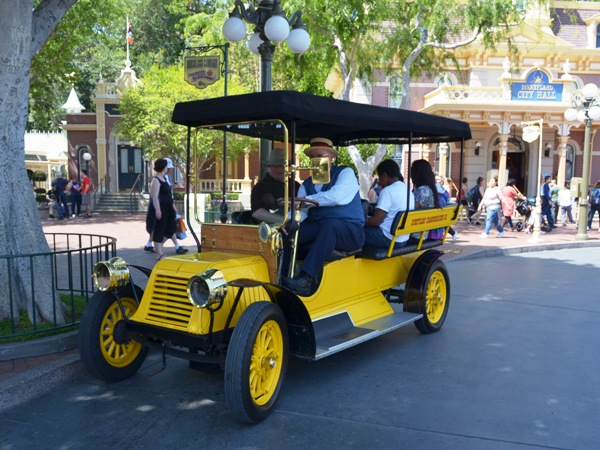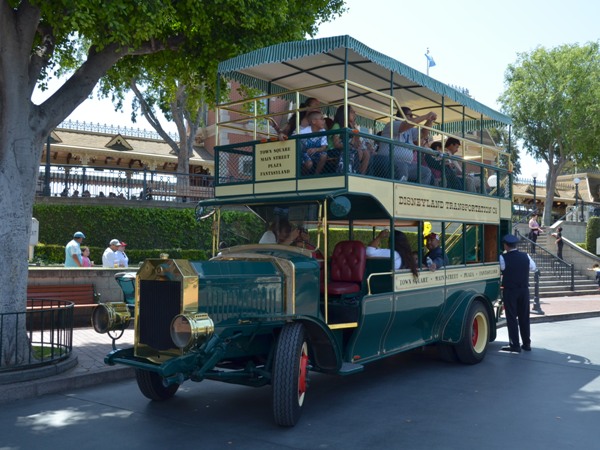 Have you noticed: Many different transportation vehicles on Main Street.
Ok, go through the tunnel and onto Main Street.  Early in the morning, usually until about noon, you have many ways to get up Main Street.  Walking is fine, and the horse drawn trolley is a Disneyland icon.  But have you noticed the fire engine, or the old time surrey car, or the Double Decker bus?  Have you ever ridden on one of these?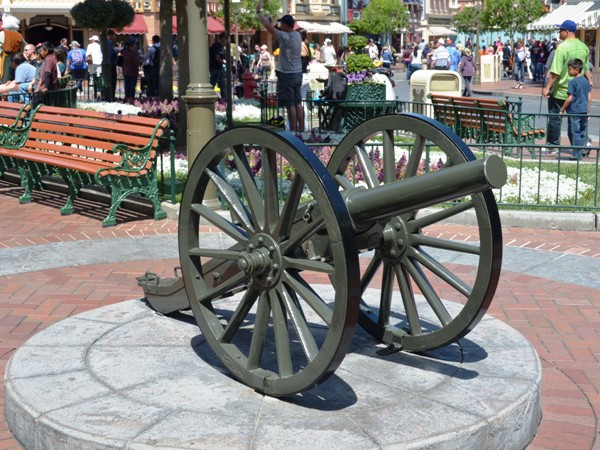 Have you noticed: Cannons in Town Square.
In Town Square, just on either side of the flagpole, you will see two cannons.  Have you ever noticed those?  Ever wondered why they are there?  Well many central city parks contained some kind of monument to the service men from that town.  The cannons that are displayed in the center of the Disneyland square were used by the French army during the 1800's (although they were never fired in battle).  I'm not sure how they wound up at Disneyland, but they do add to the midwest town feeling.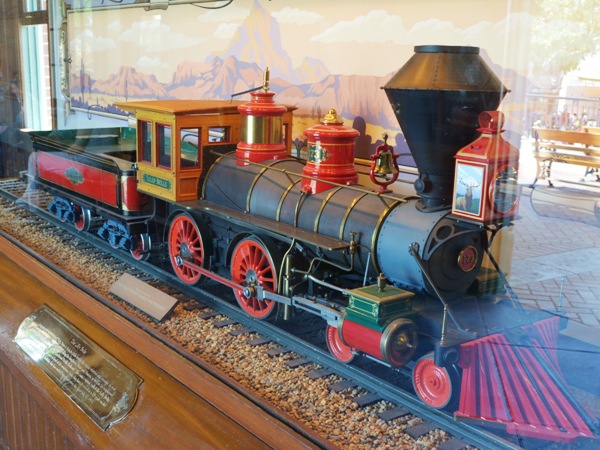 Have you noticed: Walt's Lilly Belle locomotive.
All of you know that riding the Disneyland Railroad is always my first attraction.  Head up to the Railroad Station and go inside.  Just in front of you, in the display case, is a small steam locomotive called the "Lilly Belle".  This display used to hold Walt's original model train from his collection that he ran in his backyard.  In the late 1990's, the Disney Family requested that it be returned and is now on display in the Walt Disney Family Museum.  This is an exact duplicate and sometimes called the "Lilly Belle II".  For Disneyland visitors, you can get an idea of what these model trains were like.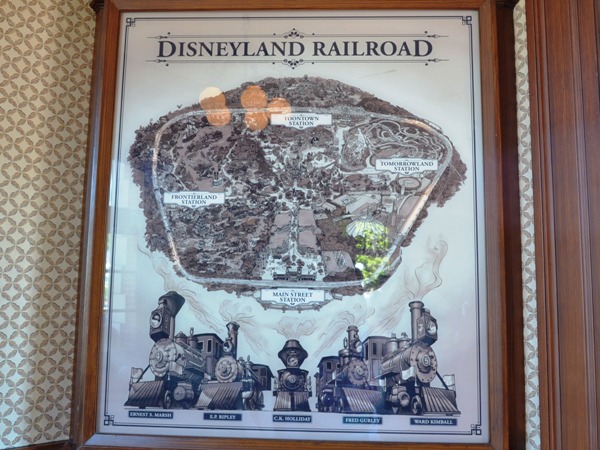 Have you noticed:  Map showing the current location of all Disneyland railroad trains.
Turn to your left and look for the poster map of Disneyland.  Looks like just a map of the park, right?  Look a little closer.  The map shows trains running around the park.  And some of the trains are lighted.  The map is showing the actual position of each train around the park.  The lights change as the trains move from station to station.  You can see how many trains are running that day and how far away the next one is.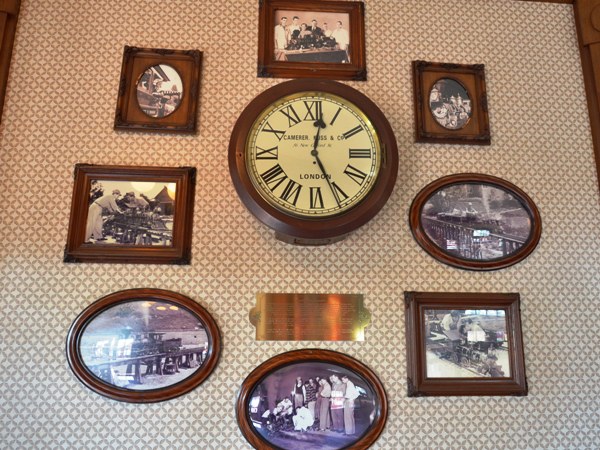 Have you noticed:  Pictures of Walt's backyard trains.
There is also some cool railroad memorabilia in the display cases in the station and some great pictures of Walt with his backyard railroad.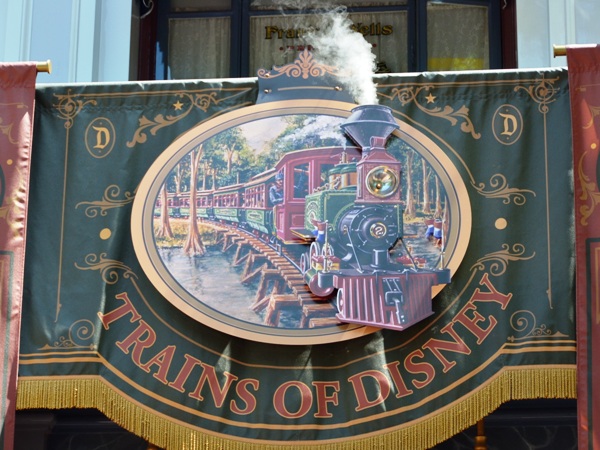 Have you noticed:  Steam coming out of the locomotive picture.
Over at the Disneyland Gallery they are still showing the "Trains of Disney" exhibition.  Look up at the entrance sign to the gallery.  It shows a dimensional picture of one of the trains.  Have you noticed that every once in a while the steam locomotive in the picture starts smoking?  It's a nice effect.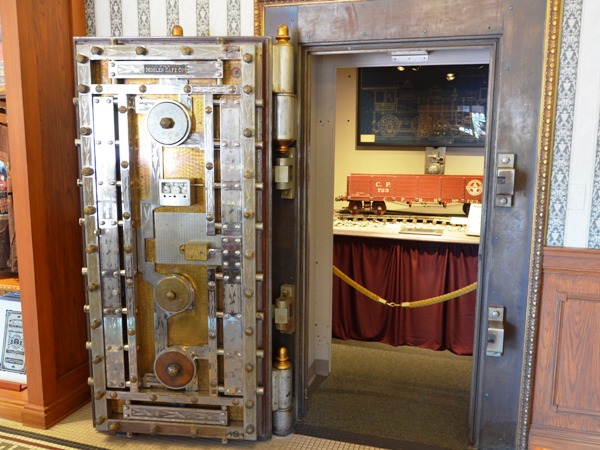 Have you noticed: A real bank vault from 1904.
Inside the gallery you will find a real bank vault.  When Disneyland first opened, this building was a real working bank.  Walt located an early vault from about 1904 and had it installed.  It is still there today.  Inside you often find very special or rare Disney displays from the gallery exhibit.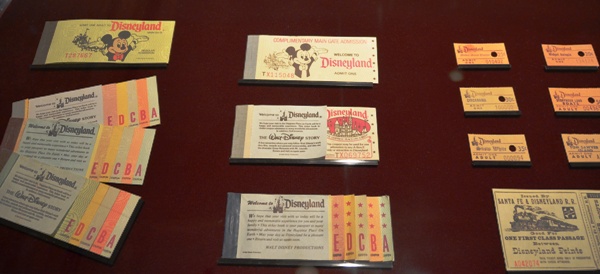 Have you noticed: Disneyland ticket books.
Next door in the lobby of the Mr. Lincoln show there is a display case with a lot of Disneyland printed items including old ticket books.  We have often talked about E-Tickets or even A, B, C, and D-Tickets, but have you ever seen one?  They are all here.  And yes, when I first started going to Disneyland I had to purchase ticket books and use each individual ticket on the attractions.  (I was so glad when passports were introduced.)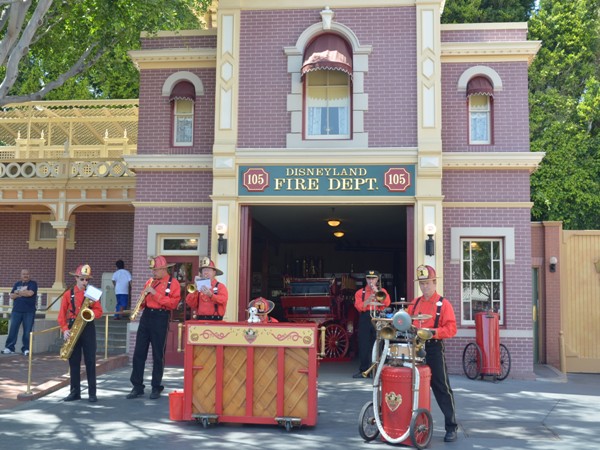 Have you noticed: Fire House band.
I'm sure that most of you know about the Fire House.  Have you noticed who hangs out in front from time to time?  The Fire House Band often plays in the mornings and they put on a very entertaining show.  They even have their pet Dalmatian (I wonder if he has 100 brothers and sisters).
And of course we know whose windows those are above the Fire House, right?  But have you noticed the little patio to the left (with the yellow fencing)?  That was Walt and Lilly's private patio where Walt could watch the activities in Town Square.
Have you noticed: Windows of Main Street.
Before we leave Town Square, look up at the windows of the buildings.  Look at the ones on the second story.  See those special windows with people's names in them?  Have you ever read those?  If you are a Disney fan you are likely to start seeing names you know.  For example, Mary Sklar's window is on the left side of City Hall.  On the other side of Town Square you can find the window for X. Atencio, the Imagineer who wrote a lot of ride attraction songs ("Yo Ho a Pirate's Life for Me") and did lots of other things.  There is the window for Walt's dad Elias Disney near the Emporium, a window for Walt himself, and so many more.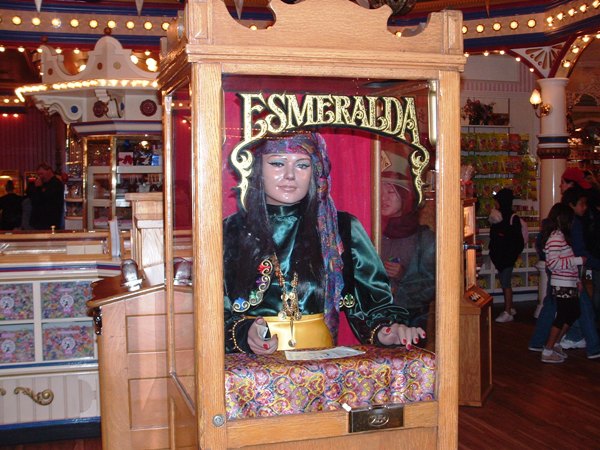 Have you noticed: Esmeralda the fortune teller.
Inside the Penny Arcade there is an old style fortune teller called Esmeralda.  Those of you who remember Disney's Virtual Magic Kingdom (VMK) online video game may also remember that Esmeralda was one of the game's characters (and we used to visit her each time for our daily points).  Well here she is for real.  And for just a quarter she stills tells your fortune and prints it on a little card for you to keep.  In fact, some of her predictions are so surprising… well let's just say that I've kept all her words of wisdom.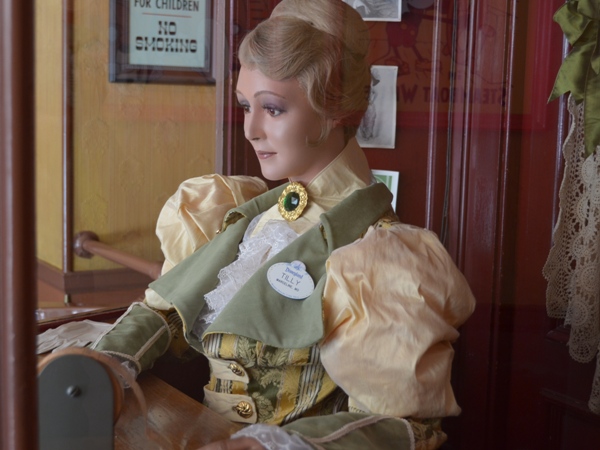 Have you noticed: Tilly at the Main Street Cinema.
At the Main Street Cinema have you noticed who's selling tickets?  Tilly has been tending the theater's entrance for as long as I can remember.  She's dressed in the appropriate attire for those days when movies were only a nickel.  In fact, Tilly seems so real you think she's going to ask you, "How many adults?"  And have you noticed where Tilly is from?  (Hint: Look at her name tag.)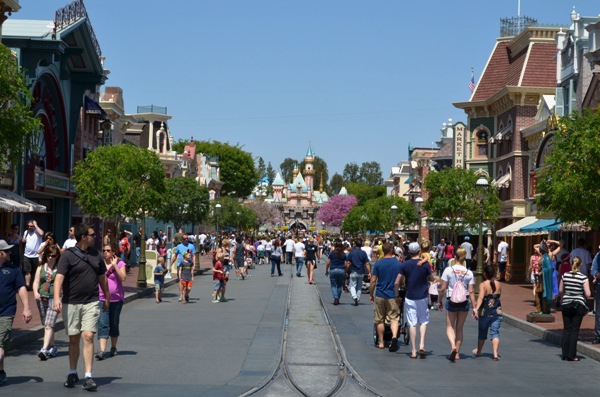 Have you noticed: All the things on Main Street USA.
Well, we could probably spend half the day on Main Street, and we have so many other areas to explore.  But as Mickey used to say, that's all for now folks.  But don't worry; we'll continue our little tour in my next segment.
There are so many wonderful things that you pass everyday.  The next time you're at Disneyland, take a look at some of the things along the way.  You will probably find something you've never seen.  It's easy to do.  Pick any spot, any direction and you'll find something unusual or interesting.  Have you noticed?
Category: Disneyland