We think of a vacation to Disneyland or Walt Disney World, or even Universal Studios Orlando as being a busy one.  We find ourselves rushing from one attraction or experience to the next, only to wait in a long queue line when we get there.  The summer heat or winter rains, the time constraints we give ourselves in our planning, and the constant stimulation the parks provide are enough to frazzle our nerves, drain our souls, and cause us to really question why we thought that we could do all of this and not kill our loved ones by the end of it.  Alas, there is an oft forgotten option: the chance to redeem and restore ourselves is only a phone call away – at the spa.  Now, not every Disney Resort has a spa available, but those visiting Disneyland, or the main Orlando theme parks, have an option – the Mandara Spa.   With three theme park resort locations – in Disney's Grand Californian Resort and Spa, the Swan/Dolphin at Walt Disney World, and the Portofino Bay Hotel at Universal Studios Orlando, this is certainly a viable option for planning some serious personal downtime into your vacation.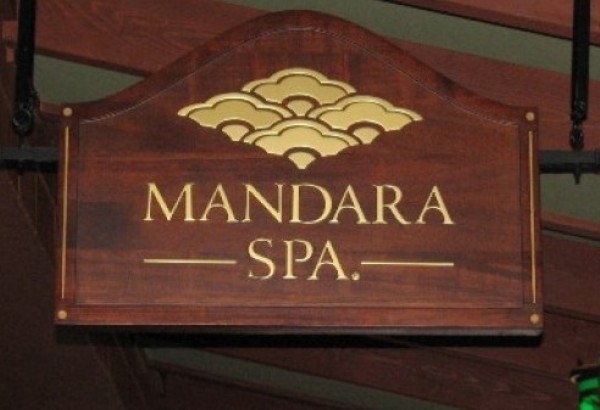 Mary Jo and I felt that we needed some pampering and decided to head over to the Mandara at Disneyland to check things out.  While I am a seasoned spa aficionado, this was Mary Jo's very first experience with one.  Therefore, we thought it would be fun to approach this blog with two completely different perspectives!   As you go through the blog, Mary Jo will discuss her experiences in the "Novice:" sections and I will cover things with the "Aficionado" in mind.
Let's start at the beginning.

Selecting your luxury
This is probably the most important part of a spa visit.   For a novice, the biggest challenge is to figure out where you start and for the pro, the challenge becomes an adventure.  Good advice for beginning a spa experience is to first identify what you want from it.  This includes what you want to accomplish, how you want to go about achieving that goal, and how much will it cost you to indulge yourself.
You have several tools at your disposal to begin the process – the most important of which is the Spa Menu and Pricing Guide.   Usually broken into categories, the menu outlines the spa's offerings: including massages, facials, and "Signature Services."  Keep in mind that Mandara is one of those spas that doesn't disclose its prices in the main body of their menu.  This is fairly common in the high-end spa industry, so you shouldn't be put off by it.
Novice:  How do I decide what to choose? If you've never experienced a spa, it can be a bit confusing.  It's important to understand what massage and treatments do that benefit your body.  Massage and body wrapping focus on kneading or rubbing the muscles and applying oils and herbs to stimulate the body's lymphatic systems – the natural pathway that helps to drain our tissues of waste products and toxins.   Scrubs and polishes help exfoliate the skin, removing dead cells and encouraging circulation.  Facials are a mix of both of these methods.
In deciding what you want,  sometimes a package special or combination can be a great way to sample a spa's offerings. Often these combinations are fairly expensive, but they cover 4 hours of treatments.   At times, Mandara will offer specially priced packages, which combine a variety of treatments.
Mary Jo: I agree that it is a good idea to have an idea of what you want, but when you have never had a spa treatment before, everything sounds so exotic.  I found a deal through Travel Zoo's Los Angeles Local Deals, that allowed me to purchase 3 different things for $99  (gratuities not included).  When I looked at Mandara's website later on, I realized how good of a price it really was.  I also found out that they sometimes post special offers. and that they are good for all participating Mandara properties.  For my Travel Zoo special, I had the Mandara Balinese Body Polish and Frangipani Nourishing Hair and Scalp Treatment, plus the Elemis Tri-Enzyme Resurfacing Facial  and had no idea what that would entail.  I just knew that I was supposed to feel good when it was done.  Sounded good to me!
Aficionado: Look for services that are unique to the spa you are visiting. Spas are intensely proud of their signature experiences and regard them as the things that distinguish them apart from their competitors and they hope that these will be a draw for new clients.  Well, it works.  Each time I go into a new spa, I buy into it.  I want something I can't get anywhere else.  My theory is that doing a spa's signature experiences is comparable to having the chef's special at a high-end restaurant – you usually won't go wrong.
When I called Mandara, I asked them to tell me which individual body treatments they considered to be their best.   They recommended their Balinese Body Polish.    Since the rest of their signature treatments feature Elemis products  (and, therefore, can be found in many other spas), I went ahead and chose the Body Polish.
I have to say that Mandara Spas have a menu that is consistent from one location to another.  Depending on your viewpoint, this can be good or bad.  If you like variety in your spa, the negative is that there are fewer unique choices at each location.  However, the positive aspect is that once you find a treatment you like, you can get it at almost any Mandara spa.  This means that if I was lucky enough to be at Disneyland on one week and in Walt Disney World the next, I could take advantage of the same treatments in both places.  Good to know!
Making your appointment
For Mandara appointments, you call the spa directly.  They do not offer online reservations.  The number for the Mandara at the Grand Californian Hotel is 714-300-7350.  We found the scheduling staff to be very helpful in answering any questions we had.
Novice:  What should I say or ask for? My best advice is to tell them this is your first time and to not be afraid to ask any questions that come to mind.  They might suggest certain things for you to try.
Aficionado: Ask if there are any unique requirements for their facility. Remember that spa regulations vary by city and state and there can be special requirements.   If you prefer your own spa shoes or robe (because you may have issues with sizing on certain styles), ask if it's okay to bring them.  I didn't see anything at the spa that indicated you couldn't.   You might also want to inquire what styling tools you might need to bring with you, if you have certain desires or personal requirements.
Checking in for Your Treatment
When the big day comes, it's important to arrive early.  Mandara recommends to be at least 20 minutes early, but we would recommend more (maybe 45 minutes) especially if it's your first visit.   This gives you time to visit the check-in desk, fill out any paperwork, ask any questions, and get comfortable before your treatment.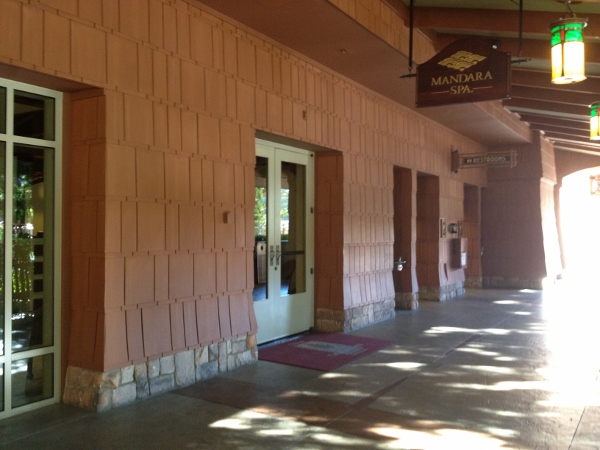 While heading to a comfy chair to start filling out your paperwork, you can't help but notice the design and theming of the spa.  Mandara is famed for the Balinese design in many of their spas and this one is no exception.  You might think that this exotic atmosphere might be out of place in a California Arts and Crafts era bungalow, but surprisingly it works.  Even thought Balinese craftsmanship is more ornate, both artistic styles are about nature and man's communion with it, so the common theme – and the carved dark woods used – go together pretty well.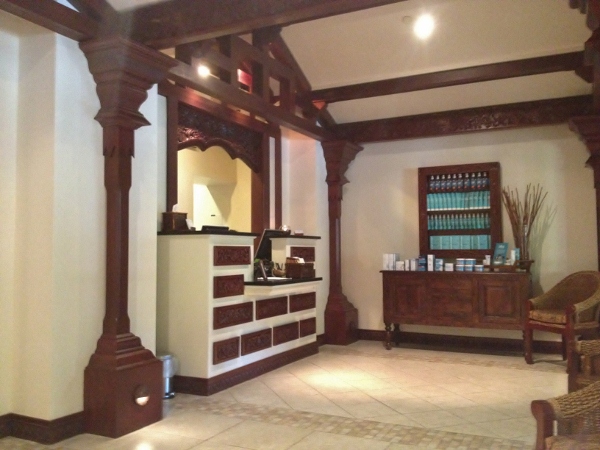 Mary Jo: They recommend arriving about a half hour before the scheduled appointment.  I think that is a good time, and you might even want to get there a little earlier.  I should have asked questions, and am so glad Nancy was there because she knew what she was doing and I kind of followed along.  We had some forms to fill out, and when I got to the waiver in case of injury I just had to go up to the desk and ask them just what kind of injury could I expect to happen?  Once they explained that some people do not disclose the fact that they have health issues, I immediately calmed down and happily signed that form.  Of course, I happily signed it. I was totally clueless.
Novice:  If you are given paperwork, read it, answer the questions fully, and ask about anything you aren't sure of. One thing that is important to know is that Mandara will ask you questions about your medical history – if you have certain conditions or illnesses like high blood pressure, knee surgery, and pinched nerves.  I realize that many people feel that some of this information should only be shared with your doctor, but the therapist is actually performing what is considered a "medical" activity on you.  Think about the sports medicine teams that take care of your favorite sporting teams.  They have a massage therapist as part of their staff.
Once all of the formalities are finished, you'll be given your shoes and take the $.50 tour on the way to the locker room.  It's not a big place, so it doesn't take long.  Immediately off the lobby is the Fitness Center.  While the Mandara Spa is open to everyone, the Fitness Center is primarily for guests of the Grand Californian and those with spa appointments on the same day of use.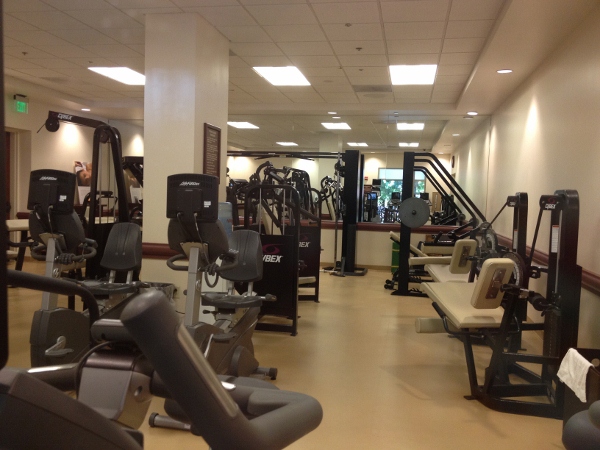 Your guide takes you through a series of carved archways that blend the Arts and Craft (the beam style) with the ornate Balinese carving.  See – told you this actually went together pretty well.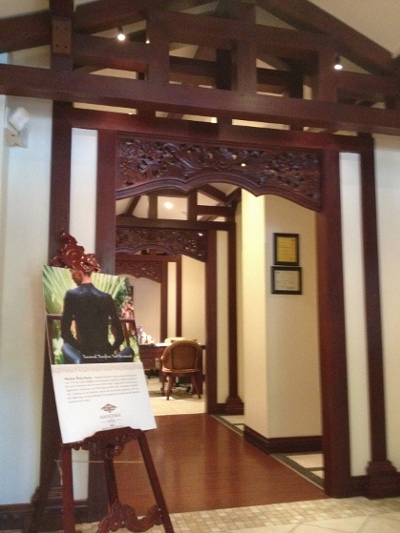 You'll stop briefly at the entrance to the Relaxation Room and be told of its offerings – but we'll go into that more later.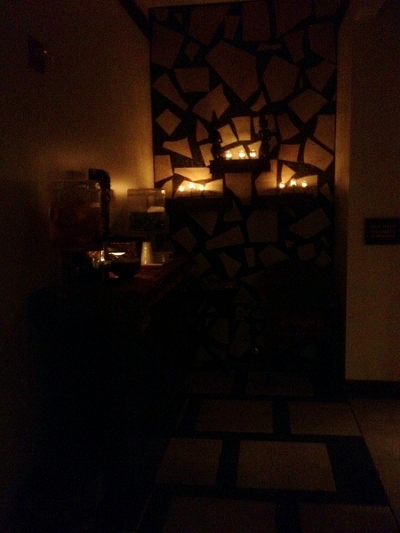 Finally, we enter the locker room.  It's not too much different than any spa locker room, with the exception of space.  This little area can get a bit crowded.  You have been given your shoes before the tour and are now instructed to find any locker with a key in the lock.   Inside, your robe will be waiting.
Aficionado:  The robes provided at Mandara are one-size-fits-most, but I found them to be good only for those wearing up to an X-Large.
As you can see, the locker area is where you can pick up additional towels and washcloths, as well as sundry supplies like razors.  The towel, robe, and shoe bin is also located in the same hutch, as shown below.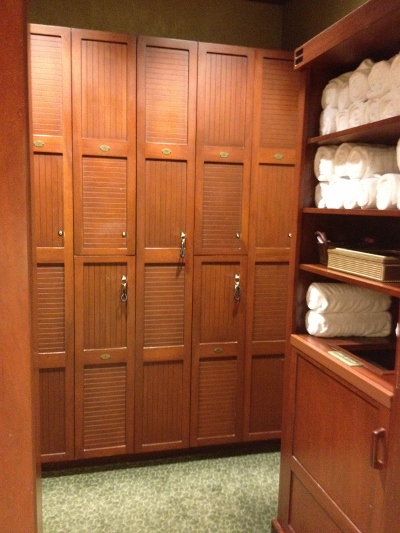 Novice:  Are there places I can change if I am not comfortable in front of others? There are two areas that are good for changing – in the restrooms or in the dry ante-chamber of the shower.   It's only fair to warn that there will most likely be people in various stages of undress in the Locker Room – especially in the Steam Room and Sauna, as these treatments are most effective in that state.  You may wear a robe or towel in these areas, if undress is not your choice.
Mary Jo:
Being clueless, I had no idea what I was supposed to do, but Nancy very matter of factly let me know my choices.  And there came my big dilemma – to completely strip or not?  I was pretty much against that idea, but once I showered down I decided what the heck, and decided to enjoy the whole spa experience as it was supposed to be enjoyed. I donned my robe and the slippers that they gave me and made my way out to the waiting room.
As you can see, everything in the locker room is easily accessed.  The showers are on the left, restrooms on the right, and steam and sauna at the end of the corridor.  You have the option to take a quick shower before your treatment begins – my personal preference.  I feel like the shower makes for a nice transition from the bustle of the parks outside to the quiet that comes once you step into the spa environment.   A quick visit to the steam room or sauna after that shower is another way to start things off on the right foot.
Aficionado: One of the ways you can tell a conscientious spa is by the placement of hydration and iced towels near the entrance to the steam and sauna rooms. Since these two rooms work with the body's natural detoxification through heating the body, opening pores, and producing a cleansing sweat, it is important to keep drinking fluids to keep yourself from dehydrating.  Like any good spa, Mandara also provides a bucket of iced cloths to help you to regulate your body temperature during the steam and sauna.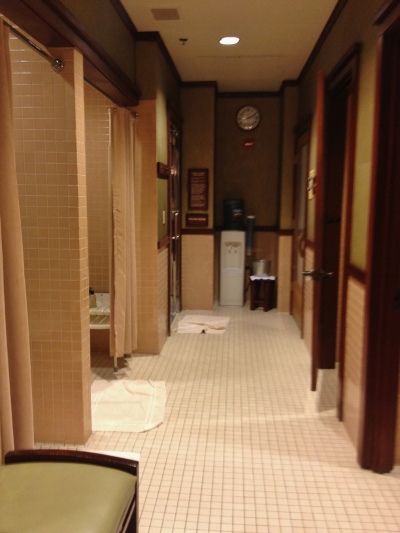 When you feel you are finally ready to meet your therapist (and  your ever-so-critical appointment time), you head to the Relaxation Room.  This dimly lit space, with silk and satin pillowed couches, and soft music serves several purposes.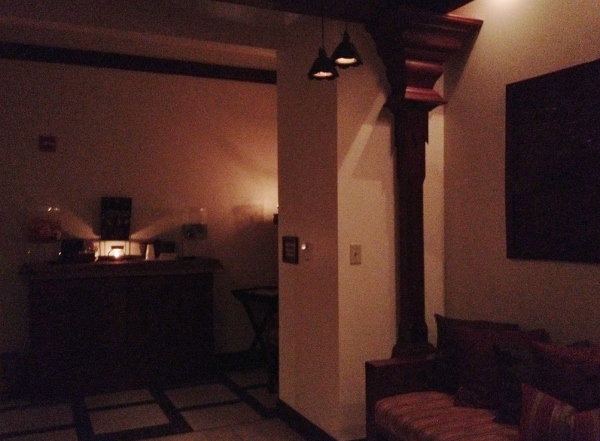 You have the choice of spending as much or as little time in the Relaxation Room as you want.  Many people simply pass through this area to begin or end their treatments, or grab a quick bit of replenishment – in the form of either herbal tea or cucumber water and pieces of fruit.
Aficionado: Just as it is important to keep hydrated in the steam and sauna, a snack of fruit and additional beverages help the body after massages and treatments. Massage and many off the treatments work to stimulate your body's natural cleansing pathway – your lymphatic system.  This part of the circulatory system helps remove waste and toxins from between your cells and tissues, to balance out the fluid levels in the body.  Drinking liquids and upping your blood sugar levels helps replenish what will be lost from the boost that your metabolism gets from the massage.
Mary Jo: I was immediately offered a drink of either lemonade or cucumber juice.  I chose the cucumber juice, and it was so refreshing.  After the drink I sat and waited, and waited.  I was rapidly coming to the realization that you simply do not rush spa treatments.  Note for future reference, plan a LOT of time around a spa treatment to get full enjoyment.
I also like the cucumber water, enough that I make it at home occasionally.  Mostly, I choose to snack on the bananas for the added potassium, but I have to admit, Mandara had some of the largest apples I had ever seen!
Novice:  I notice that there is only one Relaxation Room.  Does this mean everyone uses it? The answer to this is, yes – it is co-ed.  If you are waiting for your treatment and are uncomfortable waiting out here, you may come as close to your time as you need to.  The therapist will be there waiting, but not hovering.  If you find you are waiting longer than you think you should be, you might want to inquire – there are no clocks in this area.
Mary Jo: After my massage, they took me back to the waiting room to wait for the person doing my facial.  I waited quite a while, until the girl who did my massage walked by and saw me, did a double-take, and then looked very, very surprised!  I waited a bit more after that.  From her expression, I guess my original person was assigned to another guest and somehow there was a gap in communication, because I saw the girl who came to get me for my facial walk another person to the waiting room and then disappear for a few minutes before she came and introduced herself to me.  No one officially apologized for the delay, but they were so pleasant and nice to me that I didn't mind too much and didn't say anything about the delay when I was done.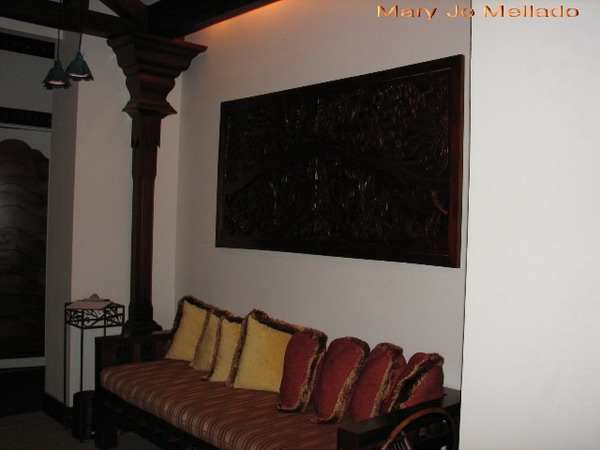 Aficionado:  When your therapist comes to get you is the perfect time to let your therapist know if you are a first-timer or experienced spa-goer. If it is your first time, a good therapist will try to help you reduce your anxiety and let you know that if you are uncertain about something happening during the treatment, it's okay to ask questions.  Therapists like to educate guests on their treatments and the body's response!
While you chat, you're being led into your treatment room, which contains a treatment table, a sink, and cabinets filled with all of the therapists tools of the trade – lotions, potions, and extra blankets.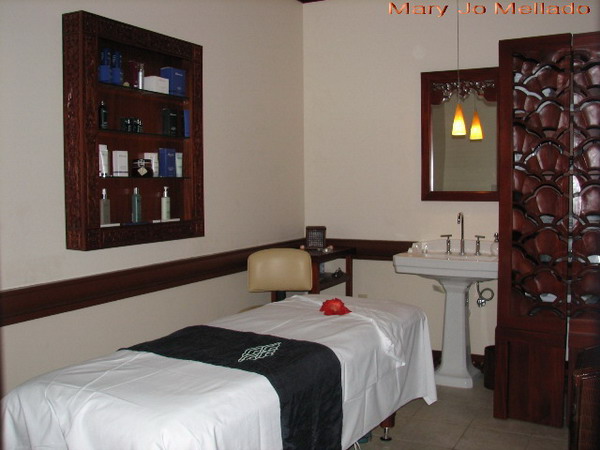 While a flash photograph helps to identify the look of your treatment room, it can't convey the mood that the room brings when you enter it.  You won't always find a flower on your table (I didn't), but you will find the room to be inviting, with soft music, dim lighting and a cushioned treatment area, as the couple's room below is.  This is where the therapist will give you initial instructions and momentarily leave you to disrobe and climb under the sheets in preparation.
Novice:  Do I have to be naked to have my treatment? Most spas leave that up to your personal level of comfort.  It's good to know that in some treatments, oils or lotions are used that could permanently soil underclothing or swimwear, or interfere with the therapist's work – such as in upper back/spinal massage.

Aficionado: When your therapist re-enters the room, this is your chance to also evaluate your surroundings and let the therapist know your preferences.  Are you too cold?  Is the music too loud or too soft?  Do you want the therapist to chat with you, or just do their job silently?   Good communication is important in making your experience live up to the expectation.
I know that sometimes I should take my own advice, but I must admit that I actually did not voice myself when I had my Balinese Body Polish (and I wish I had).   My Balinese Body Polish was quick the sticky experience and after my therapist finished my back and had me roll over, she continued to keep me covered with the same sticky sheet – which had become a bit cold.  It would have been nice to have been given a fresh, clean sheet and possibly a blanket to keep in my body heat.  When talking to Mary Jo afterwards, I found out she actually had the experience I was expecting from my therapist.  I felt that I should have been offered a new cover sheet, I never said a word to make myself more comfortable – lesson learned!
Minus that one minor issue, my therapist still was pretty amazing.  I was definitely not expecting such strong hands from such a small woman!  I appreciated her skill and the massage portion of my treatment was definitely in the same quality range as other high-end massages I have had.
Mary Jo: The therapist led me to the massage room, and indicated that I should disrobe and get between the sheets, laying with my head face down.  She left the room so I could do so. (yes I was relieved.)  I quickly got on the bed and lay down.  Now, you lay your face in this oval holder.  I felt pretty silly and a little vulnerable just laying there.  She soon came in and told me she would be giving me a polish and massage.  She was so kind and quickly put me at ease.  One of the things I liked was that she was very sensitive to whether I wanted to talk or not.  Sometimes we chatted, and she was very friendly, and sometimes we were quiet while I enjoyed her ministrations.
She was also very efficient, only uncovering the parts of the body that would be massaged.  She obviously knew what she was doing, and so I was able to relax and enjoy.  And enjoy I did!  She first washed my feet with wet, very warm towels. She then used this sugar scrub all over my body.  It felt so good.  She then massaged me with body butter. When she had me lay on my back to continue the massage, she put cucumbers on my eyes.  This was good, because I didn't have to worry whether I should keep them closed or open and the cucumbers felt good.  I had heard that people did that, but had never tried it myself, so it was a nice surprise.
So, I was laying there with the cucumber on my eyes, getting massaged and pretty much loving life, when all of a sudden I felt this warm liquid being put on my head and her fingers starting to give me a scalp massage.  My first thought was, "YIKES, I didn't know they were going to put something in my hair!" But that thought very quickly turned to, "Oh my gosh, this feels wonnnnderful."  When my daughter, Kelly, was younger I used to bribe her to brush my hair, but she grew out of that, and it's been a long time since my head has been pampered thus.  I really enjoyed it.
At the end of the massage, she slipped my slippers on my feet, and let me know she would be outside while I put my robe on.  I quickly put my robe on and waited for her to come get me.  After what seemed like quite a few minutes I started to open the door, but then thought maybe I wasn't supposed to, and closed it again.  After a few more minutes, I got a little braver and poked my head out.  She was waiting there with a smile for me. (Like I said, I was clueless.)
I really enjoyed the body polish and massage, but I LOVED my facial.  She looked at my coloring and pores, and decided on a mask that would be good for me.  I don't remember if she massaged my face first or put the mask on. I do remember that it felt really, really good.  She also massaged my arms, hands, and chest.  I was surprised when she massaged my chest, but in reading the description of this facial it says it includes a hand, arm, décolletage, and scalp massage.  Yes, I had another scalp massage!  I was in heaven.  This time I knew to open the door and step out when I was ready. She led me to the ladies' room and left me to get cleaned up.  I took another shower and this time I washed my hair because there was a lot of oil in it.  I almost wished I had left the oil in, but there was a lot.
The one thing that both Mary Jo and I agreed upon was that it was a sticky and chilly walk all the way back to the locker room to shower.    Unfortunately, this is a design flaw of the space, limited by the fact that this hotel wing was not designed with a spa in mind.  Had they been able to change the plumbing constraints, they might have been able to place showers in one or two of the treatment rooms.  We were each given clean robes and towels, to use when showering off the remainder of the scrub.
My biggest complaint about the locker room design was the fact that the bathroom stalls had the robe hook placed at the top of the door.  While you may not think this is a big deal, look at the photo below.   I could barely reach the hook at 7 feet high!  I felt bad for Mary Jo, who is a bit shorter than I am.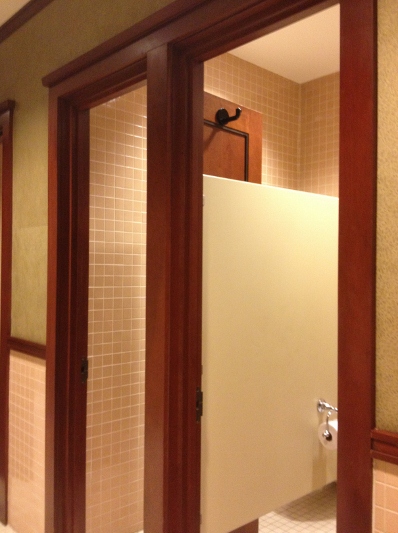 When you make it back to the locker room, take time out and use that sauna before showering (providing you don't have any of the conditions listed on the sign next to the door).  It will help the moisture really soak into your skin and you will feel happier for it.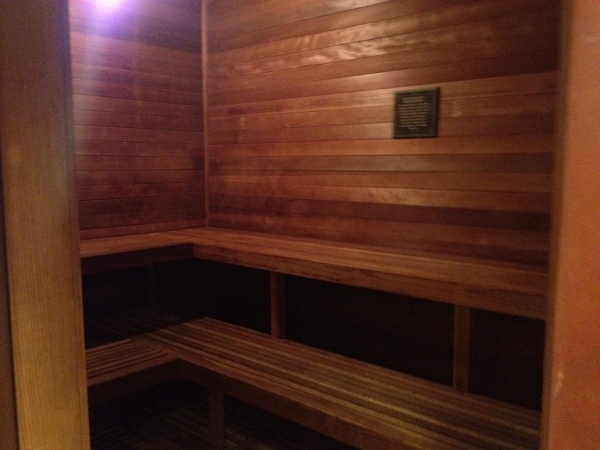 After your sauna is complete, it's time to change back to your clothes and reenter the waiting world.  To help you become your "public self," any spa worth their salt has a full contingent of specialty products on their grooming counter, as well as a set of styling tools.   Most items needed for post-treatment grooming, were available – including shave cream, facial products, mouthwash, lotions, and the like.  While the line of products was wonderful (I tried all of them), the only hair grooming tools provided were brushes and combs.   Many spas usually provide more, but if you must use a hair dryer, curling iron, or flat iron, you'll need to bring them to Mandara with you.
Mary Jo: Although the ladies room has shampoos, conditioner, and facial cleansers, etc., one thing I didn't see was a blower dryer.  I could really have used one before going outside.  Since I wasn't going to a restaurant or anywhere special, I decided not to worry about it.  But, I think if, I mean when, I do this again, I'll either leave the oil in my hair, or I will take a blow dryer to dry it.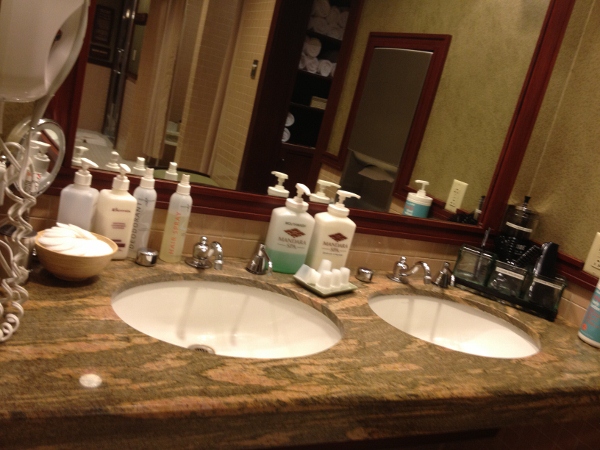 There was one area of the salon that neither one of us took advantage of (although I REALLY wanted to) and that was the salon for manicures and pedicures.   They also use this area to display the higher-end products they use in treatments and facials.   The decor of this room tries to make an otherwise industrial area look and feel like something more, by way of the carved Balinese woods and wicker.  As I poked around, I was impressed with how clean and organized the area appeared.   If you normally hit your local nail joint, you know what I mean.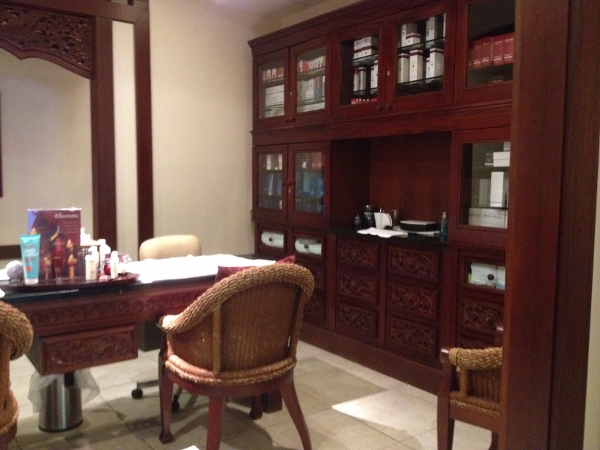 Even the polish bottles are discreetly displayed, so it doesn't look like a "shop" – that's the LAST impression you want a high-end spa to give you.   It should be all about you and not all about the "stuff".
I also found that it was thoughtful that they included additional seating, as spa-goers tend to be in pairs and clusters.  One person may be sitting around while another is finishing something up – especially with mani-pedis!    I think this area might need further exploration on another trip…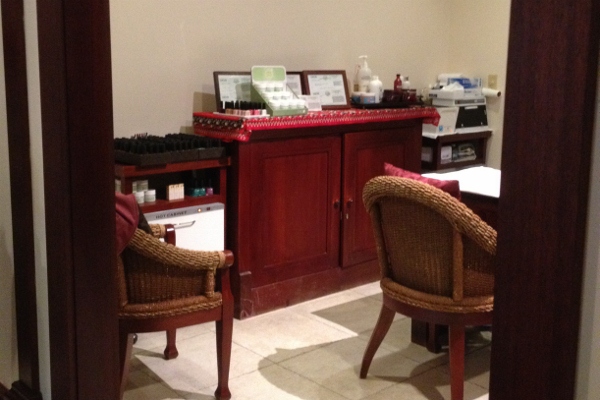 For someone who goes to spas frequently, I think you will find this a nice diversion.  The Mandara staff was warm and approachable throughout the visit, which goes a LONG way in enhancing your experience.   Admittedly, I was interested to hear Mary Jo's comments when we were finished, since she was hesitant to participate in the experience.
Mary Jo: Now that I have had a spa treatment, I am a convert.  This was a wonderful experience, and one that I would enjoy doing again.  I think I know what to do now, and only have a question or two, like do I wear those slippers in the shower or not?  I have to admit that going with Nancy enhanced my experience.  It is fun to be pampered, but it is special being pampered along with a good friend.
Photos by N. Johnson and M.J. Mellado Willey.  Spa Menu Image courtesy of Mandara Spa.
Category: Disney World, Disneyland, Editorials
Disneyland Podcaster for the DIS Unplugged