"I'm not getting a car and driving in L.A.! You've got to be nuts!"   This is the sentiment we tend to read on the Disneyland board more often than not.   It seems like we Los Angelenos have gotten this reputation of having horrendous traffic and therefore must be crazy for driving our cars around this city.   The end result of this possibly unfair reputation is that a lot of out-of-town guests tend to head straight to one area and don't really venture off property even though they yearn to see many of the sights that they know from television and movies.    This means that they feel a trip into Hollywood or up to Universal Studios Hollywood from Disneyland is almost impossible to do – just as those vacationing in Hollywood or the San Fernando Valley feel that a visit to Disneyland would be.
Being locals and Disneyland advice givers, I thought I should put my money where my mouth is and test the advice we give others – see what it's really like.   Well, it was indeed an adventure and I wanted to share the major mistakes I made in planning that could have easily been avoided!   Come along with my 5 year old daughter and I on our travel adventure!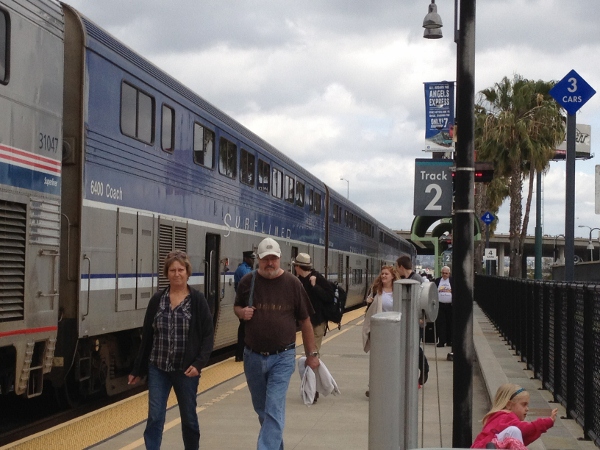 Let me begin with the back-story that inspired this whim.
Because we live "local", in the San Fernando Valley, we often find ourselves in situations where we end up taking 2 cars to Disneyland.  One of us drives down early in the day and the other comes after work or other obligations.  By the time we start the drive back north on the last day, I'm exhausted and the thought of having to drive two cars home pretty much sucks.
We were about to face this scenario again, when all of a sudden I woke to a 4am whim – let's see how easy it is to get to Disneyland using the Metrolink public transit system!!!  My brain told myself "We live by Universal!  We take the subway to Hollywood and Union Station!"  This could be easy!" said my inspiration-charged (and sleep-deprived) brain.  Thus began our adventure into planning our trip….
From the Disneyland boards and also from friends, I knew there were a couple options for travel – Metrolink (subway and light rail), bus, and Amtrak trains, but I wasn't completely sure which option was the best (or cheapest).   Since I decided to follow the path of those starting out at Universal Studios and staying at the Universal Hilton or Universal Sheraton, I hit the Metrolink website first.  After all, I knew that we would be taking the subway first!
I entered "Universal Studios" and "Disneyland" into the Metrolink Trip Planner website and got a subway/bus option: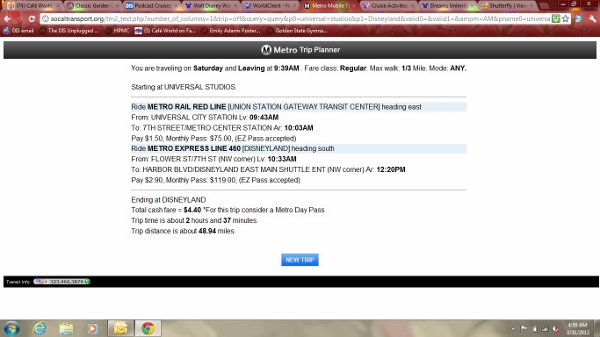 I didn't feel like doing a bus with Lily – although that would have been our least expensive option.  Therefore I decided to try entering Anaheim – since I knew you could take rail all the way to Anaheim.  This is the choice it gave me: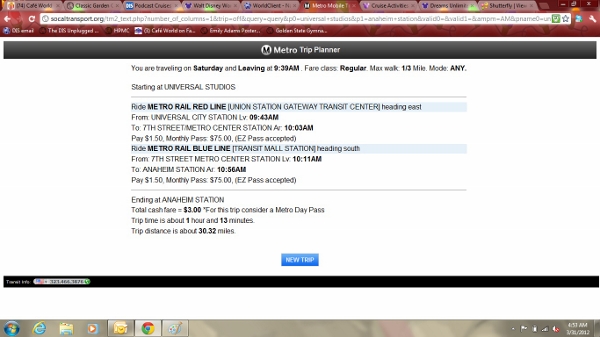 This routing looked pretty good, so, armed with this plan, my husband dropped my youngest and I off at the Universal Metrolink Station (just off the intersection of Lankershim and the 101 Freeway, in Universal City, CA) at 10:00am on a Saturday morning.  This is the perfect location to start our trip, as it is either the starting point or the final destination for many folks who are interested in doing all of the Hollywood/Movie Studio/Theme park thing on their Disneyland vacation.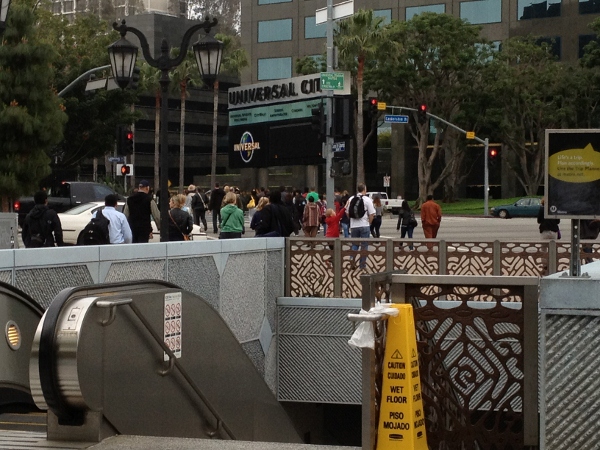 You can see by my photograph that the placement of the Metrolink subway station is ideal – right at the entrance to Universal, at the base of the hill that the park tops.  If you are staying at one of the Universal hotels, you can come straight down the hill.   For those arriving to Universal for the first time, just exit the subway, walk across Lankershim, head to the tram stop across the Universal City road, and take the tram ride up the hill!  Simply follow the crowds – this photo is typical of what you'll see!
Now, unlike some city subways, the Red Line subway is extremely far underground.  There are both stairs and elevators to take you down to the ticketing level.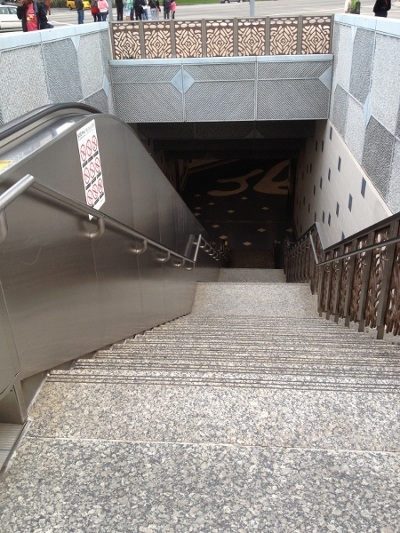 TIP: At the Universal Studios station, escalators are only for coming up to the street level – something great to know ahead of time. If you aren't comfortable descending  a steep staircase, the elevator shaft is positioned about 50 feet from the pedestrian entrance, so that it opens into the ticketing lobby.  The second descent does have an escalator option.
As you come down the second descent, it's nice to see that the transit planners chose not to make these stations devoid of any creativity.  You are treated to patterned iron work, tile work, and various art installations that represent the neighborhoods above.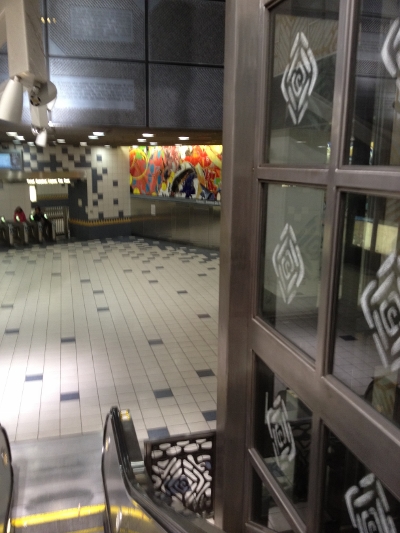 Once in the ticketing lobby, you will purchase your ride tickets from kiosk machines, like the one shown.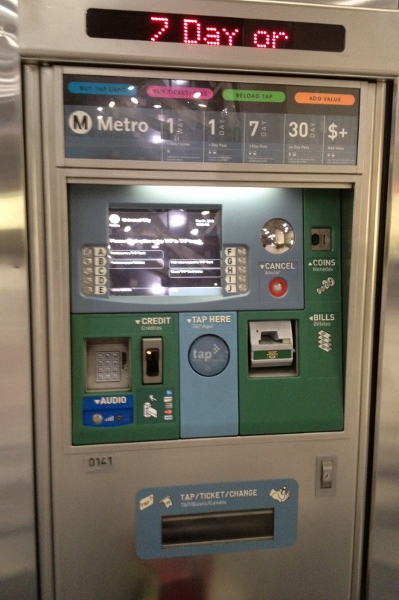 They accept both cash, coin, or credit, but keep in mind that if you have trouble with the card reader on one, then don't hesitate to try another. There are usually two or three in each station.  There is usually no one to assist you at the station and no turnstile attendants.  However, there are security guards that randomly hop from train to train.   Don't try to enter without purchasing a ticket first.
TIP: Fines for riding without tickets and eating and drinking on the train are very expensive ($250 and 48 hours of community service). The fare at the time of this article was $1.50 per person for a single ticket.  That fine cost is not worth it.   There are also no bathrooms in the subway station.  Take care of these details before you ride.
Once we had our tickets in hand, we descended another level to the tracks.   I did notice a  nice feature about our tickets; they allowed us to ride for about two hours before they expired, which was plenty of time to switch to the other train.  My first thought was that was going to be cheaper than I thought!   That should have triggered something….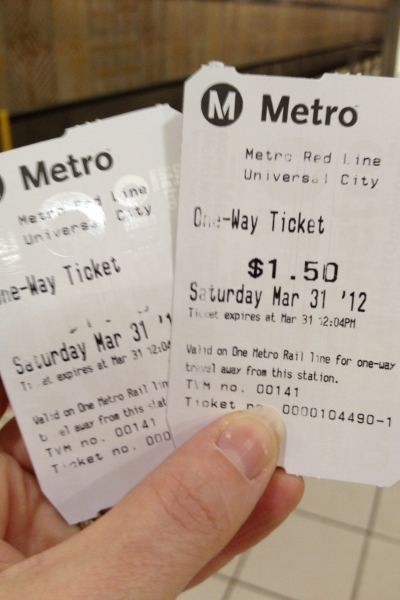 My second thought should have been to take time out to look at the great route map posted near the ticketing kiosks.  Lily was too excited for that though.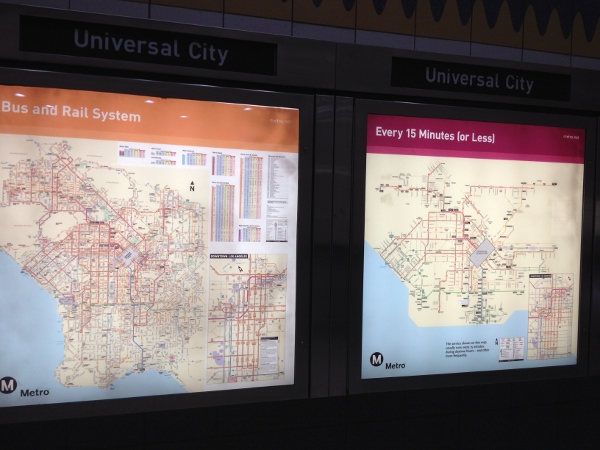 All of the Metrolink train and bus routes are outlined in detail!   It's a shame they don't have these posted at a higher level, but I understand that it is probably a minor deterrent to vandalism.
It's about a 5 minute ride from Universal to Hollywood and Highland, and another 20 minutes to the 7th Street Metro Station (where all the Metrolink lines convene).  If you are heading to Los Angeles Union Station, where they link to Amtrak and other commuter trains, add another 7 minutes onto your travel.  Union Station is also the end of the Red Line, so it's easy not to miss that stop.
TIP: Metrolink trains come about every 15 minutes. If you miss one, don't worry.  Another will be along shortly.
We followed the plan that I pulled up on the internet, and exited at the 7th Street Metrolink Station and headed for the Blue Line train around 10:45.  It was only up one level from the Red Line.   Here is where our journey takes a bit of a twist – and not for the better.  As we got to the Blue Line Train, the sign above the stop said " TO LONG BEACH".  This confused me quite a bit.  After all, the Metrolink Trip Planner told me to change to the Blue Line.  Now, I know just enough of the Los Angeles area to be dangerous and to know that Long Beach is nowhere near Anaheim.  Therefore, I did what any normal, confused traveler would do.  I saw a cluster of Metrolink security guards waiting for the same train and went up to confirm that Anaheim's station was on this route.  I was told "YES",  so we hopped on the train that was leaving at 11:00am.
Well……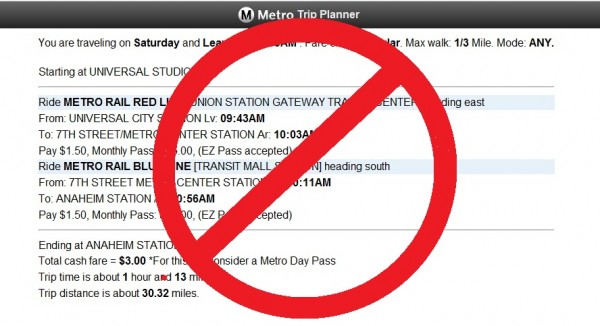 After a 1.5 hour tour of South Central, LA – Compton, Watts (site of the famed LA riots in the 80's), etc., and a nice loop in Long Beach, we returned to the 7th Street Station.  The Anaheim Station that we saw bore NO resemblance to the Anaheim we know near Disneyland – because we were nowhere close!!!
It was not a horrible experience, but it was a bit stressful.  Lily kept saying she was hungry and wanted to go to the bathroom!  I ended up breaking off tiny bits of cookie inside my bag and slipping them discreetly into her mouth.  She caught on pretty quickly and hid her chewing!  Luckily, one of the security guards recognized us (not hard to do) when we hit the Long Beach loop and discussed our mistake.  We all got a good laugh out of it and I learned some valuable lessons.
TIP: 1) Always double check the geography to where you want to go and compare the route you are being given before you begin any leg of your adventure!

2) When a computer-based planning system asks what your end destination is, ALWAYS PUT THE LANDMARK! My big mistake was to second guess myself and put in Anaheim instead of Disneyland.  How was I to know there was an Anaheim Street that traversed some of the most depressed areas of Los Angeles?

3) When you find yourself completely out of your element and in unfamiliar territory, keep your cool and distract your children with things they enjoy doing so that they don't "see your discomfort and respond to it. Somehow, I managed to pull out the old "business traveler" side of me, even though I was starting to worry.  It turns out that to Lily, this was all just a huge delay that was making her hungry and inconveniencing her from getting to Disneyland.
We returned to the 7th Street Metrolink Station and went back down to the Red Line tracks.  Union Station was our destination.  I knew I could take an Amtrak train to Anaheim.  While it would have been easier to call my husband and have him pick us up back at Universal, I wasn't going to give up so easily!  I was going to see this through – after all, that's what any other tourist has to do!  Lily and I got back on the Red Line and headed to Union Station around 12:45.
TIP: If you make a mistake in the Metrolink train system, you never actually leave the confines of the turnstile boundary. You don't have to pay extra to catch another train. It's kind of like when you go through the security checkpoints that border the Esplanade between Disneyland and Disney California Adventure.  Once they clear your bag, you don't have to get it checked again – only this is with money.
The transition at Union Station was a breeze!  Lily and I got off our Metrolink train at around 1:00pm, heading down the corridor and found ourselves in Union Station.   We headed over to the ticket kiosk that was right in front of us as we entered the waiting area.  Since I hadn't ever looked at Amtrak to check the schedules, I thought twice and headed to the ticket counter.  There, I was told that the train we would be looking for was the famed Pacific Surfliner.
TIP: 1) Check the schedules and be okay with the fact that you might not make a timely connection. Amtrak trains do not run as frequently as the Metrolink and are going all the way south to San Diego and back.   We had a 2 hour delay before we would board our train; this was plenty of time to get a meal and relax!

2) Remember that Amtrak has several discount programs, such as AAA, senior discounts, and 50% off child tickets! Use them – I forgot to.

3) Food options are a bit limited at Union Station. There are a few quick-service places like Wetzels Pretzels, a convenience store for sandwiches and salads, and a Starbucks for basics.  Union Station does host one pricey fine-dining restaurant, Traxx, that is only open during the lunch and dinner hours.  Its accompanying bar, does have longer hours.   If I hadn't had Lily with me, I would have gone outside and crossed at the intersection, entering Olvera Street.  She's a bit picky when it comes to amazing (and quick), fresh Mexican food, so I opted for more traditional food.
Since we went straight to the Amtrak Ticketing windows,  we had the right tickets in hand in no time – along with the right answers!
TIP: 1) Children's fares are 50% off the adult ticket price.

2) Make sure you ask about other fare discounts! This was another mistake I realized I made "after the fact".  I forgot to ask for my AAA discount and I even had it in my billfold!   They had given Lily the 50% child ticket discount, but of course they don't ask you if you have any other discount cards.
We couldn't board our train to Anaheim until 3:00pm, so that gave us a little under 2 hours for lunch, two potty trips (I have a 5 year old), and a leisurely stroll around Union Station.  It's an amazing piece of architecture.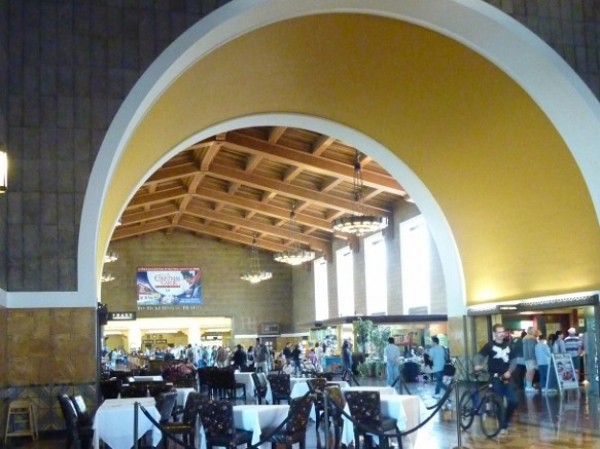 Details like the inlaid ceiling and chandeliers are things that are hard to miss.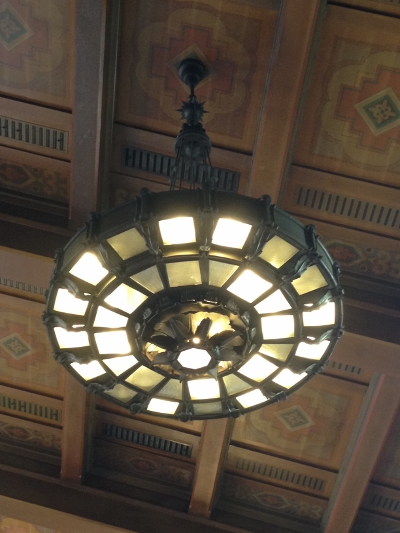 The Old Ticketing Hall is only used for private functions, but it's definitely worth the look and they even have an outdoor "smoking area", which is actually a very large courtyard with mature trees and a fountain.  After lunch, we took a stroll there to let Lily burn off some energy.
Boarding a train at Union Station doesn't really require a line; it only requires that you walk at your own pace through the corridor that goes underneath the tracks.  This isn't too bad, especially if you splurge the extra money for either a reserved seat in First Class or have disability seat on the lower level of the train.  All unreserved coach seats are on the upper level of the cars, so be prepared to climb the stairs.
TIP:  Don't follow the herd to the first set of stairs up to the tracks.  Go up the ramp to the end of the train. There will be plenty of seating in the rear cars.  If you find that you actually have to board closer to the middle of the train, don't hesitate to head toward the rear of the car and go through the doors toward the rear of the train.  You may even find yourself in a quiet area with hardly any other passengers!
When you enter the air-conditioned passenger cars, you can't help but feel like you're in the first class cabin of a plane – but with way more room.  The large comfy seats, the leg support that can be raised up flat with the seat, the curtains, the electrical outlets at your seat, and wi-fi for your laptop or smart phone make it easy to enjoy this brief trip.  Lily was thrilled that she could have her drink and snack with her!  We even did FaceTime with a friend, thanks to the wi-fi!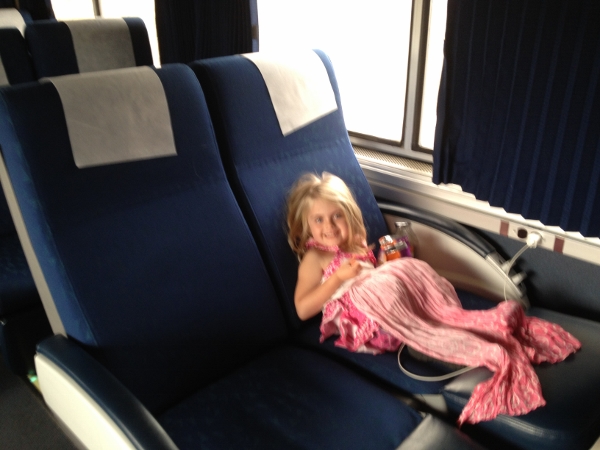 This changed her mood tremendously and she enjoyed looking out the window throughout the 40 minute journey.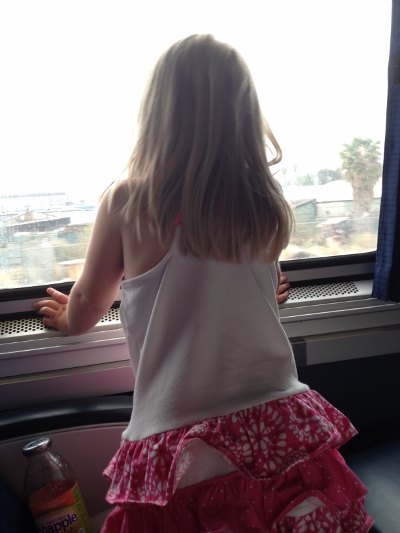 Now, one of the things I actually did know from my research was that the train station was located at Angels Stadium.  This is actually a couple miles from where we wanted to be.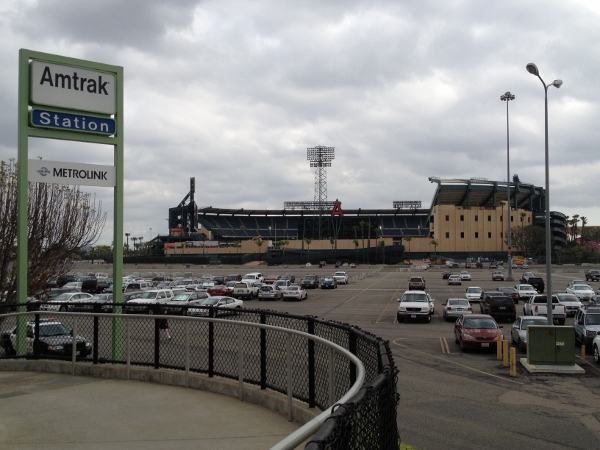 Therefore, we would need to transfer to the ART (Anaheim Rapid Transit) in order to get to Disneyland.  I pulled up the ART's website before we left  and was able to get this information: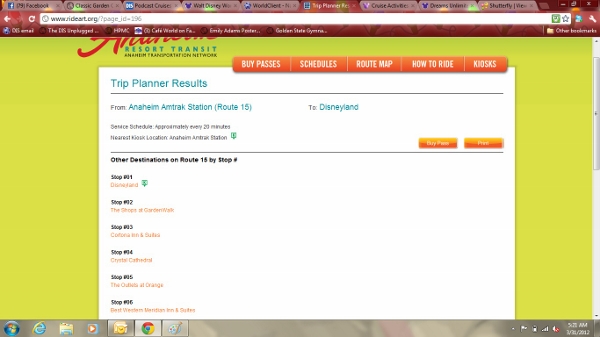 The Anaheim Train Station is on ART route #15, which is good to know if you are beginning your trip at Disneyland.  The nice part about this is that, if you are coming back from a long day in Hollywood, Disneyland is the first stop after the train station!
After exiting the Amtrak train in Anaheim around 4:00pm (my opening photograph), we looked for the ART stop in from of the station.  I finally found it as a small sign sharing the post with another entity.  It turned out that we passed  by it twice before I noticed it!  First thing I did was text the number on the sign to see what time the next bus was arriving.  It wasn't any help.  The return text just said it was "On Time" – whatever that was…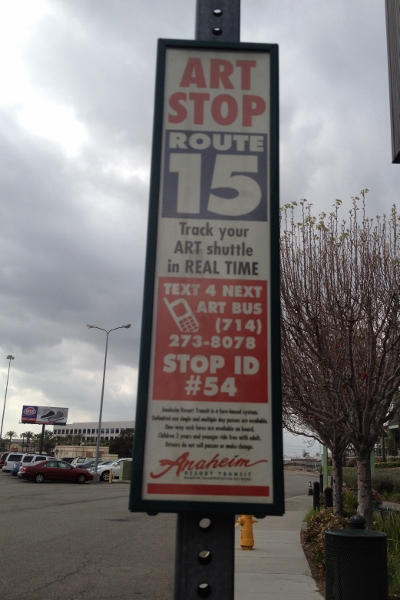 Since we had no idea about time tables, due to my serious, heavy planning nature (I can't even type that with a straight face), we went into the station to ask the attendant if he knew the schedule.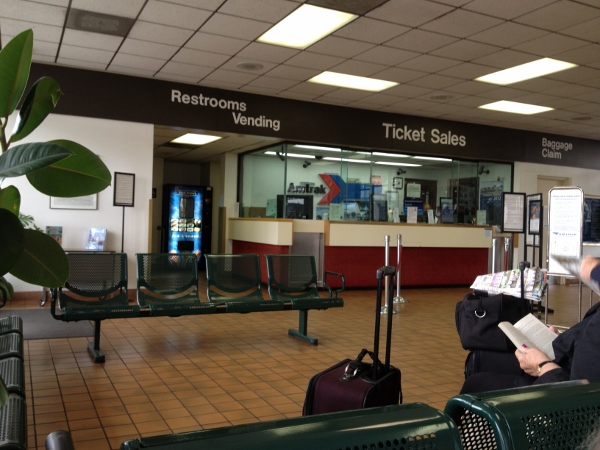 It was a wonderfully clean station with a very helpful staff member who told us the schedule.
TIP: In the mornings, the ART bus arrives at 40 minutes past the hour and in the afternoons, it runs at 20 minutes past the hour.
While we were waiting, we explored the station.  We did find the ART ticketing kiosk in the outdoor covered waiting area, which sells multi-ride passes.  We didn't need those, because I knew we could buy a single-ride ticket on the bus.  The downfall was that I couldn't find the single-ride pricing on their website, so we weren't sure how much this would cost us, so we brought some extra cash.
The ART driver, who picked us up at 4:20pm, was simply wonderful.  The fare was $3.00 per person and there are no child discounts.  We were his only passengers, so we had a great time asking questions about riding the ART and chatting about our adventure with him.
TIP: When taking the ART, carry $1 bills. When you buy your one-way ticket to Disneyland on-board the bus, the machine does not take coins.  (When did this happen?  Am I that old?)
The ART bus dropped us inside the gates of the Disneyland, in the shuttle area off Harbor Boulevard.  That's on the same side where you catch the buses to the Toy Story Lot and directly on the opposite side of the Esplanade from the Mickey and Friends Parking Structure tram dropoff. An easy place to stop if you are walking to any of the hotels just across from the park.
Tip: If you are staying at an offsite hotel that has ART service, this is the same area to wait for the ART bus on your route to arrive.
Due to our mishaps, it turned out that we actually arrived at Disneyland at the same time my husband and older daughter did!  Had things gone smoothly, the whole trip would have taken us 2.5 hours.   Live and learn!
When I got home, I reviewed the Amtrak schedules and printed out the first and last trains of the day, for visitors wishing to leave Disneyland and head up to Universal Studios for the day or perhaps even catch a matinee or early show of  Cirque du Soleil's IRIS in Hollywood.   With this train routing, you could be to your destination by about 9:30-9:45 (depending on how long it takes for you to connect to the Metrolink).   As long as you leave by 8:30-8:45pm, you will make your connections at Union Station in plenty of time!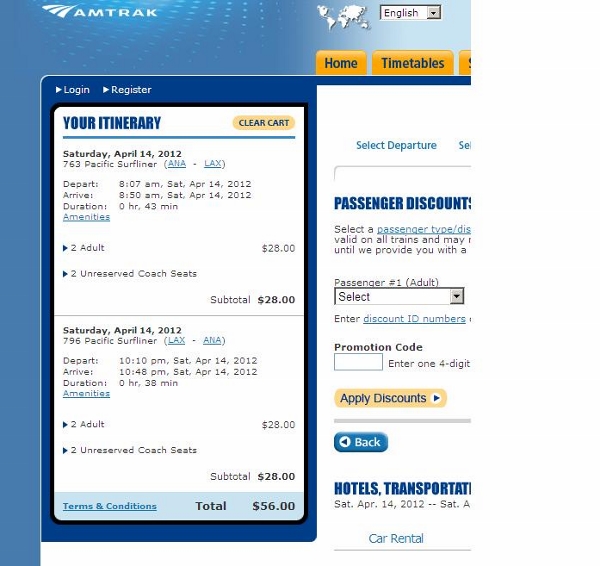 I'm really glad I took the opportunity to try this transportation option out.  Honestly, it is cheaper to rent a car for just the day and the Amtrak leg is certainly not the cheapest option for those of us who are local to Disneyland.  However, the Amtrak leg was extremely comfortable and it did make for a unique adventure for someone who doesn't want to drive in Los Angeles.
After the experience ended, Lily and I found that even though we both were a bit stressed with our Metrolink "surprise", we really enjoyed the overall journey.  I know that if I could make the mistakes I did, there could be others that have had the same experience I did.  Hopefully, this may help others avoid them too!
Category: Disneyland, Editorials, Universal Studios Hollywood
Disneyland Podcaster for the DIS Unplugged