For some theme park goers, the standard souvenir includes a logo magnet, ballpoint pen, or bumper sticker. Others scope out postcards and photo albums when navigating the shops. But, a growing number of Disney aficionados eagerly seek out the newest in a collection of leather handbags designed by Disney Design Group and Dooney & Bourke.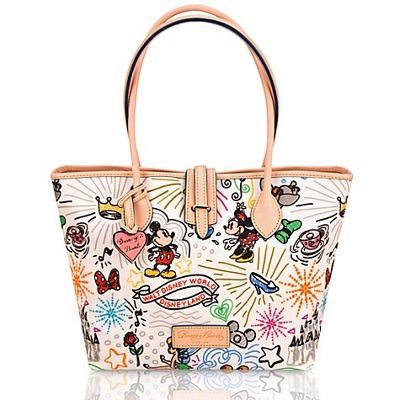 Image: Disney "Sketch" Tote
First founded in 1975, Dooney & Bourke has held the tradition of creating fine leather accessories using techniques of old world craftsmen. The company, originating in Norwalk, Connecticut, prides itself in using first-rate raw materials to produce handbags varying in size, shape, and pattern. Most recently, the Disney collection has found its way onto store shelves in theme parks, gift shops like Kalepa's Store at Disney's Aulani Resort & Spa, and on Disney Cruise Line. A collaboration between Disney Design Group and Dooney & Bourke, the collection features totes, messenger bags, satchels, wristlets, iPad cases, and more.
Each Disney "Dooney," as the bags have been coined by buyers, features characters or theme park logos well known to those who love the mouse and his theme parks. The collection has celebrated the fun of Walt Disney World and Disneyland in the "Sketch" tote which highlights favorite characters and icons of the parks. Other pieces focus on Minnie's trademark red bow and the colorful Mickey-head balloons loved by children and adults alike.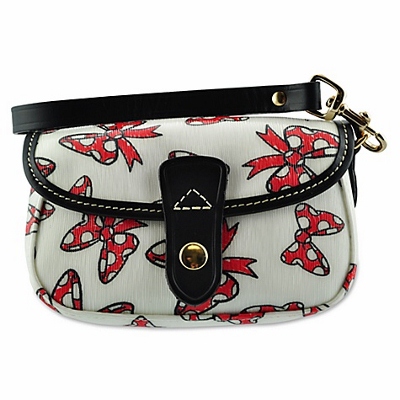 Image: Minnie Mouse Bow Wristlet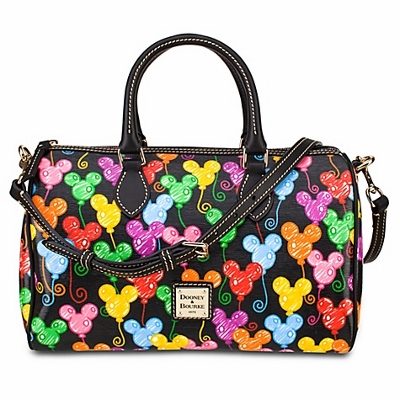 Image: Balloon Mickey Mouse Satchel
This past year, Disney Dooneys celebrated the anniversaries of both Disneyland and Walt Disney World. These pieces included a bit of Disney history printed right on the bags in the form of black and white photos of Walt Disney, memorabilia, and park icons.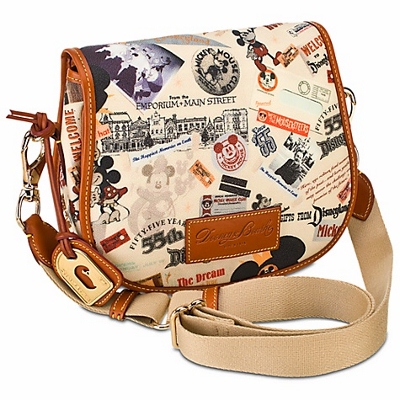 Image: Disneyland 55th Anniversary Messenger
Recently, West Coast Dooney & Bourke collectors were treated to surprise news of two new collections set to debut May 12 at Disney Vault 28 in the Disneyland Resort. Creative Director for Disney Design Group, Ian Ray, will be hosting a signing of the new bags from 2-5 pm. The Retro collection, available in a variety of popular and new styles, will sport traditional graphics and logos of the various lands inside Disneyland Park. The unique color palette is sure to be a hit with enthusiasts looking for something special. Similarly, the second collection is entitled "Buttons," but little information will be released about the bags until closer to the event.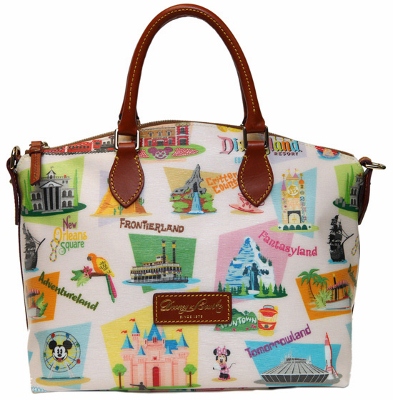 Image: Disneyland Retro Tote
Disney Cruise Line guests will also receive a Dooney treat on their upcoming cruises. Debuting on the new Disney Fantasy, a new collection of nautical-inspired handbags and accessories will be available for purchase. All feature the blues, whites, and grays of the high seas and will compliment any outfit while aboard.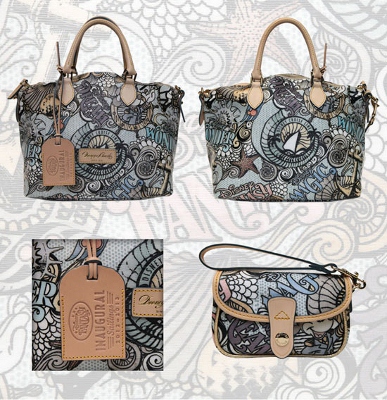 Image: Disney Cruise Line Collection
To date, I have purchased several Disney Dooney & Bourke handbags and found them all to be well-made and unique. Each bag has different "placement" of its design, so be sure to get a good look before you select one in your theme park shop or at Disney Shopping Online. Prices range from $55-$395 depending on the style and pattern. No matter where you make your purchase, be prepared to become instantly hooked on these leather beauties. Once you nab one up, there's no turning back!
Image Credits: Photos Courtesy of Disney Media
Category: Disney World
Born and raised in New Jersey, Nicole is an avid Disney fan and frequents both Walt Disney World and Disneyland several times each year. Interests include Walt Disney Imagineering, merchandise, backstage tours, and more. Be sure to check out her other articles here on the DIS Blog!