A word of warning.  The story that follows is fiction.  No lawsuit has been filed.  The attorney "April Stolto" means "April Fool", which is, for the careful reader what the first letter of each paragraph spells.  There is no doctrine of morologus pilar given that "morologus" is Latin for foolish talker and "pilar" is an anagram of April.  The complaint, in my view, wouldn't stand a chance, primarily because there are limits on who can represent others, especially children, and most states don't permit lawsuits to be filed for emotional harm without physical contact or some pretty outrageous conduct.  Except, perhaps, for Duffy, character visits simply are not outrageous. What is outrageous, however, is that the double-decker red bus in the first photograph (from 2001) was offered for sale within the last year.
A group of concerned parents, represented by attorney April Stolto, simultaneously filed lawsuits in California and Florida federal district courts against Disney Parks alleging that character greetings in both Disneyland and Walt Disney World cause irreparable emotional harm to children.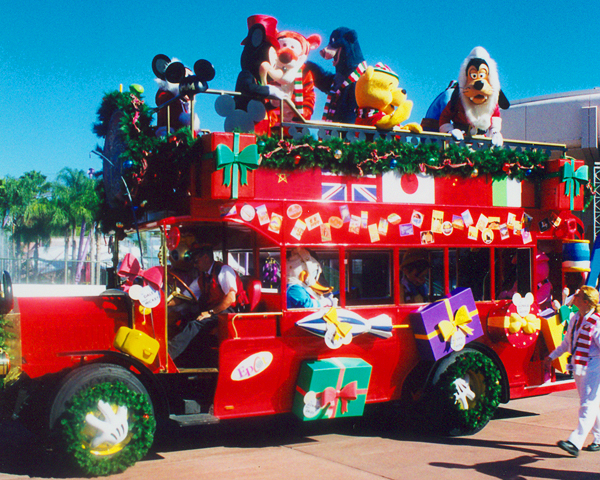 Promising to litigate the claim until Uranus rises, Ms. Stolto explained that the parents she represents enjoy visiting Disneyland and the Magic Kingdom, but have seen too many children who become scared when a Disney character approaches.  They decided to take it upon themselves to protect all of these children from the severe emotional trauma caused by character greetings.
Rather than only sue for the alleged emotional harm caused to their own children, at Ms. Stolto's advice, the parents decided to file a class action on behalf of all children under the doctrine of morologus pilar, a legal principle applied primarily under California and Florida law, meaning (essentially) the law doesn't suffer fools gladly.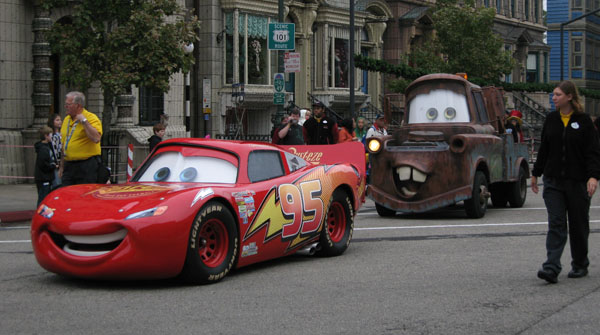 It certainly isn't clear, not to me at least, that the Court will agree with Ms. Stolto's clients.  After all, character greetings are as ubiquitous to the Disney Parks as scalding hot coffee is to a McDonald's drive-thru.  But not all of the ramifications would be adverse.
Long lines would disappear, if the lawsuit were successful, families could use fastpasses for attractions instead of character greetings, and autographs book sales would plummet, except of course, for character greetings on Disney's cruise ships (which are not governed by California or Florida laws).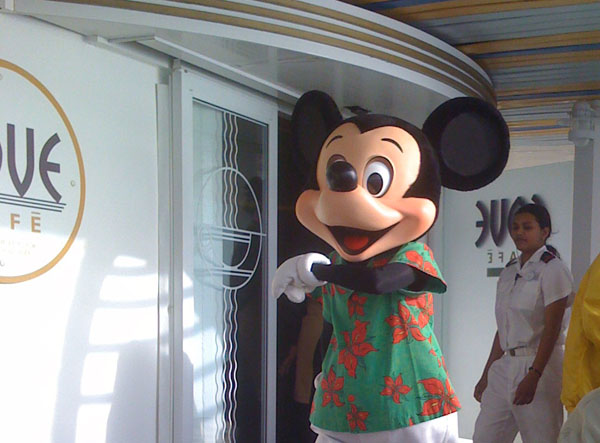 Frantic dashes to be the first in line to greet Mickey Mouse would be a thing of the past.
Obviously, though, Ms Stolto's lawsuit has difficulties.  It's unheard of for one group of parents to be permitted to represent children who are not their offspring or with whom the parents have no relation.
On Friday, I called Ms. Stolto who initially told me she didn't have time to talk because she was at her 180 day mark for making ADRs and she was determined to book a character meal at the Crystal Palace.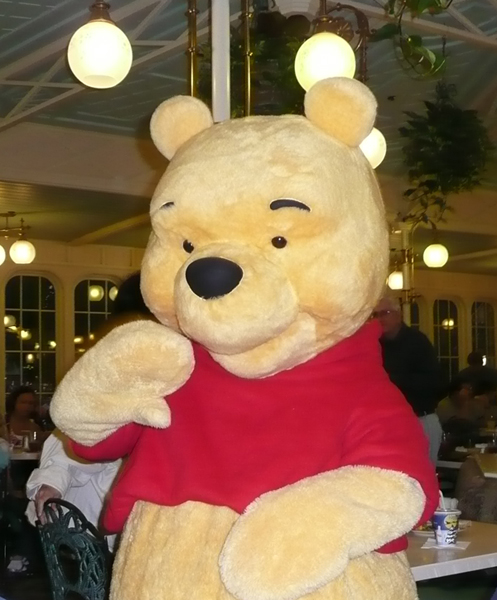 Laconic to the last, Ms. Stolto explained that the "final straw" that drove the parents to her office was Disney Park's decision to introduce "Duffy" as a character in Disney Parks. "Duffy was the final insult, he is everywhere, invading our sanity, giving everyone the willies."
She saw no inconsistency in making Crystal Palace reservations, telling me "I'm an attorney representing a client, not myself.  Disney has, for decades, fooled parents into spending outrageous sums of money on visiting the theme parks and if I can get some of that money back for me, I will."  I expect Disney will promptly file a motion asking the courts to dismiss both lawsuits but with all the patently frivolous lawsuit clogging the courts these days, I doubt the courts will rule on the motion until April 1, 2013.
Happy April Fool's!
Category: Disney World, Disneyland