On a recent episode of the

1. DIS Unplugged Disneyland edition

our team discussed how to tour the Disneyland Resort if you had just one day to visit – either as an experienced Walt Disney World visitor or if you were making your first visit to Disneyland.  What would you do?  How would you spend your day?
Each of us came up with our own special version of doing Disneyland in a single day.  We discussed them on the podcast and also received requests to post them.  So here is my version of the "One Day at Disneyland" plan.  I recommend it for the first time Disneyland visitor, or the experienced visitor who only has one day to spend at the Disneyland Resort.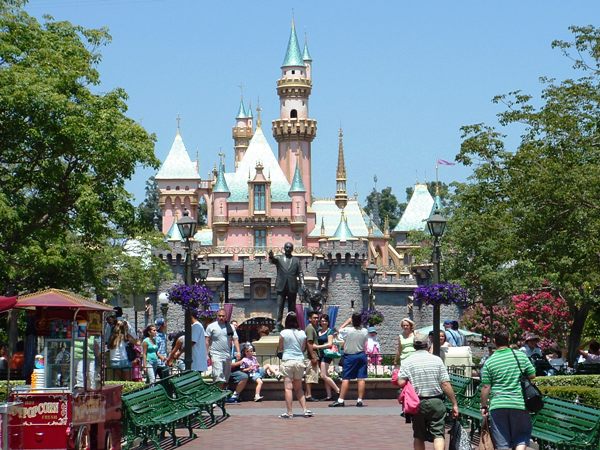 First, spend all day in Disneyland Park.  I know that many of you love to do park hopping.  But my feeling for someone who has never seen either park is that park hopping breaks the magic.  Every time you park hop you have to stop what you are doing, rush to the front of the park, do the turnstile thing and put yourself in another kind of environment.  That takes away from the atmosphere and experience that you've been building throughout the day.  If you never plan to visit again, then maybe park hop, but if this is just the first of what may be several return trips, then save California Adventure for next time.  There is plenty to do for the entire day at Disneyland.
Ok, if it's a typical full day, Disneyland will be open from 8am to midnight.  Get your rest and be prepared for a long day.  It will be crowded, especially if it's in the summer.  It's crowded every Saturday and it may try your patience.  No worries, there's plenty to do and we've got all day.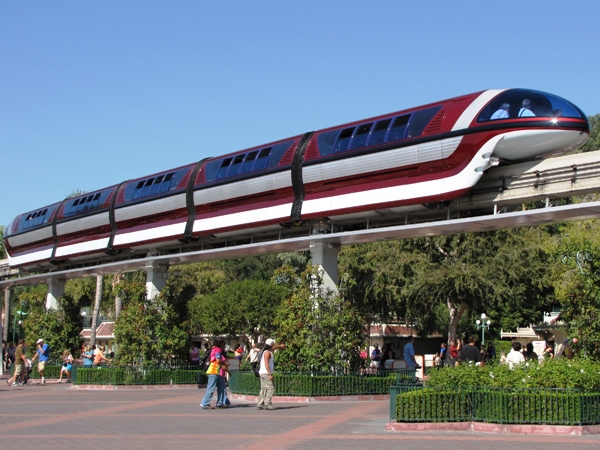 As for using the FASTPASS, this is a big personal decision.  I don't let my visits be driven by FASTPASS.  I personally don't like having to go get a FASTPASS, go do something else and then come back again later to use it.  It's too much back and forth to me.  But sometimes it's the only way to see certain attractions.  The two attractions you really need a FASTPASS for are for Star Tours and Space Mountain.
"Rope drop" is not as exciting in Disneyland as it is in Disney World.  If you can make it by park open, great, but don't stress if you miss that one.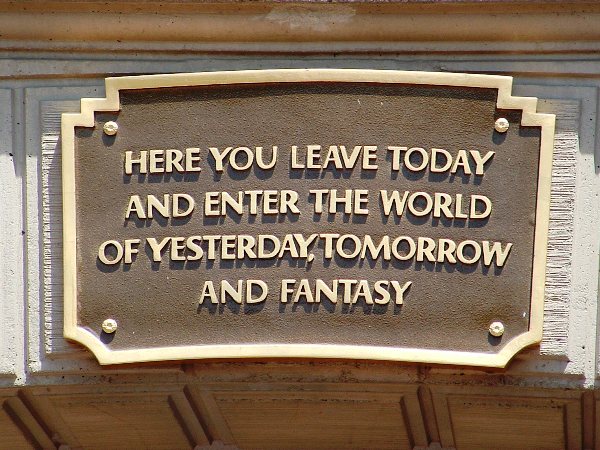 Disneyland Railroad.  This is a great way to start the day and is the first attraction on Main Street.  It was one of Disneyland's original attractions and one of Walt's favorites.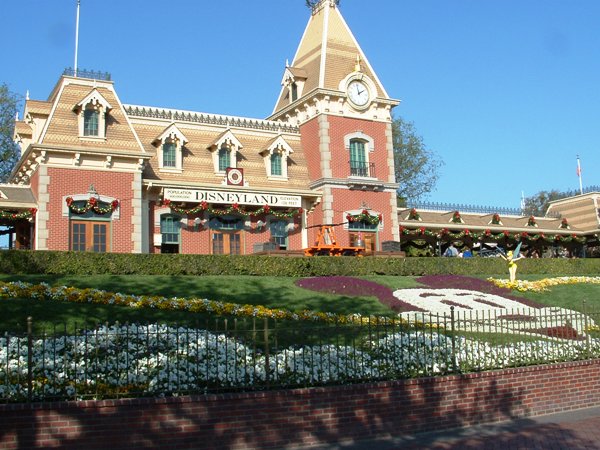 Great Moments with Mr. Lincoln (

must see

).  This is the only place you will see this attraction and is one of Walt's original attractions.  While the American Adventure (in Walt Disney World) has some of the elements of this show (Mr. Lincoln came first), the show is very different and quite moving.
Before you leave the Town Square area, take a look at the firehouse.  See the window just above the big firehouse door?  That's Walt's apartment!  It was built for him to have a place to stay while he was in the park.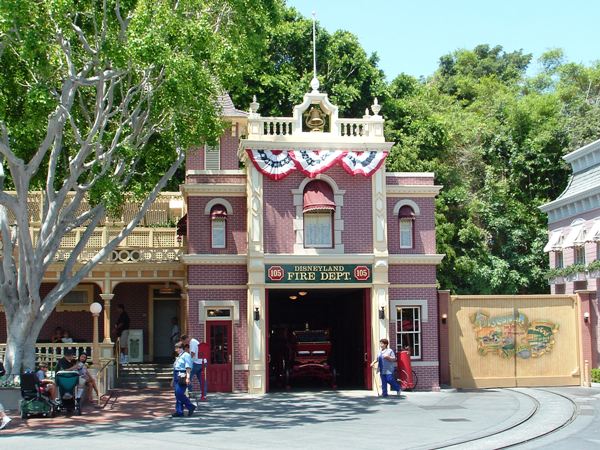 Stroll down Main Street and grab some breakfast if you need to.  There are carts with fruits and juices, carts with coffee and muffins (closer to the Hub) and of course the Jolly Holiday Bakery.  Look in any stores that grab your fancy, but budget your time.  This is the time of day when the stores are the least crowded and there are many differences between Disneyland and the Magic Kingdom.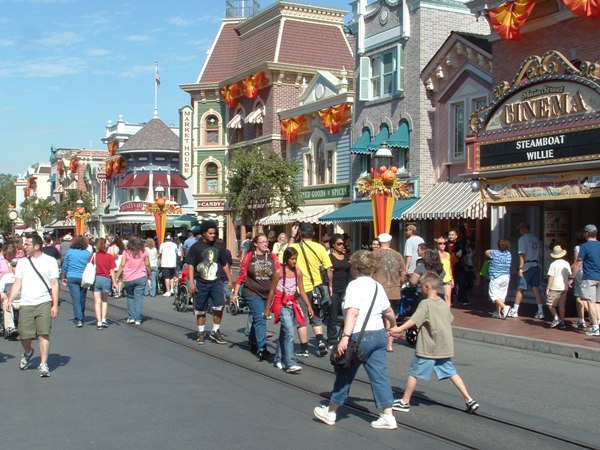 Stop at the Hub and take a look at the Partners statue.  Now walk around and take a good look at Sleeping Beauty Castle.  Soak it all in.  Here is where it all started.  Now look down and realize that Walt Disney himself probably stood where you are now.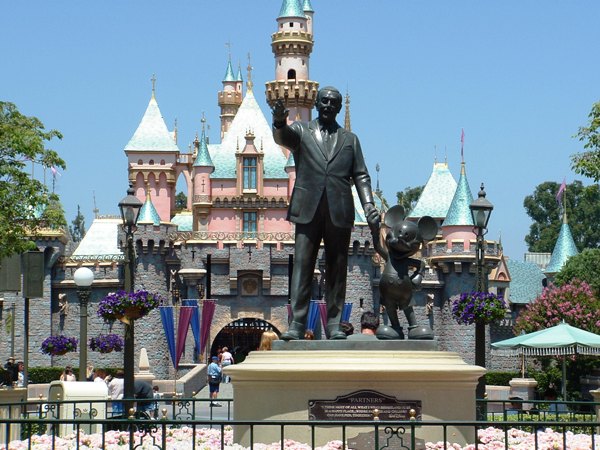 This is a good point to jump over to Tomorrowland and grab a FASTPASS (if you want to) for Star Tours or Space Mountain.  Star Tours is basically the same as in Walt Disney World.  Space Mountain is very different.  Decide which one is your preference first.  We'll get the other one later.
Ok, we're off to Adventureland.  Here you have a lot of options depending on your interest.
Walt Disney's Enchanted Tiki Room.  I would mark this attraction as a

must see

, but not everyone is into this show.  This is the original and is still mostly the way Walt designed it.  If you like, save it for later in the day and have a Dole Whip while watching.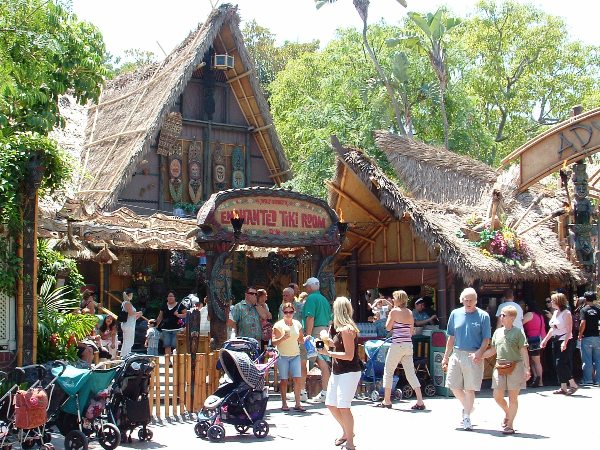 Jungle Cruise.  Again I would mark this attraction a

must see

just because it's an original and different from Magic Kingdom.  Early in the morning there should not be a line, so it's an easy and fast attraction.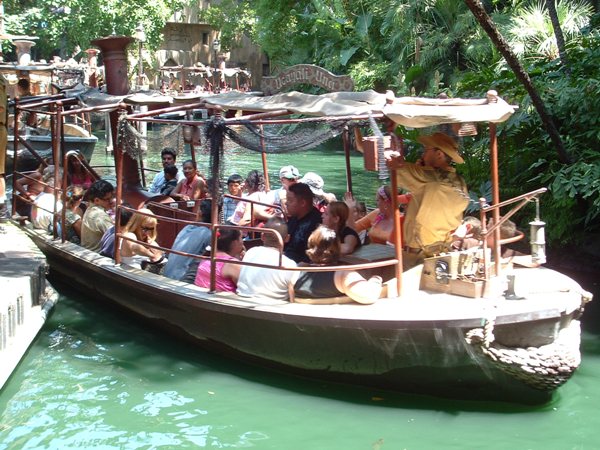 Indiana Jones Adventure (

must see

).  This is another unique attraction to Disneyland and not found in any other park.  If you are on your own (or don't mind riding separately), ask the cast member for a "single rider" pass and follow their instructions.  Unfortunately you miss a lot of the cool queue line, but we have time constraints.  If the line is short (15 min.) go ahead and use the standby line so that you can see everything in the queue (it's worth it).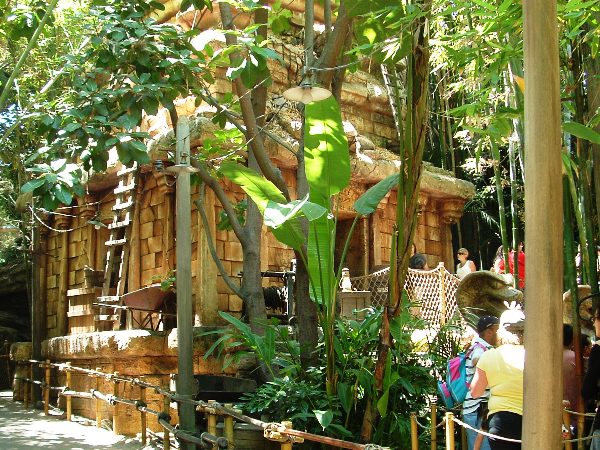 Now we move to New Orleans Square.  Walk out to the Rivers of America and take in the sites.  Tom Sawyer's Island is in front of you and the Mark Twain to your right.
Pirates of the Caribbean (

must see

).  Don't miss this!  You will see the full attraction with all the scenes that were left out of the MK version.  Plus you get to go through the Blue Bayou restaurant on the ride.
Haunted Mansion (

must see

).  Don't miss this!  This attraction has many differences than the Magic Kingdom version and again, this one is the original.  This deserves a second ride later at night when your eyes are adjusted to the night.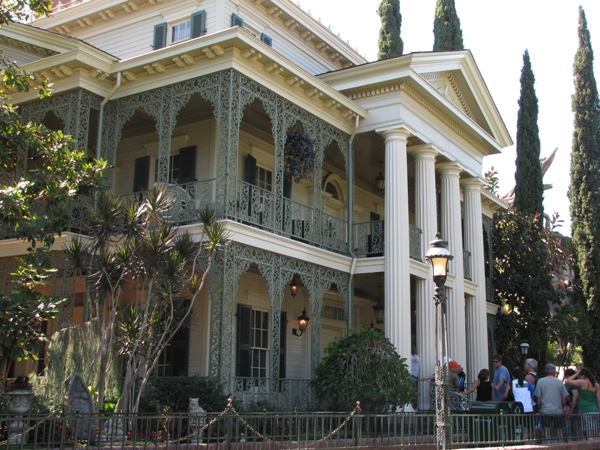 Stroll around the shops in New Orleans Square.  Find the entrance to the Blue Bayou and right next door find the door to Club 33 (just a "33" on the door).  The Club is on the second story of all the shops.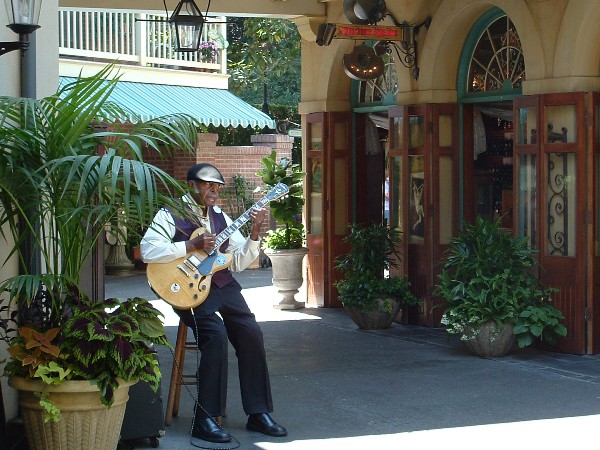 IMAGE: Ernie McLean entertaining in New Orleans Square (taken August 2007).
Splash Mountain.  Decide how important this attraction is for you and if you have time.  It is significantly different than the Magic Kingdom version and definitely fun.  They do have a single rider line, but note that there is a high chance of getting really soaked on this attraction.  The music is great and it is one of the longer attractions.
We're going to skip some stuff now because we only have one day.  But of course if something catches your eye go do it! I have a feeling by the end of the day you will find this will not be your only visit.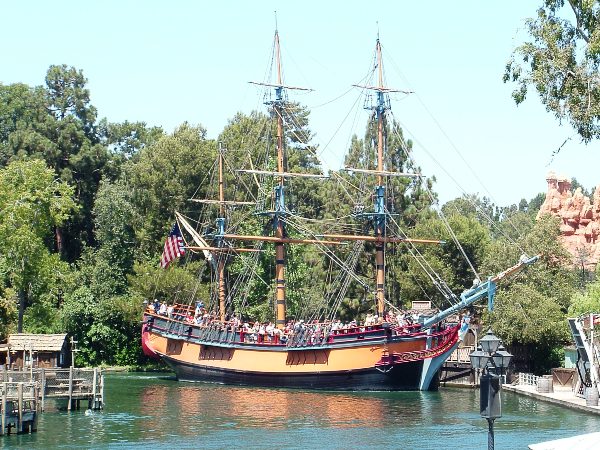 You may be thinking about lunch (or you may be starved by now) so decide when you want to stop for a nice break.  I like to take lunch in this part of the park because there are many dining options.  For counter service I recommend Rancho del Zocalo or the River Belle Terrace.  For sit down, there is Cafe Orleans (check the wait times).  There is also several quick service locations in the area so there are lots of choices.
At this point, head back to the hub and if you want, grab your second FASTPASS.  We aren't using them yet, but at least you will have both.  (Please note: At the time of this writing Disneyland has not yet enforced the FASTPASS return times like Walt Disney World.  Please check with cast members for current information.)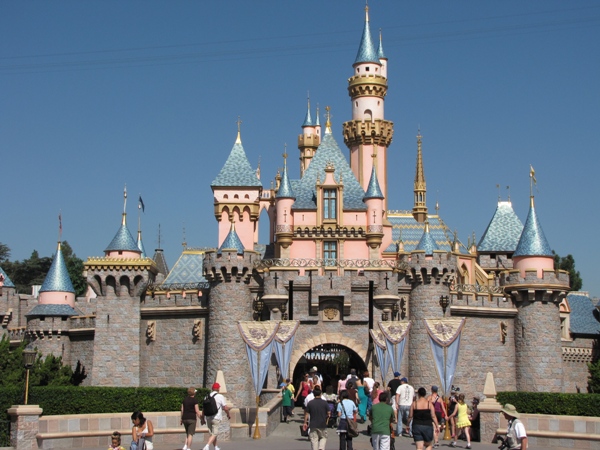 Now it's time to head to Sleeping Beauty Castle.  Cross the drawbridge and look for Snow White's fountain and her Wishing Well on the right.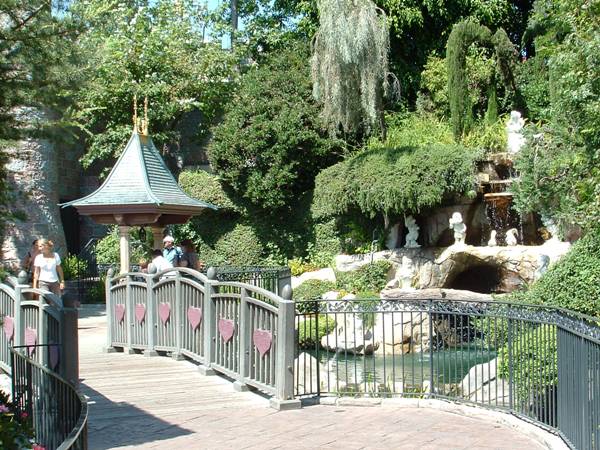 As you enter Fantasyland, stop when you are just inside and under the chandelier hanging under the Castle.  Now look down- see the small round brass marker?  This is the original geographic center of Disneyland and where Walt stood to say where he wanted the Castle built.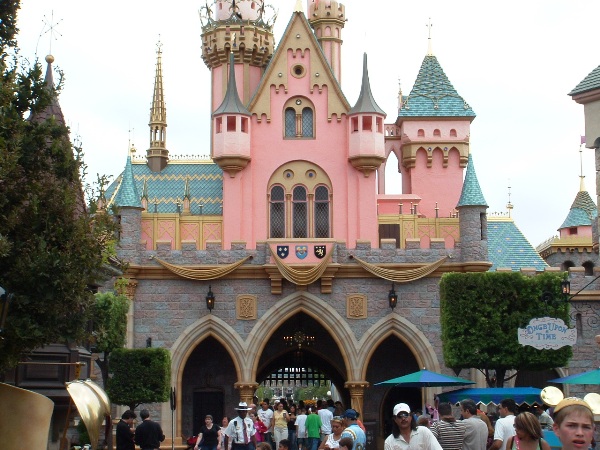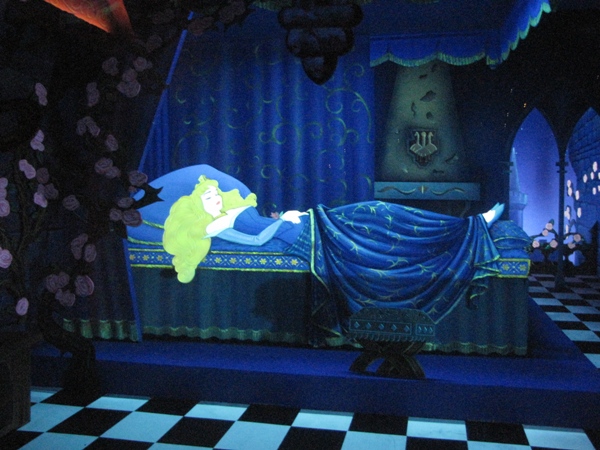 We're going to skip the rest of Fantasyland for now, because the lines this time of day are usually pretty long, but take a look around as you walk.  But if you see something you really like, go for it!
It's a Small World (

must see

).  Again, this is the original version from the 1964 New York World's Fair (with Disney characters added in 2008).  Many folks like this one the best of all the park versions.  Note the clock that animates every 15 minutes and all the topiary around the grounds.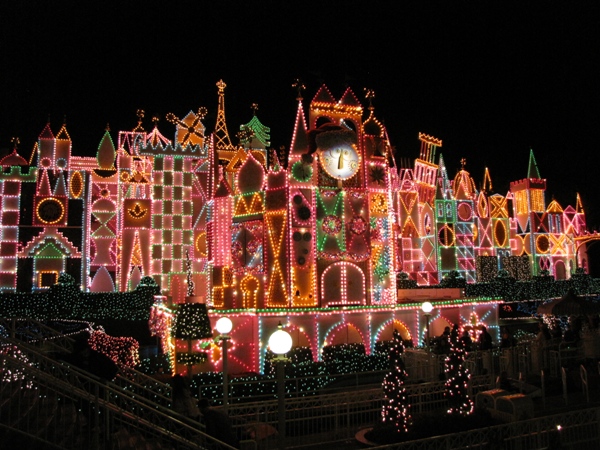 IMAGE: It's a Small World Holiday (Christmas season).
Since we only have one day, decide if you want to take a look at Mickey's Toontown.  It's small, but cute.  Go on Roger Rabbit's Cartoon Spin only if it is a walk on.  In Mickey's House you can get your picture taken with Mickey, but the line is often long.
Matterhorn Bobsleds.  This is a classic attraction found only at Disneyland.  Watch the wait times and put this on your must see list if you like roller coaster type rides.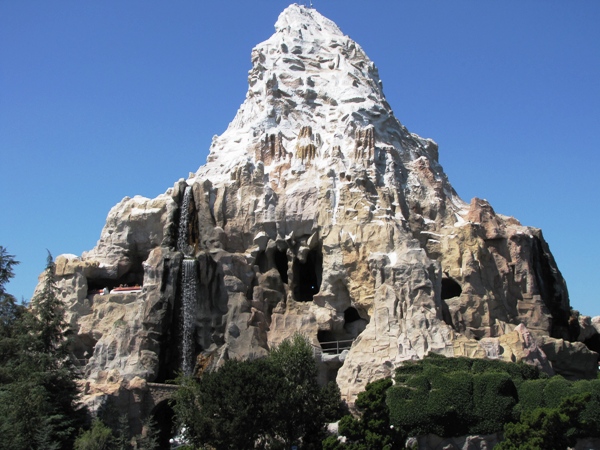 Now it's time to head to Tomorrowland.
Star Tours.  If you've got your FASTPASS or if you've never been on Star Tours then be sure to go on this

must see

attraction.  Otherwise, if you are pressed for time this is one attraction that is essentially the same as in Walt Disney World.
Space Mountain (

must see

).  This version is very different from the version at the Magic Kingdom.  Be sure to have your Fast Pass.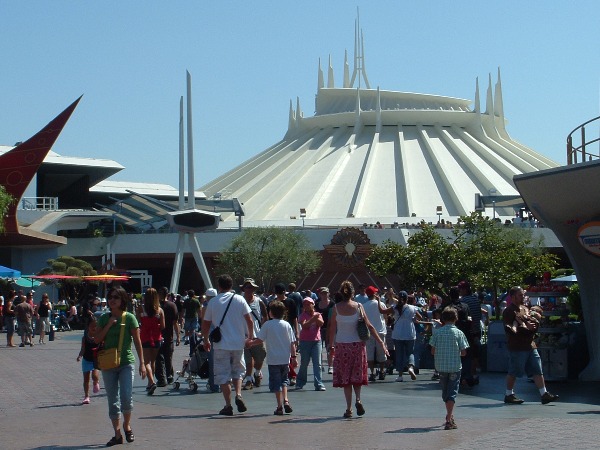 Buzz Lightyear's Astro Blasters.  The line is usually fairly short (15 min).  While the ride is similar to the Magic Kingdom version, the vehicles and the ride interior are different.  This is one of my favorites.
Disneyland Monorail (

must see

).  This is not the transportation system that it is in Walt Disney World, but a real attraction that takes you outside the park, through California Adventure, to the Disneyland Hotel and back through Tomorrowland.  Ask the cast member if you can ride up front (you may have to wait a cycle but it is worth it).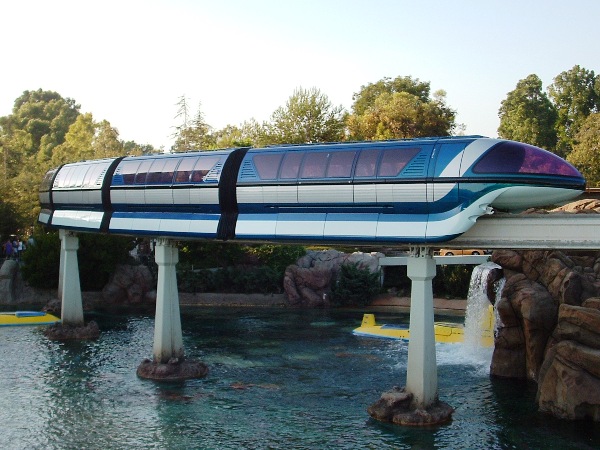 Finding Nemo Submarine Voyage.  I list this here only as a major attraction, but this is always the longest line in the park and although I love this attraction the line is usually prohibitive with just one day to spend.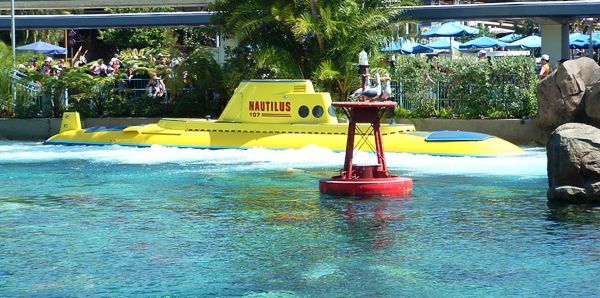 I have not included the Mickey's Soundsational Parade.  It is a fun parade, but if you only have one day, my recommendation is to skip it unless it happens to be going by when you are nearby during the day.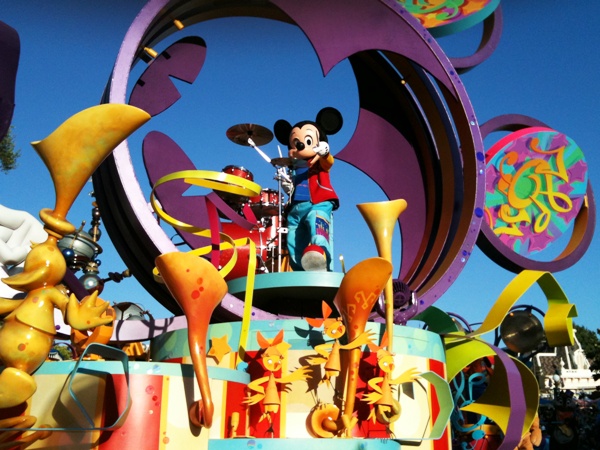 At this point it should be early evening and time to plan your nighttime activities. Depending on the schedules, you might be able to see both the fireworks and Fantasmic! But be aware that the crowd traffic around the Rivers of America for Fantasmic! can be overwhelming.  The fireworks are about 20 minutes long and you need at least 30 minutes after the fireworks end to comfortably get to Fantasmic! (otherwise you are really going to be fighting the crowds, which a lot of people do, so just be prepared for it if you go this way).  An option is to watch the fireworks from the Fantasmic! area; just show up right after the first Fantasmic! show ends and you will find plenty of room as the first show empties.
Grab dinner as you need to and note that food service becomes very limited after 10pm.
"Remember, Dreams Come True" fireworks (

must see

).  Folks start sitting around the Castle area up to 2 hours prior to the fireworks, but you can still find good places to sit/stand about 30 minutes prior.  Also note that many folks sit for shows at Disneyland, but cast members may make you stand up at some point.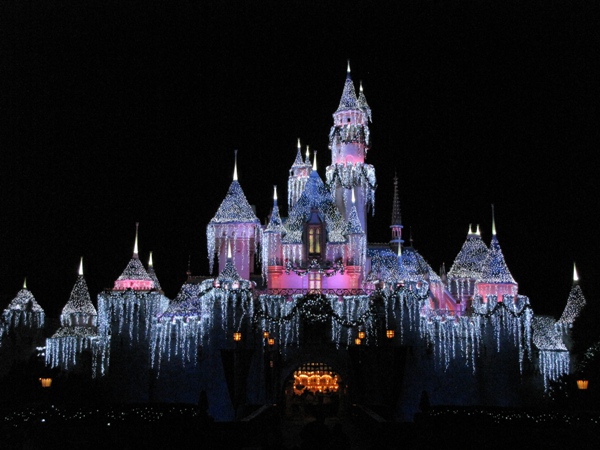 IMAGE: Sleeping Beauty Castle during the holiday season before the fireworks.
Fantasmic! (must see!).  Plan on seeing the second Fantasmic! show.  The version at Disneyland is very special and many say it's the best version of the spectacular.  If at all possible find a place to sit in the center right next to the River.  Some places are sitting only (on the pavement) and some are standing only.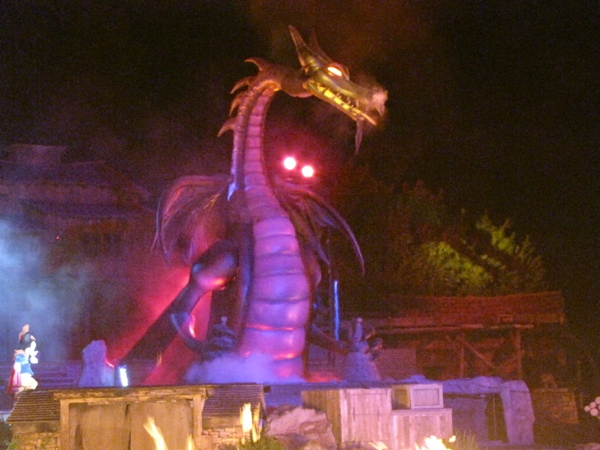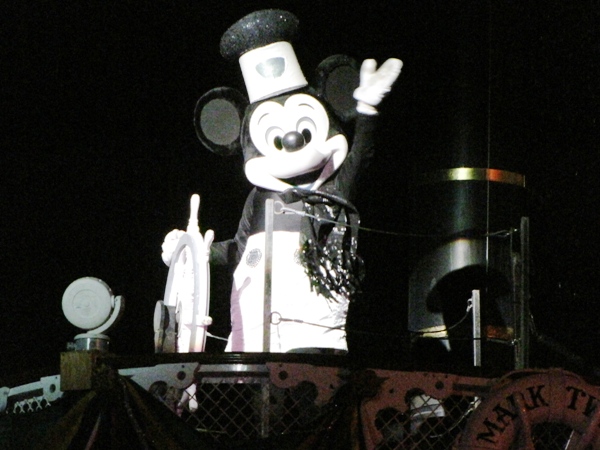 After Fantasmic!, let the crowds disburse (it's more frustrating trying to fight the crowds than to just wait 5 or 10 minutes).  Check out the line at the Haunted Mansion for a nighttime viewing.  You may also want to ride Pirates again, but note the wait time.
When the crowd has thinned, head to Fantasyland.  Now is the time to do all the attractions there, now that many folks are going home.  On most nights you can walk on to:
Exit back through the Castle and turn and take a look at it all lit up at night.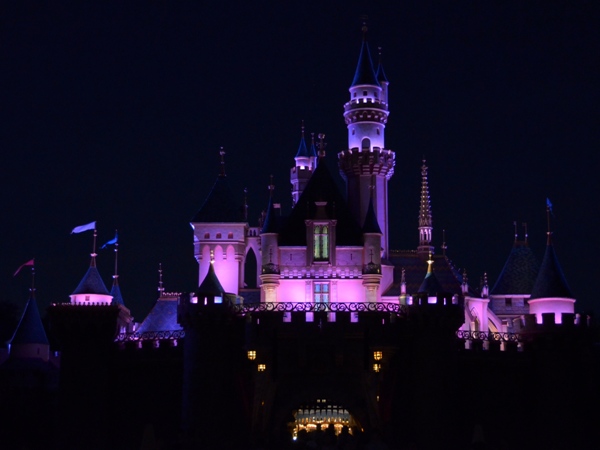 And if all goes well, you will still have a little time for some last minute shopping on Main Street before you leave.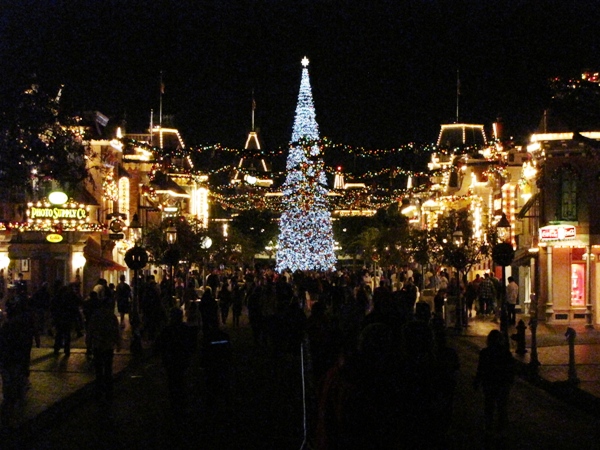 Before you exit, stop at the Town Square end of Main Street.  Find the lamp in the window of Walt's apartment (it's always lit to indicate that Walt is still with us).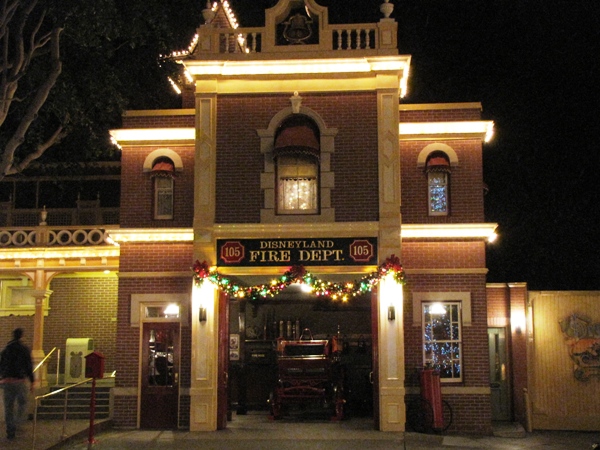 IMAGE: During the Holiday season, Walt's lamp is replaced by a small Christmas tree.
Take your last look at the Castle and remember the wonderful day you've had.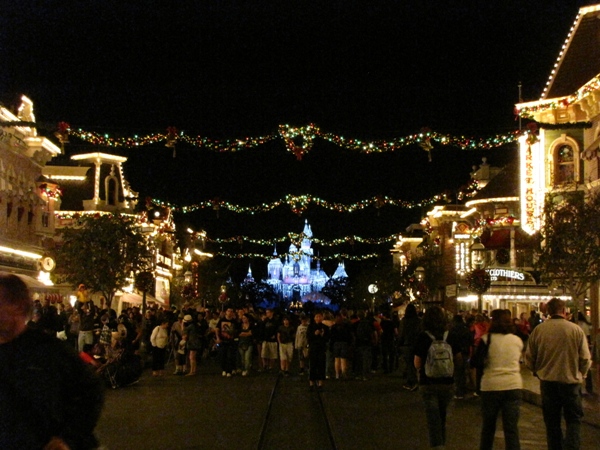 So that's Disneyland in a day.  Let me know if you actually use this plan.  I'd love to hear if you like it.  Enjoy!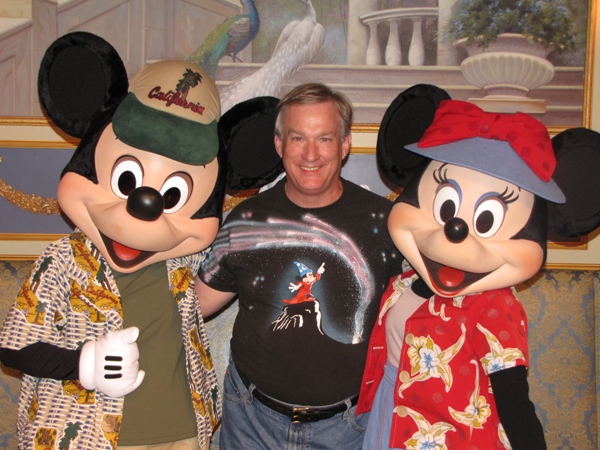 Category: Disneyland