Over the past 9 months the Amazing Adventures of Spiderman attraction at Universal Orlando's Islands of Adventure has slowly been transformed into a high tech dream.  Even before its 9 month transformation this attraction was touted by Orlando locals and tourists as the best theme park dark ride anywhere.  It's not as if Spiderman needed a face-lift.  He already wears a mask and most women find him pretty attractive.  But, I digress, we're talking about an attraction not the real Spiderman.  Of course, with its hi-def refurbishment, audio enhancements, scene upgrades, and hidden secrets Spiderman and his enemies look and sound better than ever.  Continue through the page break and see how the best attraction in Orlando has become the best attraction on the planet.
The Amazing Adventures of Spiderman has reopened to guests after a short closure to update the film and other elements inside the attraction.  When guests jump into their "scoop" ride vehicle they'll be treated to eye-popping, in their face graphics in digital 4K-HD.  Universal says these graphics are so crisp and clear you'll be able to see muscle movements and changes in facial expressions of Spiderman and his villains.  Here are a few more enhancements Universal says you'll be able to notice.
The enhanced attraction features a new original music score.  It is the same Spider-Man theme you love – with a rockin' twist.
The ride vehicle audio system has been upgraded from 8-channel to 16-channel so riders will be even more immersed in the action. Guests will experience 3-D sound quality.
There are hundreds of cool new details for guests to discover in the attraction.  Lighting, sets, graphics, props and even scenic detail have been updated to further enhance the animation's tremendous improvements.
Legendary comic book icon and Spider-Man co-creator Stan Lee makes a cameo appearance in the new film animation.
Universal says the clearer, brighter animation allowed the addition of loads of new details and high-tech gimmicks to the ride in which the wise-cracking web-slinger battles villains like Doctor Octopus, Scream Electro, Hydro-Man, and Hobgoblin.
Spiderman C0-Creator Stan Lee discusses the enhancements to the Amazing Adventures of Spiderman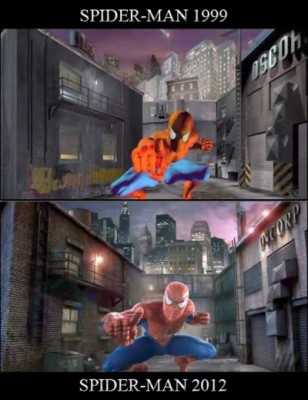 Before the Spiderman enhancements and after the enhancements
Here's a clip from the grand reopening press event
The DIS Unplugged's Corey Martin attended the re-opening press event at Islands of Adventure and picked up some images provided by Universal of the new enhancements.  You can see those images here.
The Amazing Adventures of Spiderman opened in 1999 and continues to thrill guests today as the most technologically advanced theme park attraction anywhere.  Even though it's more than twelve years old the attraction is still the best around, and now with these major enhancements it could very well be the best attraction on the planet.
Friend Aaron on Facebook: I accept reader friend requests.
Category: Universal / Sea World