One year ago, the Disneyland Edition of the DIS Unplugged Podcast debuted.  In celebration of our first anniversary, we invited listeners to send in their favorite Disneyland tips.  We were overwhelmed with the response and appreciate all the great ideas.  Keep reading to see some of the awesome tips our listeners came up with.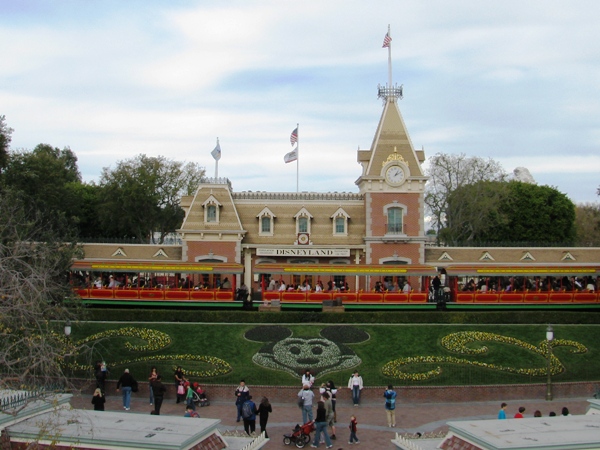 RON: "Here is a little known tip that is fun.  As you enter the queue for the Mark Twain, ask to pilot the ship.  They will allow up to four guest to go to the very top and steer the ship and sound the horn at four different times as it makes its journey around the Rivers of Amercia.  After the round trip you will sign a guest book and your child will be provided with a pilot's certificate."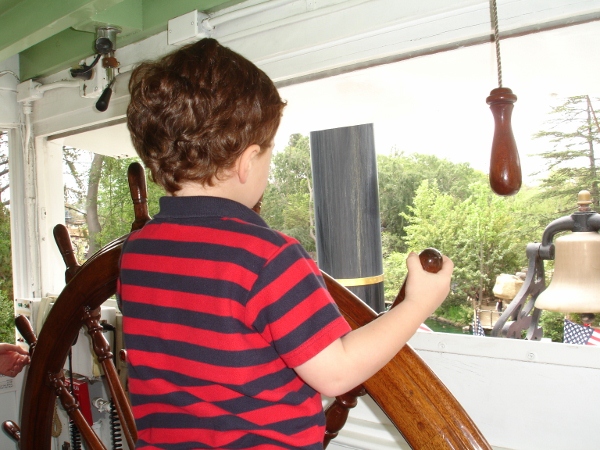 SARA:  "With my kids, I've learned that it's especially important to keep a good dose of protein in their system, or else they completely crash.  The best way for us to do that is to buy a couple of the barbecued turkey legs-it's enough of a substantial snack for our family of five, the kids all like them (I think my younger ones especially love being able to eat like little cavemen), they are inexpensive, relatively healthy, and are something unique to the park, which makes them seem like a treat.  I always bring things like string cheese, but that's not nearly as special.  If your young child likes the Tiki Room, it can be a great place to hang out and get a sit-down break.  We went when my daughter was 17 months old, in the middle of July.  She loved that show, and one night she and my husband (who also loves it) sat and watched it three or four times in a row, while my older daughter and I ran around the park and did thrill rides.  While the park was really busy at that time of year, the Tiki Room tends to be pretty quiet, especially after dark.
Also, search online for the easy directions to make your own Tigger Tails, to help console your devastated child after she realizes they've changed the recipe."
MARLA: "I thought this would be a difficult decision on what tip I should share.  But, alas this was pretty easy when you read my choice.  My favorite and best Disneyland tip is: do not miss the Flag retreat Ceremony at 4:45 p.m. (1645 hrs., of course that's military time, hehe) in the hub in front of the Train Station on Main Street.  Watching the Color Guard and Band come out and respect our Flag and Country makes me so proud.
At the last two ceremonies I have watched another part that has been added.  A brief announcement of sorts whether it is music or some kind of audio plays announcing each branch of our military.  At that time any present, or past military personnel are asked to join in the ceremony at the center around the flag.  After they have all gathered the leader of the Color Guard thanks them for their service and sacrifice.  You can't help but have a tear in your eye as you see these people of all ages standing at attention with their hands all in a fist of sorts and their bodies as erect and as proud as possible.
My Son is in the Army.  He will be graduating from West Point this May and then on to Fort Bragg in North Carolina .
The crowd for this ceremony seems to fluctuate in size.  The last time I saw it the crowd appeared to be getting bigger.  It does my heart good to see this ceremony and Disney thank our Military.  It truly is a "don't miss" event at Disneyland ."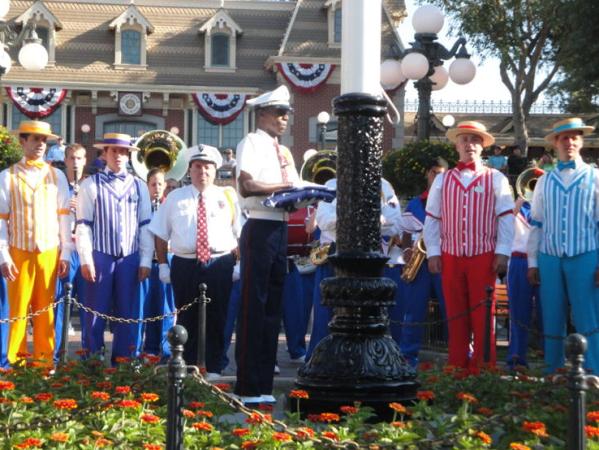 CHERI: "You can get a flat-rate taxi voucher from DLR area to the Orange County airport by asking at the Guest Services desk at a Disney resort hotel.  Flat rate is $32."
STACIE: "My tip is that if you time it just right (depending on the line length), get in line for Storybook Land Canal Boats about 20-30 minutes before the fireworks start.  When the fireworks start, the boats stop and you can watch the fireworks from the boat, and you will see them from both behind the castle and from Toontown.  The one time I did this, the cast member knew that's what we wanted to do so she made sure she stopped her boat just before coming back in to the dock so we could watch them.  About 5 minutes before the fireworks start, they will let people know that the boats will stop and if they don't want to stop they should let others go on the ride first.  It was GREAT! "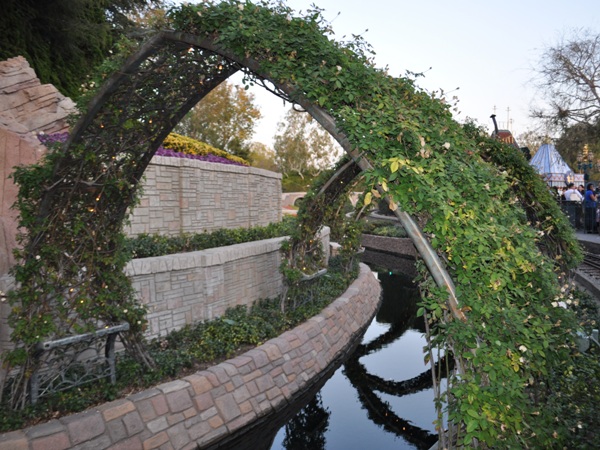 RACHAL: "Allright, my best tip for Disneyland is a two parter. #1- buy coffee at the place on Main Street.  Save your receipt and you can get free coffee ALL DAY! It's my husband's favorite tip. 😉  Also… #2 Take some time to sit on a bench and relax and enjoy the sights and sounds.  Sitting on the benches on the bridge, or over by Snow White's Well, you'll be surprised at how much you notice!  The ducks, the flowers, the castle's reflection in the water… it's all a bit of magic that can be overlooked in the hustle and bustle of a day at the Disneyland Resort.  And you never know what characters you might run into by the castle, with no wait!  We've seen Snow White, Aurora, Fairy Godmother, Mad Hatter and Alice and MORE! Truly magical."
TAMARA: "If you have teenagers who always grumble about having their picture taken, make up a photo scavenger hunt list before you go.  Give points for each item on your list that they find and take a picture with.  You can get ideas of things to put on your list  just by looking through the Photo of the Day thread on the DLR boards.  The more points they earn, the more prizes they win.  Encourage them to work together.  Good prize suggestions: a pressed penny, a free drink, an extra snack of their choice under $5, and the biggie- no chores for a week when they return home.  You win: all of your children in the pictures with no eye rolling!"
JEFF: "I offer this up reluctantly because I would hate if it became a crowded hot-spot:  The New Orleans Square Mint Julep stand.  The Mint Julep is an overlooked treat, and I dream about that taste all year.  It's like a Dole Whip in that respect, and you can't get it at WDW or any other Park, for that matter.   A must. "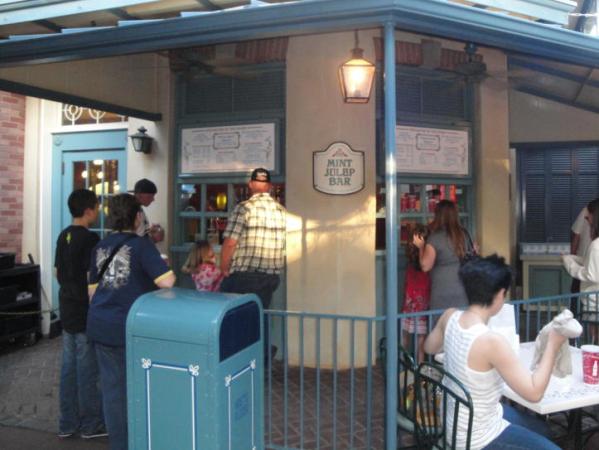 KERRI: "Use the inside line for the Dole Whip stand, it's usually shorter and you don't have to watch the Tiki Room show, you can simply walk back out after you have your tasty treat. "
TINA: "My absolutely favorite thing to do in the parks is to catch a Billy Hill and the Hillbillies show.  I have found that the best way to get a good seat is to arrive as a show is ending.  As the crowd is filing out, make your way up to the front and grab your table.  You may have to wait an hour for the show to start, so we use this time to have a snack, play cards, etc.  Instead of going back to our hotel for a break, we take it in the Horseshoe!"
HEATHER: "My best tip is simple but can go a long way, if you love Disney or have a question talk to a Cast Member. Ok, that sounds odd, but in many locations, such as the lobby for Mr. Lincoln, you will find Cast Members walking around near displays and exhibits, many of these Cast Members have worked at Disneyland a long time, and have great knowledge of Disney and the park. Sometimes we had trivia type questions that hag bugged us for a while, sometimes just random questions that popped in our heads, but often we got great answers, tips and information, that really made or trips more memorable.  Especially for me, when a simple question turned into a mini tour of the Gallery (in the Bank) with information about artists and ties to Disney I did not know before. Or in the day, a tour of the upstairs apartment (while it was the Gallery), before it became the dream suite, both really made our day.
Some rides and places lend themselves to the ability to chat with Cast Members well, like the automobiles and carriages that tour Main Street. Many of the drivers have been at the park a long time, and are so much fun to ask questions of and talk to, especially about the parks, or of course about the horses.
Sometimes Cast Members are very busy, sometimes it depends on where you are at, but never be afraid to ask a Cast Member a question, if they are busy often they will find someone to help you. From what do you think the best dessert is in the park, or where do you get the Yule Cake Guy Fieri showed on his show, asking about the Lincoln display (did you know the bust is set out so blind visitors can feel what Mr. Lincoln looked like?), can you send us with your funniest JB Skipper or even the most important where is the nearest bathroom! It is always fun to chat with the Cast Members, as you never know where a polite word, and a simple question, might take your trip. Keep in mind they are working, don't hold up lines, be polite, but even a quick question, might change your day at Disneyland. So my tip is when in doubt or you just have a random question ask a Cast Member."
KIT: "If you are traveling with kids and don't get to Anaheim until late in the afternoon, sometimes it is hard to justify using a day of your admission pass for such a limited time.  Stroll through DTD, then take your family to dinner at a character meal at Goofy's Kitchen.  The kids will feel like their Disney vacation has started even though you have not set foot in the parks.  If you have really young ones, you can get them to bed early so everyone is ready for rope drop the next morning.  Slightly older kids might enjoy viewing the fireworks from the esplanade (or your hotel, depending on where you are staying) before bedtime.   A similar vacation stretching trick can be done on the other end of your vacation with a character breakfast, if you have a flight that leaves late morning."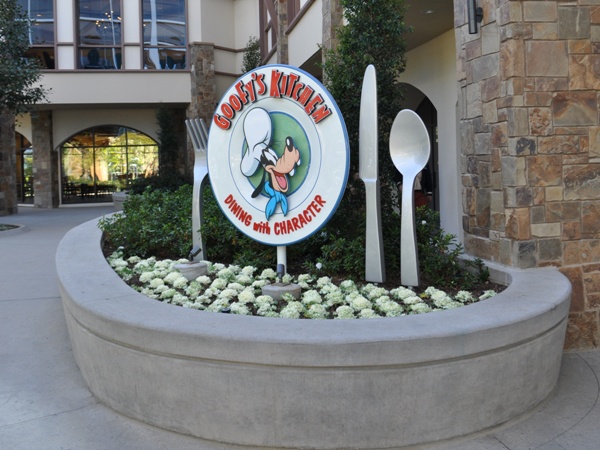 KRISTIN: "If the line at the ice cream shop on Main Street is really long, look across the street behind the fruit stand. There is a small ice cream window at the end of the alley. It has similar sundaes to the place across the street, but usually a shorter line. Beware, it is not open all day, but it is worth checking."
RACHEL: "My best tip is regarding traveling with small children.  There are temporary tattoos available that allow you to write a cell phone number on them before applying, and then last for more than a week once applied. Ours lasted through the airport, pool, and a week at the park."
MARY: "My best Disneyland Tip is: The Goofy Water Fountain in Toon Town at the gas station is fun to drink from at night. (It turns different colors!)"
NATASHA: "Ride the Disneyland Railroad first! For Disneyland newbies, it is a great way to get a feel for the layout of the park (especially if you are used to Magic Kingdom at WDW) and to build excitement for the day. From the train you will see a lot of the park and be able to point out attractions that you want to make sure to hit later on. Plus, what could be better than starting your day on one of Walt's favorite and most iconic attractions?"
On behalf of Nancy, Wayne and Tony, I want to thank you for listening.
Category: Disneyland