The Disney Company released its first quarter earnings report on Tuesday, February 7, 2012.  You can read the written report here(the one where you have to add a million dollars to the numbers in the tables). Theme Park revenues and operating income soared for the last 3 months of 2011.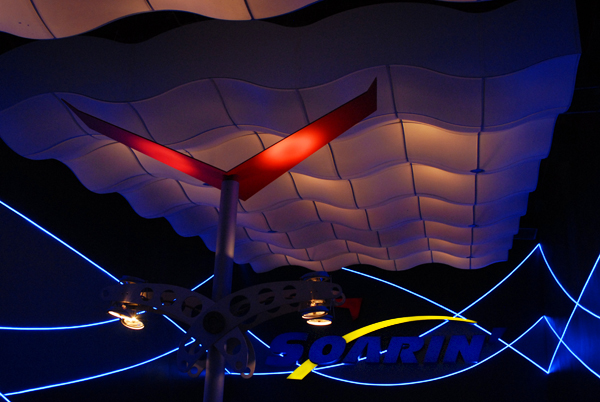 Since the information in the report was reported on the
1. news segment of the February 9
(mp3 sound file), I'll focus on the remarks from Bob Iger and Jay Rasulo in the
earnings conference call
because they provide a few more details than are in the formal earnings report.
The single largest capital expense for the parks and resorts segment is, not surprisingly, the Disney Fantasy, which will be launched in Disney's second quarter.
In the conference call, Rasulo explained that the launch costs for the Fantasy (which will fall in the current quarter) will be in the "tens of millions", a figure which seemed to please Rasulo, who explained that the costs would be "nowhere near triple digits."  (Launch costs for the Dream were between $15 and $20 million.)  Other capital costs were, not surprisingly, related to the theme park expansions, with Iger saying "the largest and most exciting part of this expansion has yet to open, and that is 'Cars Land.' This brand new 12-acre land, with 3 attractions, set in Radiator Springs, will open in June."
Turning to Walt Disney World, Iger believes the family suites at the Art of Animation Resort respond to "a real demand in the marketplace" and reflect "the popularity of our product and the fact that we are now making it more accessible to more people because of the affordability factor."  Currently, 40% of the rooms at Walt Disney World are value resorts; the Art of Animation suites will increase that percentage.
One question asked whether international visits held steady.  Rasulo explained that the volume of international visitors to Disneyland and Walt Disney World held steady but that the demographics are changing.  He said there were increases in visitors from Brazil and Mexico and fewer from Canada and the United Kingdom.  Even so, the UK is, far and away, Disney's biggest international market.
So what is driving the double digit revenue and operating income figures for theme parks and resorts segment?  Rasulo explained it was the "result of higher guest spending and attendance at our domestic parks and higher passenger cruise days driven by the Disney Dream, partially offset by higher costs."  Over the last three months of 2011, "attendance at our domestic parks was up 3% and per capita spending was up 8% on higher ticket prices and food and beverage spending."  Increases in room prices also helped, "Average per room spending at our domestic hotels was up 6%, while occupancy was flat. The increase in per room spending was driven by higher pricing and a reduction of promotional room nights."
Looking ahead to the second (current quarter), Rasulo said resort reservations "pacing up" in "mid-single digits compared to prior year levels" as are "booked rates."  In other words, Disney's "strategy of returning pricing to more normal levels, without sacrificing volume, continues to pay off."
In short, Disney is not seeing any decrease in theme park attendance caused by the increased prices we all have been paying.    But there is an interesting question lurking behind the numbers.  This quarter covered one of Disney's busiest visitation periods. Yet room occupancy was "flat"  while attendance was up 3%.   (Three percent may not seem like much but Disney carefully monitors even smaller swings in attendance and spending. With the volume of Theme Park visitors, 3% can mean big money.)  So, it seems, the same percentage of people are willing to pay higher to stay in a Disney hotel.  Combined with the increase in park attendance, it seems to me to indicate that a sizable number of people are deciding to stay off property or at a non-Disney hotel for their Disney vacation experience.
But even the "higher price" cloud has a silver lining.  Disney is clearly aware that putting money into Parks and Resorts (which includes the cruise ships) will ultimately pay off.  So, while guests should certainly not be putting up with food that is garbage, one way to look at the higher room and ticket prices is that they are helping to drive and pay for Disney's capital investments in the theme parks and cruise ships.
Category: Disney Cruise Line, Disney World, Disneyland