February 5th was Dapper Day at every Magic Kingdom park around the world. For those who don't know, dapper means to have a neat and stylish appearance. Dapper Day is a day where people dress their best in clothes anywhere from the 1920s to the 1950s. You don't have to dress from those eras, but most people do and it's encouraged. I'll be talking about Dapper Day at Disneyland in Anaheim, CA.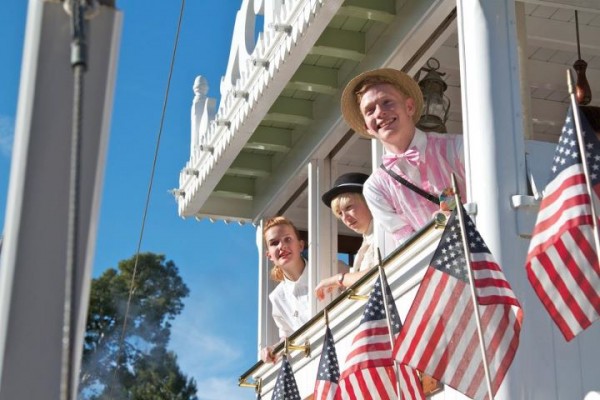 A group of very dapper people on the Mark Twain
Photo taken by Gareth Thorp
Throughout the day there were gatherings for people participating. I didn't get to the park till around 7pm because I went to the San Diego Zoo's Safari Park for a segway tour with my mom and a couple DISers, which was really fun. So, I only went to the last gathering, but a couple of my friends went to others.
For the first gathering, The Mark Twain Mixer, everyone met at the Mark Twain Riverboat landing and went on a trip around the Rivers of America at 3pm.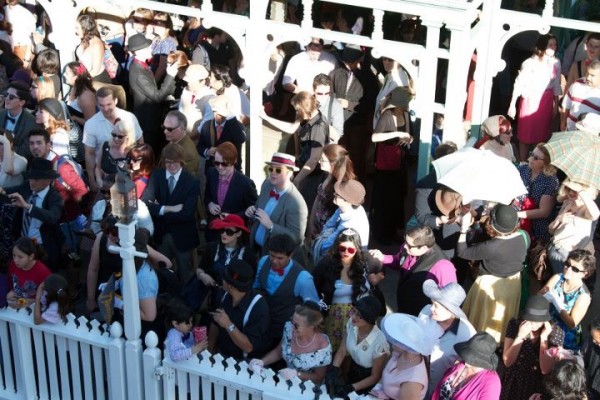 Everyone waiting to get on the boat
Photo taken by Gareth Thorp
The second gathering, Island Escapes, was from 3:30pm-4:30pm and that was on Pirate's Lair on Tom Sawyer Island. Everyone met up on the island to take pictures and played around in the caves, tree houses, and other spots. The third gathering, The Dapper Derby, was held at 7pm, where everyone met up at King Arthur's Carrousel to ride and have fun and also for more awesome picture opportunities. Since the carrousel only holds 68 people there was a fairly long line. The fourth gathering, After Dapper Drinks, was held at 10:30 pm at Trader Sam's at the Disneyland Hotel.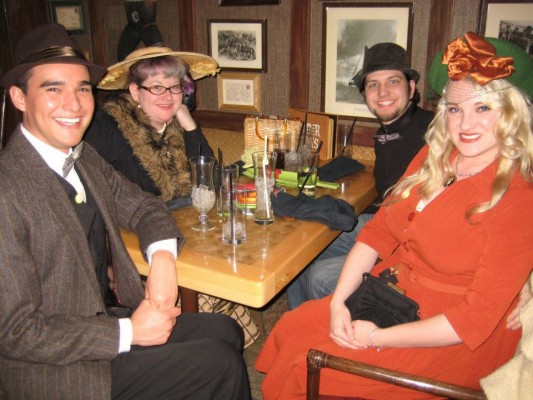 A group at the After Dapper Drink Meet
It was really cool seeing the different outfits people made, bought, or put together. I love going to special days like this for that reason. Although this was actually my first time going to Dapper Day, last year was the first annual Dapper Day. I'm glad I've only missed one  year of this awesome annual event.
I went with a group of friends who all dressed up. My outfit consisted of a black dress with small white polka dots and some red trim that I got at Goodwill for $8, a little jacket I got at Ross for $12, a hat I also got at Ross for $10, and a pair of black flats I got at Old Navy that were $23 (only bought them because I had a gift card; otherwise too expensive). I was actually very lucky because the only thing that was difficult for me to find were the shoes.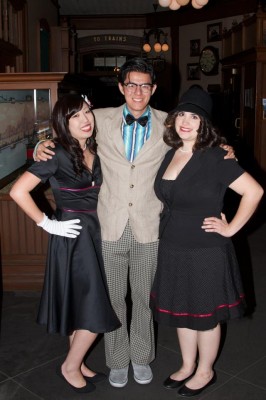 A couple of my friends and I in our most dapper clothes
For those who have an annual pass I strongly recommend going to this next year. Even if you don't dress up it's fun seeing everyone who is. If you want to dress up for next year and you can't sew, or don't have anything you can throw together in your closet, I suggest going to Goodwill or a thrift store. If you're lucky you can find something at a discount clothing store like Ross. A lot of discount clothes stores have clothes that are too modern so the easiest place to find something would be a place where people donate old clothes.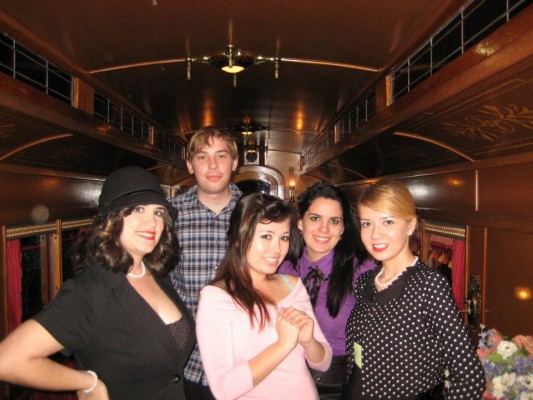 My friends and I on the Lilly Belle
For more info on Dapper Day, visit dapperday.com.
Category: Disneyland
hi I'm Kelly. I'm currently 23 years old and graduated from Le Cordon Bleu in Pasadena. I love to cook and bake =3 I currently have 3 cats. I've had many other animals that I miss and I'm sure there's more to come in the future =] I'm carefree and love to laugh and have fun. I always try to think positively and look at the brighter side of things. I love my family and friends and would do anything for them. I'm very much into the Japanese media scene. I like anime, manga, and Jrock. I also like Kpop and Khip hop. I'm currently getting more into the cosplay scene too. I also love playing video games. it was a huge pass time when I was younger but I lack money now so I can't really play what I want to anymore =/ I love Disney very much. I go to Disneyland and DCA (Disney's California Adventure) regularly and never get tired of it. I've also had an annual pass since I was 5 except in 1999. Hopefully I get to work as a Disney chef one of these days. Or maybe get my own catering business. We'll see what happens I still have a few months left =] Another thing I really like doing is going to the movies. I don't do it much cuz there's no one to go with really but I like it. you can call me a nerd, geek, dork, weebo I don't care cuz that's just who I am and what I like. so yeah, that's me! =D