Super Bowl XLVI MVP Eli Manning is going to Walt Disney World.  Since 1987 when Phil Simms first said to the camera, "I'm going to Disney World!", it's been a tradition for the Super Bowl MVP to go to Walt Disney World to take part in a daytime parade down Main St. USA in the Magic Kingdom.  The parade is scheduled to take place today 2/6.  Manning will be accompanied by several NFL youth football players as he heads down Main St. USA in his motorcade.  The New York Giants defeated the New England Patriots 21 – 17 in Super Bowl XLVI in Indianapolis last night to win the NFL championship.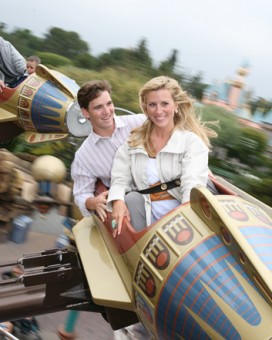 Super Bowl XLVI MVP Eli Manning and his wife Abby McGrew visit Disneyland in May of 2008.   Photo couresty of Disney Parks and Resorts.
Friend Aaron on Facebook: I accept reader friend requests.
Category: Disney World