I love shopping during the holiday season.  I love the sights and smells, the colors, and even the crowds of people looking for that just-right gift.  My daughter, Kelly, and I decided to go visit the Disneyland hotels and Downtown Disney to check out some of the shops there.
We parked at the Mickey & Friends parking lot and walked over to the Disneyland Hotel.  For those who do not have annual passes and need to park at the Disneyland Resort, the Downtown Disney parking lot offers three hours of free parking.
We first went to the Fantasia shop.  The Fantasia shop is located in the Fantasy Tower at the Disneyland Hotel, and has a cute Christmas tree at the entrance.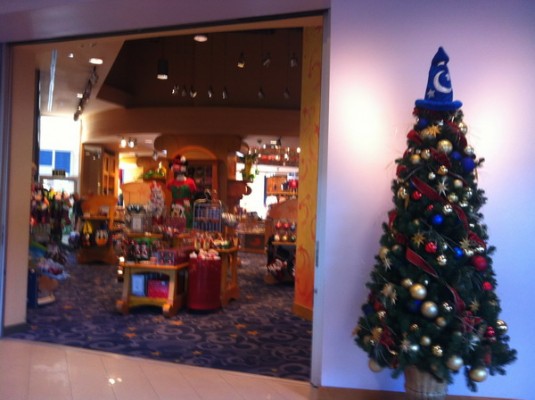 They had a nice selection of gifts, including ornaments, clothing, jewelry, stockings, kitchen items, and of course, toys.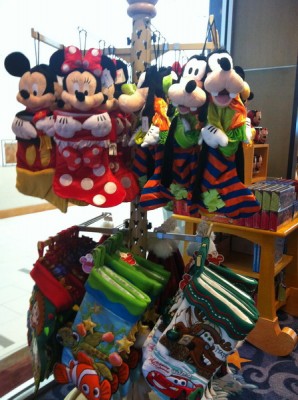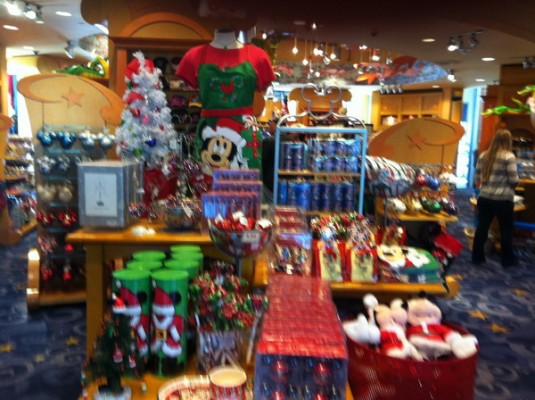 There was a nice collection of Cars toys, including a remote controlled Lightning McQueen that Kelly would have liked to try out.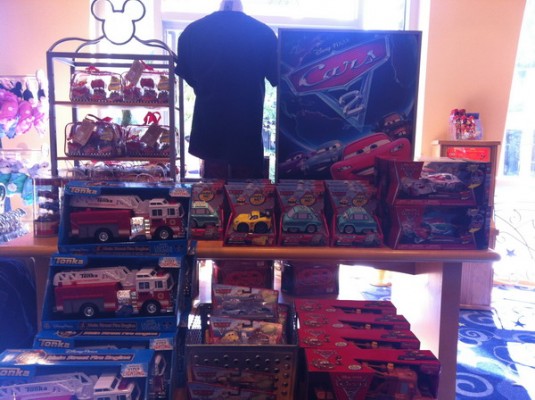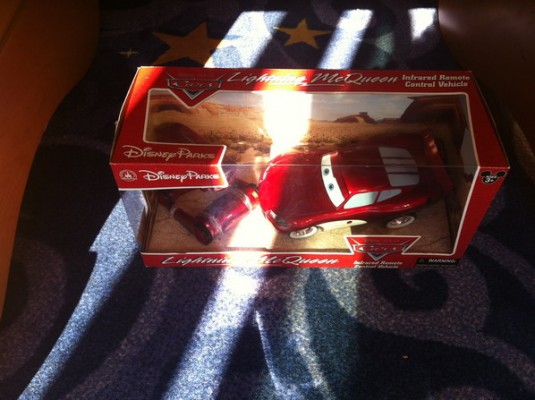 There was a nice little kitchen section, also, that Kelly was checking out.  She's going to culinary school, and I know she's thinking of a Disney kitchen (keep the mental note for future reference).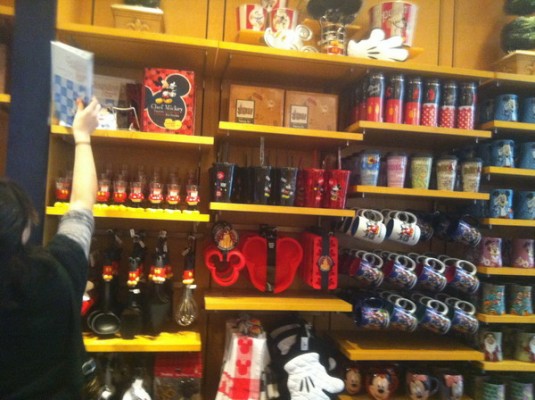 On our way to check out Downtown Disney, we took a look at the lobbies at the  Adventure Tower, with its Christmas Tree, and the Frontier Tower with its Christmas Tree and cool model of the Big Thunder Mountain Railroad.  We hadn't had a chance to see the renovations to the towers, and the lobbies have been themed nicely.
Christmas tree in Adventure Tower.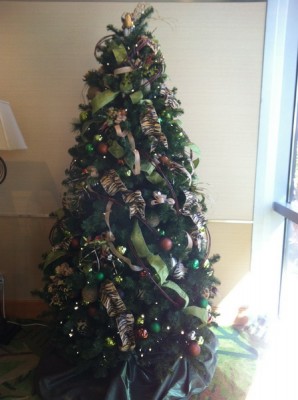 Frontier Tower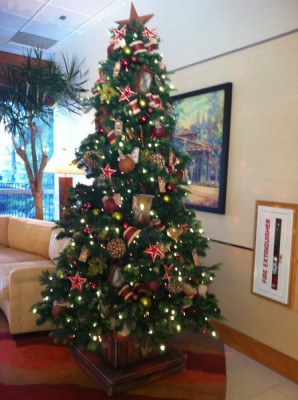 We walked under the Sorcerer's Hat and our first view was the big Christmas Tree at Downtown Disney with Compass Books and the AMC Theater in the background.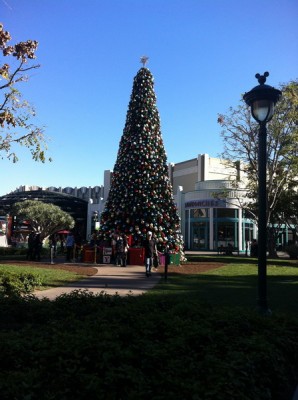 Our first stop was Compass Books.  This was one of my favorite stores.  I love books (even though my Kindle is loaded with ebooks), and the Compass Bookstore has a great collection of books about Disney, Christmas, and regular selections.  They also have unique Christmas pop-up cards that we really enjoyed looking at.  I had to get a couple of those. They also have wrapping paper and gift bags, which makes it convenient for gifting at the Disneyland Resort.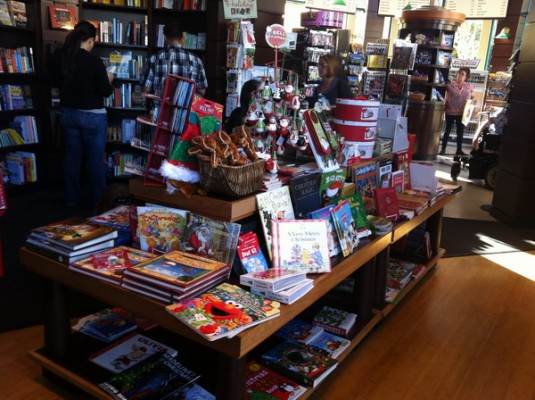 Outside the store we saw Santa's sleigh and a nice set-up for those holiday photos.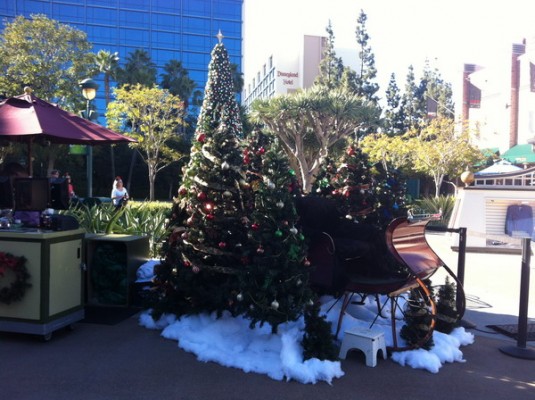 We passed the Lego store, full of great Christmas gifts, including a cool Star Wars Advent calendar.  I had to get one for my nephews.  They will have a fun time counting down the days to Christmas.
There were also several kiosks throughout Downtown Disney selling Christmas items.  the Crystal kiosk had a nice selection, including some Disney Christmas themed items.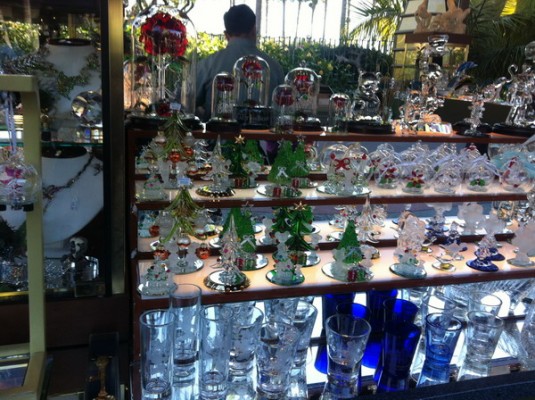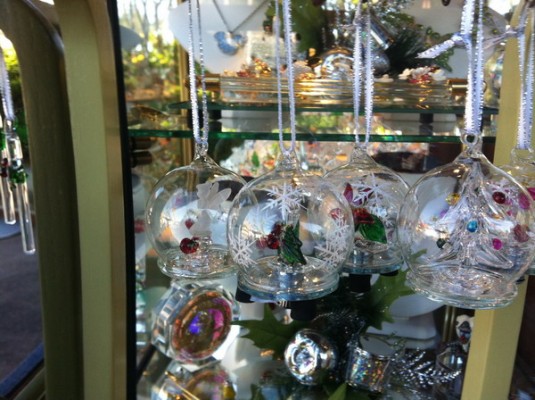 There was also a kiosk with ornaments that could be personalized, though I did not see any Disney themed ones.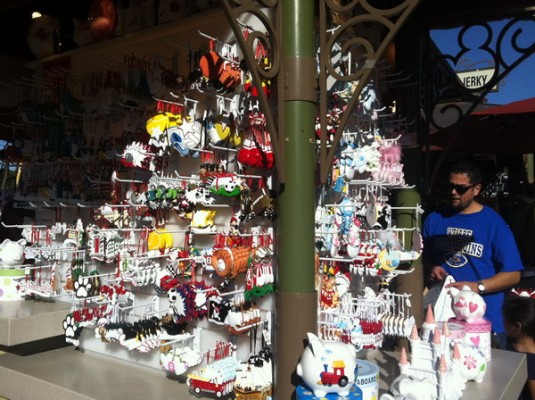 We also checked out the Build a Bear, and saw some cute holiday outfits, and a nice addition of Rudolph the Red Nosed Reindeer and the Chipmunks.  I recommend that if you are going to go to Build a Bear, go early in the day to avoid the big crowd in the afternoon and evening.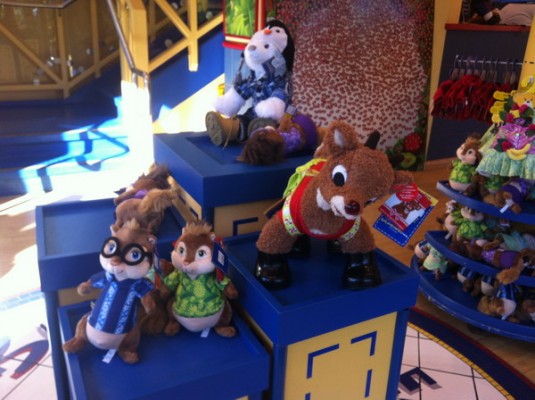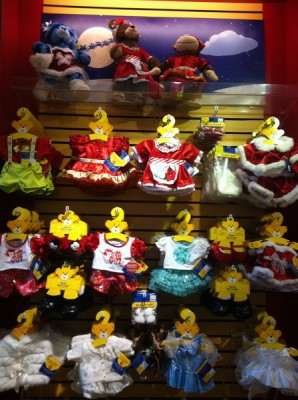 We then went into D-Street.  That is a fun store because they have some unique gifts.  There were several Star Wars, Muppets, and some funky Mickey items for sale.  Kelly and I really enjoyed the Muppets apparel, and I saw the perfect shirt for my son, Nick.  They didn't have his size, so I will have to go back.  They also had C-3PotatO, a Mr. Potato Head with C-3PO, and a Chewbacca Mr. Potato Head.  There were also quite a few vinylmation dolls, including some that were Muppet themed.  For those who love vinylmation, I recommend going to this store for some choice figures.
Marceline's Confectionary was crowded, with a long line of people buying treats, and I don't blame them.  The sweets in this store are delicious as well as pretty to look at.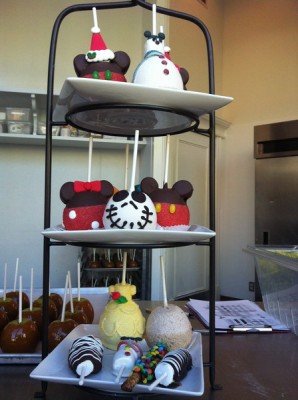 We wanted to check out the Grand Californian Hotel, so we went through the convenient Downtown Disney entrance.  As usual, the lobby was gorgeous, and people were relaxing and listening to the Dickens carolers who were singing around the Christmas tree.  I could have stayed there for much longer listening to them.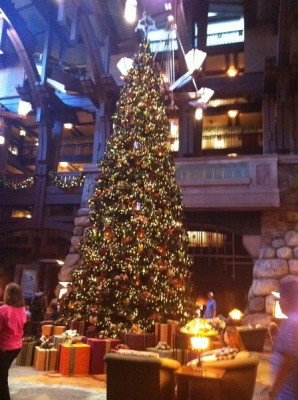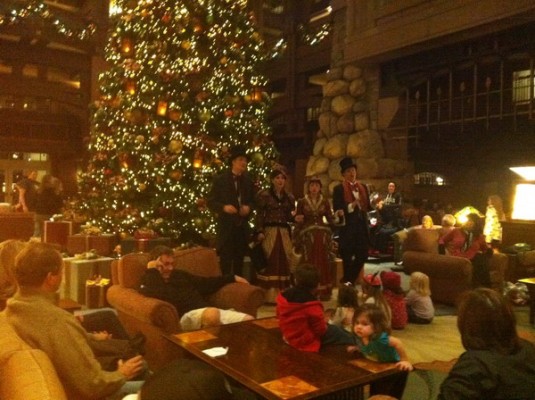 We headed over to the Acorn gift shop.  Though there are many items repeated in the various shops, there are some unique items in each one.  This year, the selection seemed to be smaller than it had been in years past, but there still some nice things to choose.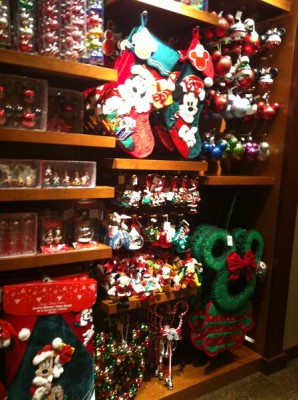 Our final stop at Downtown Disney was the World of Disney.  Now this store, as many know, has just about everything in it.  There were the usual toys, a variety of clothes, watches, jewelry, kitchenware, etc., plus Christmas items.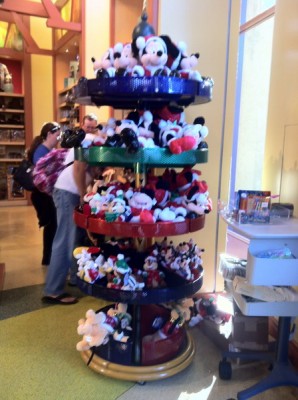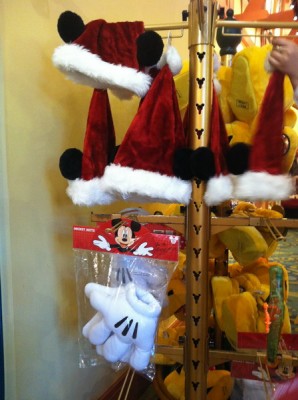 There was also a small selection of Hanukkah items.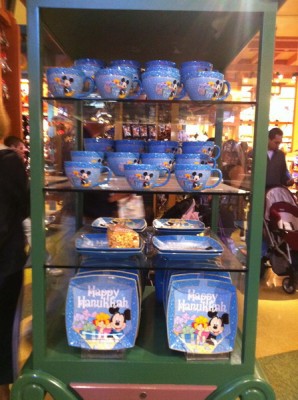 The Disney Dooney and Burke purses are as popular as ever, and they had some on display.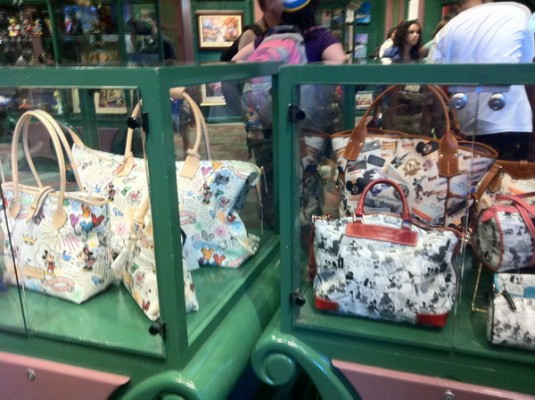 One of my favorite styles is the Jim Shore figures.  I have a couple Tinkerbells, and always enjoy looking at the latest. Here we have a Tink treetopper and an Eeyore stocking holder.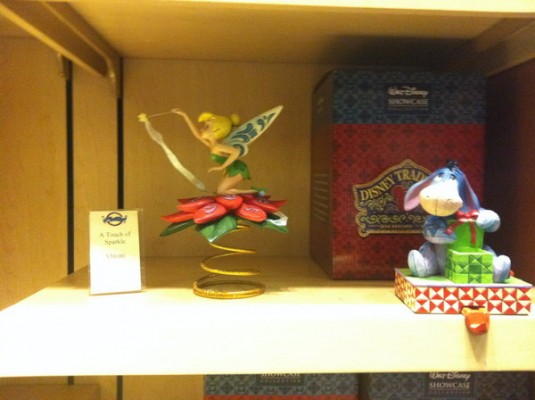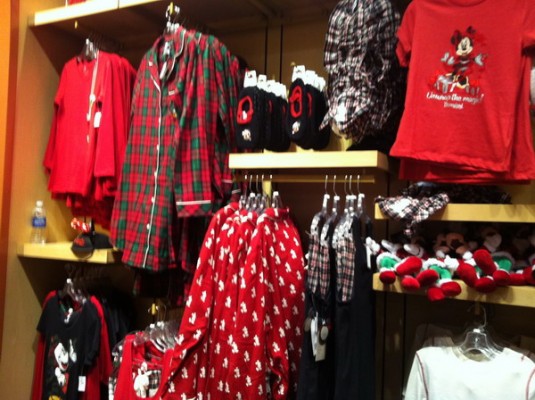 There were a lot of items in the World of Disney.  I couldn't take pictures of all of them, but we spent quite a bit of time in the store and taking notes.  I think Kelly's notes were mostly about things SHE would like, though, and I'm sure on Christmas she will be pleasantly surprised.
We did not shop in the Paradise Pier hotel, but I did snap a picture of the tree in the lobby.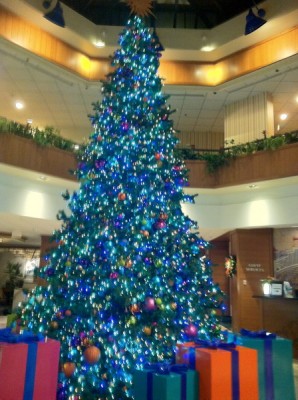 There is such a variety of fun things to get at the Disneyland Resort, that you are sure to find something there for someone.  Having the premium annual passport, we were able to get our things at the Disney stores with a 20% discount (those with So Cal or deluxe passports get 10%).  If you are not sure what to get someone you can always get Disney gift cards.
I love going to the Disneyland Resort and checking out the different shops there.  Right now, with the Christmas decor, the music, the yummy smells, and fun crowds, it is a nice way to spend a few hours in a day.
Category: Disneyland