After the podcast taping on December 11, 2011, several DISers are going to meet at the Dolphin Lobby Christmas Tree to do a "photowalk."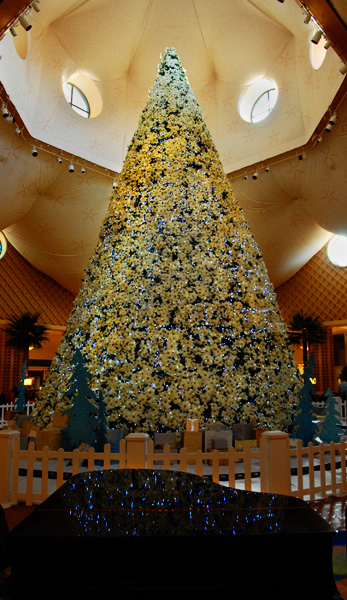 While the goal of a photowalk is essentially to get other photographers' perspectives on the same subject, the goal of this photowalk is also to raise money for Give Kids the World, specifically, Kathy and Teresa's Muddy Buddy Challenge (otherwise known as Two chicks that don't run, bike or get dirty).  Anyone is welcome to join us and all are encouraged to contribute to Kathy and Teresa's Muddy Buddy First Giving page.  Updates (and any changes to the schedule due to weather) will be posted at this Power of 10 Events Page.
I have several personal goals for the photowalk.  This is the old (photo taken in 2009) Gingerbread House at the Boardwalk.  I look forward to seeing the new one (even if it still includes Stitch).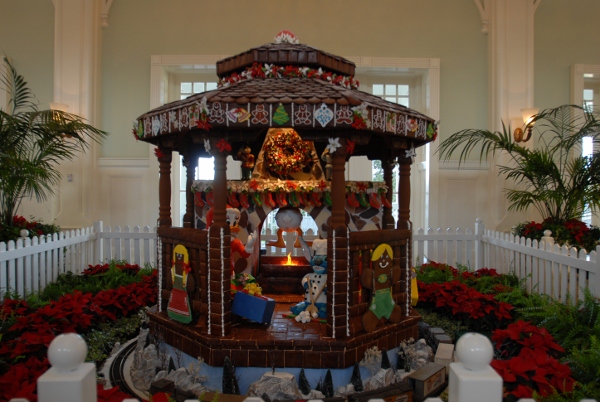 Of course, there is also the carousel at the Beach Club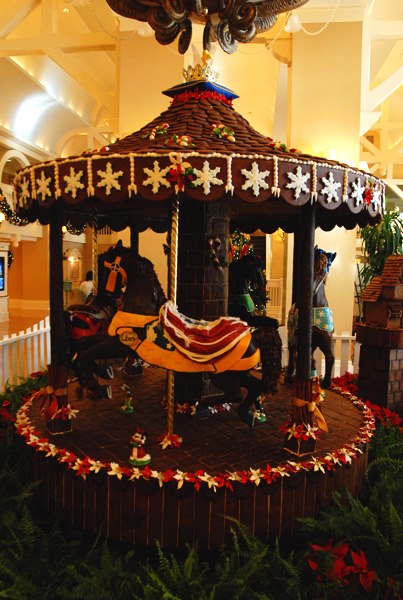 and, for Hidden Mickey fans, there are so many, I always lose count.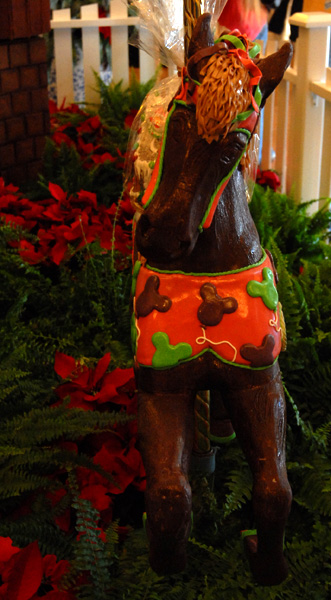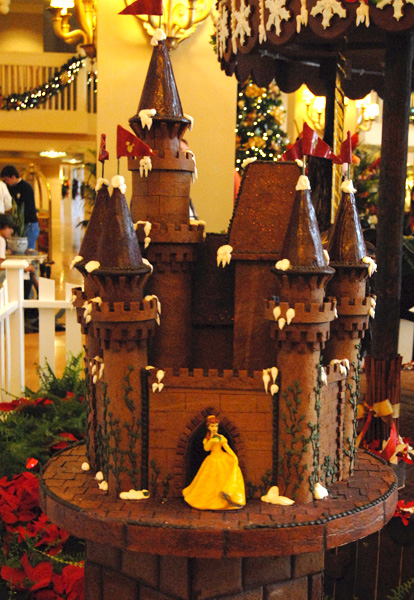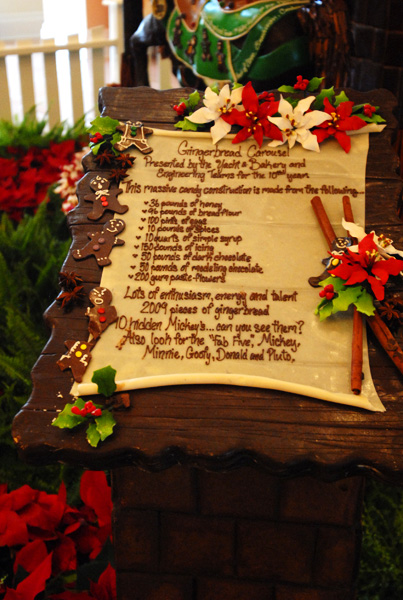 Getting quality photographs of the decorations is sometimes a challenge.  Chip and Dale's cottage seems to have been invaded by a red-shirted arm.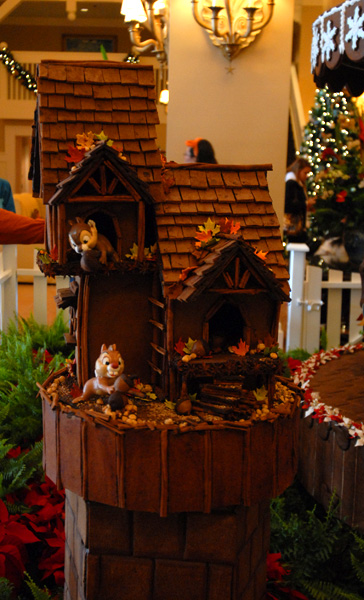 And there is also the risk of catching someone else's flash (which I do my best to avoid).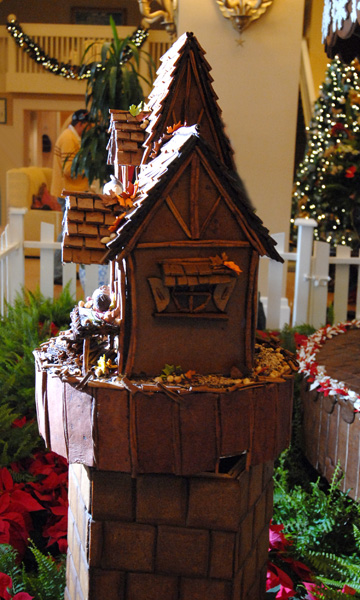 But all in all, the EPCOT resort lobbies are beautifully decorated.  The Yacht Club Christmas Tree is a personal favorite.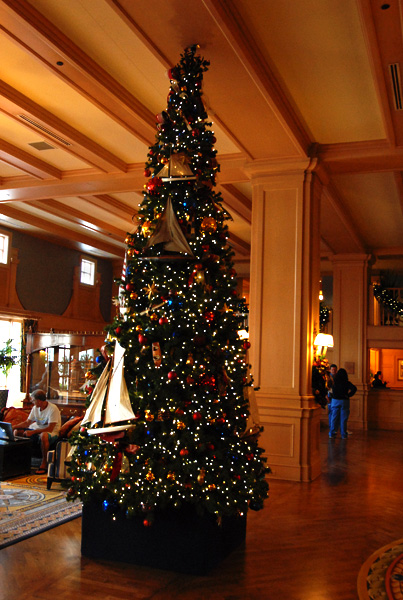 While I always enjoy the train setup in the Yacht Club lobby, it would be nice to see some variation from the one that has been used in prior years.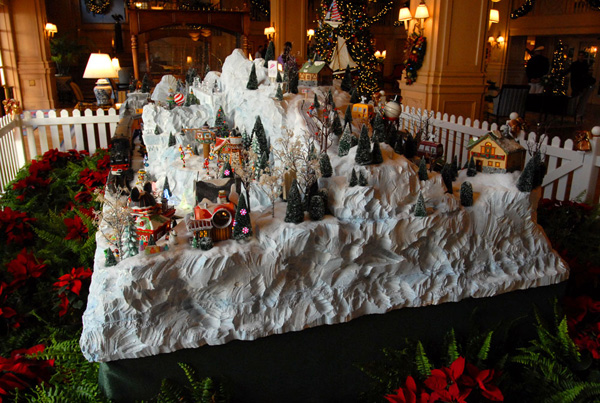 Even so, the train set is so close to the window that getting quality photos of it during the day always poses a challenge for me.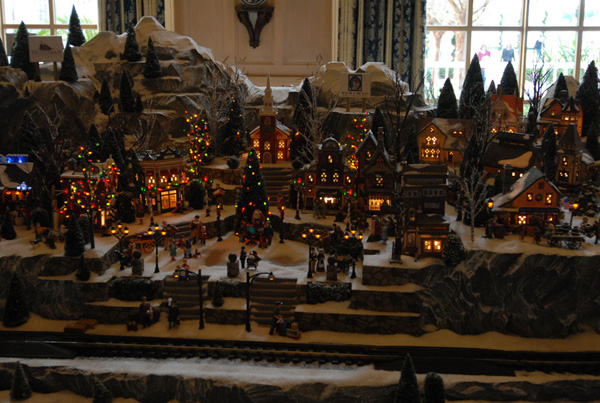 While I've posted photos from inside all the EPCOT resorts, there is no touring plan for the photowalk.  The group will decide where and how far to go.  Regardless, I look forward to seeing the photographs from everyone.
To see photos of this year's decorations, check out Kathy Werling's recent blog.
Category: Disney World