Toy Story Mania 120 minutes, "Ouch!" Peter Pan's Flight 80 minutes, "Wow!" Test Track, 100 minutes, "Geez!" Expedition Everest, 75 minutes, "We'll hit that later." These attraction wait times are very common, especially during the height of the day in each of the 4 Disney World theme parks.  The popularity of Disney's theme parks has grown exponentially over the past 20 years.  What was once 2 theme parks and a grouping of resort hotels has become a mega-resort with 4 theme parks, 2 water parks, a downtown entertainment district, and approximately 30 resort hotels.  Take a look at the potential for growth at Walt Disney World by continuing through the page break.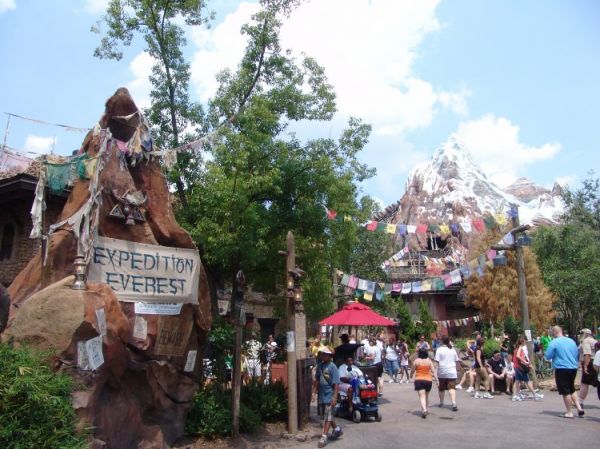 With lines snaking though attraction queues like a boa constrictor, resort hotels sold out, and parade viewing routes bursting at the seams you would think it is time for Walt Disney World to expand.  Well, expansion can have a lot of different meanings when it comes to theme parks.  You can add sections to theme parks, replace attractions, add shows and dining outlets, or even add a new park all together.   The big question on a lot of our minds is when will Disney add a fifth theme park to Walt Disney World?  As theme park fans we love to see expansion….BIG expansion.  We're always craving fresh new attractions, shows, and dining experiences.  Let's take a look at what the effect of a fifth theme park might mean at Walt Disney World.
Disney Dreaming
Do you remember the name Michael Eisner?  Yea, you know, the ex-Disney CEO who dreamt big and faced a lot of ridicule from the Disney Board of Directors and even some large shareholders.  During his tenure we had no idea what he meant to theme park fans like us.  We sort of took him for granted while he more than doubled the entertainment options at Walt Disney World.  Michael Eisner was a fan himself of the Theme Park division.  It certainly showed through his vision of adding Disney MGM Studios (now Hollywood Studios) and Disney's Animal Kingdom theme parks.  Adding two theme parks and several resort hotels looks like a mega accomplishment today.  Come back Michael!  Come back!  Not that current Disney CEO Bob Iger is doing a bad job, I'm just not so sure he has the same passion for the Theme Park division as Michael Eisner did.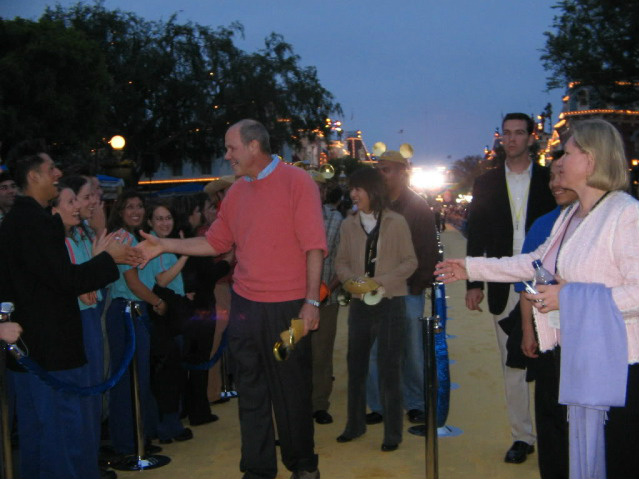 Michael Eisner greets guests at a Disney press event
Bob Iger and current Theme Park Division President Tom Staggs set a very quick precedent about building new Disney theme parks in September of 2007 at a financial conference when they both said, "No new U.S. Disney theme parks in the foreseeable future."  With that quote Bob Iger left us disappointed, but wondering what other expansion ideas were in the works for the other 4 theme parks.  It became obvious the Theme Park Division's focus would be expanding, upgrading, and providing some TLC to the existing 4 theme parks.  Even though we won't see a new U.S. Disney theme park in the foreseeable future, Disney theme park fans are always wondering and dreaming what a fifth theme park would look like.  What would be the main theme?  Some Disboards.com forum posters have pointed to a Disney villain's theme park, or even a nighttime theme park called Night Kingdom.  Another popular rumor is a theme park dedicated to Marvel Comic characters since Disney recently spent a ton of money acquiring Marvel.  It maybe another 10 years before we see a new U.S. Disney theme park, but we can dream and wish just like an Imagineer, right?  Until then we can look forward to attraction updates and expansions in the existing theme parks like the Fantasyland expansion and the new Avatar themed land coming to Disney's Animal Kingdom in 2014.  Let's not forget the huge expansion and update coming to Disney's California Adventure at Disneyland in the very near future.  There's still a lot to look forward to in the theme parks for the next 4 years.
A New Theme Park versus Theme Park Expansion
Disney does a great job at moving lines and crowds through its theme parks.  The simple fact is the more C, D, and E ticket attractions in the theme parks the shorter the lines will become in other attractions.  Does it really matter if these new attractions are in a totally new theme park?  Does physical location of new attractions really factor into the length of other lines and size of crowds?  As far as attraction lines it doesn't really matter.  The more attractions you have in a theme park the shorter the lines will become everywhere else.  But, you could make a case space in a theme park is limited.  You could continually bump elbows with other guests if the size of a theme park can't hold the crowd.  Table service and quick service restaurants could also be impacted negatively without a new theme park unless an existing theme park expansion included additional dining outlets.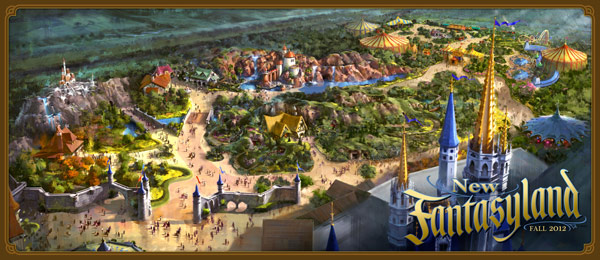 If you've walked through Disney World's theme parks you've probably noticed a lot of open and dead space.  Some of the space you may not even be able to see.  Trust me, it's there.  For example, the building next to Toy Story Mania has sat empty for quite some time with a marquee sign outside with the words Hot Set – We are preparing for a new production.  Rumors have been swirling for years about a new Monsters Inc. attraction coming to this site.  There's also a large cleared area just north of Asia inside Disney's Animal Kingdom.   Some fans have speculated this area might be the possible location of the new Avatar themed land.  The idea is there's a lot of useable space inside the existing theme parks for expansion and new attractions.  Some theme parks have more possibilities than others, but if the existing space were to be used properly the impact on lines and crowds would be minimized quite a bit.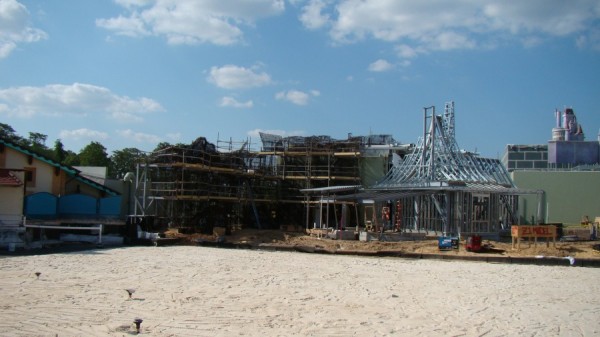 For Disney Execs, and other theme park Execs for that matter, building a brand new theme park is a HUGE risk and upfront investment these days.  In fact, the trend of building a new theme park lately is to start small and expand later.  Take Disney's Animal Kingdom for example.  The number of attractions inside the park when it first opened was limited.  There was plenty of infrastructure like pathways, restrooms, shopping outlets, etc, but the cost of building new D and E ticket attractions is huge.  The Animal Kingdom theme park is expanding, but slowly.   We've seen the addition of Expedition Everest and now the announcement of the Avatar themed land.  When Animal Kingdom first opened it was a skeleton of itself.  A number of guests still believe the Animal Kingdom is a half day park.  I tend to disagree if you are willing to discover.  It appears the new theme park model is to start small, collect revenue from the new park, and expand later.  If I had to choose between starting a new theme park or to expand and refresh existing theme parks I'd tend to lean towards expanding and refreshing the existing parks.  To me, building a new theme park these days seems to move slowly and there's just not enough of an upfront capital investment for a new park.  I believe as theme park fans we'd love to see a new theme park open that was a full day experience, but in today's economy it's just not possible.  For now, keep refreshing, expanding, and updating the existing parks.
Lost in Space
Walt Disney World; 47 square miles of space….Well, not anymore.  Over the past 10 years Disney has been selling chunks of its land along the outer fringes of the resort boundaries.  Despite these land sales the resort is still huge and there's a lot of open land.  A decent chunk of the property is considered conservation space where Disney would have to excavate the land to develop any type of infrastructure.  A pretty large undertaking for sure.
The organization that's responsible for future land development is the Reedy Creek Improvement District or RCID.  This is the governing body that handles building codes, land usage, constructs roads, and provides fire protection for Walt Disney World.  If Disney World ever decided to add a fifth theme inside its boundaries you can bet the Reedy Creek Improvement District would be heavily involved.  One of the first decisions to be made would be where to place the new park.  Believe it or not a lot of the land inside Disney World has already been earmarked for specific development including new theme parks.  A public document filed by RCID shows this potential development through the year 2020.  You can find this document here.  It's full of stats and figures that show what the land could potentially be used for in the future.  You may specifically want to look at pages with maps and legends.  A fun activity would be to try and figure out where a fifth theme park could be developed on Disney property if given the green light someday.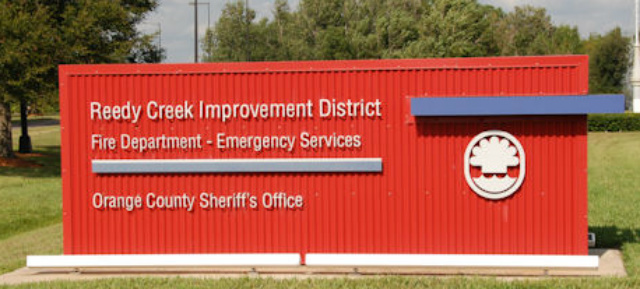 Another possible consideration is a new theme park would be built along or nearby a major road for access into and out of the theme park.  Chances are Disney will not build a new theme park away from existing roads and infrastructure.  Additional road construction would greatly add to the expense of a new theme park.  Disney loves to reuse existing infrastructure whenever possible and roadways are no different.  Plan on a fifth theme park near World Drive, Osceola Parkway, or Buena Vista Drive.
Conclusion
I'm greedy when it comes to choice.  I love choices, especially when it's something I'm passionate about.  The more I can choose from the better.  The problem is choice costs money as we've seen with Disney dining and fewer menu options.  Okay, okay, sorry, different topic for a different day.  But, you get the idea.  I'd love to see more theme parks, but considering the situation in the existing theme parks I'd be more inclined to see further expansion and TLC given to them.  There's still a ton of potential in those parks.  Use the existing space or reconfigure other themed lands while adding some new attractions.  The last thing I want to see is theme park tickets continue to climb in price.  If a new park is announced you can bet prices will rise much more rapidly than if Disney expands its existing theme parks.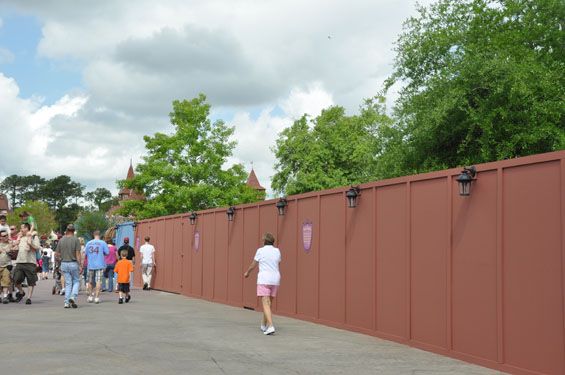 Now it's your turn.  You are a Disney Imagineer, a zoning professional for Reedy Creek, a Disney Accountant, and a Disney Executive all rolled into one.  What would you do?  Would you build a new theme park or expand the existing parks?  What would be your theme for a new park?  Where would you build it?  What new land would you build inside an existing theme park?  We'd love to hear your ideas or if you've heard of any good rumors about a new theme park or expansion in the future.  Please share them with us in the comments section below or on our official Facebook page.
It's never too soon to dream.  Bob Iger recently announced his retirement for the year 2015.  It's when he plans to step down and hand the reigns to another unknown executive.  With him stepping aside it might signal discussions within Disney of a fifth theme park after 2015 inside Walt Disney World.  That depends greatly on his successor's philosophy.  Wishing upon a star and dreaming have always been paramount inside Disney's theme parks.  Let's see what the future holds for Disney theme park fans and if there's truckloads of pixie dust waiting for us as the mega resort continues to develop in size and scope.
Friend Aaron on Facebook: I accept reader friend requests.
Category: Disney World