Susan Egan may be best known to Disney fans for her Broadway debut originating the role of Belle in Disney's Beauty and the Beast, or perhaps for voicing the female lead Meg (Megara) in Disney's feature animated film Hercules.  She just released her 6th solo CD titled "The Secret of Happiness", and agreed to chat with us about her career.  Continue after the break to listen to the DIS Unplugged interview where she talks about performing on Broadway, her voice acting work, and some very special items she's agreed to donate for our Power of 10: Give Kids The World $1 Million Dollar Challenge.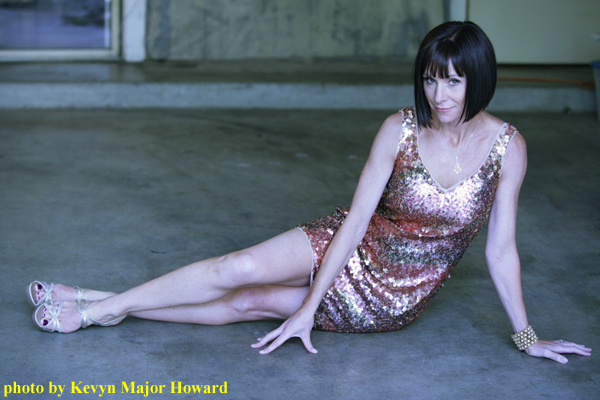 To listen to the complete interview with Susan Egan, click here.

In 1994, Susan Egan originated the role of Belle in the Broadway production of Disney's Beauty and the Beast, and earned both Drama Desk and Tony Award nominations as "Best Actress in a Musical."  This was Disney's first foray into theatrical productions, on Broadway, adapting a film considered part of a new revival of Disney animation, and with an unknown in the lead role.  No pressure, right?  I asked Susan if she was intimidated at all with the magnitude of the role.  She replied,
Ignorance serves you well.  I was just a girl, who lived in New York, and I auditioned for many things that season.  I had gotten call backs, but the one that happened to stick was this Disney one.  I wasn't a Disney girl; I was just a girl who needed a job.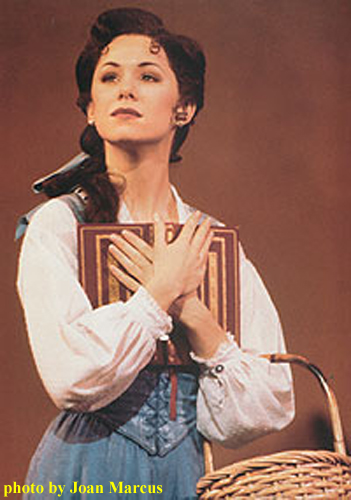 For those who may not remember, when Beauty and the Beast opened on Broadway it did not receive a warm reception by the Broadway community.  I asked Susan what she remembered from those the first critical reviews of the performance.
What was interesting was we didn't receive reviews.  The first 3 paragraphs of the review in the New York Times was about the development deal that Michael Eisner had just brokered with Giuliani.  It wasn't about the show.  Nowhere in the review did it say if we could sing or dance or act.
Interestingly, even though Egan was carrying Michael Eisner's pet project on Broadway, she was not a shoe-in to receive the lead role in Hercules, Disney's next animated feature film.  However, she said, "They wouldn't even let me audition for Hercules."  The auditions for Hercules occurred in 1995 while she was still playing Belle on Broadway, and Disney did not think Egan was the right fit for the role of Meg.  Susan added, "What they (Disney) hadn't realized is that with Belle I was acting.  Meg is kind of where I live."  Once given the chance to audition, Susan surprised everyone at Disney by knowing exactly what the filmmakers wanted with the role of Meg.
Hercules reunited Egan with Alan Menken – the Oscar winning composer for Beauty and the Beast.  However, Susan said she never lost touch with Alan Menken because she continued to play Belle on Broadway.  She was also part of the original company that brought Beauty and the Beast to Los Angeles where she recorded Hercules' "Meg" by day and played Belle on stage at night.  This led to some interesting conflicts for Susan that Menken was quick to point out.
About 6 months into our theatrical run in LA, Alan came to my dressing room afterwards and he's really kind of angry.  He (Menken) says, "Susan, you have to stop it!  Meg is creeping into your Belle!  You're onstage and your hip juts out, and it's like you're going to roll your eyes and tell the Beast to shave.
Susan laughed as she said that Alan was totally right – Meg was slipping into Belle and that was not right at all.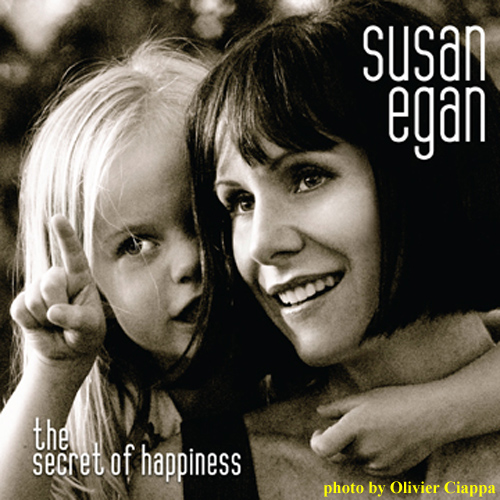 In Susan Egan's new CD The Secret of Happiness she pays tribute to her many roles as mother, singer, actor, and Disney Princess – all the many facets that make up Susan Egan at this moment.  However, one of the joys of the CD is that it's clear Susan doesn't take herself too seriously.  One song titled "Nina Doesn't Care" is about how her oldest daughter Nina could care less if her Mom is a Disney Princess, has appeared on a Broadway stage, or has appeared on any stage for that matter.  A line in the song that pretty much sums up her daughter's feelings is how Nina "prefers the Mermaid over Belle."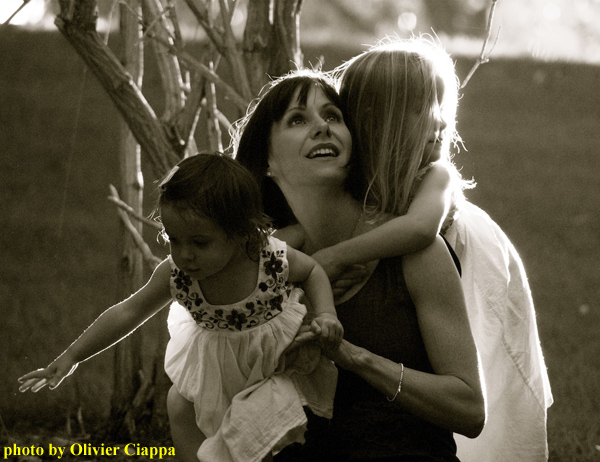 In addition to Belle, the song has a connection to Meg as well – Susan Egan made a video to accompany "Nina Doesn't Care" where she performs on screen with some animated forest creatures.  Those animated characters were drawn by Ken Duncan who also animated "Meg" in Disney's Hercules.  Susan's daughter Nina even appears at the end of the video, but Susan says "she thought the entire time we were filming it that we were filming a movie about The Little Mermaid."
Egan's CD is not a collection of Disney songs but a mix of Pop, Adult Contemporary and Broadway music.  There are original songs as well as standards from Rodgers and Hammerstein, Sondheim, and Paul Simon.  She's accompanied by her longtime friend and collaborator Georgia Stitt to create an album that expresses not only where she is at the moment, but the journey from Broadway and Belle into motherhood and beyond.  Egan elaborated, "I'm 41 now, I'm not 23 and I'm different than I was when I was playing Belle."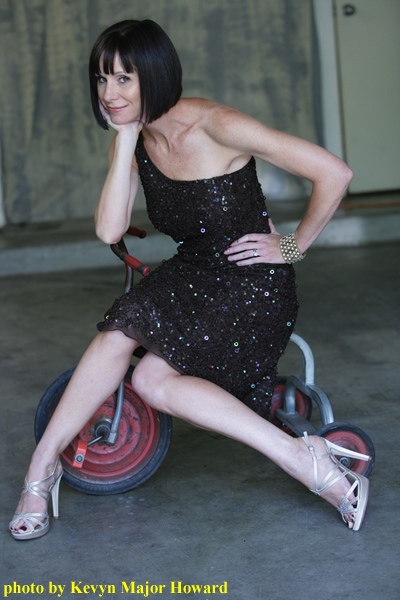 Egan continues to work for Disney recording the voice of Belle on the Disney Princess CDs and toys, performing live at the Disney Social Media Moms Celebration at Walt Disney World in spring 2011, and also performing on board the Disney Cruise Line ships.  In April 2012, Susan will sing once again for Disney Cruise Line on board the new Disney Fantasy on April 12th and April 15th (2 separate cruises).
To wrap up, as our readers may be aware, in January we launched a fundraiser to raise $1,000,000 for Give Kids The World.  We're calling it the Power of 10, because we're attempting to recruit 10,000 people to ask 10 friends to donate $10 (hence $1M).  However, that's just one way we're raising money.  We've also had a variety of online auctions, with 100% of the proceeds going to GKTW.  I asked Susan if she would help out with our fundraiser by contributing an autographed CD to the cause.  She quickly and enthusiastically agreed, but didn't stop there – she wanted to contribute more than just the CD.  Susan has contributed an autographed singing Belle doll with her recorded voice and an autographed Hercules DVD.  However, she didn't stop there – Susan contacted animator Ken Duncan who agreed to draw a sketch of "Meg" signed by himself and Susan Egan, and Ken Duncan is also contributing a sketch of Tarzan's "Jane" (Duncan was also lead animator for "Jane").  All of these items will be put up for auction via the Power of 10.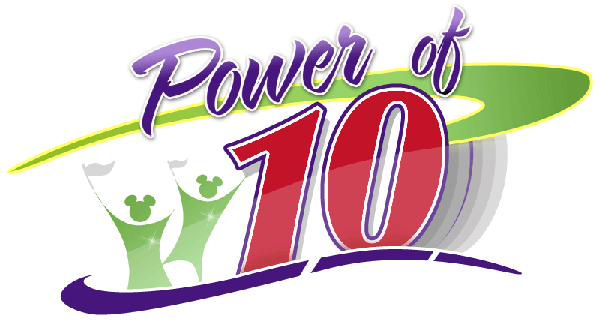 I want to thank Susan Egan for taking the time to chat with us, fill us in on her career, and contribute to our Give Kids The World Fundraiser.  To get more information about Susan Egan you can check out her website – SusanEgan.net, friend her on facebook, or follow her on twitter.  In addition, anyone who orders "The Secret of Happiness" directly from her record label using the code "DisneyFan" will receive 20% off the album.
Category: Disney Cruise Line, News